Coronavirus News | Chipko movement leader Sundarlal Bahuguna passes away due to COVID19 complications
Catch all the LIVE Updates here
Updated: Fri, 21 May 2021 06:55 PM IST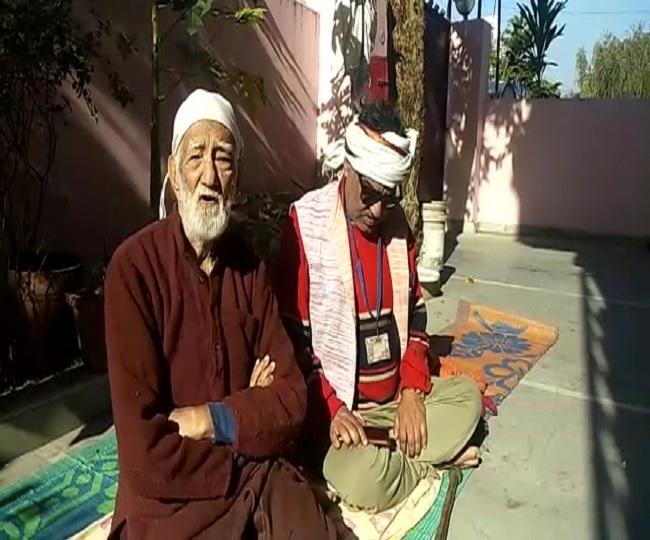 New Delhi | Jagran News Desk: Renowned environmentalist and Chipko movement leader Sundarlal Bahuguna succumbed to COVID-19 infection at All India Institute Of Medical Sciences (AIIMS) in Rishikesh on Friday. "Chipko movement leader Sundarlal Bahuguna died of COVID-19 at AIIMS, Rishikesh today," the AIIMS Rishikesh informed. The environmentalist had fought for the preservation of forests in the Himalayas for years. He is hugely credited for the success of the Chipko movement that began in 1973 at the foothills of the Himalayas in Uttarakhand (then a part of Uttar Pradesh).
The 94-year-old, Padma Vibhushan and Padma Shri awardee was admitted to the hospital after his oxygen levels started fluctuating on May 8. Uttarakhand Chief Minister Tirath Singh Rawat mourned the demise of an environmental activist and prayed for peace to the departed soul. He said the efforts of Bahuguna, who made the issues of water, forest, and land his priority, and fought for people's rights, will always be remembered.
Here are the LIVE Updates of May 21:
3:00pm: A DRDO lab develops an antibody detection-based kit DIPCOVAN, the DIPAS-VDx COVID 19 IgG Antibody Microwell ELISA for sero-surveillance. The kit can detect spike as well as nucleocapsid (S&N) proteins of SARS-CoV-2 virus with a high sensitivity of 97% & specificity of 99%: DRDO
2:45 pm: Delhi reports 3,009 new #COVID19 cases, 7,288 recoveries and 252 deaths in the last 24 hours. Active cases: 35,683 Total recoveries: 13,54,445 Death toll: 22,831
2:30 pm: Post COVID19 care centres 'Umang' will be started in all large govt hospitals in Haryana. Physiotherapists & Yoga teachers will also be present in addition to doctors to treat the difficulties being experienced by patients after recovering from COVID19: Haryana Minister Anil Vij
2:13 pm: Union Health Secretary Rajesh Bhushan wrote a letter to Chief Secretary of States of Andhra Pradesh, Odisha, Tamil Nadu, and West Bengal and Administrator of Andaman and Nicobar Island to draw attention for taking immediate necessary measures, in all coastal districts
2:08 pm: I'd like to emphasise that we need to step up COVID vaccination. Whichever vaccines are available to us, we have to give them as fast as possible. In the coming months, there'll be a significant increase in production capacity in the country: Health Minister Dr Harsh Vardhan
2:00 pm: In Himachal Pradesh, there are 35,000 active cases, sample positivity is 9.57%. In past week, Kangra, Mandi, Solan, Shimla and Hamirpur have shown a surge in cases. We have underlined causes like complacency, marriages, religious gatherings and local elections: Dr Harsh Vardhan
1:55 pm: In Goa, there are 22,000 active cases. There are almost 1200 new cases each day. The fatality rate is 1.59% in Goa. 4 cases of Mucormycosis are admitted in Goa Medical College: Dr Harsh Vardhan, Union Health Minister
1:45 pm: Since March 2021, there has been intense transmission in Chhattisgarh with high positivity rate. Since 1st May, there has been high number of deaths in the state. In genome sequencing, in 20% of the samples we found presence of B.1.617 mutant: Union Health Min Dr Harsh Vardhan
1:40 pm: Union Health Minister Dr Harsh Vardhan holds a meeting via video conference with health ministers of 9 States & UTs to review the prevailing COVID situation & progress of vaccination drive in their respective regions
1:35 pm: The first symptoms of COVID-associated Mucormycosis are pain/stuffiness in the nose, inflammation on cheek, fungus patch inside the mouth, swelling in the eyelid etc. It requires aggressive medical treatment: Dr Naresh Trehan, Chairman, Medanta on Black fungus
1:30 pm: There has been an increasing trend in the fungal infection being seen in COVID patients. This was also reported to some extent during SARS outbreak. Uncontrolled diabetes with COVID can also predispose to the development of Mucormycosis: AIIMS Director Dr Guleria on Black fungus
1:20 pm: We have to see at prevention of this outbreak. Three factors are very important- good control of blood sugar levels, those on steroids must monitor blood sugar levels regularly, and be careful about when to give steroids and their dosage: AIIMS Director Dr Guleria on Black fungus
1:10 pm: There're a lot of false messages going around that it can happen due to eating raw food but there is no data to suggest that. It also has nothing to do with type of O2 being used. It is also being reported in people in home isolation: Dr Guleria on COVID-associated Mucormycosis
1:00 pm: Chipko movement leader Sundarlal Bahuguna died of COVID19 at AIIMS, Rishikesh today, says AIIMS Rishikesh Administration
12:50 pm: TN's taxi ambulance, Rajasthan's mobile OPD, oxygen nurses of Kerala, among India's best COVID practices
12:40 pm: In our ongoing fight against COVID19, a new challenge of Black fungus has surfaced. We must focus on taking precaution and preparation to deal with it: PM Modi
12:33 pm: Vaccination has provided protection to our frontline workers, who could serve the people. In the coming days, we will be extending vaccine protection to everyone: PM Modi
12:25 pm: With the concept of 'Jahan Bimar, Wahan Upchar', the practice of making containment zones to distributing door-to-door medicines in your city & villages is commendable: PM Modi
12:15 pm: Varanasi has set a great example by the way it has equipped Pt Rajan Mishra COVID hospital & increased the number of oxygen beds and ICU beds in the city, in such a short span of time: PM Modi
12:05 pm: Prime Minister Narendra Modi interacts with doctors, paramedical staff and other frontline health workers of Varanasi, Uttar Pradesh
11:58 am: In Delhi, there are 197 cases of Black fungus in govt & private hospitals: Delhi Health Minister Satyendar Jain
11:51 am: We don't have Covisheild vaccines for the 18-44 age group & the available stock of COVAXIN vaccine for the same age group will be consumed soon. Many vaccination centers will be closing today: Delhi Health Minister Satyendar Jain
11:45 am: A dedicated community support helpline has been operationalised by the ministry to provide AYUSH-based approaches & solutions for challenges raised by Covid. The toll-free no. is 14443. The helpline is operational pan-India from 6 am to 12 midnight on all days: Ministry of Ayush
11:25 am: Imphal: Manipur Chief Minister Biren Singh visited #COVID19 Grievance cell for children who lost their parents during coronavirus pandemic yesterday
11:10 am: Karnataka will receive 2 lakh doses of Covishield today. So far we've received 1,24,20,510 doses incl 1,13,26340 (1,01,60,060 Covisheid&11,66,280 covaxin) from GoI & 10,94,170 (9,50,000 covishield&1,44,170 covaxin) from state procurement: Karnataka Health Minister
11:00 am: Uttarakhand | Nainital High Court said that the ever-decreasing number of COVID19 tests shows that the State government is deceiving itself and the people as well
10:45 am: Jammu & Kashmir: One case of Black fungus reported in Government Medical College and Hospital in Jammu, says Dr Shashi Sudan, Principal GMC Jammu
10:30 am: Union Health Min Dr Harsh Vardhan to chair a meeting on COVID19 situation & vaccination progress with Health Ministers of Chhattisgarh, Goa, Himachal Pradesh, Puducherry&LG's/Administrator of A&N Islands, Chandigarh, Dadra Nagar Haveli, Daman & Diu, J&K, Ladakh & Lakshadweep
10:15 am: Chief Secretary of Haryana issues an order to safeguard telecom infrastructure and other related assets in districts and take strict, coercive and immediate action against any miscreant spreading such misleading rumours
10:00 am: Union Health Ministry lists some of innovations & best practices shared by the Districts with PM Modi during interaction on 18th & 20th May with States, District Collectors and Municipal Commissioners on Public Response to COVID Management
9:45 am: 32,44,17,870 samples tested for #COVID19 up to 20th May 2021. Of these, 20,61,683 samples were tested yesterday: Indian Council of Medical Research (ICMR)
9:30 am: Ministry of Home Affairs issued an advisory to States/UTs to take immediate steps for the protection of vulnerable sections of society including women, senior citizens, particularly children who have been orphaned due to #COVID19
9:15 am: India reports 2,59,591 new #COVID19 cases, 3,57,295 discharges & 4,209 deaths in last 24 hrs, as per Health Ministry. Total cases: 2,60,31,991 Total discharges: 2,27,12,735 Death toll: 2,91,331 Active cases: 30,27,925 Total vaccination: 19,18,79,503
9:00 am: Uttarakhand | A bench of Chief Justice RS Chauhan & Justice Alok Verma of Uttarakhand HC reprimanded the state government, for giving permission first to Kumbh Mela, and now to Chardham, and asked to "go and see what is happening".
8:45 am: Tamil Nadu: Priests offer special prayer to 'Corona Devi' in a temple in Coimbatore to contain the spread of #COVID19 "We are continuously praying to 'Corona Devi' to show mercy on us and help us get rid of this virus," said Temple Priest
7:50 am: PM Modi will also discuss the ongoing efforts for tackling the second wave of coronavirus in Varanasi and also the preparations for the future.
7:40 am: Prime Minister Narendra Modi will interact with doctors, paramedical staff and other frontline health workers of Varanasi, his parliamentary constituency, on Friday through video conference.
7:31 am: Karnataka | Kalaburagi City Corporation has launched 24*7 auto ambulance service for COVID patients. "Sometimes ambulances don't reach on time, with our free service people can get instant help. Three autos to ply in noon & two at night," said Commissioner Snehal Lokhande
7:22 am: In Odisha's Mayurbhanj, police buried 2 COVID bodies after family refused to touch them due to fear. "Families of Manoranjan Behera & Renuwala Khatua refused to perform their last rites. We took them from their houses & buried them ritually", Inspector-in-charge of Khunta PS said
7:10 am: Madhya Pradesh | Nearly 55% people under the 45+age group are vaccinated in Badera Bharas village. "Vaccination response wasn't good in Gwalior when it began, so we took it to villages & it worked well. As of now, we have very less COVID cases here," CEO & Addtl Collector said
Posted By: Talibuddin Khan