'Can defeat them in 10-12 days': PM Modi blasts Pakistan on terrorism, hails surgical and air strikes
Publish Date: Tue, 28 Jan 2020 02:06 PM IST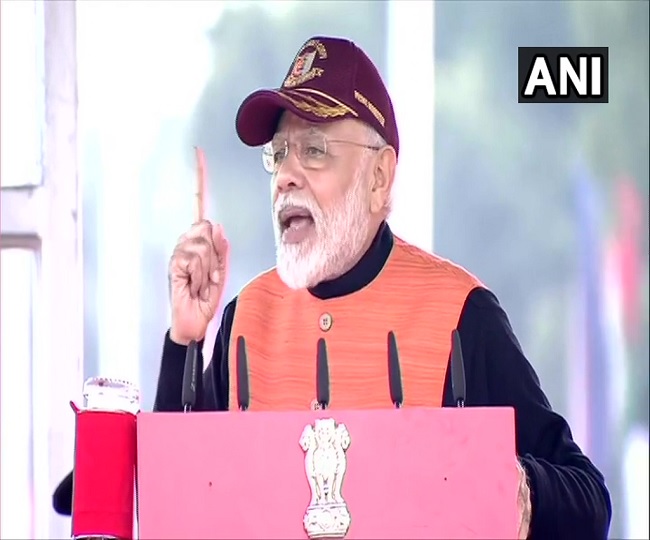 New Delhi | Jagran News Desk: Prime Minister Narendra Modi on Tuesday trained his guns against Pakistan and slammed the neighbouring country for sponsoring terror organisations on its soil. PM Modi during his address at the National Cadet Corps rally in Delhi said that "proxy wars" by the neighbouring country cost thousands of innocent lives in India.
"We know that our neighbouring country has lost 3 wars against us, our armed forces don't need more than 10-12 days to defeat them. They've been fighting proxy wars against India since decades. It claimed the lives of thousands of civilians, jawans," he said.
Also Read: 'Brought CAA to correct historical injustice': PM Modi goes all-out against Oppn on Citizenship Act, Kashmir
Prime Minister Narendra Modi also asserted that the 'new India's' ideology is young and disciplined and that is why India conducted surgical and airstrikes on Pakistan by entering their soil to fight the sponsors of terrorism.
"Today the ideology is young and that is why the country carries out a surgical strike, airstrikes and teaches lessons to sponsors of terrorism on their soil," said the prime minister in a blistering attack on Pakistan.
The prime minister was referring to the 2016 surgical strike carried out by the Indian Army in retaliation to the Uri terror attack which had claimed the lives of 19 soldiers. The Indian Air Force carried out airstrikes on Jaish-e-Mohammed's biggest terror camp in Balakot in Khyber Pakhtunkhwa province in Pakistan on February 26 last year.
PM Modi also held the opposition responsible for the situation in Jammu and Kashmir and the deaths of thousands in the Valley.
"Earlier, what was done for solving problems in Kashmir? 3-4 families worked not towards solving the issues but towards nurturing them. The result was that thousands of innocents died due to terrorism. People were forced to even migrate from there," said PM Modi.
Also Read: 'Stay in MP and do social service': SC's 'rider' as it grants bail to 17 convicts in 2002 Sardarpura post-Godhra riots case
While PM Modi did not name any party or leader, he apparently targeted the erstwhile governments in Jammu and Kashmir run by Abdullahs and Muftis and also the Congress at the Centre.
Posted By: Talib Khan