CAA beneficiaries may have to provide proof of religious beliefs to get citizenship: Reports
The migrants from Bangladesh, Pakistan and Afghanistan seeking the benefits of Citizenship Amendment Act -- rules of which are being given final touches -- have to provide documents establishing country of origin, date of arrival prior to the cut-off and proof of religious beliefs while applying to get the Indian citizenship under the CAA
Publish Date: Tue, 28 Jan 2020 11:46 AM IST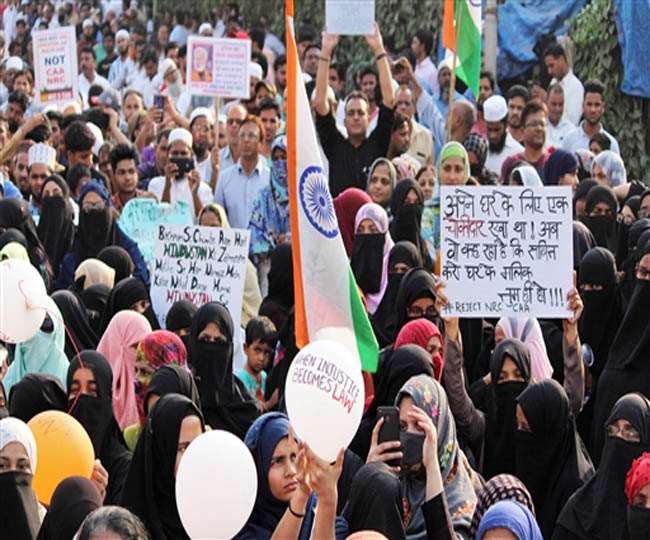 New Delhi | Jagran News Desk: The migrants from Bangladesh, Pakistan and Afghanistan seeking the benefits of Citizenship Amendment Act -- rules of which are being given final touches -- have to provide documents establishing country of origin, date of arrival prior to the cut-off and proof of religious beliefs while applying to get the Indian citizenship under the CAA, media reports stated officials as saying.
"In India, we all have submitted some form of proof relating to religion and all those who want to seek Indian citizenship, they all have to submit some sort of document that they have entered India before December 31, 2014, and also a proof to prove that they belong to one of six minority faiths -- Hindu, Sikh, Christian, Parsi, Jain and Buddhists -- " said a senior functionary aware of developments relating to the drafting of rules as reported by Times of India.
Also Read: 'They'll rape your sisters and daughters, kill them': BJP MP's hate rant on Shaheen Bagh protesters
The officials also asserted that 'no documents may, however, be sought to prove that the applicant came to India on religious persecution. Further, they added that the role of state and local administration will be minimal. 'While the application process will be entirely online, a central authority may be designated in the states to process the claims', the official said, as reported by Times Of India.
The media reports also suggest that the government is looking forward to incorporating the suggestions made by the Assam government, in which they have proposed a smaller window for application of citizenship.
"The Central government has agreed to give a relatively smaller window of just three months to those who want to apply for Indian citizenship in Assam under the CAA," another official explained as reported by NDTV.
Assam Chief Minister Sarbananda Sonowal and his Finance Minister Himanta Biswa Sarma made a request about a fortnight ago to keep a limited period window for applying under the CAA and also incorporate some other Assam-specific provisions in the CAA rules. The move comes in view of protests against the CAA in Assam continuing since the law was passed by Parliament in December last year.
Also Read: Anurag Thakur's 'goli maaro' chant at Delhi poll rally comes under EC scanner, minister says 'see people's mood'
Nationwide protests have been going on against the Citizenship Amendment Act, which makes religion the test for Indian citizenship. The CAA seeks to grant citizenship to six minorities -- Hindu, Sikh, Christian, Parsi, Jain and Buddhists -- from Pakistan, Bangladesh and Afghanistan if they fled to India because of religious persecution, on or before December 31, 2014. Critics say the bill discriminates against Muslims and violates secular tenets of the Constitution.
Posted By: Talib Khan