'Brought CAA to correct historical injustice': PM Modi goes all-out against Oppn on Citizenship Act, Kashmir
He said that the Citizenship Act was brought by his government to "correct historical injustice and fulfil our old promise to minorities living in neighbouring countries."
Updated: Tue, 28 Jan 2020 01:59 PM IST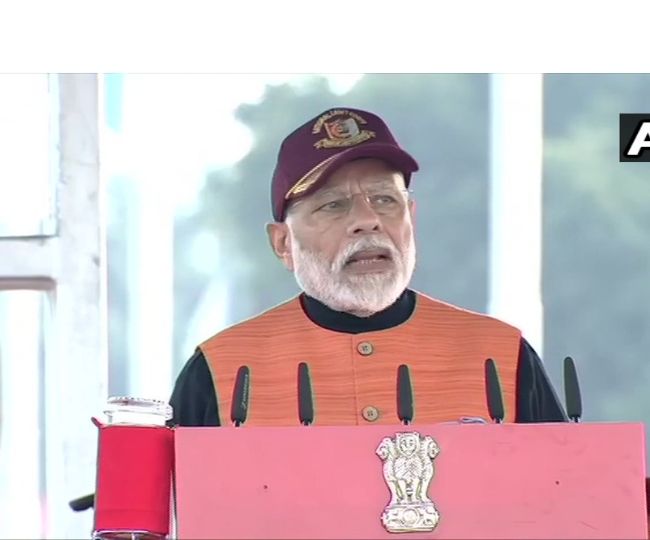 New Delhi | Jagran News Desk: Prime Minister Narendra Modi on Tuesday launched a stinging attack on the opposition alleging that it was doing vote-bank politics on the citizenship law and resorting to "fearmongering".
"Those who are fearmongering on CAA refuse to see the persecution of religious minorities in Pakistan. Shouldn't we help the persecuted? Some time back a Pakistan Army advert came out in which it was clearly written that only Non-Muslims apply for sanitation workers post," said PM Modi while addressing the National Cadet Corps rally in Delhi.
He said that the Citizenship Act was brought by his government to "correct historical injustice and fulfil our old promise to minorities living in neighbouring countries."
"Country has seen real face of those giving communal colour to decisions of our government which is solving decades old issues," he added.
The prime minister also held the opposition responsible for the situation in Jammu and Kashmir and the deaths of thousands in the Valley.
"Earlier, what was done for solving problems in Kashmir? 3-4 families worked not towards solving the issues but towards nurturing them. The result was that thousands of innocents died due to terrorism. People were forced to even migrate from there," said PM Modi.
While PM Modi did not name any party or leader, he apparently targeted the erstwhile governments in Jammu and Kashmir run by Abdullahs and Muftis and also the Congress at the Centre.
He also slammed Pakistan for sponsoring terror organisations, saying that "proxy wars" by the neighbouring country cost thousands of innocent lives in India.
"We know that our neighbouring country has lost 3 wars against us, our armed forces don't need more than 10-12 days to defeat them. They've been fighting proxy wars against India since decades. It claimed the lives of thousands of civilians, jawans," he said.
PM Modi said that the nation's ideology is young today which is why it conducts surgical strike and air strikes against sponsors of terrorism.
"Today the ideology is young and that is why the country carries out surgical strike, air strikes and teaches lessons to sponsors of terrorism on their soil," said the prime minister in a blistering attack on Pakistan.
The prime minister was referring to the 2016 surgical strike carried out by the Indian Army in retaliation to the Uri terror attack which had claimed the lives of 19 soldiers. The Indian Air Force carried out air strikes on Jaish-e-Mohammed's biggest terror camp in Balakot in Khyber Pakhtunkhwa province in Pakistan on February 26 last year.
Furthering his attack on the erstwhile Congress government at the Centre, PM Modi said that the former overlooked the defence forces of the country.
"Governments in India earlier denied our soldiers even bullet-proof jackets; their lives much more precious than ours," he said.
"For over 30 years not a single next generation fighter plane was added to IAF. Old aircraft used to meet with accidents, fighter pilots used to die...Work stalled for 3 decades was cleared by us. Country,today has next generation fighter plane Rafale," added PM Modi.
The remark came as a retort to the opposition's charge on the Modi government claiming corruption in the Rafale fighter jet deal with Russia which amounts to the tune of around Rs 60,000 crore. However, the government has been vehemntly denying the allegations.
Posted By: James Kuanal