'Broad daylight murder of democracy': Congress hits out at Modi govt over Chidambaram's arrest
Congress spokesperson Randeep Surjewala said that democracy is being killed in broad daylight by the arrest of Chidambaram
Publish Date: Thu, 22 Aug 2019 11:51 AM IST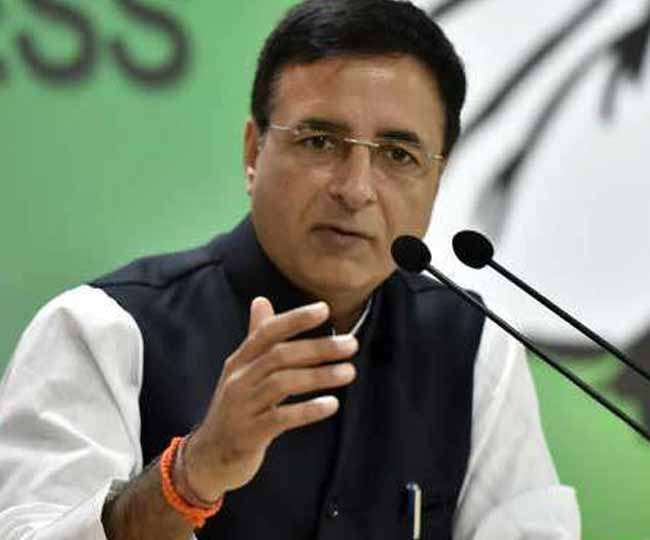 New Delhi | Jagran News Desk: On the arrest of former Finance and Home Minister P Chidambaram, the Congress on Thursday lashed out at the Modi government and termed the action on senior Congress leader as murder of democracy in broad daylight.
Targeting the central government, Congress spokesperson Randeep Surjewala said that democracy is being killed in broad daylight by the arrest of Chidambaram. There is no evidence against him. The case was made on the basis of the statement of one of the accused of killing her own daughter.
On behalf of the Congress, Randeep Singh Surjewala said that for the last 2 days, India witnessed how democracy was killed in broad daylight and the government tried to take political revenge using CBI and ED. The kind of action taken against Chidambaram shows political revenge.
Randeep Surjewala further said that "we are standing with P Chidambaram and this action on him is nothing but political vendetta. We are seeing that the country's economy has become alarming, industries are closing down and people's jobs are going away and the government is trying to divert attention from these issues".
He further said that the "Modi government is taking action against Chidambaram to divert attention from the real issues and investigation agencies are being misused. The case was made by making an accused of killing her daughter a government witness".
Randeep Singh Surjewala while defending P Chidambaram, said that "he is a respected economist and politician of the country. Has been a lawyer in the Supreme Court. He did not hide anything during the investigation. An atmosphere of enmity is being created by the BJP government".
He further added that there is no proof of tampering the evidences. People who are accused of committing crimes are roaming freely in the shadow of security. The person who served the country for 40 years is trying to prove that he is not running away from the law.
He further said that Karti Chidambaram's house was raided 4 times and he was also taken to jail. Now he is out on bail. Karti collaborated with the investigating agencies 20 times and whenever summons were received, he always appeared before the authorities.
Posted By: Talib Khan