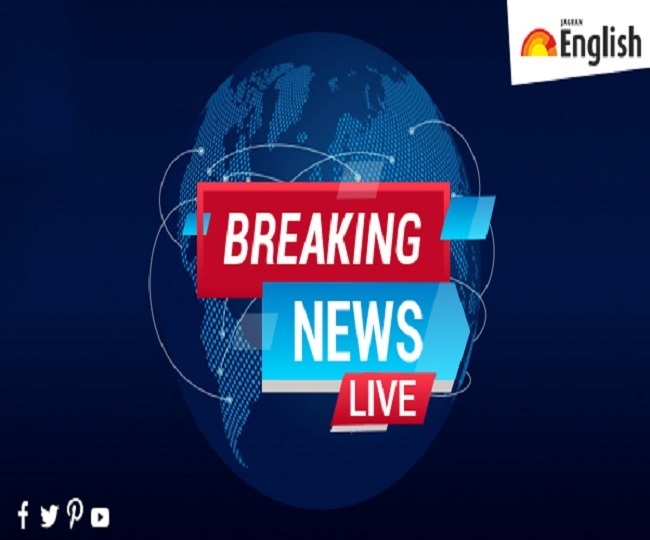 New Delhi | Jagran News Desk: Each and everything that happens around us impacts us in some way and that's why it becomes important for us to know what's happening around the world. Thus at English Jagran, we provide our readers with 360-degree coverage in all genres to give them a brief insight into what's happening around the world.
Here are the LIVE Updates of May 12:
11:42 am: Sangrur, Punjab| A man was shot dead by a group of 4 late night infront of victim's brother. As per brother's statement, prime accused Goldy shot him point-blank in head. One accused- Maninder Singh nabbed, other three on the run. Weapon yet to be recovered: SI Sukhwinder Singh
11:28 am: While talking to Ayub Patel, one of the beneficiaries of govt schemes in Gujarat during an event, PM Modi gets emotional after hearing about his daughter's dream of becoming a doctor & said, "Let me know if you need any help to fulfill the dream of your daughters
11:22 am: Kolkata | Several houses in Durga Pituri Lane, Bowbazar evacuated after cracks develop in buildings amid metro-rail construction No one's thinking about the families. We've requested Mayor to set up an expert committee to look into this matter: TMC councillor Biswarup Dey
11:15 am: Lucknow bench of Allahabad High Court begins hearing petition seeking to open 22 closed doors in Taj Mahal
10:55 am: This all is happening to gain political benefits, these issues will break the country. After Ram temple, now peace is needed: Shiv Sena leader Sanjay Raut on Gyanvapi case
10:45 am: PM Modi is attending 'Utkarsh Samaroh' in Bharuch, Gujarat via video conferencing. The program will mark 100% saturation of four key schemes of the Gujarat govt in the district which will help provide timely financial assistance to the needy: PMO
10:22 am: Rajasthan | Police conduct flag march in Hanumangarh following a clash between two groups yesterday One person named Satveer was injured in the incident, say police
10:15 am: Rajasthan | Internet services have been restored in Bhilwara as the situation remains peaceful. I would like to assure the victim's family that action will be taken against the accused. Appeal to the public not to pay heed to rumours: DM Bhilwara
10:00 am: Ranchi | Jharkhand Mines Secy Pooja Singhal felt dizzy when she was brought to jail yesterday. Jail doctors attended to her. As of now, her condition is normal: Jail authorities She was arrested by ED in a money-laundering probe linked to alleged embezzlement of MGNREGA funds
9:47 am: Amid tension over the economic crisis, President of Sri Lanka Gotabaya Rajapaksa said, "Further, steps will be taken to amend the constitution to re-enact the contents of the 19th Amendment to further empower the Parliament."
9:35 am: India reports 2,827 fresh cases, 3,230 recoveries, and 24 deaths in the last 24 hours. Total active cases is 19,067.
9:22 am: Action should be taken against police officials and bureaucracy who filled these kinds of cases against people due to pressure: BJP MP Gopal Shetty on SC puts sedition trials on hold until Govt re-examines it
9:15 am: Crime Branch of Delhi Police arrested one more accused namely Abdul alias Raja in connection with the Jahangirpuri violence case for allegedly inciting the crowd to violence, the police said
8:55 am: Maharashtra Anti Corruption Bureau (ACB) issues a lookout circular against businessman Jeetendra Navlani. ACB registered a case against him for allegedly posing as a close aide of ED officials and accepting bribes worth amount Rs 59 crores, police said
8:45 am: North Korea confirms its first-ever case of Covid and declares a "severe national emergency", with Kim Jong Un vowing to "eliminate" the virus, reports AFP
8:39 am: Rajasthan | A minor clash broke out between two groups yesterday, one person namely Satveer got injured & shifted to hospital. Two others got minor injuries. The situation is under control: Suresh Jangir. Additional SP, Nohar
8:27 am: Crime Branch of Delhi Police has arrested an Indian Air Force jawan on charges of espionage. The name of the accused has been told as Devendra Sharma. There is a suspicion of the hand of Pak's intelligence agency ISI in this whole work: Delhi Police
8:20 am: Indian Medical Association (IMA) wrote a letter to Union Health Minister Mansukh Mandaviya to "reschedule the NEET PG exam scheduled for 21st May 2022"
8:12 am: Deep Depression over coastal Andhra Pradesh remained practically stationary during last 6 hrs & weakened into a Depression over the same region. It is likely to hover around the same region & weaken further into a well marked low pressure area during next 12 hrs: IMD
8:00 am: White House will host a 2nd global COVID19 summit today. Summit will redouble our efforts made at first COVID Summit. Prez Biden & fellow heads of state from co-host nations will kick off the summit with remarks on how fighting COVID-19 must remain an international priority: WH
7:40 am: Prime Minister Narendra Modi will participate in the second Global COVID Virtual Summit on Thursday at the invitation of US President Joe Biden. The summit intends to galvanize new actions to address the continued challenges of the COVID pandemic and build a stronger global health security architecture.
7:33 am: Prime Minister Narendra Modi will virtually address a gathering, Utkarsh Samaroh, in Gujarat's Bharuch on Thursday. The programme will mark the celebration of 100 per cent coverage of four key schemes of the state government in the district, which will help provide timely financial assistance to those in need.
7:25 am: MP | A clash broke out between two groups in Karedi village. A shop and 2-3 motorcycles were set ablaze. Two people were admitted to the hospital & their condition is normal. We dispersed the crowd using tear gas & the situation is under control: Rajgarh SP Pradeep Sharma
7:18 am: Kolkata | TMC leader Babul Supriyo took oath as MLA from the Ballygunge Assembly constituency yesterday, May 11. He was administered the oath by Deputy Speaker of West Bengal Legislative Assembly Asish Banerjee.
7:10 am: Mumbai's Malwani Police arrested a UP police constable identified as Amit Kumar Singh for allegedly supplying double tiger heroin and mephedrone (MD) drugs. Search for another accused underway.