Breaking News, Latest Updates, Highlights of September 16
Stay tuned to catch all the live updates
Updated: Wed, 16 Sep 2020 05:20 PM IST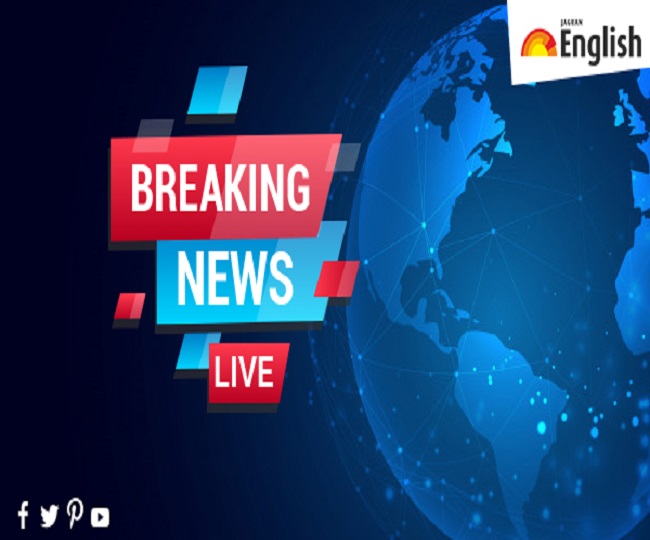 New Delhi | Jagran News Desk: Each and everything that happens around us impacts us in some way and that's why it becomes important for us to know what's happening around the world. Thus at English Jagran, we provide our readers with a 360-degree coverage in all genres to give them a brief insight about what's happening around the world.
Today we will focus on the coronavirus pandemic prevailing in the country, which has afflicted over 49 lakh people in the country, while the death toll due to the deadly virus has also reached 81,000. India is the second worst-hit nation from the coronavirus after the United States of America.
Here are the Highlights from September 16:
3:40 pm: Widespread light to moderate rains with isolated heavy rains likely over Bengaluru Rural district & scattered to widespread light to moderate rains likely over Kolar, Bengaluru Urban, Chikkaballapura, Tumakuru, Ramanagara, Mandya & Davanagere districts: KSNDMC
3:30 pm: Isolated to scattered light to moderate rain likely over Bruhat Bengaluru Mahanagara Palike (BBMP) area for next 2 days: Karnataka State Natural Disaster Monitoring Centre, KSNDMC
3:20 pm: Veer Savarkar International Airport, Port Blair is soon going to have a new integrated terminal building, which will be capable to handle 1200 passengers in peak hour & about 50 lakh passengers annually. New building to be Air Conditioned: Ministry of Civil Aviation (Photo, PIB)
3:10 pm: An African national Benald Udenna has been arrested for supplying drugs. Actors Diganth and Aindrita Ray were questioned today, they will be called again later: Sandeep Patil, Central Crime Branch (CCB), Joint Commissioner
3:00 pm: Maharashtra State Human Rights Commission announces its order over Rhea Chakraborty's visit to mortuary. Commission says that there was no breach on the part of Cooper hospital or the police. Commission had looked into the matter based on media reports: Maharashtra SHRC Chairman
2:30 pm: Maharashtra: A court in Mumbai sends Karamjeet Singh, Dwayne Fernandes and Ankush Anreja to judicial custody till September 23, in connection with drug angle in Sushant Singh Rajput death case.
2:20 pm: Punjab: Cricketer Suresh Raina visits the house of his uncle who was murdered in Pathankot district. He says, "Police are doing a good job. I thank the Chief Minister for helping us."
2:10 pm: Nearly 1.19 lakh passengers took to the skies across the country on 15th September; 1,18,917 passenger arrivals. A total of 2561 flight movements took place across the country on 15th September - 1282 departures and 1279 arrivals: Ministry of Civil Aviation
2:00 pm: 247 police personnel of Maharashtra Police tested positive for #COVID19 & 2 died in the last 24 hours, taking the total number of infections in the state force to 20,003 including 3,728 active cases, 16,071 recovered cases and 204 deaths: Maharasthra Police
1:50 pm: Tamil Nadu: Ahead of PM Narendra Modi's birthday, BJP workers offered a 70-kg laddoo at Sri Kamatchi Amman Temple and distributed it among people in Coimbatore
1:40 pm: Congress is opposing the Bills. They're two-faced. They want to politicise everything. They don't know anything except politics. In 2013-14 during UPA regime, Congress de-notified fruits & vegetables from APMC in Karnataka, Assam, Himachal Pradesh, Haryana & Meghalaya: BJP pres
1:30 pm: COVID-19 negative certificate is not needed to enter Himachal Pradesh: Chief Minister Jai Ram Thakur
1:15 pm: Punjab CM Captain Amarinder Singh has appealed to farmers not to stop traffic or violate Section 144 over agriculture bills, but made it clear that no cases would be registered against them for violation of Section 144 as they were fighting for their lives: State govt
1:10 pm: Himachal Pradesh records 76 new #COVID19 cases today, taking the total positive cases in the state to 10,411 so far, including 3,875 active cases, 6,481 recoveries and 89 deaths: State Health Department
1:05 pm: These Bills are very far-sighted. They are in the process of being passed as Acts in the Parliament. These Bills will rapidly increase the price of produce of the farmers. These Bills will also help increase investment in the agriculture sector: BJP national president JP Nadda
12:55 pm: Three Bills before Parliament, keeping in mind farmers' welfare - Essential Commodities (Amendment) Bill, Farmers' Produce Trade & Commerce (Promotion and Facilitation) Ordinance & Farmers (Empowerment and Protection) Agreement on Price Assurance Ordinance: BJP national president
12:45 pm: High frequency indicators point to a trough in global economic activity in April to June quarter and a subsequent recovery is underway in several economies such as USA, UK, Euro area and Russia: RBI Governor Shaktikanta Das
12:35 pm: Global economy estimated to have suffered sharpest contraction in living memory in April-June 2020 on seasonally adjusted quarter on quarter basis. World merchandised trade estimated to have registered steep yr on yr decline of over 18% in 2nd quarter of 2020 calendar yr: RBI Gov
12:25 pm: Uttarakhand: Police launch a drive to search for skeletons of people who went missing in Rudraprayag in 2013 Kedarnath disaster. Garhwal Range IG Abhinav Kumar says, "There is a discrepancy in the number of missing people & bodies recovered. DNA test of skeletons will be done."
12:15 pm: Recovery is not yet fully entranched. In some sectors, the optic noticed in June & July appear to have levelled off. By all indications, the recovery is likely to be gradual as efforts towards reopening of the economy are confronted with rising infections: RBI Gov Shaktikanta Das
12:10 pm: High-frequency indicators of agricultural activity, Purchasing Managers Index for manufacturing, certain PVT estimates for unemployment point to some stabilisation of economic activity in the 2nd quarter of current yr. Contractions in many other sectors simultaneously easing: RBI Gov
12:05 pm: One of the members of SIT has tested positive for #COVID19. We just received the antigen test report. In view of that, other members will be tested & protocol will be followed. Accordingly, we've sent back Shruti Modi who had joined investigation today: Narcotics Control Bureau (NCB)
12:00 pm: The case of attack & murder involving cricketer Suresh Raina's kin has been solved with the arrest of three members of an inter-state gang of robber-criminals. Eleven other accused are yet to be arrested: State government
11:55 am: Karnataka Home Minister Basavaraj Bommai tweets that he tested positive for #COVID19 and is in home isolation, being asymptomatic.
11:45 am: An over ground worker (OGW) escaped after being apprehended with two Chinese hand grenades in Sopore yesterday. During search, the body of the OGW was found near stone quarry of Tujjar-Sharief in Baramullah. Further investigation is going on: Jammu & Kashmir Police
11:30 am: Karnataka: Actors Diganth and Aindrita Ray arrive at Central Crime Branch office in Bengaluru to appear before it in connection with a drug case.
11:24 am: SC dismisses Centre's appeal & upholds arbitration award in favour of Vedanta & Videocon. Centre had appealed against arbitration award allowing Vedanta & Videocon to recover $499 mn, instead of capped $198 mn, for development of Ravva oil-gas fields off Andhra coast b/w 2000-07
11:20 am: 4,270 new #COVID19 cases, 3,714 recoveries and 11 deaths reported in Odisha yesterday. The total number of cases now stands at 1,62,920 so far, including 1,25,738 recoveries, 36,473 active cases and 656 deaths: State Health Department
11:15 am: Heartiest congratulations to Yoshihide Suga on the appointment as Prime Minister of Japan. I look forward to jointly taking our Special Strategic and Global Partnership to new heights: Prime Minister Narendra Mod
11:10 am: Odisha: A six-member Central team arrives in Bhubaneswar on a two-day visit to assess damages caused by floods in the state.
11:00 am: Police & Public order are State subjects as per 7th schedule. Actions are taken by respective State govts: MoS MHA G Kishan Reddy in a written reply to 'whether there has been any instance of excessive Police measures leading to harassment/injury/death in enforcing lockdown'(1/2)
10:50 am: 802 new COVID-19 cases, 15 recoveries 7 deaths reported in Rajasthan today, taking total cases to 1,06,700 including 1,271 deaths and 17,541 active cases: State Health Department
10:45 am: Supreme Court orders fresh investigation into the death of National Law University (NLU)-Jodhpur student in 2017. A bench headed by Justice Rohinton Nariman directs that a fresh investigation be carried out and also sets aside closure report filed by Rajasthan Police in the case.
10:25 am: Yoshihide Suga (in file pic) elected as Japan's prime minister, becoming the country's first new leader in nearly eight years and facing a raft of challenges including reviving an economy battered by the COVID-19 crisis: Reuters
10:15 am: Mumbai: Shruti Modi, former business manager of actor #SushantSinghRajput, arrive at NCB SIT office. She was summoned by Narcotics Control Bureau yesterday
10:00 am: Varanasi: Fire broke out at a building of Diesel Locomotive Works (DLW) in the city, this morning. More details awaited
9:50 am: Ghaziabad: A woman was seen being beaten up by her neighbour in Kavi Nagar area, on Saturday. He (in pic 1) was arrested on Monday. Police say, "In investigation it was found that he is her neighbour & they had some old dispute. The woman was sent for treatment & FIR registered."
9:35 am: India's #COVID19 case tally crosses 50-lakh mark with a spike of 90,123 new cases & 1,290 deaths in last 24 hours. The total case tally stands at 50,20,360 including 9,95,933 active cases, 39,42,361 cured/discharged/migrated & 82,066 deaths: Ministry of Health & Family Welfare
9:30 am: Minister of State for Home Affairs, G Kishan Reddy and Nityanand Rai felicitate 70 NDMC (New Delhi Municipal Council) workers as a part of 'Seva Saptah', ahead of PM Narendra Modi's birthday tomorrow
9:25 am: Naik Aneesh Thomas lost his life in Sunderbani Sector on 15th September: 16 Corps, Indian Army Pakistan had violated ceasefire in Sunderbani sector of Jammu and Kashmir yesterday.
9:10 am: Telangana recorded 2,273 COVID-19 cases, 2,260 recoveries and 12 deaths yesterday, taking total cases to 1,62,844 including 1,31,447 recoveries, 996 deaths and 30,401 active cases: State Health Department
9:05 am: 5,94,29,115 samples tested up to 15th September for #COVID19. Of these, 11,16,842 samples tested yesterday: Indian Council of Medical Research (ICMR)
8:55 am: Defence officials from US-India met virtually today to discuss defence industrial cooperation, incl.co-production & co-development of defence equipment. Defence partnership cornerstone of US-India Comprehensive Global Strategic Partnership: Bureau of South & Central Asian Affairs
8:45 am: Rajasthan: Congress MLA Bharat Singh Kundanpur writes to Chief Minister Ashok Gehlot, demanding the removal of a state minister whom he describes as 'most corrupt'. "This minister is a mafia of corruption. I don't want to name the person," he writes.
8:30 am: BSP MP Veer Singh has given Zero Hour notice in Rajya Sabha over 'increase in unemployment due to lockdown and COVID-19 pandemic.'
8:20 am: Shiv Sena MP Sanjay Raut has given Zero Hour notice in Rajya Sabha over 'proposed privatisation of JNPT (Jawaharlal Nehru Port Trust) ports and concern over national security.'
8:10 am: PDP MP Nazir Ahmad Laway has given Zero Hour notice in Rajya Sabha over 'MPLAD funds and poor condition of National Highway from Jammu to Srinagar.'
8:00 am: As soon as a client comes in, we give them sanitiser & check their temperature, only then they are allowed. We're not allowing more than 8 people on a floor in an hour. After every 2-2.5 hours, there is a break when all equipment is sanitised & gym is cleaned: Udit, Gym trainer
7:50 am: Delhi: Gyms re-opened in the national capital on 14th Sept, months after they were closed across the country in the wake of #COVID19 pandemic. Trainer of a gym in the city says, "Gyms were closed for a long time so we were facing problems. The charges are a little high now.
7:40 am: A new National Curriculum Framework for Teacher Education will be formulated under National Education Policy to ensure quality education for teachers: Union Minister for Education, Ramesh Pokhriyal Nishank
7:30 am: Gujarat: Prakash Bhalani, a Surat based builder has accommodated 42 families who are facing financial crisis due to #COVID19 & are unable to pay rent, at his constructed buildings. He says, "We are charging Rs 1500 as maintenance fee. People can stay here as long as they want."
7:15 am: Tripura: Business of idol makers in Agartala remains affected ahead of Vishwakarma Puja, due to #COVID19 pandemic. An idol maker says, "We are facing difficulties as we depend on festivals for our livelihood. There is very less work. It has become difficult for us to sustain."
7:00 am: An earthquake of magnitude 5.4 on the Richter scale hit 50 km east of Kathmandu in Nepal at 05:04:07 IST today: National Centre for Seismology (NCS)
Posted By: Talib Khan