Breaking News Latest Updates, Highlights of September 9
Stay tuned to catch live updates of September 9:
Updated: Wed, 09 Sep 2020 04:45 PM IST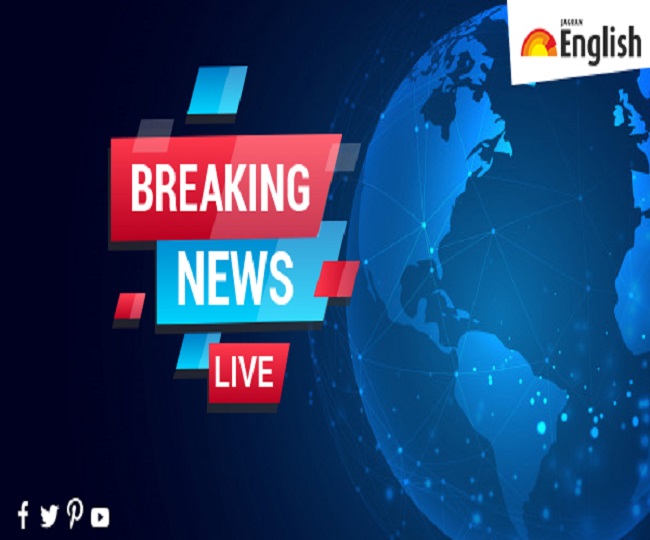 New Delhi | Jagran News Desk: Each and everything that happens around us impacts us in some way and that's why it becomes important for us to know what's happening around the world. Thus at English Jagran, we provide our readers with a 360-degree coverage in all genres to give them a brief insight about what's happening around the world.
Today, our focus will remain on the coronavirus pandemic which has afflicted 43,70,129 people in India while 73,890 people have lost their lives against the deadly infection, taking the country's mortality rate to 1.70 per cent. India also surpassed Brazil in the list of worst-affected nations. With this, India has now only behind the United States of America (USA) which has over 64 lakh cases of coronavirus.
Here are all the LIVE Updates from September 9:
4:45 pm: It has been decided that there'll be no requirement of a prescription from a qualified medical practitioner for #COVID19 testing in Delhi. However tests will be conducted in accordance with advisory issued by ICMR & as per orders issued by Delhi govt from time to time: Delhi govt
4:25 pm: Ludhiana: Bhartiya Kisan Union (BKU) Kadian held meeting over recently promulgated agriculture-related ordinances by Centre. "We'll block main roads of Punjab on Sept 15 from 12 pm to 2 pm. We appeal to people to support us & force govt to take back ordinances", says Union Pres
4:15 pm: The first India-France-Australia Trilateral Dialogue was held virtually, today. The three sides discussed economic & geostrategic challenges & cooperation in Indo-Pacific, in the context of COVID-19 pandemic
4:05 pm: The children belonged to different parts of Bihar and the traffickers were taking them to different places in Delhi, Haryana and Punjab with the intention of making them work as labourers in factories.
3:55 pm: Delhi: A Police team of Old Delhi Railway Station arrested 10 child traffickers on 7th September and rescued 14 children in the age group of 12-14 years. Case registered, rescued children taken to quarantine centre in Lajpat Nagar, as per the protocol. Investigation is underway
3:45 pm: Congress leader Adhir Ranjan Chowdhury has written to Lok Sabha Speaker saying, "Already a year has elapsed but still the Lok Sabha is deprived of having a Deputy Speaker, Dy Speaker of the House must be elected during the Monsoon Session itself."
3:35 pm: Srinagar: Directorate of Agriculture (DoA), J&K teams up with Directorate of Health Services to conduct #COVID19 tests for all govt employees. "Govt of J&K has taken the initiative to get every employee tested for #COVID19 to stop spread of virus," says S Andrabi, Director, DoA.
3:25 pm: Maharashtra: Members of Bhartiya Kamgar Sena gathered outside Chhatrapati Shivaji Maharaj International Airport as actor #KanganaRanaut arrived in Mumbai
3:15 pm: We can't comment much on the UK trials, but they have been paused for further review and they hope to restart soon. As far as Indian trials are concerned, it is continuing & we have faced no issues at all: Serum Institute of India on reports on AstraZeneca halting the trials.
3:10 pm: Hearing in the bail applications of #RheaChakraborty and her brother Showik to be held on 10th September at Special Court, Mumbai: Satish Maneshinde, Rhea Chakraborty's lawyer
3:00 pm: Enforcement Directorate issues a Provisional Attachment Order under provisions of PMLA attaching assets worth Rs.59.52 Crores. Attached assets are in form of fixed deposits maintained & available with SBI, Sudhamnagar Branch in name of Church of South India Trust Association: ED
2:45 pm: A warm meeting with Tajikistan Foreign Minister Sirojiddin Muhriddin. Pleased with our growing bilateral and regional cooperation. Highly value this strategic partnership: Dr S. Jaishankar, External Affairs Minister of India
2:25 pm: EAM Dr S Jaishankar to meet Russian Foreign Minister Sergey Lavrov today. Russian President Putin to address SCO leaders today, where EAM will be present. Earlier today, EAM Jaishankar held bilaterals with Kyrgyz FM Chingiz Aidarbekov & FM of Tajikistan Sirojiddin Muhriddin
2:15 pm: Prime Minister Narendra Modi will digitally launch the Pradhan Mantri Matsya Sampada Yojana (PMMSY) on 10th September. He will also launch e-Gopala App for farmers along with several other initiatives in the fisheries and animal husbandry sectors in Bihar.
2:00 pm: Maharashtra: Visuals from Chhatrapati Shivaji Maharaj International Airport in Mumbai. Actor Kangana Ranaut to arrive at the airport shortly
1:45 pm: Bombay High Court stays BMC's demolition at Kangana Ranaut's property, asks the civic body to file reply on actor's petition
1:30 pm: Special National Investigation Agency (NIA) Court in Bilaspur yesterday charge-sheeted 9 accused in a Fake Indian Currency Notes (FICNs) case in Chhattisgarh: NIA
1:00 pm: Four Jamaat-ul-Mujahideen of Bangladesh (JMB) terrorists sentenced to 7 years imprisonment by Kolkata's National Investigation Agency (NIA) Court in 2014 Burdwan blast case, yesterday: NIA
12:50 pm: Maharashtra: Bombay High Court begins hearing Kangana Ranaut's plea against Brihanmumbai Municipal Corporation's (BMC) demolition drive at her property in Mumbai
12:45 pm: Kolkata: West Bengal Assembly Speaker and MLAs arrive at the State Assembly for Rapid Antigen COVID19 test ahead of Assembly's monsoon session.
12:35 pm: 60% of the total cases are recorded only in 5 states. Of the total 89,706 new cases, which have been reported in the last 24 hours, Maharashtra has alone contributed more than 20,000 and Andhra Pradesh has contributed more than 10,000: Ministry of Health
12:25 pm: #COVID19 lockdown affected the businesses of street vendors. The purpose of this 'Svanidhi Samvaad' scheme is that those people can start afresh and begin their work again: PM Modi
12:15 pm: Supreme Court today refused to entertain a fresh batch of petitions, seeking to postpone NEET 2020 examination scheduled to be held on September 13. Review petitions also dismissed by Court.
12:00 pm: Janata Dal (United) Rajya Sabha MP Harivansh files nomination for Deputy Chairman Rajya Sabha as NDA (National Democratic Alliance) candidate
11:50 am: Mumbai: Kangana Ranaut's lawyer files a plea in High Court against the demolition drive by Brihanmumbai Municipal Corporation (BMC) at her property. Hearing to take place at 12.30 pm today
11:40 am: I would like to congratulate Madhya Pradesh and Shivraj ji's team. Their efforts have ensured the benefit of Swanidhi scheme to more than 1 lakh street vendors in Madhya Pradesh in just 2 months time: PM Modi
11:30 am: J&K Lt Governor Manoj Sinha today reviewed the ongoing construction work at AIIMS site in Vijaypur area of Samba District; directed the executing agency to stick to the timeline and complete the construction work by the stipulated time: Dept of Info & PR, Govt of Jammu & Kashmir
11:15 am: Odisha reported 3,748 new #COVID19 cases on September 8, taking the total number of positive cases in the state to 1,35,130 including 1,02,185 recoveries and 32,312 active cases: State Health Department
11:00 am: Prime Minister Narendra Modi holds 'Svanidhi Samvaad' with street vendors from Madhya Pradesh through video conferencing.
10:45 am: 728 new COVID-19 positive cases and 7 deaths reported in Rajasthan. Total number of cases now at 94,854 including 15,761 active cases and 1,171 deaths: State Health Department
10:30 am: I will be vacating my government accommodation in Srinagar before the end of October...have chosen to do so of my own accord: National Conference leader Omar Abdullah
10:25 am: Mumbai: Actor Rhea Chakraborty brought to Byculla Jail by Narcotics Control Bureau officials. She was arrested by the agency yesterday, in connection with a drug case related to #SushantSinghRajput's death
10:20 am: In view of the spread of #coronavirus in Delhi, each Police Station shall detail one dedicated team comprising of an upper subordinate & one lower subordinate to report to one location in their respective district to prosecute persons who violate protocols: Delhi Police
10:10 am: The District Deputy Commissioner of Police (DCP) shall select one area by rotation where violation is noticed for prosecution under the supervision of Inspector for concerned Police Station: Delhi Police
10:05 am: Maharashtra: Showik Chakraborty (actor Rhea Chakraborty's brother) and other accused being taken for medical tests. They have been arrested by Narcotics Control Bureau (NCB) in connection with #SushantSinghRajputCase
10:00 am: Border Security Force (BSF) troops foiled a nefarious attempt by armed smugglers & shot dead 2 smugglers near Sriganganagar in Rajasthan. Arms and ammunition, drugs and Pakistani currency recovered from the slain intruders: BSF
9:50 am: India's #COVID19 case tally crosses 43 lakh mark with a spike of 89,706 new cases & 1,115 deaths reported in the last 24 hours. The total case tally stands at 43,70,129 including 8,97,394 active cases, 33,98,845 cured/discharged/migrated & 73,890 deaths: Ministry of Health
9:40 am: A 7-day trekking expedition launched by 19th Battalion of Indo-Tibetan Border Police (ITBP) in Sarhan, Himachal Pradesh. The expedition will cover border villages to spread awareness on #COVID19. The team includes four women personnel: ITBP
9:30 am: Jharkhand: A woman allegedly gang-raped at an ashram in Gooda on September 7. YS Ramesh, SP says, "Deepak Rana, prime accused in the case, has been arrested; efforts on to nab the other accused. Further probe underway.
9:15 am: Sensex slumps by 220.64 points, currently at 38,144.71
9:05 am: A threat call was received yesterday at Nagpur office of Maharashtra Home Minister Anil Deshmukh, following his statement on actor Kangana Ranaut: Official at State Home Minister's office
8:55 am: Nil flames observed during the night. Smoke greatly reduced. Joint meeting with Salvers M/s SMIT in progress to plan embarkation onboard 9 am September 20, for damage assessment. Boundary cooling continues. Additional resources en route: Indian Navy
8:45 am: A total of 5,18,04,677 samples tested up to 8th September 2020. Of these, 11,54,549 samples were tested yesterday: Indian Council of Medical Research (ICMR)
8:35 am: Himachal Pradesh: Actor Kangana Ranaut offers prayers at a temple in Kothi area of Hamirpur district; she is en route Chandigarh from Mandi District. From Chandigarh, she will be leaving for Mumbai
8:25 am: AstraZeneca puts leading #COVID19 vaccine trial on hold over safety concern: Reuters
8:10 am: Delhi Metro Rail Corporation (DMRC) resumes services on Blue and Pink lines today. A passenger says, "It is a good thing that Metro service has resumed. All precautionary measures are being taken by DMRC. It will be better if service hours are extended."
7:55 am: 2,479 fresh #COVID19 cases, 2,485 recoveries & 10 deaths reported in Telangana on 8th September, taking the total number of cases to 1,47,642 in the state. Active cases stand at 31,654: State Health Department
7:40 am: Actor Kangana Ranaut has tested negative for #COVID19: Dr Devender Sharma, Chief Medical Officer, Mandi District
7:30 am: Based on inputs of Jammu & Kashmir Police, two suspects were arrested in a joint operation near Jawahar Tunnel, Kulgam midnight yesterday. An AK-47 rifle, an M4 US Carbine, 6 Chinese Pistols & magazines recovered from a truck coming from Jammu: Indian Army
7:15 am: Mizoram reported 69 COVID-19 cases yesterday, taking total cases to 1,192 including 745 discharges and 447 active cases. No death due to the disease has been reported in the state so far: State Health Department
7:00 am: Delhi Metro Rail Corporation (DMRC) resumes services on Blue and Pink lines. Metro trains will run from 7 am to 11 am in the morning and 4 pm to 8 pm in the evening on both the lines, says DMRC.
Posted By: Talib Khan