Breaking News, Latest Updates, Highlights September 25
Stay Tuned to catch all the live updates here
Updated: Fri, 25 Sep 2020 05:03 PM IST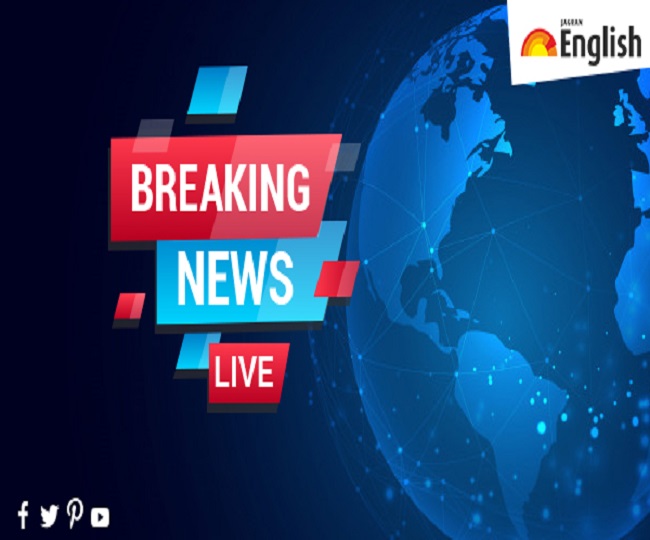 New Delhi | Jagran News Desk: Each and everything that happens around us impacts us in some way and that's why it becomes important for us to know what's happening around the world. Thus at English Jagran, we provide our readers with a 360-degree coverage in all genres to give them a brief insight about what's happening around the world.
The coronavirus cases in India crossed the grim milestone of 58 lakh cases after 86,052 new infections were reported from across the country during the last 24 hours taking the country's overall caseload to 58,18,571. The death toll due to the deadly pathogen also crossed the 92,000-mark and reached 92,290 after 1,141 new fatalities were reported from across the country during the last 24 hours, the health ministry data showed on Friday.
Here are the Highlights from September 25:
4:00 pm: Income Tax Dept launches Faceless Income Tax Appeals. All Income Tax appeals will be finalised in a faceless manner with exception of appeals relating to serious frauds, major tax evasion, sensitive & search matters, International tax & Black Money Act: Ministry of Finance
3:50 pm: The property was purchased by Yes Bank co-founder Rana Kapoor in 2017 for 9.9 Million Pounds (Rs 93 Crores) in the name of DOIT Creations Jersey Limited, wherein accused Rana Kapoor is the beneficial owner: Enforcement Directorate (ED)
3:40 pm: The elections were of course awaited. The polling dates have been declared by the Election Commission today & we're ready for the 3-phased elections. The BJP & the NDA have prepared their workers right down to the booth level: Mangal Pandey, BJP, on upcoming #Bihar Assembly polls
3:35 pm: We will win with at least 3/4th majority. The opposition before us is in shambles, they are scattered. Nobody agrees to project Tejashwi Yadav as CM candidate, there is no consensus on that. Where is the opposition?: BJP MP from Arrah, Bihar & Union Minister RK Singh
3:30 pm: People coming to Assam will undergo RT-PCR tests & will be given result within 24 hrs. So, quarantine is reduced to 24 hrs from 10 days. Anyone who has recovered from #COVID will not be required to undergo quarantine or testing on arrival:Assam Health Minister Himanta Biswa Sarma
3:20 pm: Increased presence of people online & on social media has been targeted by terrorists to disseminate misinformation through hate speeches, fake news & doctored videos: Pawan Badhe, First Secretary at Permanent Mission of India to UN at 45th Session of Human Rights Council, Geneva
3:10 pm: Another disturbing trend has been the collection of funds by proscribed terrorist outfits ostensibly for undertaking charitable activities, but which, in reality, would be used to finance terror: Pawan Badhe, First Secretary at Permanent Mission of India to UN
3:00 pm: Terrorism is grossest affront to enjoyment of inalienable right to life & to live in peace security. It poses a serious threat to economic&social development,undermines democracy&jeopardizes rule of law. It's an attack against freedom of thought,expression&association:Pawan Badhe
2:50 pm: For the 1st time such a large exercise is to be held in world during COVID. People of Bihar have faith in Modi ji, also govt under Nitish Kumar ji & Sushil Modi ji has worked for people. It'll be re-elected: Devendra Fadnavis, Former Maharashtra CM & BJP
2:40 pm: The two leaders agreed that the India-Japan Special Strategic & Global Partnership has made great advances over the last few years and expressed their intention to further strengthen this relationship based upon mutual trust and shared values: Prime Minister's Office
2:30 pm: PM Narendra Modi had a phone call today with Yoshihide Suga, Prime Minister of Japan. The Prime Minister congratulated Prime Minister Suga on his appointment as Prime Minister of Japan and wished him success in achieving his goals: Prime Minister's Office
2:20 pm: If a person dies due to acid attack then the culprit will be awarded life sentence & if a victim is injured or any part of their body is damaged then culprit will be sent to jail for 20 years & penalised with 1 Million Nepali Rupees: Nepal Law Minister Shiva Maya Tumbahamphe
2:10 pm: PM Narendra Modi condoles the passing away of singer #SPBalasubrahmanyam. "A household name across India, his melodious voice and music enthralled audiences for decades. In this hour of grief, my thoughts are with his family and admirers", tweets PM Modi.
2:00 pm: Supreme Court reserves its order on a batch of pleas seeking refund of airfare to passengers whose flights were cancelled during the lockdown due to #COVID19.
12:06 pm: Earlier, there existed about 10,000 slabs of minimum wages for various sectors. Under new labour reforms, these have been reduced to around 200 slabs: Prime Minister Narendra Modi
12:03 pm: The new labour reforms will transform the lives of our labour force. Till now, only 30% of the workers across the country were covered under the minimum wage guarantee scheme. Now, it will expand to workers of all the industries in the unorganised sector: PM Narendra Mod
12:00 pm: All BJP Karyakartas should reach out to farmers on the ground & inform them in a very simplified language about the importance & intricacies of the new farm reforms, how these will empower them. Our ground connect will bust the lies & rumours being spread in virtual world: PM
11:55 am: AgustaWestland case: Delhi's Rouse Avenue Court issues summons to businessman Rajeev Saxena, the then AgustaWestland International Director G Saponaro, Sandeep Tyagi and other accused. Matter listed for October 23rd.
11:50 am: In last few years, NDA govt made full efforts to connect farmers with banks. Over Rs 1 lakh crores transferred to over 10 crore farmers under PM Kisan Samman Nidhi Yojana. Our effort was to provide KISAN credit cards to more & more farmers so they can avail loans easily: PM Modi
11:40 am: Previous govts used to make a complicated web of promises and laws which farmers or labourers could never understand. But BJP-led NDA govt, has constantly tried to change this situation and has introduced reforms for the welfare of farmers: Prime Minister Narendra Modi
11:30 pm: So far, no friends from Congress have approached us. Even when no-confidence motion was moved yesterday, nobody consulted us. I think the way in which they're behaving, they don't want our support. They think they can fight it out independently: HD Kumaraswamy, JD(S).
11:25 am: Karnataka: CM BS Yediyurappa arrives at Vidhana Soudha for the ongoing #MonsoonSession of Assembly. "Let them do it, once in every 6 months they must move no-confidence motion so that I am safe for another 6 months," he says, when asked about no-confidence motion by Congress.
11:20 pm: The contribution of Pandit Deen Dayal Upadhyaya ji to make India better as a country and society has inspired generations. The path he has shown to every BJP worker instils confidence in us: Prime Minister Narendra Modi
11:10 pm: PM Narendra Modi takes part in the celebrations of Foundation Day of Deen Dayal Upadhyaya Grameen Kaushalya Yojana on the occasion of his birth anniversary, via video conferencing. BJP national president JP Nadda & Defence Minister Rajnath Singh also attend the event.
11:00 pm: Mumbai: Karishma Prakash, actor Deepika Padukone's manager, arrives at NCB SIT office. She was summoned by Narcotics Control Bureau to join the investigation of a drug case, related to #SushantSinghRajputDeathCase.
10:55 am: Bombay High Court takes suo moto cognizance of Bhiwandi building collapse incident & initiates a PIL in the matter making Govt of Maharashtra & relevant Municipal Corporations as respondents. A three-storied building had collapsed in Patel Compound area of Bhiwandi on Sept 21st
10:50 am: Delhi: BJP national president JP Nadda, Defence Minister Rajnath Singh, Union Ministers Prakash Javadekar & Dr Harsh Vardhan pay tribute to Jana Sangh leader Pt Deen Dayal Upadhyaya and Syama Prasad Mookerjee at party HQ, on the birth anniversary of Pt Deen Dayal Upadhyaya today
10:45 am: Several houses vandalised in villages of Kondagaon Dist after a clash broke out between a tribal community & villagers over holding religious festivals. Presently, the situation is peaceful & police deployed to prevent any untoward incident: IG Bastar P Sundarraj, Chhattisgarh
10:35 am: Mumbai: Actor #RakulPreetSingh arrives at NCB SIT office. She was summoned by Narcotics Control Bureau to join the investigation of a drug case, related to #SushantSinghRajputDeathCase.
10:25 am: 2 LeT terrorists killed. Incriminating material, including arms & ammunition, recovered. Search is going on. More details awaited: Kashmir Zone Police
10:15 am: West Bengal: Police raided multiple locations in Kolkata last night, based on an input of betting on IPL matches. 17 mobile phones, 14 laptops, 3 TVs, 1 car & Rs 1.5 Lakhs cash seized. 9 people arrested. Case registered under IPC & West Bengal Gambling and Prize Competitions Act.
10:00 am: Govt has made our 'anndaata' a puppet through its 'fund daata'. #FarmBills are anti-farmer and have left them dejected. Govt had said that they'll double farmers' income by 2022 but these Bills will make them poorer. Agriculture sector has been corporatised: Tejashwi Yadav, RJD
9:40 am: Delhi: Police personnel deployed in Chilla area near Delhi-Uttar Pradesh border point, in wake of the nationwide protest called by farmers today against #AgricultureBills passed in the Parliament.
9:30 am: India's #COVID19 case tally crosses 58-lakh mark with a spike of 86,052 new cases & 1,141 deaths in last 24 hours. The total case tally stands at 58,18,571 including 9,70,116 active cases, 47,56,165 cured/discharged/migrated & 92,290 deaths: Ministry of Health & Family Welfare
9:20 am: Members of Karnataka State Farmers' Association hold protest near Bommanahalli on Karnataka-Tamil Nadu highway against #FarmBills passed in Parliament. Police personnel deployed in the area to ensure law & order is maintained & COVID safety norms are followed during protest.
9:10 am: Punjab: Farmers, under the aegis of Bharatiya Kisan Union and Revolutionary Marxist Party of India (RMPI), block Amritsar-Delhi National Highway near Phillaur in Jalandhar, in protest against #FarmBills passed in the Parliament.
9:00 am: Punjab: Police personnel being deployed around Ladowal Toll Plaza in Ludhiana, in the wake of nationwide protest by farmers today, over #FarmBills. SHO Ladowal says, "All prepartions made, additional forces deployed. Farmer leaders have assured us that protest will be peaceful."
8:50 am: Election Commission's press conference to be held over #BiharElections: Sheyphali Sharan, Official Spokesperson, Election Commission of India
8:40 am: Maharashtra: Narcotics Control Bureau (NCB) Zonal Unit teams are conducting raids at three different locations in Mumbai. More details awaited.
8:30 am: Election Commission of India to hold a press conference today in Delhi.
8:20 am: India climbs another historic peak of more than 13 lakh tests. More than 13.80 lakh tests done in the last 24 hours: Ministry of Health & Family Welfare, Government of India.
8:05 am: Delhi's Water Minister & Delhi Jal Board Chairman Satyendar Jain chaired board meeting y'day. It was decided to award the contracts to pvt operators for operation, maintenance & mgmt of water supply & sewerage networks in various zones of Delhi on lines of "One Zone-One Operator"
7:55 am: Director General (Prisons), Tihar, Sandeep Goel has tested positive for #COVID19: Tihar Jail officials, Delhi
7:45 am: Chief Minister Captain Amarinder Singh (in file pic) has appealed to the farmers to strictly maintain law and order, and adhere to all #COVID19 safety protocols, during today's Bandh against the Agriculture Bills: Punjab Chief Minister's Office (CMO)
7:35 am: Jammu and Kashmir: Terrorists attack a CRPF party deployed at South Kashmir's mini secretariat. No casualties or injuries reported so far. The area has been cordoned off. More details awaited.
7:30 am: UP CM Yogi Adityanath (in file pic) has instructed the state police to put up posters of the accused of sexual harassment and other crimes against women at famous road crossings in the state, as part of 'Operation Durachari'.
7:20 am: Punjab: Kisan Mazdoor Sangharsh Committee continues their 'rail roko' agitation in Amritsar, in protest against the #FarmBills. The Committee is holding the 'rail roko' agitation from September 24 to 26 against the Bills.
7:10 am: Telangana: Chief Minister K Chandrasekhar Rao held a review meeting yesterday at Pragathi Bhavan in Hyderabad with public representatives from the municipal areas and mayors.
7:00 am: 13 pairs of trains have been short-terminated as a precautionary measure against the protests over the agriculture bills. We are avoiding train routes to Punjab: BS Gill, Ambala Railway Station Director, Haryana
Posted By: Talib Khan