Breaking News, Latest Updates Highlights of September 17
Updated: Tue, 17 Sep 2019 05:13 PM IST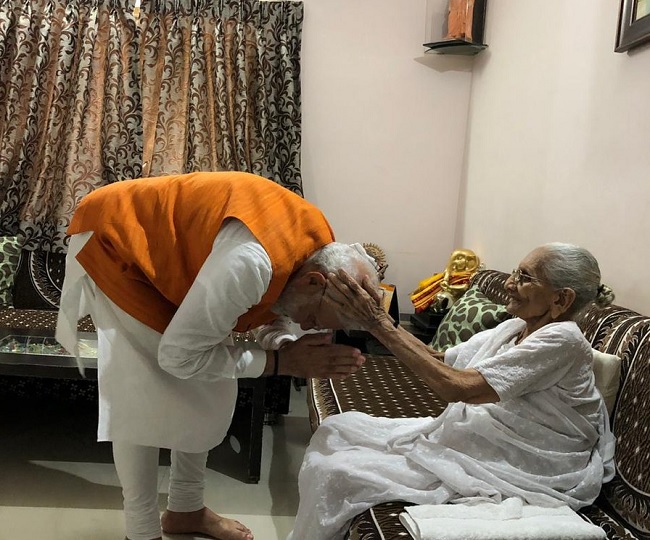 New Delhi | Jagran News Desk: At Jagran English, we try to focus on all the top news to provide our readers a brief insight of what's happening around the world and provide them a 360-degree coverage on all genres including politics, business, India, world, sports, and entertainment.
Today we will have a focus on the hearing of pleas challenging abrogation of 370 and validity of imposition of restrictions in Jammu and Kashmir. Apart from that, we will also focus on the Ayodhya land dispute case and other top news of the day.
Here are the Highlights of September 17:
4:05 pm: External Affairs Minister S Jaishankar: I think today if you look at the big debates at multilateral forums - G20, BRICS, you will see that the Indian voice, Indian views are today heard much more clearly. There is a strong link between domestic and foreign policy. The co-relation between our national policy goals and foreign policy goals has become stronger. The diaspora is, of course, the forte & in many ways somewhat unique aspect of our foreign policy & that is underlined by what is going to be coming up very soon in the United States which is a big diaspora event in partnership with our Indian-American community
4:00 pm: Indian Railway Board chairman Vinod Kumar Yadav : Delhi-Katra Vande Bharat train trials have been finished. It will be a gift to pilgrims and it will ply in Navratras. We are trying to upgrade our busy routes. Delhi-Mumbai and Delhi-Howrah will be ready by December 2021. 40 Vande Bharat trains will come out by 2022. New specifications are worked on. There would be transparency, it will be a 'Make in India' project.
3:55 pm: Enforcement Directorate attaches assets worth Rs 277.97 Crore owned by EBIZ. COM Pvt Ltd and others in a pyramid-style multilevel marketing fraud.
3:50 pm: Andhra Pradesh: Mahanandi Temple in Kurnool district's Mahanandi gets flooded following incessant heavy rainfall since last night. Kundu river in the district is overflowing with flood water.
#WATCH Andhra Pradesh: Mahanandi Temple in Kurnool district's Mahanandi gets flooded following incessant heavy rainfall since last night. Kundu river in the district is overflowing with flood water. pic.twitter.com/twuUVilFlP

— ANI (@ANI) September 17, 2019
3:25 pm: ADG (Police HQs) Jitendra Kumar on the alleged rape of a woman in Bettiah, Bihar: Reports are doing rounds that the victim was released from the shelter house following Supreme Court's order & the incident took place amidst all that. This is absolutely false, there is no truth in it. She was found at Muzaffarpur railway station in May '18&kept at Muzaffarpur shelter home for 7 days.She was then shifted to Mokama&stayed there for 1.5 months.She was released in July '18&had been staying with her family since then. accused were named in the case. Three of them were arrested yesterday itself, one more has now been arrested. They have given us the name of one more accused, efforts are underway to arrest him too. During the course of the investigation it was found that the accused and the victims knew each other. As per the medical report, the victim is a minor. She is between 15-17 years of age.
3:20 pm: Central Bureau of Investigation is constituting a special team to trace the location and whereabouts of former Kolkata Police Commissioner Rajeev Kumar, to join the investigation at the earliest.
3:15 pm: The team of Finance Commission is on their visit to understand the conditions under which troops are operating and assess the requirement of financial outlays to meet the modernisation and infrastructure development requirements of the Army.
3:10 pm: Army Chief General Bipin Rawat visited headquarters of Fire & Fury Corps today and interacted with NK Singh, Chairman and other members of the 15th Finance Commission. The Finance Commission team is in Ladakh Sector as part of their visit to field formations of Indian Army.
3:05 pm: A bench of the Supreme Court, headed by Justice Arun Mishra, in its order had asked Ranjeet Kumar and Solicitor General (SG) Tushar Mehta, to visit Puri's Jagannath temple and file a report in connection with the eviction drive conducted by the temple administration.
3:00 pm: Supreme Court allows the plea of amicus curiae, Ranjeet Kumar, seeking 2 more weeks to file a detailed reply on his visit to Puri's Jagannath temple, regarding the eviction drive conducted there by the temple admn. SC has fixed the matter for further hearing to October first week
2:55 pm: Gujarat: Prime Minister Narendra Modi meets his mother Heeraben Modi at her residence, in Gandhinagar. Today is PM Modi's 69th birthday.
2:50 pm: Karnataka Congress leader DK Shivakumar has approached Delhi High Court seeking copy of his statements recorded by Enforcement Directorate under Section 50 of PMLA (Prevention of Money Laundering Act), in a money laundering case.
2:45 pm: Defence Research & Development Organization (DRDO) yesterday* successfully test fired the Astra, air to air missile with a range of over 70 kms. The missile was test fired from a Su-30MKI combat aircraft that took off from an air base in West Bengal
2:40 pm: Ayodhya land (Title) dispute case: Supreme Court's five-Judge Constitution bench headed by CJI Ranjan Gogoi, asked all the parties, to apprise it the tentative time as to when the conclusion of the arguments would likely be. Today is the 25th day of the argument
2:34 pm: Maharashtra: Bombay High Court has verbally directed authorities to not cut any tree in Mumbai's Aarey till the court decides on the larger issue to which everyone has agreed. Next hearing scheduled on 30 September. The judges also said that they plan to personally visit Aarey to see what the issue is, 'as sometimes it may be necessary to personally see the site to ascertain the facts in such critical matters of the environment.
2:28 pm: Blast close to Massoud Square and US Embassy in Macroryan 2 area in city of Kabul: TOLOnews
2:23 pm: Sensex falls 666.59 points, currently at 36,456.72
2:20 pm:After suicide attack in Parwan province, another blast reported in PD9 Kabul city: Pajhwok Afghan News #Afghanistan
2:18 pm: 2008 Malegaon blasts case: Special National Investigation Agency (NIA) Court to pronounce order on application filed by NIA seeking 'in camera' proceedings, on 1st October. 'In-camera' proceeding is a proceeding carried out in private, in the absence of the public and the press.
2:12 pm: 24 people killed and over 30 wounded in blast near President Ashraf Ghani's campaign gathering in Parwan: TOLOnews #Afghanistan
2:10 pm: Vice Chief of Naval Staff, Vice Admiral G Ashok Kumar: Defence Minister will be in Mumbai on 28th of Sept to spend a day with Indian Navy. Commissioning of P-75 submarine INS Khanderi, P-17 Alpha ship Nilgiri & largest aircraft carrier drydock of Indian Navy are planned for day
2:00 pm: Defence Research and Development Organization (DRDO) today successfully test fired the Astra, air to air missile with a range of over 70 kms. The missile was test fired from a Su-30MKI combat aircraft that took off from an air base in West Bengal.
1:55 pm: Delhi High Court allows Jawaharlal Nehru University's election committee to declare results of students' union election (JNUSU), held recently. The court had earlier put a stay on declaration of the final results & restrained JNU admn from notifying the results of JNUSU election.
1:50 pm: Rajasthan CM Ashok Gehlot on BSP Chief Mayawati's comment "Congress is deceitful, broke 6 MLAs from BSP": Such reaction from her is expected. MLAs considered the situation in state & feelings of the people, that is why they joined us, we did not put any pressure on them
1:45 pm: Vice Chief of Naval Staff, Vice Admiral G Ashok Kumar: Defence Minister will be in Mumbai on 20th of Sept to spend a day with Indian Navy. Commissioning of P-75 submarine INS Khanderi, P-17 Alpha ship Nilgiri & largest aircraft carrier drydock of Indian Navy are planned for the day
1:25 pm: Sensex falls 403.37 points, currently at 36,719.94
1:20 pm: I am confident that with the active support of millions of colleagues from Jammu and Kashmir, Ladakh and Kargil, we will be able to shed a new stream of development and trust: PM Modi
1:19 pm: The people of Jammu and Kashmir and Ladakh faced discrimination for 70 years. The entire country suffered in the form of its consequences, violence, and isolation. The country took an important decision with the inspiration of Sardar Saheb, it was decided to walk a new path to solve the decades-old problem: PM Modi
1:15 pm: Bhima Koregaon Case: The state of Maharashtra has filed a caveat before the Supreme Court today in respect of the judgment of the Bombay High Court in case of activist Gautam Navlakha.
1:15 pm: Your servant is fully committed to the unity and superiority of India. We have strengthened this commitment in the last 100 days. Major decisions have been taken one by one in the last 100 days, including decisions ranging from farmers' welfare to strengthening of infrastructures: PM
1:13 pm: September 17 is the golden day of Sardar Saheb and his efforts for the unity of India. Today is also Hyderabad Liberation Day. On this day in the year 1948, Hyderabad was merged with India and today Hyderabad is fully contributing to the progress of the country: PM Modi
1:12 pm: The whole country is trying to get rid of single-use plastic. I have come to know that all of you are engaged in this work under the Swachhata Hi Seva campaign. Our water, forest, and land should be free of plastic, this is the responsibility of every citizen of the country: PM Modi
1:08 pm: #StatueOfUnity today has become a source of employment for our tribal brothers and sisters of our country. In the coming days, when the other projects related to tourism will be completed here, employment opportunities will increas even more: PM Modi
1:05 pm: When it comes to tourism, the discussion of #StatueOfUnity is natural. Due to this, Kevadia and Gujarat are on Tourism Map of the world. It has been only 11 months since its inception, but so far more than 23 lakh tourists have come here from home and abroad: PM Modi
1:00 pm: Today, the water of Narmada is proving to be a gem for a large part of Gujarat, not just Kutch. Narmada water is not just water, it is paras, which makes it gold as soon as it touches the soil. Irrigation system has increased due to Narmada water: PM Modi
12:58 pm: When you gave me the responsibility here, we had a double challenge. On one hand, it was to intensify the dam work for irrigation, drinking water, electricity and on the other hand to increase the network of Narmada Canal and alternative irrigation system. But we did not give up and today an extensive network of irrigation schemes has come up in Gujarat. Just a few years ago, a study was done by IIM Ahmedabad, which revealed that micro-irrigation has saved up to 50% of the water in Gujarat.: PM Modi
12:53 pm: I remember that in 2000, for the first time in the history of India, a special water train had to be run to deliver water to Rajkot, Surendranagar, and Jamnagar. Today, when we remember those old days, it seems that Gujarat has come so far today: PM Modi
12:52 pm: Today, cleaning work of ponds, lakes, rivers is being done in Kevadia. In the coming days, the work of large-scale plantation is also to be done. This is a complimentary, commendable work. This is the motivation on which the Water Life Mission is going to move forward: PM Modi
12:50 pm: For the first time, we have seen Sardar Sarovar Dam full. There was a time when reaching the target of 122 meters was a big deal. But the filling of Sardar Sarovar to 138 meters within 5 years is amazing and unforgettable: PM Modi
12:48 pm: When I am talking to you today, Sardar Sarovar Dam and Sardar Saheb's tallest statue in the world are both symbols of their will and determination. I believe that with his inspiration we will fulfill every resolve associated with the new India and achieve every goal: PM Modi
12:46 pm: Today is the birth anniversary of Viswakarma ji, the god of creation. In the resolution of the creation of a new India, the creativity and the will power to achieve big goals are very essential in the resolve we are moving forward: PM Modi
12:43 pm: Prime Minister Narendra Modi in Kevadia, Gujarat: In our culture, it is believed that development can be done while protecting the environment, and it is evident here. Nature is dear to us, it is our jewel.
12:30 pm: Union Home Minister Amit Shah: From 5 Aug 2019 till 17 September, not even a single bullet has been fired in Kashmir during this time. No life has been lost. Kashmir is open with an atmosphere of absolute peace.
12:27 pm: Defence Minister Rajnath Singh to launch three naval projects, including the commissioning of second Scorpene submarine INS Khanderi, launch of first P-17A warship Nilgiri, and inauguration of Aircraft Cartier Drydock, in Mumbai on 28th September.
12:21 pm: Karnataka: Eyewitnesses say BJP MP A Narayanaswamy(in peach shirt) was denied entry by members of Yadava community at a village temple in Tumakuru, as he was Dalit. Nagaraj, a local says,"We've traditions,there is history of incidents,so people said he shouldn't be allowed"
12:15 pm: Karnataka Chief Minister BS Yediyurappa in Kalaburagi: Hyderabad-Karnataka region is being renamed as Kalyana-Karnataka today. It was a long-pending demand. State government will create a separate Secretariat for the development of Kalyana-Karnataka.
12:00 pm: Gujarat: Prime Minister Narendra Modi visits Nutrition Park in Narmada district.
11:45 am: Gujarat: Prime Minister Narendra Modi offers prayers at Garudeshwar Dutt Temple in Narmada district.
11:40 am: Home Minister Amit Shah: In 2013, there used to be news of corruption every day,borders were insecure,our soldiers were beheaded&insulted,women felt unsafe,ppl were protesting on roads. A govt was running in which every minister considered himself PM but didn't think of PM as PM.
11:35 am: CBI has filed an application in Rouse Avenue Court, seeking permission to interrogate #AgustaWestland deal alleged middleman Christian Michel in Tihar Jail. CBI has also sought specimen of his signature & handwriting for probe
11:30 am: CBI Sources: Central Bureau of Investigation had directed former Kolkata Police Commissioner Rajiv Kumar to appear before the agency at 10 am today but he failed to appear. Further action is in progress.
11:10 am: Baloch leader Mehran Marri in London: Pakistan Army is notorious for its policy of rape & pillage like they conducted Operation Searchlight in Bangladesh. It is resorting to the same policies in Balochistan now.
11:06 am: Delhi Police: A mentally depressed woman was allegedly gang-raped at a bus-stop in Sunlight Colony area by two men who approached her on the pretext of providing food, on 15 September.
11:00 am: Supreme Court judge, Justice Mohan Shantanagoudar, one of the judges on the bench hearing the Karnataka disqualified MLAs case, recuses himself from the matter. Next hearing on Monday (23rd September).
10:58 am: #AndhraPradesh SDMA (State Disaster Management Authority) on boat capsize incident: 12 more bodies found during search operations this morning, of which 2 bodies were found near Dowleswaram Barrage on Godavari river.
10:50 am: Chhattisgarh: A female health worker crosses a river on foot to provide healthcare services to villagers in Balrampur; says,"I visit this village after crossing a river as it's surrounded by water on all sides. I feel scared, but I come here to provide medical aid to the villagers"
10:46 am: Gujarat: Prime Minister Narendra Modi offers prayers at Sardar Sarovar Dam.
10:45 am: Pakistan: Body of a girl, Namrita Chandani found with a rope tied to her neck in Ghotki, Sindh. Dr Vishal Sundar, her brother says, "There are marks on other parts of her body too like a person was holding her. We are a minority, please stand up for us.
10:30 am: Congress: President Sonia Gandhi has extended her greetings to Prime Minister, Narendra Modi on his birthday. She wished him a healthy, happy and long life.
10:20 am: Gujarat: Prime Minister Narendra Modi at the Ekta Nursery, situated in the vicinity of the Statue of Unity. The nursery manufactures various traditional eco-friendly products and offers a live demonstration of their manufacturing process to the visitors.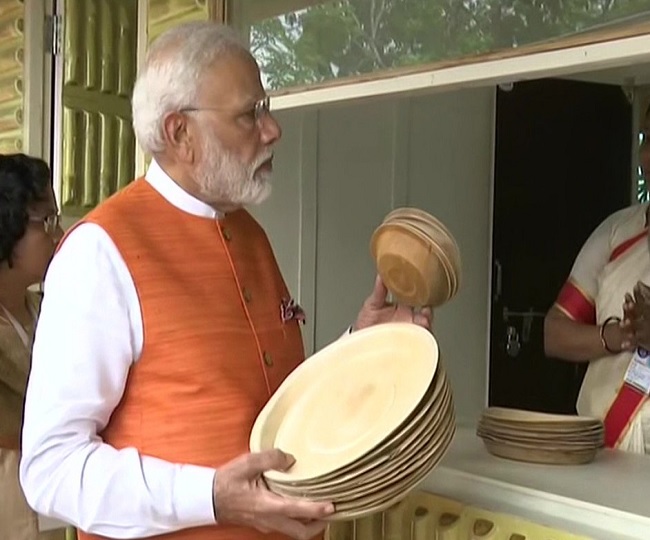 10:19 am: Telugu Desam Party (TDP) Chief and former Andhra Pradesh CM Chandrababu Naidu (in file pic) demands Central Bureau of Investigation (CBI) inquiry into the alleged suicide of former Andhra Pradesh Speaker, Kodela Siva Prasada Rao.
10:00 am: Karnataka: One TAPAS Experimental Unmanned Aerial Vehicle belonging to Defence Research Development Organization (DRDO) crashed 17 km from Chitradurga test range, today. The UAV was airborne for one of its initial development flights and was undergoing a test when it crashed.
9:45 am: Gujarat: Prime Minister Narendra Modi at the Sardar Sarovar Dam site.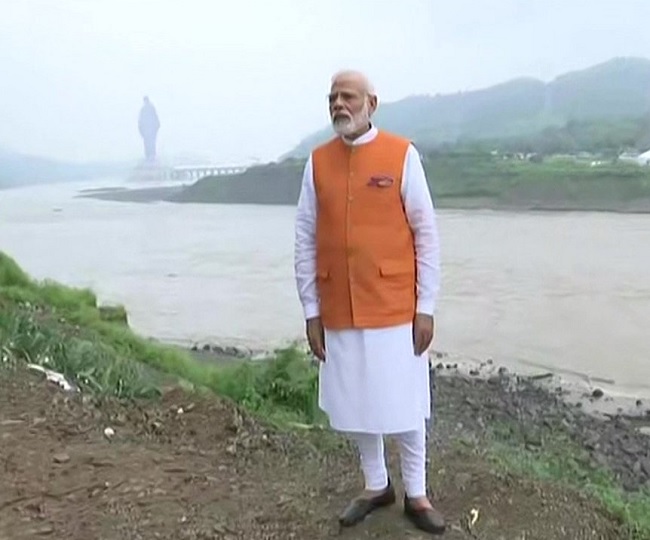 9:39 am: Gujarat: Prime Minister Narendra Modi visits Cactus Garden in Kevadiya, Narmada district. Gujarat Chief Minister Vijay Rupani & Governor Acharya Devvrat also present.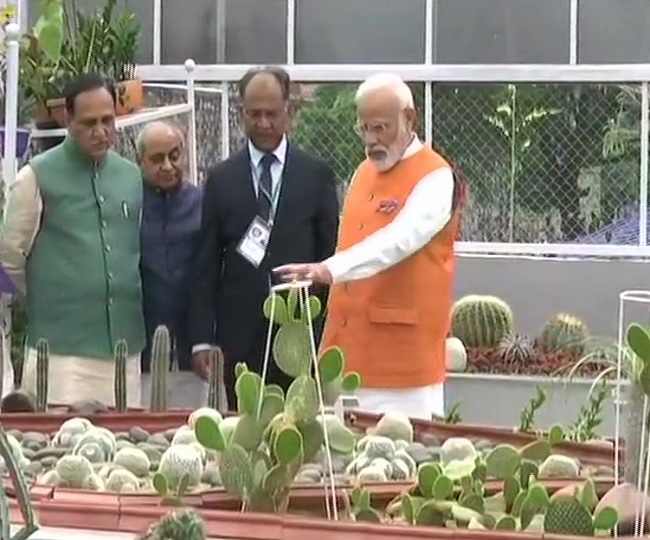 9:30 am: PM of Malaysia, Dr Mahathir says "Zakir Naik isn't a national of this country, he was given permanent status by previous govt. Permanent resident isn't supposed to make comments on country's system or politics, he breached that, so now he isn't allowed to speak": Malaysian Media
9:25 am: Prime Minister of Malaysia, Dr Mahathir Mohamad when asked if there is a proposition to return Zakir Naik to India "Not many countries want him. I met Prime Minister Modi, he didn't ask me for him. This man could also be troublesome for India": Malaysian Media
9:05 am: Karnataka: Chief Minister BS Yediyurappa and Deputy Chief Minister Ashwath Narayan participate in 'Vrukshothsava' (Tree Day celebrations) organised near Agara Lake in Bengaluru.
8:58 am: Delhi: A businessman named Rajul allegedly shot dead by three bike-borne assailants in Jyoti Nagar area last night. More details awaited.
8:55 am: USA: Indian and American troops training together under Exercise Yudh Abhyas 2019 at Joint Base Lewis, McChord. The troops are practising for joint counter-terrorism operations, as part of their drills.
8:40 am: Defence Spokesperson: Eastern Air Commander Air Marshal R D Mathur & Eastern Army Commander Lt Gen Anil Chauhan to jointly inaugurate resurfaced Vijaynagar Advanced Landing Ground in Arunachal Pradesh for fixed wing operations on 18th Sep. They will land at Vijayanagar ALG in AN-32
8:23 am: Gujarat: Prime Minister Narendra Modi arrives in Kevadiya in Narmada district. He will be visiting Sardar Sarovar Dam shortly.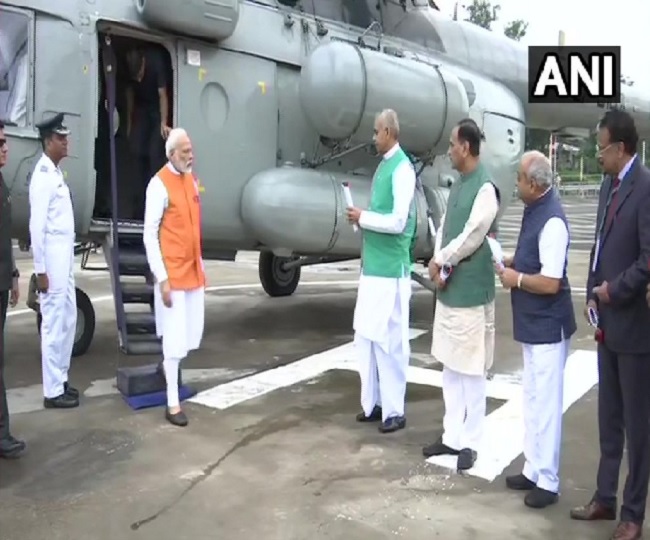 7:45 am: Gujarat: Preparations underway at Kevadiya Dam in Narmada, ahead of Prime Minister Narendra Modi's visit today
7:30 am: US President Donald Trump: I will see Prime Minister Narendra Modi and I will be meeting with India and Pakistan. I think a lot of progress is being made there.
7:20 am: Varanasi:Arvind Singh, a fan of PM Modi offered a gold crown to Lord Hanuman at Sankat Mochan Temple yesterday, ahead of PM's birthday, says, "Ahead of Lok Sabha polls, I took a vow to offer gold crown weighing 1.25 kg to Lord Hanuman if Modi Ji formed govt for the second time"
7:15 am: Delhi: BJP workers led by party MP Manoj Tiwari celebrated Prime Minister Narendra Modi's birthday at India Gate.
7:00 am: Bhopal: BJP workers in Bhopal cut a 69 feet long cake yesterday, ahead of Prime Minister Narendra Modi's birthday.
Posted By: Talib Khan