By Aalok Sensharma
Fri, 13 Sep 2019 07:07 AM (IST)
New Delhi | Jagran News Desk: Jagran English is back with its Latest News updates in which we provide all the relevant news for our readers in 'One Page' and 'One Click'.
Today we will have a special focus on the Assam unit of Congress which is set to travel across the state for 16 days to help Indian citizens left out of the final NRC list, Pakistan Prime Minister Imran Khan's public address in Muzaffarabad, Phil Murphy's (Governor of New Jersey) 10-day visit to India and other top news of the day.
Here, we have a 360-degree focus on major developments that take place across all genres -- politics, crime, international news, business, sports, entertainment and lifestyle.
So here are the higlights of September 13:
16:43 pm: DK Shivakumar case in Rouse Avenue Court: Judge asks "he is not cooperating in the investigation means?"
ED- he is not giving details which is in his knowledge.
Judge- Do you think he will give answer in the 5 days? If he has not answered, will he answer now?
16:25 pm: Enforcement Directorate (ED) has sought 5 days further remand of DK Shivakumar. ED says "his statement was recorded to unearth the modus operandi. He was evasive & took several breaks between the questioning."
16:15 pm: Enforcement Directorate (ED) has moved an application in Rouse Avenue Court seeking further custody of Congress leader DK Shivakumar in money laundering case. ED says DK Shivakumar was evasive and gave irrelevant answers during the interrogation.
16:13 pm: RSS leader Indresh Kumar: Pakistan was formed after partition, which was further partitioned in 1971. Today, it lies at the verge of splitting into 5-6 pieces. Pashtunistan, Balochistan, Sindh want to break away.Experts predict this fate for Pakistan. It's growing weak day-by-day
15:27 pm: Union Minister for Housing and Urban Affairs, Hardeep Puri on reports that Rajpath to India Gate area in Delhi to be redeveloped: By middle of October, we might float tenders for it and we would like the work to start by next year. There are just suggestions & ideas, we'll do consultations.
15:07 pm: Saradha chit fund case: Calcutta High Court lifts stay on protection from arrest of Kolkata's former Police Commissioner Rajiv Kumar. Now it's up to the investigative agency (CBI) to decide on arrest. Court also said the investigative agency should justify the arrest.
14:55 pm: Udayanraje Bhosale, NCP Lok Sabha MP and descendant of Shivaji Maharaj to join Bharatiya Janata Party in Delhi tomorrow.
14:47 pm: Delhi's Sant Ravidas Temple demolition case: Supreme court today said it will hear on September 16, the petitions filed by Congress leader, Ashok Tanwar & former MP, Pradeep Jain, seeking a direction to rebuild and allow people to offer prayers in the temple.
13:30 pm: Sukma: Security forces recovered a 20 kg improvised explosive device (IED) near Timelvada under Chintagupha police station limits. The IED was diffused by the security forces.
13:18 pm: Defence Research & Development Organisation (DRDO) & Aeronautical Development Agency today successfully executed the first ever arrested landing of Light Combat Aircraft (Navy) at shore based test facility in Goa.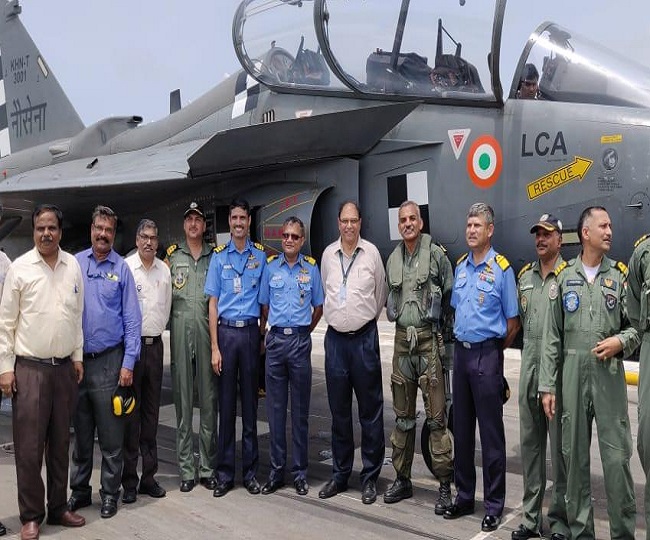 13:10 pm: Union Transport Minister Nitin Gadkari on Odd-Even scheme: No I don't think it is needed. The Ring Road we have built has significantly reduced pollution in the city and our planned schemes will free Delhi of pollution in the next two years.
13:10 pm: Bharatiya Janata Party (BJP) national general secretaries meeting to be held at party headquarters today; meeting to be chaired by BJP working president JP Nadda.
12:33 pm: SC says the issue of linkage of social media profiles with Aadhaar needs to be decided at the earliest.
12:26 pm: This is the AAP government's winter action plan to tackle pollution in Delhi ahead of winters: CM Arvind Kejriwal
12:24 pm: Seven-point action plan in place to curb pollution: CM Arvind Kejriwal
12:22 pm: 1000 Electric buses in Delhi soon: CM Arvind Kejriwal
12:21 pm: Electric vehicle policy to be notified soon: CM Arvind Kejriwal
12:13 pm: Delhi Government to give masks to the public during crop burning period: CM Arvind Kejriwal
12:12 pm: I appeal to people to not burst crackers during Diwali: CM Arvind Kejriwal
12:11 pm: Odd-Even will be applicable in Delhi from November 4 to 15: CM Arvind Kejriwal
12:05 pm: Enforcement Directorate (ED) has sent a letter to Air India to seek more information about Atul Chandra (currently posted in India's aviation regulatory body DGCA) in connection with Foreign Exchange Management Act (FCRA), 1999 & Prevention Of Money Laundering Act (PMLA) 2002.
11:47 am: Akhil Bharatiya Vidyarthi Parishad (ABVP) leading on all 4 seats in the Delhi University Students' Union (DUSU) elections, as per initial trends.
11:37 am: Shuttler PV Sindhu met Andhra Pradesh CM YS Jagan Mohan Reddy in Amaravati, earlier today. Sindhu won a gold medal at the BWF World Championships on August 25.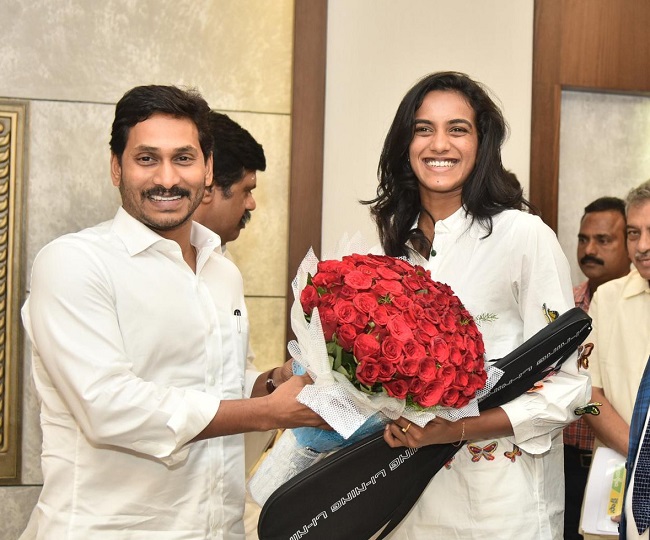 11:36 am: Om Singh, Swami Chinmayanand's lawyer: The news that Swami ji's ashram has been sealed is wrong, however, as a part of the investigation a room was sealed by Special Investigation Team (SIT). Yesterday, he was questioned by SIT from 6 pm to 1 am.
11:36 am: SC takes into record Uttar Pradesh govt's notification of extending the tenure of Special Judge S K Yadav, hearing the trial in Babri Masjid demolition case in Lucknow and disposes of his prayer. He had written to SC seeking an extension of his superannuation, which was due in April this year
11:11 am: National Commission for Women: NCW received a complaint yesterday against Rituraj Jha, MLA from Kiradi (North West Delhi) accusing him of making indecent comments against a woman politician, Councillor from North Delhi constituency, in a public speech.
National Commission for Women: The Commission has taken up the case & is committed to the welfare of women and has decided to pursue the case with the Commissioner of Police, Delhi for further investigation and action.
11:06 am: Muslim Advocate Association of Tamil Nadu approaches the Supreme Court challenging validity of law passed by Parliament to criminalise Triple Talaq. A Bench headed by Justice NV Ramana seeks reply from the Centre and tags the matter along with similar pending cases.
11:06 am: Indian Women's Hockey Team to be captained by Rani and vice-captained by Savita for their upcoming tour of England which is scheduled to take place from 27th September - 4th October 2019 in Marlow, England.
10:57 am: Supreme Court refers to a 3-judge bench review petition of Centre against March 2018 verdict when it had held that there will be no automatic arrest on a complaint filed under the SC/ST Prevention of Atrocities Act had also introduced anticipatory bail provision under the Act.
10:25 am: DMK Pres MK Stalin, on death of 22-yr-old in Chennai allegedly after AIADMK banner fell on her: Subashree has died due to negligence of govt and inefficient police officers. Illegal banners have taken yet another life. How many more lives will be lost to power hungry and anarchist rule?
10:25 am: Maharashtra: Nationalist Congress Party (NCP) leader & MLA from Guhagar, Bhaskar Jadhav to join Shiv Sena today. He tendered his resignation as MLA to state assembly speaker Haribhau Bagade, today.
9:58 am: BJP leader Swami Chinmayanand was questioned by Special Investigation Team (SIT) yesterday, in connection with the alleged sexual harassment of a law student.
9:47 am: Jammu and Kashmir: People's Conference leader Sajjad Lone and his party have filed a petition in Supreme Court against abrogation of Article 370.
9:41 am: MMTC Ltd. (Metals and Minerals Trading Corporation of India) invites bids for 'import of onion on CIFFO (Cost Insurance and Freight Free Out, international trade), from Pakistan, Egypt, China, Afghanistan & any other origin'.
9:31 am: Enforcement Directorate (ED) on Friday took Congress leader DK Shivakumar to Tughlak Road police station in Delhi. Shivakumar, who is in ED's custody since September 3 in connection with a money laundering case was earlier taken to the RML hospital on Thursday.
9:29 am:
4 Bank Officers' Trade Union Organisations have proposed to go on a continuous strike from midnight of 25 Sept to midnight of 27 Sept and on an indefinite strike from second week of Nov 2019, against the mergers & amalgamations in banking sector. pic.twitter.com/o3YGUisbAZ

— ANI (@ANI) September 13, 2019
9:15 am: Madhya Pradesh CM Kamal Nath directs officials for a magisterial inquiry into the incident of boat capsized in Bhopal today. A compensation of Rs 4 lakhs will be given to families of deceased. Strict action will be taken against those found responsible for the incident.
8:27 am: We lost 70,000 people, we lost over 100 billion dollars to the economy. In the end, we were blamed for the Americans not succeeding in Afghanistan. I felt it was very unfair on Pakistan: Pakistan PM Imran Khan
8:26 am: The same groups who are all in Pakistan are supposed to say that now because Americans are there it is no longer jihad its terrorism. It was a big contradiction and I strongly felt that Pakistan should have been neutral because by joining in, these groups turned against us: Pakistan PM Imran Khan
8:26 am: In the 80s we were training these Mujahideen people to do jihad against Soviet when they occupied Afghanistan. So, these people were trained by Pakistan, funded by US's CIA and now a decade later when the Americans come into Afghanistan...: Pakistan PM Imran Khan
8:16 am: Kerala: A portion of the over 600-year-old Kadavumbhagam synagogue in Kochi's Mattancherry collapsed on Tuesday after it was damaged due to rain. The structure had been in dilapidated condition for the past few years.
7:12 am: Department of Information and Public Relations, Government of Jammu and Kashmir: Restrictions lifted from all areas, traffic movement has increased manifold. Landlines fully functional, mobile phones considerably working in Kupwara and Handwara.
7:12 am: International Monetary Fund (IMF) on Thursday said that India's economic growth is "much weaker" than expected due to corporate and environmental regulatory uncertainty and "lingering weakness" in some non-Bank financial companies.
"Again, we will have a fresh set of numbers coming up but the recent economic growth in India is much weaker than expected, mainly due to corporate and environmental regulatory uncertainty and lingering weakness in some non-Bank financial companies and risks to the outlook are tilted to the downside, as we like to say," said IMF spokesman Gerry Rice at a news conference.