Breaking News, Latest Updates September 12 LIVE: PM Modi launches Mandhan Yojana in Ranchi
Updated: Thu, 12 Sep 2019 06:28 PM IST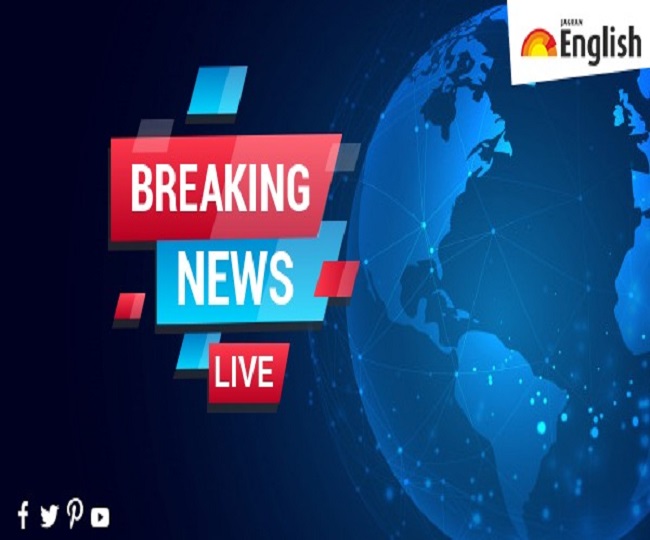 New Delhi | Jagran News Desk: Jagran English is back with its Latest News updates in which we provide all the relevant news for our readers in 'One Page' and 'One Click'.
Today we will have a special focus Chandrayaan-2, the Board of Trade (BoT) meeting and other top stories of the day.
Here we provide 360-degree coverage on all genres including politics, business, India, world, sports and entertainment.
Here are the LIVE updates of September 12:
18:30 pm: J&K Principal Secretary, Rohit Kansal: There are practically no restrictions on movement anywhere, landlines are functional. Regarding mobile communication there continues to be tremendous provocation from across the border, therefore, any decision must factor that provocation.
17:51 pm: Government of India: Index of Industrial Production (IIP) for the month of July 2019 stands at 131.1, 4.3% higher compared to the level in the month of July 2018.
17:50 pm: Government of India: Consumer Price Index at 3.21% in August 2019, in July 2019 it was 3.15%.
17:10 pm: MSK Prasad, Chief Selector: No update on MS Dhoni's retirement, the news is incorrect.
17:01 pm: Dr Jitendra Singh, Minister of State (MoS) Prime Minister's Office meets 16 Sarpanches from Gandoh tehsil of Doda district, Jammu and Kashmir.
16:37 pm: Jammu and Kashmir Police on 3 Jaish-e-Mohammed terrorists arrested in Kathua: The three arrested are Ubaid-ul-Islam resident of Pulwama, Jahangir Ahmed Parrey resident of Budgam, & Sabeel Ahmed Baba resident of Pulwama.
16:31 pm: Union Minister Piyush Goyal's clarification on his recent comments: There is a very mischievous and baseless narrative sought to be presented about my closing comments at the board of trade meeting this morning.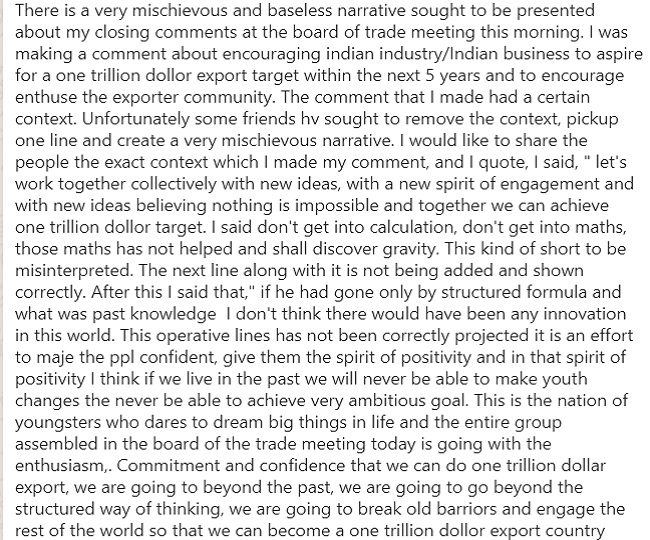 16:09 pm: Raveesh Kumar, MEA on Pakistan Ministry of Foreign Affairs' statement, "There would be no 2nd consular access to Kulbhushan Jadhav": We will keep trying that judgment of ICJ is fully implemented. We would like to remain in touch with the Pakistani side through diplomatic channels
16:05 pm: Congress leader RPN Singh on Rahul Gandhi not present at party meeting: It was a meeting of General Secretaries, General Secretaries in-charge, and state presidents/CLP leaders, only they were invited to the meeting.
16:04 pm: West Bengal CM & TMC Chief Mamata Banerjee: You won't be able to shut Bengal's mouth as you did in Assam by using your police. Suddenly, you are teaching us religion as if we don't celebrate Eid, Durga Puja, Muharram & Chhath Puja.
15:56 pm: West Bengal CM & TMC Chief Mamata Banerjee at a protest march in Kolkata, against National Register of Citizens (NRC): 19 lakh people are left out in the final list, including Hindus, Muslims and Buddhists. It's 76 yrs of independence, still, we've to give proof of our identity. Why?
15:51 pm: Congress leader KC Venugopal: We will organise massive agitation across the country from 15-25 October on the issue of economic slowdown.
15:21 pm: Court reserves order on P Chidambaram's surrender application after conclusion of arguments of both sides. Order to be passed tomorrow
15:20 pm: INX Media case in Delhi's Rouse Avenue court: Hearing is underway on P Chidambaram's surrender application.
Solicitor General Tushar Mehta appearing for Enforcement Directorate has opposed the surrender plea and sought dismissal of the application.
15:20 pm: Razzaq Baloch, Baloch Human Rights Council, in Geneva: In 1947, Balochistan was a free state. Then Pakistan sent the army to occupy Balochistan. Since that day, atrocities are going on. They want to suppress us, they want to loot & plunder our wealth.
14:34 pm: Dr. Mohammad Faisal, Spokesperson, Ministry of Foreign Affairs, Pakistan: Pakistan will charge USD 20 per person as service fees (not entrance fees) for Kartarpur Corridor.
14:30 pm: Delhi's Rouse Avenue court reserves for tomorrow at 2 pm the order on application of Robert Vadra to travel abroad.
14:11 pm: Today for the development and education of tribal children and youth we are starting a very big project. We are setting up 462 Eklavya model residential schools across the country: PM Modi
14:09 pm: PM Modi says that his government has launched a slew of development projects in the first 100 days, however, a lot still needs to be done.
14:06 pm: "Picture abhi baaki hai": PM Modi
14:06 pm: It's just a trailer, people will see the full movie in the next five years: PM Modi
14:03 pm: All round development is not only our priority but also our commitment. Development is our promise and intention too. The country has never seen such a rapid pace of development that it is witnessing now: PM Modi
14:00 pm: Today, I have had the privilege of adding one more thing to the identity of Jharkhand. The state is going to be the state that is the launching pad of big schemes for the interests of poor and tribals: PM Modi
13:58 pm: At the time of the election, I promised you a strong and strong government. A government that will work faster than ever before. A government that will put in full force to fulfill your aspirations. In the last 100 days, the country has seen its trailer: PM Modi
13:57 pm: Today is a historic day for people of Jharkhand as the new state Assembly building has been inaugurated. Foundation stone for new secretariat building has also been laid today: PM Modi
13:55 pm: This water terminal in Jharkhand will not only connect the area to the rest of India but also to other countries. After this terminal, the tribal brothers and sisters and farmers will be able to send their products to markets in the whole country easily: PM Modi
13:53 pm: PM Modi has launched Kisan Mandhan Yojana in Ranchi, Jharkhand. Under this scheme, farmers between 18 and 40 years of age will get Rs 3,000 monthly pension after 60 years of age.
13:51 pm: PM Modi launches Pradhan Mantri Kisan Mandhan in Ranchi, Jharkhand
13:45 pm: Prime Minister Narendra Modi inaugurates Multi-Modal Terminal in Sahibganj and other development projects.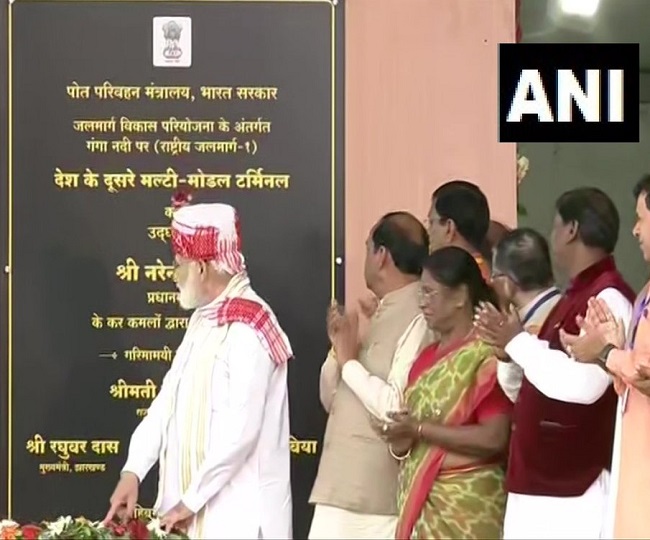 13:16 pm: Sonia Gandhi at the party meeting said democracy is at peril.The mandate is being misused and abused in most dangerous fashion. Appropriation of leaders like Gandhi, Patel, Ambedkar being done with the aim of misinterpreting their true messages to further their nefarious agenda: ANI quoted Congress sources as saying
13:15 pm: Congress sources: Sonia Gandhi at the party meeting said the economic situation is very grim. Losses are mounting. All that the govt is doing is indulging in unprecedented vendetta politics to divert attention from mounting losses.
13:12 pm: MC Mary Kom nominated for Padma Vibhushan and Shuttler PV Sindhu nominated for Padma Bhushan. Wrestler Vinesh Phogat, Table Tennis player Manika Batra and cricketer Harmanpreet Kaur nominated for Padma Shri awards: ANI
13:01 pm: Delhi High Court: The habeas corpus petition moved by a friend of former IAS officer Shah Faesal has been dismissed as withdrawn.
12:42 pm: Coimbatore: On the basis of information from locals, police recovered a hand-made wood handle pistol from a garbage box at Variety Hall Road, today, further investigation underway.
12:24 pm: Mahmood Madani, Jamiat Ulema-e-Hind: We have passed a resolution today that Kashmir is an integral part of India. There will be no compromise with security and integrity of our country. India is our country and we stand by it.
12:02 pm: Prime Minister Narendra Modi inaugurates the New Jharkhand Vidhan Sabha building.
11:54 am: Want to underline the importance of building capabilities to deal with the menace of Bio-terrorism.Bio-terror is a real threat today. Armed forces and its medical services need to be at the forefront to combat this menace: Rajnath Singh at Military Medicine Conference, Delhi
11:54 am: SSP Kathua: A truck carrying arms and ammunition has been recovered in Kathua, more details are awaited.
11:53 am: Congress leader P Chidambaram's lawyers have also withdrawn their second plea challenging judicial custody of him. Delhi High Court asks Central Bureau of Investigation (CBI) to file status report in the his bail plea case in 7 days.
11:45 am: Muzaffarpur shelter home case: Supreme Court also directs the Bihar government to start processing releasing of funds to the victims under the Victim Compensation Scheme and take steps to provide them financial help.
11:45 am: Delhi High Court has issued notice to CBI on P. Chidambaram's plea seeking bail and challenging judicial custody order given by the trial court in INX Media case; Next date of hearing is 23rd September.
11:12 am: Madras High Court has refused to extend the parole granted to Nalini, a convict in Rajiv Gandhi assassination case. She had filed a plea to seek extension of parole till October 15.
11:11 am: Resolution adopted by Jamiat Ulama-i-Hind at their general council meeting in Delhi reiterates 'that Kashmir is an integral part of India and that all Kashmiris are our compatriots. Any separatist movement is harmful not only for the country but for people of Kashmir as well.'
11:03 am: Ayodhya Babri Masjid land case: Dr. Rajeev Dhavan representing the Muslim side submitted before the Supreme Court five-judge Constitution bench, headed by Chief Justice of India CJI Ranjan Gogoi that he had received threats on Facebook but he doesn't need any security at this point
11:03 am: Congress Interim President Sonia Gandhi, has called a meeting of all Congress-ruled state chief ministers, tomorrow.
10:54 am: Supreme Court sets aside the August 14 order of Delhi High Court which had granted bail to Bhushan Steel's former chief financial officer and director Nittin Johari.
10:50 am: Delhi: Aishwarya, daughter of Congress leader DK Shivakumar arrives at the office of the Enforcement Directorate (ED). She was summoned by the agency to appear before it today. DK Shivakumar was arrested by ED on September 3 in connection with an alleged money laundering case.
10:47 am: Supreme Court's five-judge Constitution bench continue hearing the Ayodhya Babri Masjid land case. Today is the 22nd day of the hearing.
10:32 am: Transport Department, Bihar: Only 38% of people wear a helmet in the state and there is a need to immediately increase this percentage. Hence, special emphasis should be given to helmet checks this week, and police officials must also be included in this.
10:31 am: Director General Of Civil Aviation official to ANI: Air India Capt (Director Ops) Amitabh Singh to be put off-roaster during investigation in an incident wherein he operated AI-302 Delhi-Sydney on Sept 7 on low fuel and has failed to provide a reason for it before DGCA
10:31 am: Delhi: Pakistani delegation is absent at the first military co-operation of the Shanghai Cooperation Organisation (SCO), organised by the Defence Ministry. Defence officials say, since Pakistan is a member of the SCO, it was invited to the event.
10:00 am: Delhi: Karnataka Congress leader, DK Shivakumar, brought to Enforcement Directorate (ED) office. He was arrested by ED on September 3 in connection with an alleged money laundering case.
9:56 am: Wrestler & BJP leader Babita Phogat's resignation from her post in Haryana Police has been accepted by the state police. She resigned from the service on 13th August this year.
"I had joined the party, you can only join the party after submitting resignation else it would have been a conflict of interest. I had submitted my resignation in August," she said.
9:38 am: Sensex up by 126.91 points, currently at 37,397.73
9:05 am: Lt Col Gaurav Solanki of the Indian Army posted with the India contingent in the United Nations Peacekeeping Mission in the Democratic Republic of Congo has been missing since Saturday afternoon after he went kayaking in Lake Kivu. The search operations are still on: ANI
8:46 am: Uttarakhand Min, Madan Kaushik on new Motor Vehicles Act, in Dehradun yesterday: We've given relaxations on penalties for traffic violations under certain sections of the Act. Centre has imposed a fine of Rs 10,000 for driving with expired licence but we've brought it down to Rs 5000
8:38 am: Indian Army: There was a face off between soldiers of Indian Army and Chinese Army near the northern bank of the Pangong lake. The face off was over after the delegation level talks between two sides there. De-escalated & disengaged fully after delegation level talks yesterday.
8:32 am: Pune division's State Highway Superintendent, Milind Mohite: Five people have died and 10 have sustained injuries after a collision between two buses near Satara on Pune-Bangalore National Highway, earlier today.
8:18 am: RSS joint general secretary Dr. Krishna Gopal at an event in Delhi yesterday: I can say with confidence that if Dara Shikoh had ruled India then Islam would have flourished in the country & Hindus would have also understood Islam better.
7:57 am: Prime Minister Narendra Modi to launch the Kisan Maan Dhan Yojana today at Ranchi, #Jharkhand. PM Modi also inaugurated the New Jharkhand Vidhan Sabha building and laid the foundation stone for the New Secretariat building at Ranchi.
7:31 am: Mumbai: An autorickshaw driver has been arrested for making indecent gestures at a woman passenger and masturbating, in Malad on 1st Sept. During the investigation it was found that he is a serial offender and has several cases of molestation and public nuisance registered against him.
7:28 am: Kuwait condemned "in the strongest possible terms" Israeli Prime Minister Benjamin Netanyahu's intentions to annex the Jordan Valley in the occupied West Bank if he wins re-election, Kuwait's Foreign Ministry said.
A source from the ministry said in a statement on Wednesday that such announcement is a "serious and flagrant violation" of the Palestinian peoples' rights, international law and resolutions, Xinhua news agency reported.
Posted By: Aalok Sensharma