Breaking News Latest Updates, Highlights of October 9
Stay tuned to catch all the LIVE updates here
Updated: Fri, 09 Oct 2020 04:34 PM IST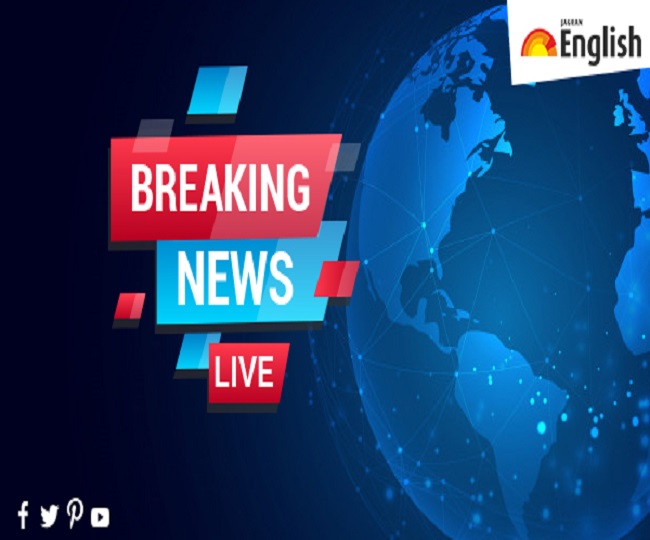 New Delhi | Jagran News Desk: Each and everything that happens around us impacts in some way and that's why it becomes important for us to know what's happening around the world. Thus at English Jagran, we provide our readers with a 360-degree coverage in all genres to give them a brief insight about what's happening around the world.
Today we will focus on the coronavirus cases in the country which have crossed the grim milestone of 69 lakh cases in the country. The death toll in the country is also surging at a fast pace and crossed the 1.05 lakh to reach 1,06,526 after 971 new fatalities were reported from across the country during the last 24 hours.
Here are the highlights of October 9:
3:00 pm: Pollution increases in Delhi during winter. 39 large construction sites identified here & directions given to deploy anti-smog guns at these sites. Deployment is already done at 33 of them. Action being taken against 6 sites where it hasn't been done yet: Delhi Environment Minister
2:45 pm: Tiny countries used to scare us during Congress regime, but now when China looked at us, our soldiers pushed them back inside their border - PM Narendra Modi has built such an India now: Madhya Pradesh Chief Minister Shivraj Singh Chouhan in Mandsaur
2:40 pm: If you press the button of 'Lotus', then every vote will come to Shivraj Singh Chouhan. Every vote to 'Lotus' will strengthen Prime Minister Modi - who paved the path to construction of Ram Mandir in Ayodhya, who abrogated Article 370: MP CM Shivraj Singh Chouhan in Mandsaur
2:30 pm: I've also spoken to DGP. Family will be provided security & their demands will be discussed. I will write a letter to CM, we would take strict action against land encroachers. Govt will do justice: Mahesh Joshi, Chief Whip, Rajasthan Legislative Assembly on Karauli priest case
2:20 pm: Punjab: Farmer organisations blocked Ladowal Toll Plaza in Talwandi Kalan of Ludhiana in protest against the recently implemented
2:10 pm: 'Rudram' is the country's first indigenous Anti Radiation missile for Indian Air Force that has been developed by DRDO. The missile is integrated on Sukhoi Su-30MKI fighter aircraft as launch platform, having capability of varying ranges based on launch conditions: DRDO
2:00 pm: It has INS-GPS navigation with Passive Homing Head for the final attack. 'Rudram' hit the radiation target with pinpoint accuracy. Passive Homing Head can detect, classify and engage targets over a wide band of frequencies as programmed: DRDO
1:45 pm: PM Modi to launch the physical distribution of Property Cards under SVAMITVA scheme on 11th Oct in a landmark event. Move set to have a transformative impact on rural India & empower millions as 6.62 lakh villages will be covered in a phased manner over a period of 4 years: PMO
1:35 pm: Empowering farmers & increasing their income, govt permits export of Bangalore Rose Onions & Krishnapuram Onions of up to 10,000 MT each: Piyush Goyal, Union Commerce & Industry Minister
1:30 pm: Export of Bangalore Rose onions & Krishnapuram onions upto the quantity of 10,000 MT each has been allowed for the period upto 31st March 2021 with immediate effect, subject to certain conditions: Amit Yadav, Director General of Foreign Trade, Ministry of Commerce & Industry
1:20 pm: We are extremely proud of the India Post Office team for their efforts to connect India. They bring happiness to countless lives. On World Post Day, greetings to them and their families. Best wishes for all future endeavours: Prime Minister Narendra Modi
1:15 pm: This case of a temple priest burnt alive proves that law & order system in state has collapsed & criminals have no fear of the law. Rajasthan Police's punchline seems to have now changed to 'Apradhi Mast, Janta Trast' under CM Gehlot: Satish Poonia, BJP State President, Rajasthan
1:10 pm: Union Minister Piyush Goyal assigned additional charge of Ministry of Consumer Affairs, Food and Public Distribution, following the demise of #RamVilasPaswan
1:05 pm: India today successfully testfired the 'Rudram' Anti-Radiation Missile from a Sukhoi-30 fighter aircraft off the east coast. The Missile has been developed by the Defence Research and Development Organisation (DRDO).
1:00 pm: Only one accused has been arrested for burning the priest. We demand the accused's entire family involved in this case should be arrested & police officials should be suspended for inaction. There's anger in the entire Brahmin community: Ramakant Sharma, Priest Babulal's relative
12:50 pm: Kailash Meena, the main accused in the case has been arrested. Six teams have been formed to investigate the matter. Efforts are on to nab the other accused: Mridul Kachhwa, SP, Karauli.
12:40 pm: Shiv Sena can contest in around 50 seats in the upcoming #BiharElections2020. Maharashtra CM Uddhav Thackeray and state minister Aaditya Thackeray will address virtual rallies: Sanjay Raut, Shiv Sena
12:30 pm: Banda: Man beheads wife, surrenders at Baberu Police Station with her severed head. Mahendra Pratap Chauhan, ASP says, "The accused killed his wife in suspicious of an affair with their neighbour. He also attacked and injured the neighbour. Probe underway."
12:20 pm: 154 police personnel tested positive for #COVID19 in the last 24 hours & 2 died, taking total positive cases to 24,735 in the force, including 22,082 recoveries, 2,394 active cases, and 259 deaths: Maharashtra Police
12:10 pm: He made the entire state a center of corruption & middlemen. Farmers were cheated on pretext of loan waivers & Rs 6000 crores were not fully paid to them by the previous CM. He stopped all my previous schemes also: Shivraj Singh Chouhan, Madhya Pradesh CM on Former CM Kamalnath
12:00 pm: Former Bihar CM Lalu Prasad Yadav granted bail by Jharkhand High Court, in the Chaibasa Treasury case related to fodder scam. However, he will remain in jail since the Dumka treasury case is still pending.
11:50 am: Madhya Pradesh: 117 kgs of hashish was seized from the possession of 7 persons in Narsinghpur. Ajay Singh, SP says, "Market price of the seized hashish is around Rs 6 crores. All accused have been sent to jail."
11:45 am: 964 case fatalities have been reported in the past 24 hours. Of these, nearly 82% are concentrated in ten states/UTs: Ministry of Health
11:35 am: 75% of the new recovered cases are observed to be concentrated in 10 States/UTs - Maharashtra, Karnataka, Kerala, Andhra Pradesh, Tamil Nadu, Uttar Pradesh, Odisha, West Bengal, Delhi and Madhya Pradesh: Ministry of Health
11:25 am: India on a steady trajectory of continuously declining Active Cases. Active caseload below 9 lakh for the first time after a month. India registered 8.93 lakh active cases today after registering 8.97 lakh on 9th September: Ministry of Health
11:10 am: Kerala: Sree Padmanabhaswamy Temple in Thiruvananthapuram closed for devotees till October 15, after several temple staff including two priests tested positive for COVID-19.
11:00 am: #COVID19 related supply disruptions, including labour shortages & high transportation costs, could continue to impose cost-push pressures, but these risks are getting mitigated by a progressive easing of lockdowns & removal of restrictions on inter-state movements: RBI
10:45 am: Rajasthan: A temple priest succumbed to his injuries last night after he was allegedly burnt alive by few people during a scuffle over temple land encroachment at Bukna village in Sapotra, Karauli district. Police have arrested the main accused Kailash Meena
10:41 am: Reserve Bank of India (RBI) stands ready to undertake further measures as necessary to assure market participants of access to liquidity and easy finance conditions: Shaktikanta Das, RBI Governor
10:38 am: Stan Swamy, a member of CPI (Maoist), arrested by NIA yesterday from Ranchi, Jharkhand in connection with Bhima-Koregaon case: National Investigation Agency (NIA) sources
10:35 am: Our assessment is that inflation will remain elevated in September but ease gradually towards the target over Q3 & Q4. Our analysis also suggests that supply disruptions & associated margins and markups are the major factors driving up inflation: Shaktikanta Das, RBI Governor
10:30 am: Delhi: President Ram Nath Kovind pays tribute to Union Minister and Lok Janshakti Party (LJP) leader #RamVilasPaswan at the latter's residence
10:25 am: Marginal Standing Facility Rate & bank rate remains unchanged at 4.2% and the reverse repo rate stands unchanged at 3.35%: Shaktikanta Das, RBI Governor
10:20 am: For the year 2021, real GDP is expected to decline by 9.5% with risks tilted towards the downside: Shaktikanta Das, RBI Governor
10:15 am: Monetary Policy Committee (MPC) voted unanimously to keep the policy repo rate unchanged at 4%. MPC also decided to continue with the accommodative stance of monetary policy as long as necessary at least through the current financial year & next year: Shaktikanta Das, RBI Governor
10:05 am: Delhi: Prime Minister Narendra Modi pays last respects to Union Minister and LJP leader Ram Vilas Paswan at the latter's residence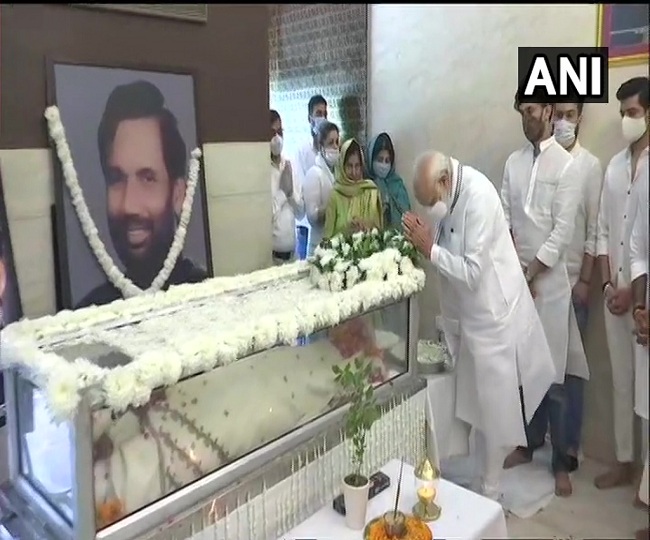 9:55 am: Delhi: BJP national president JP Nadda pays last respects to Union Minister and LJP leader Ram Vilas Paswan at the latter's residence. The LJP leader passed away yesterday
9:45 am: India's #COVID19 tally crosses 69-lakh mark with a spike of 70,496 new cases & 964 deaths reported in the last 24 hours. Total case tally stands at 69,06,152 including 8,93,592 active cases, 59,06,070 cured/discharged/migrated cases & 1,06,490 deaths: Union Health Ministry
9:30 am: Karnataka: Gold worth Rs 25,45,920 was seized from a passenger at Mangalore International Airport who had arrived from Dubai on October 4. The passenger was arrested and produced before the Court
9:25 am: On Indian Foreign Service (IFS) day today, greetings to IFS officers. Their work towards serving nation, furthering national interests globally are commendable. Their efforts during Vande Bharat Mission & other COVID related help to citizens & other nations is noteworthy: PM Modi
9:20 am: Pakistan occupied Kashmir (PoK): A protest rally was held in Hunza in Gilgit-Baltistan yesterday demanding the release of political activists.
9:10 am: "Saturday will be day 10 since Thursday's diagnosis, and based on the trajectory of advanced diagnostics the team has been conducting, I fully anticipate the president's safe return to public engagements at that time," White House physician Dr Sean Conley said
9:05 am: City Crime Branch (CCB) conducted two raids; in one raid three persons arrested for cricket betting & Rs 3 lakhs seized, in another raid Rs. 4.5 lakhs seized. Further investigation underway: Sandeep Patil, Joint Commissioner of Police (Crime), Bengaluru
9:02 am: Delhi: Mortal remains of Union Minister and LJP leader #RamVilasPaswan being taken to his residence from AIIMS (All India Institute of Medical Sciences). The LJP leader passed away yesterday.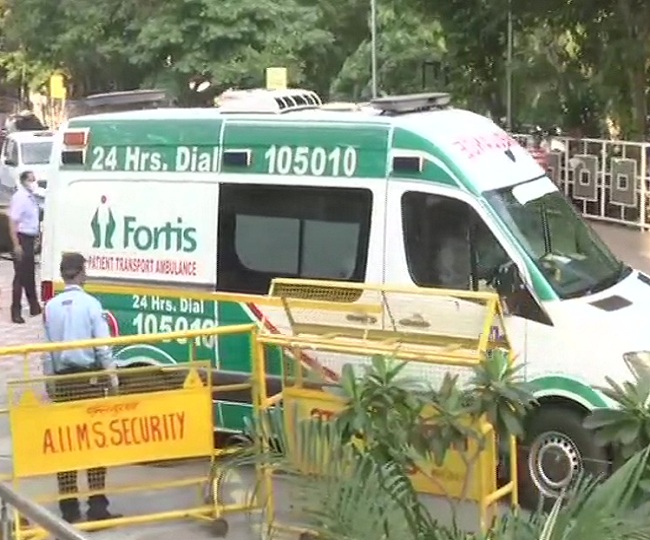 8:50 am: Delhi: Flags at Rashtrapati Bhavan and Parliament fly at half-mast to condole the demise of Union Minister and LJP leader Ram Vilas Paswan.
8:45 am: ITBP organized a painting competition for Corona affected children at ITBP-run Sardar Patel COVID Care Centre & Hospital, Radha Soami Satsang Beas in Chhatarpur, to keep them motivated: Indo-Tibetan Border Police (ITBP)
8:20 am: Kerala: BJP national vice president AP Abdullakutty's car hit by a truck in Malappuram last night, while he was on his way to Kannur from Thiruvananthapuram. No injuries reported. Police say,"Case registered at Kalpakanchery Police Station. Truck driver arrested. Probe underway"
7:50 am: Mizoram reported seven COVID-19 cases yesterday, taking total cases to 2,157 out of which 220 cases were active: State government
7:40 am: New recoveries in India have exceeded the new cases for 3 continuous weeks, unabated. The new cases during these 3 weeks have displayed a steady trend of decline: Union Health Ministry
7:30 am: A 12-year-old girl was alleged raped by two persons living in her neighbourhood in Dadri on October 6. An FIR has been lodged and the accused have been taken into custody: Vrinda Shukla, DCP (Women Security) Gautam Buddh Nagar
7:20 am: Firozabad: A differently-abled minor girl has been allegedly raped at a village in Shikohabad. Police say, "The girl was returning to her home from the shop of her father when a person from the same village took her to his home & raped her. Two teams formed to nab him."
7:10 am: On being informed, police arrested the accused who confessed to having committed the crime against two other minor girls. The man would call girls to his home on the pretext of giving them chocolates and sexually assault them: Vadodara DCP Lakhdheersinh Zala
7:00 am: Gujarat: A man has been booked & arrested for allegedly raping three minor girls in Makarpura, Vadodara. DCP Lakhdheersinh Zala says, "The incident came into light when one of the girls narrated her ordeal to her teacher while getting lessons on 'good touch, bad touch'."
Posted By: Talib Khan