Updated: Mon, 25 Oct 2021 04:51 PM IST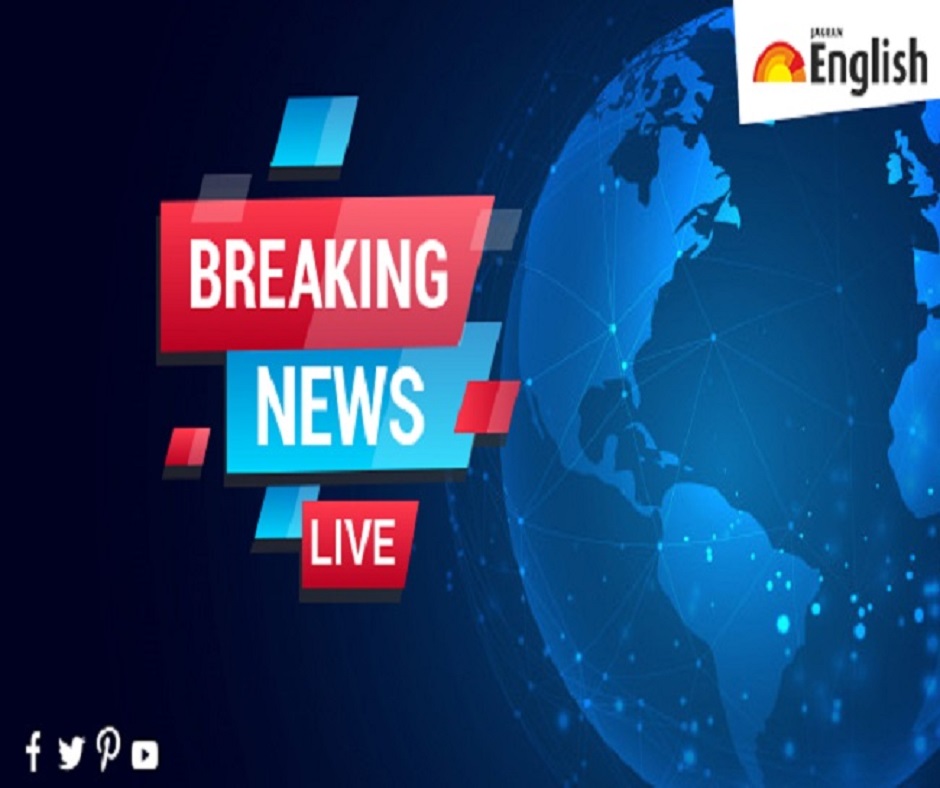 New Delhi | Jagran News Desk: Each and everything that happens around us impacts in some way and that's why it becomes important for us to know what's happening around the world. Thus at English Jagran, we provide our readers with 360-degree coverage in all genres to give them a brief insight into what's happening around the world.
Here are the highlights of the day:
15:26 hours: Also Read -- In Varanasi, PM Modi launches Ayushman Bharat Health Infrastructure Mission with a push for Atmanirbhar Bharat and Vocal for Local
14:58 hours: BREAKING: Union Health Ministry has rushed a high-level multi-disciplinary team to Uttar Pradesh where a case of Zika Virus Disease case has been reported. A 57-year-old male from Kanpur has tested positive for Zika virus disease on 22 October 2021, reports ANI.
The team shall work closely with the State Health Departmen, take a stock of the situation on the ground and assess whether Union Health Ministry's Action Plan for Zika Management is being implemented. It'll also recommend necessary public health interventions for mgmt of Zika in the Uttar Pradesh.
14:33 hours: Villages either didn't have hospitals or no doctors in hospitals. Block hospitals didn't have testing facilities, if test reports came in, there was doubt on its results. District level hospitals led to surgery for serious diseases but the hospitals didn't have surgery facility, says PM Modi.
14:27 hours: For a long time after independence, not much attention was paid to health and healthcare facilities. People who governed the nation for a long time, kept the healthcare system devoid of facilities instead of facilitating its development, says PM Modi.
14:15 hours: In its fight against Corona pandemic, the nation has achieved a major milestone of administering 100 crore vaccine doses. With blessings of Baba Vishwanath, Maa Ganga and trust of people of Kashi, the campaign of 'Sabko vaccine, muft vaccine' is going ahead successfully, says PM Modi.
13:54 hours: Just In: PM Modi launches 'PM Ayushman Bharat Health Infrastructure Mission' and release of operational guidelines.
13:20 hours: 'Neighbourhood First' and 'Act East' - both of which are relevant for BIMSTEC, are cornerstones of India's foreign policy. BIMSTEC is unarguably a crucial link in connecting South and Southeast Asia, says Foreign Secretary Harsh Vardhan Shringla.
As our PM has noted, BIMSTEC has emerged as the promising regional grouping to fulfill the common aspirations of its people and serve the shared interest of its Member States, he added.
13:15 hours: With 21.7 per cent of world population&combined GDP of USD 3.8 Trillion, BIMSTEC is powerful engine of economic growth. During last decade, the region registered compound annual growth rate of 6.1 per cent. We should collectively strive to surpass this rate this decade, says Foreign Secretary Harsh Vardhan Shringla.
12:36 hours: In the NITI Aayog report, Bihar is the worst-performing state in Health. These by-elections are happening because Chief Minister Nitish Kumar's government didn't provide treatment even to their MLAs. So on what basis will Nitish Kumar ask for votes from public, says RJD leader Tejashwi Yadav.
12:30 hours: Also Read -- PM Modi inaugurates 9 medical colleges in poll-bound UP, attacks Oppn for 'ruining Purvanchal's image'
12:02 hours: By opening these new 9 medical colleges over 2,500 new beds are added, over 5,000 employment opportunities will be generated. Earlier govt has left people of 'Purvanchal' to suffer from diseases but now it will become a medical hub of Northern India, says PM Modi.
11:49 hours: Has it ever happened before that 9 colleges were inaugurated?... It's reason is political priorities... Previous governments were only filling their family lockers and earning for themselves. But our priority is to save poor's money and provide them facilities, says PM Modi.
11:35 hours: Earlier, Purvanchal's image was ruined by previous govts, it was defamed because of 'dimagi' fever... The same region will now infuse new hopes... people of Uttar Pradesh can't forget how Yogi ji had highlighted about Uttar Pradesh's poor medical system in Parliament, despite not being a Chief Minister, says PM Modi.
11:09 hours: Opening 9 medical colleges in a day is no small thing. These medical colleges will benefit both present, future generations. Under PM Modi, medical education governance has improved... Government of India has opened 157 medical colleges in the country, says Union Health Minister Mansukh Mandaviya.
11:01 hours: Just In: PM Modi inaugurates nine medical colleges in Uttar Pradesh's Siddharthnagar.
10:43 hours: Union Home Minister Amit Shah offers prayers at Kheer Bhawani Durga temple in Ganderbal.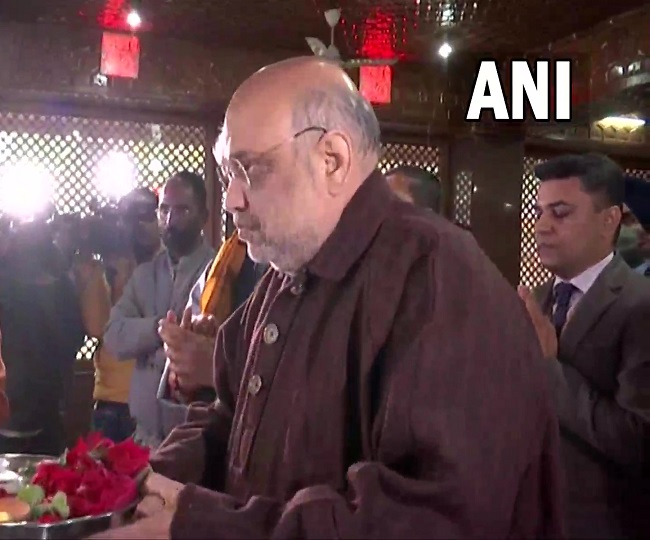 9:57 hours: Just In: India reports 14,306 new cases, 443 deaths and 18,762 recoveries in the last 24 hours. Active caseload stands at 1,67,695, says Union Health Ministry.
9:40 hours: Sensex opens at 61398 with a gain of 577 points.
9:34 hours: A total of 72 people lost their lives and 26 people got injured in several incidents of natural disaster from October 17 to 19, says Uttarakhand government.
9:07 hours: 'Char Dham Yatra' continues in Uttarakhand amid snowfall.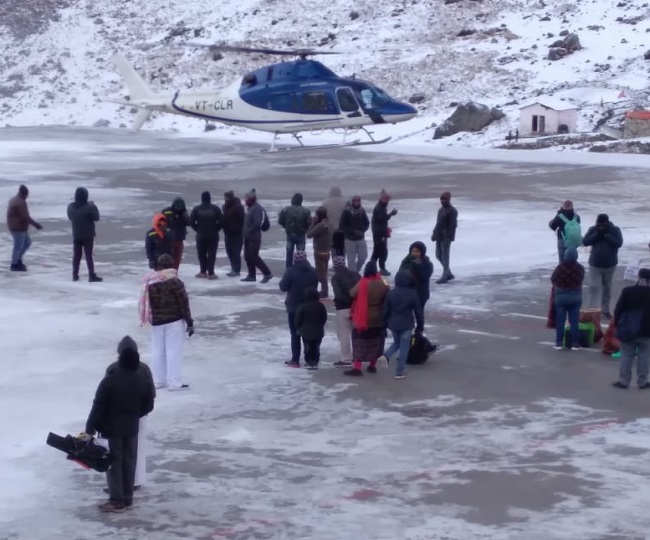 8:56 hours: Delhi Chief Minister Arvind Kejriwal arrives at Lucknow Airport. He will be offering 'aarti' at Saryu Ghat this evening.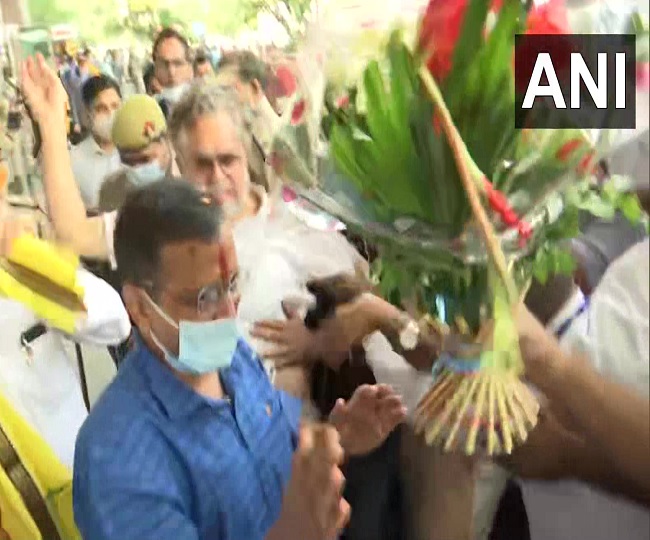 8:20 hours: Mizoram reported 158 new COVID-19 cases and 1 death yesterday. Active cases stand at 8,080, says state health department.
7:42 hours: Union Minister Amit Shah will inaugurate and lay the foundation stone of various development projects in Srinagar today.
7:31 hours: PM Modi will also inaugurate various development projects worth more than Rs 5,200 crore for Varanasi today, said his office.
7:26 hours: PM Modi will also inaugurate nine medical colleges in Uttar Pradesh's Siddharthnagar at 10.30 am.
7:25 hours: Prime Minister Narendra Modi will launch Pradhan Mantri Atmanirbhar Swasth Bharat Yojana in Uttar Pradesh's Varanasi today at 1.15 pm, said his office.
Posted By: Aalok Sensharma