Updated: Mon, 18 Oct 2021 04:20 PM IST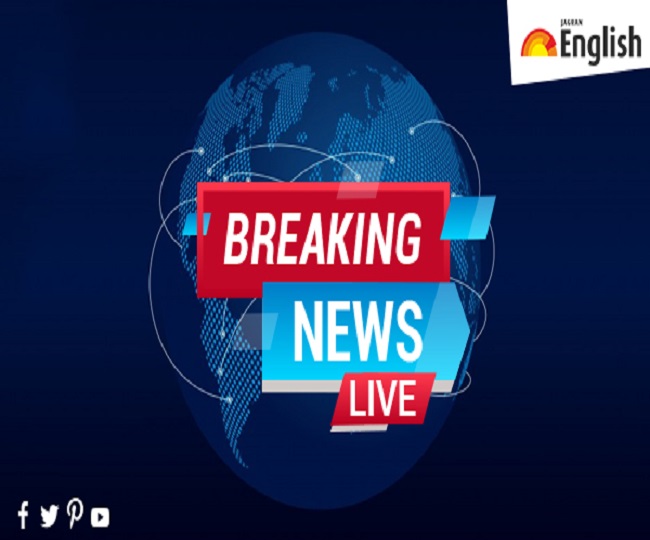 New Delhi | Jagran News Desk: Each and everything that happens around us impacts in some way and that's why it becomes important for us to know what's happening around the world. Thus at English Jagran, we provide our readers with 360-degree coverage in all genres to give them a brief insight into what's happening around the world.
Here are the highlights of the day:
16:16 hours: Army chief General MM Naravane left today for a 2-day trip to Jammu region to review the overall security situation in the region. He will also visit forward areas near the Line of Control and would be briefed by top officials on ground on the ongoing operations there, say Army officials.
16:06 hours: We've ordered all dist. authorities to remain on alert. Till now, only 3 roads are blocked. All devotees at Kedarnath and Badrinath are safe, asked to stay there for the next 2 days. We're fully prepared to deal with any situation, says Uttarakhand Minister Dhan Singh Rawat.
15:30 hours: Also Read -- Jagran Explainer: The 7 new defence firms aimed at making India 'biggest military power'
14:50 hours: Passengers face problems as train movement is affected due to farmers union call for 'Rail Roko' agitation. Visual from Ludhiana Railway station in Punjab.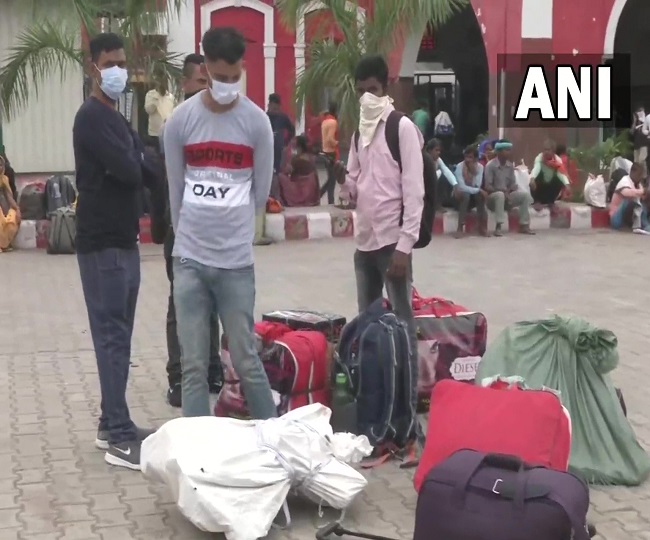 14:40 hours: I strongly oppose and condemn Centre's authoritarian decision to illogically expand the BSF's jurisdiction to 50 km inside the Punjab territory. People of Punjab are greatly offended by this unilateral action. This is an anti-democratic and anti-federal decision by Modi Government, says Punjab Chief Minister Charanjit Singh Channi.
14:27 hours: It's a matter of concern. We feel bad when our soldiers, innocent civilians are killed. We want the government to tell what's their stand as they had assured people that after the abrogation of 35A and 370 terrorism will end in Kashmir, says Congress' Adhir R Chowdhury.
During my visit to Kashmir, I had said that the return of the Taliban to Afghanistan can have an impact on Kashmir also. I also expressed my concern that this silence in Kashmir is a signal of an upcoming storm, he added.
14:15 hours: During my tenure as Governor of Jammu and Kashmir, no terrorists could enter within the 50-100 kms range of Srinagar. But now, terrorists are killing poor people in Srinagar. This is really saddening, says Meghalaya Governor Satya Pal Malik.
14:00 hours: Around 50 trains, 130 locations affected due to farmers agitation in Punjab and Haryana, says Northern Railway CPRO.
13:38 hours: In the CWC meeting, all people agreed and requested Rahul Gandhi Ji to immediately become president of the Congress party and to which he replied that he will think about it and said he will continue working for the party, says Congress' Mallikarjun Kharge.
During the CWC meeting, we have discussed and passed resolutions on various issues like petrol-diesel price hike, farm laws, Lakhimpur Kheri incident, Jammu and Kashmir situation, economy, and many more, he added.
13:14 hours: Government Railway Police is patrolling all railway stations and tracks. Till now, there are no reports of disturbance at any railway tracks or cancellation of trains. We're working in close coordination with GRP of neighbouring states, says DCP Railways Harendra Singh.
13:00 hours: Union Home Minister Amit Shah to chair Intelligence Bureau's annual meet today with DGPs and IGPs of States and all CAPF's DGPs, reports ANI.
12:45 hours: Chief Minister Pushkar Singh Dhami takes stock of the situation arising in the wake of heavy rainfall across the state and directed all the district magistrates to give an hourly report of the rain and traffic situation in their respective districts, says Uttarakhand Chief Minister's Office.
12:22 hours: Also Read -- Jagran Explainer: How Heron drones, ALH Rudra are helping Indian Army track Chinese activities in Arunachal sector
11:46 hours: Just In: Shiv Sena leader Bhavana Gawali summoned on 20 October by the Enforcement Directorate in connection with an alleged money laundering case, reports ANI.
11:39 hours: As of now, 30 locations are affected and 8 trains regulated in Northern Railway Zone due to farmers' 'rail roko' agitation, says Northern Railway CPRO.
11:31 hours: Situation in Jammu and Kashmir is worrisome. Bihari migrants, Kashmiri Pandits, Sikhs are being targeted... When its about Pakistan, you talk of surgical strikes. Then,it should be done for China too... Defence Minister or Home Minister need to tell the nation what's the situation Jammu and Kashmir and Ladakh, says Shiv Sena's Sanjay Raut.
11:00 hours: BREAKING: Three people were killed and six injured in an collision between vehicles near Khopoli on Pune-Mumbai Expressway in Maharashtra, reports ANI.
10:21 hours: Also Read -- 11 civilians killed in Jammu and Kashmir this month: Timeline of 'targeted attacks' in Valley
10:09 hours: Babul Supriyo to meet Lok Sabha Speaker Om Birla tomorrow to formally resign as BJP MP.
9:44 hours: Foreign Ministers of Israel, United Arab Emirates, United States of America and India to hold a virtual meeting today, reports ANI.
9:39 hours: Farmers sit on the railway track at Devi Dasspura village in Punjab's Amritsar following the farmer's union call for 'Rail Roko Andolan' today.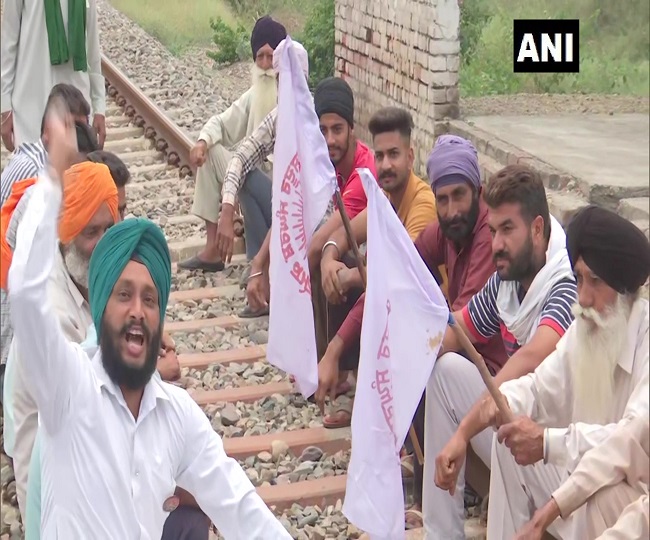 9:31 hours: BREAKING: Two people lost their lives while 125 others were rescued after a massive fire broke out at a packaging factory at Kadodara in Gujarat's Surat on Monday.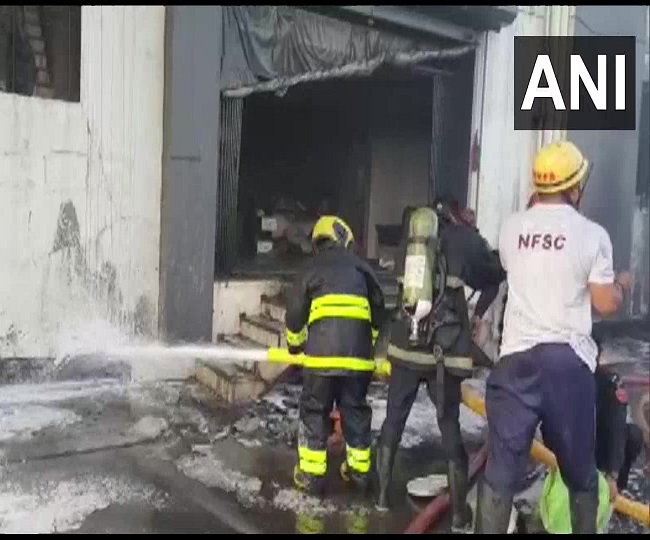 9:30 hours: Just In: India reports 13,596 new COVID-19 cases in the last 24 hours, the lowest single-day spike in 230 days. Active caseload currently stands at 1,89,694, says Union Health Ministry.
9:15 hours: Sensex jumps 446 points in the opening trade and is currently trading at 61,752. Nifty is at 18,462.
9:01 hours: Maharashtra Chief Minister Uddhav Thackeray to chair a meeting of the state's COVID19 Task Force today, reports ANI.
8:50 hours: Police to take action against those who will participate in the 'Rail Roko Andolan' called by farmers organization. 144 CrPC is also imposed in the district and will impose NSA if anyone tries to disrupt normalcy, says Lucknow Police.
8:30 hours: Directorate of Vigilance and Anti-Corruption Wing is conducting raids at locations of former state health minister C Vijayabaskar in Tamil Nadu in connection with disproportionate assets case, reports ANI.
8:15 hours: Order asking district police authorities to relocate non-local labourers to Police or Army camps is fake, says IGP Kashmir Vijay Kumar.
7:44 hours: Thunderstorm with moderate intensity rain with heavy intensity rain over isolated places would continue to occur over and adjoining areas of entire Delhi, Gurugram, Aurangabad, Palwal, Faridabad, Ballabhgarh, Panipat, Sohana (Haryana) during next 2 hours (issued at 0400 IST), says IMD.
7:23 hours: If Centre provide MSP guarantee through a law then it can be resolved (farmers' agitation against 3 farm laws). There's only one thing so why are you (Centre) not fulfilling it? They (farmers) won't compromise on less than MSP, says Meghalaya Governor Satya Pal Malik.
7:18 hours: The farmer unions will hold a six-hour-long 'rail roko' protest today demanding the removal of Union Minister Ajay Kumar Mishra over the Lakhimpur Kheri incident.
Posted By: Aalok Sensharma