Breaking News Latest Updates, Highlights of Oct 16
Stay tuned to catch live updates here:
Updated: Fri, 16 Oct 2020 04:58 PM IST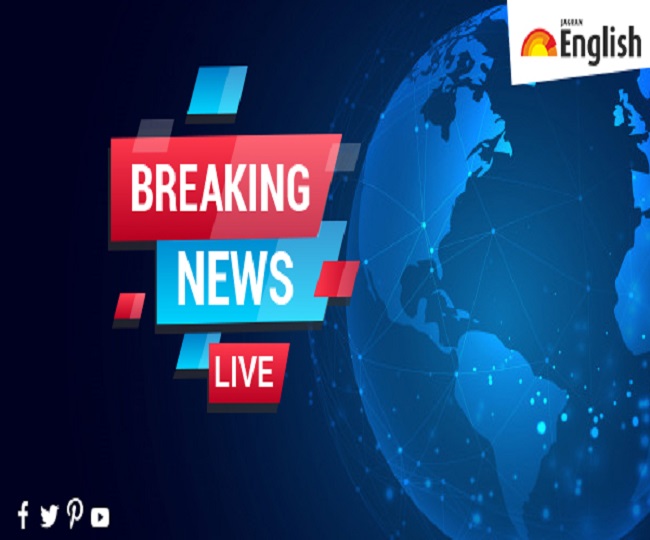 New Delhi | Jagran News Desk: Each and everything that happens around us impacts in some way and that's why it becomes important for us to know what's happening around the world. Thus at English Jagran, we provide our readers with a 360-degree coverage in all genres to give them a brief insight about what's happening around the world.
Today we will focus on the coronavirus crisis in the country. The deadly virus crossed the 73 lakh-mark after the country reported a single-day spike of 63,371 fresh cases during the last 24 hours. The deadly pathogen has afflicted 73,70,469 people and claimed 1,12,161 lives in the country so far. The COVID-19 fatality rate in India stands at 1.52 per cent.
Here are the Highlights of October 16:
4:05 pm: We have started the third round of serosurvey in Bhubaneswar city from today. Our target is to complete 1,500 sample collection from the general population in the coming three days: Jaya Singh Kshatri, Scientist at ICMR Regional Medical Research Center, Bhubaneswar
4:00 pm: Ministers said it was a short circuit. But now we've Forensic Dept report which says, it wasn't short circuit. It indicates that there was a deliberate effort on the part of somebody to destroy the evidence: MoS MEA on Kerala Secretariat fire on Aug 25
3:45 pm: Chirag Paswan has chosen a separate path in #Bihar, he is trying to mislead people by taking names of senior BJP leaders. We don't have any B or C team. NDA will get three-fourth majority. Chirag's party will be left as a vote cutter party: Union Minister Prakash Javadekar
3:30 pm: Congress leader Ghulam Nabi Azad tests positive for #COVID19. He is under home quarantine.
2:40 pm: Section 144 of CrPC - to prohibit assembly of five or more persons - imposed in & surrounding areas of Phuldungsei Zampui & Zomuantlang in Mamit District of #Mizoram.Decision taken after an organisation intended to construct a religious structure, without government permission
2:20 pm: It's a cruel joke. I left JD(U) to contest from Jale. I would've been okay if someone else got ticket but they gave it to a Jinnah follower who has sedition case against him. He (Congress candidate Maskoor Usmani) puts Jinnah's photo in his office: Rishi Mishra, Congress
2:00 pm: Results boosted by 22 States/UTs which demonstrated better performance & are reporting even lower deaths per million compared to national average. Case fatality rate has been on downslide continuously. At current figure of 1.52%, it's lowest since 22nd March 2020: Health Ministry
1:45 pm: Congress & Mahagathbandhan leaders have to answer the country if the Jale candidate supports Jinnah. Congress & Mahagathabndhan have to tell if they also support Jinnah? Will Sharjeel Imam be their star campaigner?: Giriraj Singh, BJP on Congress candidate Maskoor Usmani
1:30 pm: Dinesh Karthik informs the KKR management that with a view to focus on his batting and contributing more to the team's cause, he wishes to hand over the team's captaincy to Eoin Morgan: #KolkataKnightRiders (KKR)
1:15 pm: It's better than yesterday due to slight winds which dispersed pollutants. But static winds at night this time of year are normal. This will last for 3-4days with wind speeds of 8-10kmph & dispersion of local pollutants with poor air quality: K Srivastava, IMD Delhi, on Delhi AQI
1:00 pm: Supreme Court appoints Justice (retd) Madan B Lokur, a former judge of the top court, to act as the one-man monitoring committee to prevent stubble burning in states of Punjab, Haryana and Uttar Pradesh
12:25 pm: Why are the admission cut-offs so high in Delhi? It is so because there is a huge lack of colleges & universities in Delhi, while the number of students is increasing. We need many more colleges & universities here: Delhi CM Arvind Kejriwal
12:05 pm: Delhi Government exempts electric vehicles from registration fee. Electric vehicles were also exempted from road tax on 11th October
11:55 am: The family wants the case to be shifted to Delhi, we also want to shift there. The government should help us in this regard, we are dependent on them. We just want to be safe wherever we are: Brother of #HathrasIncident victim
11:45 pm: RJD party was born to save a politician from corruption. The CM at that time was of Janata Dal and when his name came to light in a big scam & party pressured the CM to resign then RJD was formed: Union Minister Ravi Shankar Prasad at a press conference in Patna
11:35 am: Supreme Court has sought Attorney General KK Venugopal's view on a plea about 'courts imposing bail conditions for s*x crime offenders which end up further harassing and objectifying their victims'.
11:25 am: The Vice Chief of the Army Staff will visit the US Army Pacific Command (USARPRAC), the Army component of Indo-Pacific Command (INDOPACOM) and exchange ideas extensively with the military leadership apart from witnessing training and equipment capabilities of US Army.
11:15 am: Maharashtra: Death toll due to flood in four districts of Pune division (Sangli, Satara, Pune and Solapur) rises to 28. One still missing. 29,292 people have been shifted to safe places. 57,354 hectare of crop damaged/affected and 2319 houses have been damaged/collapsed
11:10 am: PM Narendra Modi also dedicates to the nation 17 recently developed bio-fortified varieties of eight crops on World Food Day today
11:05 am: Prime Minister Narendra Modi releases a commemorative coin of Rs 75 to mark the 75th anniversary of the Food and Agriculture Organization
10:55 am: West Bengal BJP MP Locket Chatterjee writes to Home Minister Amit Shah seeking NIA probe in Belaghata explosion. The explosion blew off part of the roof & wall of Beleghata Gandhimath Friends Circle Club in Kolkata on October 13. No casualties/injuries were reported
10:45 am: Bihar CM Nitish Kumar is tired & can not handle the state. He doesn't want to talk about development, unemployment, education, health infrastructure & poverty. He says Bihar is a landlocked state hence industries can not be set up resulting in no job creation: Tejashwi Yadav, RJD
10:35 am: Greetings to National Security Guard on their 36th Raising Day. Their unparalleled capabilities to handle all odds makes them a distinguished force in world. They always protected the nation with their bravery, courage & dedication. India is proud of our elite force: HM Amit Shah
10:20 am: Chhattisgarh: Villagers in Surguja District object to state government's proposal to extend the area of proposed Lemru Elephant Reserve. 39 villages in the district will be affected by the project. State Minister TS Singh Deo says, "I will stand by the villagers on this issue.
10:10 am: City Crime Branch Bengaluru serves notice to Priyanka Alva Oberoi over links with brother Adithya Alva in connection with Sandalwood drug case. CCB raided actor Vivek Oberoi's Mumbai residence in search of his relative Aditya Alva in connection with the case y'day.
10:00 am: Special Investigation Team (SIT) constituted to investigate the #Hathras alleged gangrape case completes its probe. The SIT to submit the report to the government soon
9:50 am: Telangana recorded 1,554 #COVID19 cases, 1,435 recoveries and 7 deaths yesterday, taking total cases to 2,19,224 including 1,94,653 recoveries, 1,256 deaths and 23,203 active cases: State Health Department
9:40 am: India reports a spike of 63,371 new #COVID19 cases & 895 deaths in the last 24 hours. Total case tally stands at 73,70,469 including 8,04,528 active cases, 64,53,780 cured/discharged/migrated cases & 1,12,161 deaths: Ministry of Health and Family Welfare
9:25 am: It is very likely to move further west-northwestwards and concentrate into a Depression over eastcentral & adjoining northeast Arabian Sea off north Maharashtra-south Gujarat coasts during next 24 hours: India Meteorological Department
9:10 am: The well-marked low-pressure area over Konkan and neighbourhood moved west-northwestwards and emerged into east-central Arabian Sea. It lay centered over east-central Arabian Sea off North Maharashtra coast at 0530 hrs today: IMD
8:55 am: Government of India has banned the import of air conditioners with refrigerants.
8:40 am: Bihar CM Nitish Kumar ( in file pic) expresses condolences on the demise of State Panchayati Raj Minister Kapil Deo Kamat
8:20 am: Maharashtra: Military Intelligence officials yesterday nabbed two people who impersonated as army officers and tried to enter Basic Training Center, Ahmednagar with fake army IDs. Ahmednagar Police have been booked them under sections 420, 170 and 24 of IPC. Further probe on
8:00 am: Jammu and Kashmir: Pakistan violated ceasefire in Mankote sector, of Poonch district at about 0515 hours today
7:40 am: Delhi: Air Quality Index is at 285 in ITO, 243 in RK Puram and 259 in Anand Vihar, all three in 'poor' category as per Delhi Pollution Control Committee (DPCC) data
7:30 am: India continues to have one of the lowest deaths per million population globally (presently pegged at 80). Some states/UTs are performing better and reporting much lower deaths/million population than the national average: Ministry of Health

7:20 am: Locals hurled slippers at Ibrahimpatnam MLA Manchireddy Kishan Reddy & other TRS workers, during their visit to flood-affected Medipally area, yesterday. The MLA's vehicle was also vandalised.
7:10 am: Twitter has been down for many of you and we're working to get it back up and running for everyone. We had some trouble with our internal systems and don't have any evidence of a security breach or hack: Twitter Support.

7:00 am: Indore: Nine people were arrested for their alleged involvement in illegal betting on cricket matches being played at IPL, in Kanadiya. Police say, "Rs 5 lakhs cash and 15 mobiles were seized from them.
Supreme Court appoints Justice (retd) Madan B Lokur, a former judge of the top court, to act as the one-man monitoring committee to prevent stubble burning in states of Punjab, Haryana and Uttar Pradesh
Posted By: Talib Khan