Breaking News, Latest Updates Highlights of Oct 14
Stay Tuned to Catch LIVE Updates here:
Updated: Wed, 14 Oct 2020 05:53 PM IST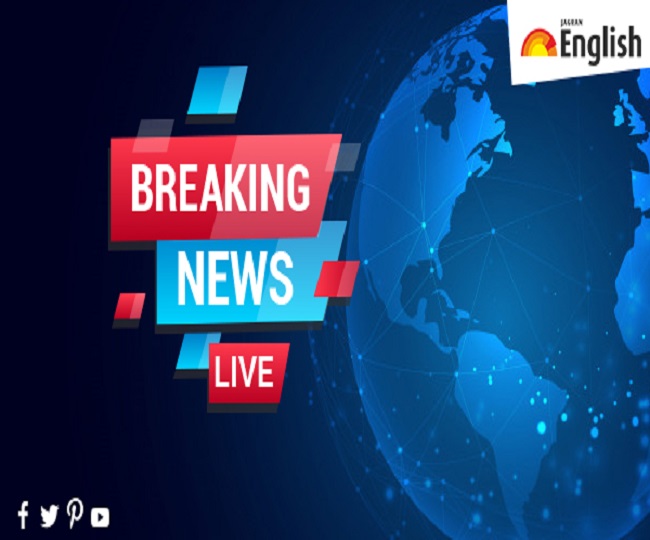 New Delhi | Jagran News Desk: Each and everything that happens around us impacts in some way and that's why it becomes important for us to know what's happening around the world. Thus at English Jagran, we provide our readers with a 360-degree coverage in all genres to give them a brief insight about what's happening around the world.
Continuing the downtrend, India recorded over 63,000 new Covid infections in the past 24 hours, taking the overall tally past 72-lakh mark. The death toll reached 1.10 lakh after 730 new fatalities. For the sixth day in a row, the number of active COVID-19 cases remained below 9 lakh. As many as 62,27,295 COVID-19 patients have been cured and discharged so far, pushing the recovery rate to 86.73 per cent, the ministry data shows.
Meanwhile, Union health minister Harsh Vardhan on Tuesday said that India could have its COVID-19 vaccine from more than one source by early next year. "We're expecting that early next year we should have the vaccine in the country from maybe more than one source. Our expert groups are formulating strategies to plan on how to roll out the distribution of the vaccine in the country," he said.
Here are the Highlights of October 14:
4:40 pm: Punjab Government has decided to convene a special session of the Punjab Vidhan Sabha on October 19, to bring in a legislation to counter the Farm Laws of the central government: Chief Minister's Office
4:30 pm: Metro rails allowed to operate starting tomorrow, in a graded manner with precautions as part of Maharashtra government's fresh 'Begin Again' guidelines.

4:10 pm: In line with CM Captain Amarinder Singh's promise of 1 lakh govt jobs till Mar 2022, Punjab Cabinet approves
State Employment Plan 2020-22 to fill vacant government jobs in a phased time-bound manner. 50,000 for FY21 to join at Independence Day function next year: Punjab Govt
4:00 pm: Punjab Cabinet led by Chief Minister Captain Amarinder Singh gave approval to notify Rules of Punjab Slum Dwellers (Proprietary Rights) Act 2020 for purpose of giving proprietary rights of land to slum dwellers, thus ensuring basic amenities for them: CMO Punjab
3:30 pm: Delhi Pollution Control Committee (DPCC) bans the use of Electricity Generator Set(s) of all capacities, run on diesel/petrol/kerosene from tomorrow, excluding essential/emergency services.

3:15 pm: Mehbooba Mufti was released yesterday after more than 14.5 months of detention. There was no political motive, we just came to see her: National Conference (NC) leader Omar Abdullah in Srinagar
3:00 pm: Supreme Court starts hearing an anticipatory bail plea filed by former Punjab Director General of Police (DGP) Sumedh Singh Saini seeking anticipatory bail in a case related to the alleged abduction and murder of a Junior Engineer Balwant Singh Multani in 1991.
2:50 pm: President Ram Nath Kovind accepted credentials from Ambassador of Switzerland Dr. Ralf Heckner, High Commissioner of Malta Reuben Gauci and High Commissioner of Botswana Gilbert Shimane Mangole, in a virtual ceremony
2:40 pm: National Investigation Agency yesterday arrested two more persons, residents of Rajasthan's Nagaur, & conducted searches at 4 locations in the state in connection with a case pertaining to seizure of 18.5 kgs smuggled gold bars at Jaipur International Airport in July this year
2:30 pm: Central Board of Direct Taxation issues refunds of over Rs 1,23,474 crore to more than 38.11 lakh taxpayers between 1st April, 2020 to 13th Oct, 2020. Income tax refunds of Rs 33,442 crore issued in 36,21,317 cases & corporate tax refunds of Rs 90,032 crore issued in 18916 cases
2:20 pm: "We weren't satisfied with discussions so we walked out, we want these black laws to be scrapped. Secretary said he'll communicate our demands further," says a farmer union leader. "We walked out as no minister came for meeting. We want these laws to be taken back," says another
2:15 pm: It is a conspiracy by the BJP-led state govt. They are naming our corporators to cover their failure. We don't accept this & will fight it legally: Karnataka Congress chief DK Shivakumar on CCB's chargesheet naming two Congress corporators responsible for Bengaluru violence.
2:00 pm: Plea filed before Calcutta High Court demanding to stop #DurgaPuja celebrations, to be taken up this week. Plea mentions that #COVID19 situation is the same as it was after Onam in Kerala. In this context, Ganesh Puja & Muharram were not allowed in Maharashtra, it states
1:50 pm: Opposition doesn't have any issues to raise. They talk of #COVID19 & today it's completely controlled here. Only 961 people have died while Congress-ruled Maharashtra has 41,000 deaths. Almost 1 lakh people are tested everyday & beds are lying vacant: Sushil Modi, Bihar Deputy CM
1:40 pm: The main reason is stubble burning in Punjab & Haryana and local pollutants. Another reason is static winds which lead to pollutants accumulating. It'll stay so for the next 3-4 days: Dr Kuldeep Srivastava, Head, Regional Meteorological Centre, Delhi, on Delhi's air quality
1:30 pm: Border Security Force (BSF) DG Rakesh Asthana, while on his two-day visit to Rajasthan Frontier, visited Border Outposts on Indo-Pak border of Sectors Bikaner and Sriganganagar, reviewed Ops preparedness: BSF
1:25 pm: Jammu-Srinagar National Highway closed for maintenance work on remaining Fridays of October (16th, 23rd, 30th) and all Fridays of November (6th, 13th, 20th, 27th)
1:15 pm: Kerala Gold Smuggling Case: M Sivasankar, former principal secretary of the Kerala CMO, approaches Kerala High Court for anticipatory bail in the case registered by Enforcement Directorate
1:00 pm: Karnataka: JD(S) candidate for by-poll to the legislative assembly constituency of Rajarajeshwarinagar (RR Nagar) filed his nomination today, in Bengaluru. Party leader HD Kumaraswamy also present
12:40 pm: Kerala: Jose K Mani faction of Kerala Congress (M) announces decision to align with CPM-led Left Democratic Front (LDF). Mani has also decided to resign from his Rajya Sabha seat. Chief Minister Pinarayi Vijayan says he welcomes the decision
12:25 pm: Prime Minister Narendra Modi to release a commemorative coin of Rs 75 denomination on 16th October, to mark the relation of India with Food and Agriculture Organisation (FAO). PM will also dedicate to the nation, 17 recently developed biofortified varieties of 8 crops
12:15 pm: Actor Richa Chaddha's defamation case against Payal Ghosh at Bombay High Court withdrawn after both parties signed consent terms
12:05 pm: Telangana govt declares holiday for today and tomorrow for all private institutions/ offices /non-essential services with work-from-home advisory. People advised staying indoors unless there is an emergency.
11:55 am: Wholesale Price Index (WPI) inflation, rises to 1.32% for September 2020 as compared to 0.16% in August 2020: Government of India
11:45 am: UP govt files affidavit in #Hathras case, stating that, to ensure security of victim's family & witnesses, three-layered security has been provided. Also asks court to direct CBI to submit fortnightly status report on the probe, to State govt; it can be filed by UP DGP before SC.
11:35 am: Delhi: Driver - a minor - apprehended in Model Town hit-&-run case wherein two children died & another was injured, says Police. "If he is minor, why was he driving? My daughters died because of him. If he is 17, doesn't mean he shouldn't be punished," says father of the children
11:25 am: Madras High Court Justice Anita Sumanth warns of imposing costs on actor Rajinikanth for rushing to the court against Greater Chennai Corporation's demand of Rs.6.5 lakhs property tax for his Raghavendra Kalyana Mandapam. His counsel asks for time to withdraw their case.
11:15 am: Actor Rajinikanth moves Madras HC against property tax demand of Rs 6.5 Lakhs, by Greater Chennai Corporation, for his Sri Raghavendra Kalyana Mandapam in Chennai. In his petition, he states that he hasn't let out the marriage hall since March 24, so no revenue generated after it
11:00 am: Bihar: RJD leader Tejashwi Yadav, accompanied by elder brother Tej Pratap Yadav, arrives at Hajipur Collectorate to file nomination from Raghopur assembly constituency
10:20 am: Loktantrik Janata Dal chief Sharad Yadav's daughter Subhashini Raj Rao to join Congress today in Delhi. She will also contest in the upcoming
10:00 am: New Delhi: Air quality deteriorates in the national capital with rise of pollutants in the atmosphere; visuals from Anand Vihar where Air Quality Index is at 275 in 'poor' category.
9:45 am: Varanasi: Candidates arrive at an examination center to appear in NEET re-exam, an entrance test for medical and allied programmes, being held by National Testing Agency (NTA). NTA is conducting the examination today for the students who were unable to take it on September 13
9:35 am: India reports a spike of 63,509 new #COVID19 cases & 730 deaths in the last 24 hours. Total case tally stands at 72,39,390 including 8,26,876 active cases, 63,01,928 cured/discharged/migrated cases & 1,10,586 deaths: Ministry of Health and Family Welfare
9:24 am: It was a successful mission. Most of the indigenous systems, incorporated now, have functioned to full satisfaction & the indigenous content has gone up in BrahMos now: DRDO Chief G Satheesh Reddy on test-firing of extended range BrahMos supersonic cruise missile on September 30
9:15 am: BrahMos is supersonic cruise missile. Test is done primarily to enhance indigenous content in missile. Many indigenous systems incorporated in BrahMos missile system have been flight tested, along with extended range: DRDO Chief on extended range BrahMos supersonic cruise missile
9:00 am: Pratapgarh: A minor girl allegedly committed suicide by jumping into a well in Puwasi village y'day, after being repeatedly molestated by three people of her village. Police say, "FIR registered under IPC & POCSO Act. One accused taken into custody. Teams formed to nab other two"
8:45 am: Uttarakhand: Upper Ganga Canal to remain closed from the midnight of 15th October to midnight of 15th November, 2020 for repair and maintenance work ahead of Haridwar Kumbh 2021.
8:35 am: All exams under jurisdiction of Osmania University scheduled on 14 & 15 Oct are postponed due to torrential rains. Exams from 16 Oct will be conducted as per timetable. Schedule of postponed exams will be informed shortly: Controller of Examinations, Osmania University, Hyderabad
8:25 am: I have spoken with a few scientists on the possibility and consequences of providing the animals, meat other than beef. No use of creating an uproar over the issue: Parimal Suklabaidya, Assam Forest Minister on demand to exclude beef from diet of animals at Guwahati Zoo
8:15 am: They can't survive on mutton or pork alone, could've been given buffalo meat instead of beef but we don't have many buffaloes in Assam. We float tenders to get beef, buffalo meat, mutton, pork: Assam Forest Min on demand to exclude beef from diet of animals at Guwahati Zoo
8:00 am: The possibility of foul play/sabotage can't be denied in the power outage incident of Mumbai, Thane and Navi Mumbai on Monday: Maharashtra Energy Minister Nitin Raut
7:40 am: Andhra Pradesh: Martial Arts Master P Prabhakar Reddy and his student Boyilla Rakesh have achieved Guinness World Record for smashing 49 coconuts blindfolded last month.
Reddy says, "We had been practising to achieve this since last 6 months. Our target was to break 35 coconuts"

7:30 am: Delhi: Air quality deteriorates in the national capital with rise of pollutants in the atmosphere.
7:20 am: India continues to report one of the lowest cases per million & lowest deaths per million in the world. India's recoveries are the highest in the world: Ministry of Health
7:10 am: Hathras: A 4-year-old girl was allegedly raped by her relative in Sasni area. Ruchi Gupta, Circle Officer says, "The accused has been arrested. A case has been registered."

7:00 am: Meghalaya: Body of an 80-year-old man who allegedly buried alive by his kin over suspicion of practising witchcraft in West Garo Hills, was exhumed for investigation. 8 persons have been arrested in connection with the case.
Posted By: Talib Khan