Breaking News Latest Updates October 1: Cases rise in UP, Maharashtra as India's COVID-19 tally tops 63-lakh mark
Stay Tuned to catch all the live updates here
Updated: Thu, 01 Oct 2020 12:54 PM IST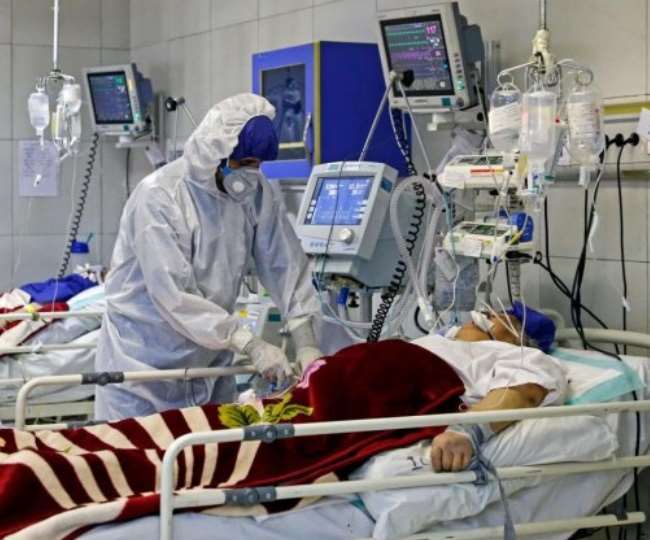 New Delhi | Jagran News Desk: Each and everything that happens around us impacts in some way and that's why it becomes important for us to know what's happening around the world. Thus at English Jagran, we provide our readers with a 360-degree coverage in all genres to give them a brief insight about what's happening around the world.
Today we will focus on the coronavirus cases in the country which have crossed the grim milestone of 62 lakh cases in the country. The death toll in the country is also surging at a fast pace and crossed the 97,000-mark to reach 97,497 after 1,179 new fatalities were reported from across the country during the last 24 hours.
Here are the LIVE Updates of October 1:
12:45 pm: Shiromani Akali Dal is beginning a long struggle today to make the government roll back the black laws. The party left behind everything - alliance, post, government, relations - to become the voice of farmers, who have lost everything due to these Laws: Harsimrat Kaur Badal
12:25 pm: Kerala High Court observes that the govt and Life Mission CEO should cooperate in the probe; court to consider the matter again on Thursday.
12:10 pm: Bihar: A local BJP leader Rajesh Jha, who recently joined the party, was shot dead by 2 bike-borne men today in Patna. He was out for morning walk when the incident took place. His brother-in-law says "I think he was on someone's target, looks like a case of personal enmity."
12:00 pm: 3,615 new #COVID19 cases, 4,219 recoveries & 17 deaths reported in Odisha yesterday. The total number of cases rose to 2,22,734 including 1,85,700 recoveries, 36,122 active cases and 859 deaths: State Health Department
11:45 am: According to the serosurvey report submitted yesterday, 25.1 per cent of the participants have developed antibodies to COVID-19 in Delhi. In the last survey, it was 28.7 per cent. Next serosurvey will start within 15 days: Delhi Health Minister Satyendar Jain
11:35 am: We saw Uttar Pradesh CM Yogi Adityanth giving advice to others during the past some months. I suggest him to take care of his state & take strict action against 'jungle raj' prevailing there: Maharashtra Home Minister Anil Deshmukh on rape incidents in UP
11:10 am: A virtual meeting of Ministry of Environment is underway on issues related to air pollution & stubble burning. State environment ministers of Delhi, Punjab, Rajasthan, Haryana, UP & secretaries of pollution control boards along with representatives of DDA, NDMC are present
11:00 am: Not a single day passes in UP without any crime against women. Chief Minister Yogi Adityanath should resign if he can't ensure safety to women. He is unable to maintain law & order in the state. I urge the Centre to send him to his place - Gorakhnath Math: BSP chief Mayawati
10:55 am: Air India One is equipped with advance & secure communication system which allows availing audio & video communication function at mid-air without being hacked or taped. The newly designed VIP aircraft for President, Vice President & PM is arriving from US today: Sources to ANI
10:45 am: After Hathras incident, I hoped UP govt will take action against people committing crimes against women. But a similar crime has been committed against a Dalit student in Balrampur. Under BJP's UP govt, criminals, mafias & rapists are having a free run: BSP chief Mayawati
10:30 am: VIP aircraft Air India One is arriving today at Delhi International Airport: Government Sources
10:10 am: Maharashtra: Film director Anurag Kashyap reaches Versova Police station in Mumbai to appear before the police in connection with the alleged sexual assault against actor Payal Ghosh.
10:00 am: Borders of Hathras are sealed. Section 144 of CrPC has been imposed in the district, more than 5 people are not allowed to gather. We've no information about Priyanka Gandhi's visit. SIT will meet the victim's family members today, media will not be allowed: Hathras DM P Lakshkar
9:45 am: Baghpat: A 17-year-old girl attempted suicide by consuming poison on September 27 allegedly after being raped & blackmailed by a minor in Kolwali area. SP Abhishek Singh said, "The accused has been booked & arrested. The girl is healthy. Her statement will be recorded."
9:30 am: India's #COVID19 tally crosses 63-lakh mark with a spike of 86,821 new cases & 1,181 deaths reported in last 24 hours. Total case tally stands at 63,12,585 including 9,40,705 active cases, 52,73,202 cured/discharged/migrated & 98,678 deaths: Ministry of Health & Family Welfare
9:25 am: Punjab: Kisan March, led by Shiromani Akali Dal president Sukhbir Singh Badal, begins from Amritsar. SAD President says, "We'll give a memorandum to the Governor, with a request to centre & President that Parliament session be called again & Farm Laws be taken back
9:20 am: Delhi: Central Reserve Police Force (CRPF) organise a run/walk event at Rajpath to mark the completion of 1 crore km run targeted by the force between August 15 & October 2 under Fit India Freedom Run.
9:15 am: A total of 7,56,19,781 samples tested up to 30th September, for #COVID19. Of these, 14,23,052 samples were tested yesterday: Indian Council of Medical Research (ICMR)
9:10 am: Kozhikode: Koduvally municipal councillor, Karat Faisal, taken into custody by Customs in connection with #KeralaGoldSmugglingCase. Customs had conducted a raid at his residence this morning, following which he was taken into custody.
9:05 am: The man, who allegedly raped a 14-year-old girl, has been arrested: Baghpat Senior Superintendent of Police Santosh Kumar Singh
9:00 am: Punjab: Shiromani Akali Dal president Sukhbir Singh Badal visits Golden Temple in Amritsar. He'll lead a Kisan March from here today. The March, which also begins from Sri Damdama Sahib at Talwandi Sabo & Sri Keshgarh Sahib at Anandpur Sahib, will conclude at Mohali.
8:45 am: Jammu and Kashmir: Lance Naik Karnail Singh lost his life in an incident of ceasefire violation by Pakistan in Krishna Ghati Sector last night, says Defence PRO, Jammu.
8:30 am: Andhra Pradesh: Bapu Museum's new building in Vijayawada will be inaugurated by the CM today. "Museum has 1500 artefacts relating to 10 lakh years ago to 19th century. We've used augmented&virtual reality technologies here," says Commissioner of Archaeology &Museums G Vani Mohan.
8:00 am: Maharashtra: A fire broke out at a chemical factory in Kurkumbh MIDC area of Pune early morning today. The fire has been doused off; no casualties reported in the incident.
7:45 am: Bulandshahr: A teenage girl was allegedly raped by her neighbour at a village in Kakore area on Wednesday night. SSP Santosh Kumar Singh said, "Based on her father's complaint, a case has been registered. Attempts are being made to arrest the accused.
7:30 am: #MadhyaPradesh: A minor girl was allegedly gang-raped by three persons in Khargone last night.
7:20 am: India aims to restore 26 million hectares of degraded and deforested land, and achieve land-degradation neutrality by 2030. This is a target which shows our ambition: Union Environment Minister Prakash Javadekar at UN Biodiversity Summit
7:15 am: Emergence of COVID has emphasized the fact that unregulated exploitation of natural resources coupled with unsustainable food habits & consumption pattern lead to destruction of system that supports human life:Union Environment Minister Prakash Javadekar at UN Biodiversity Summit
7:00 am: Jammu and Kashmir: About 150 door-to-door garbage collecting vehicles have been started in Jammu by the Municipal Corporation. A local says, "Earlier people used to dump the garbage outside their houses. The initiative is helping in keeping the city clean."
Posted By: Talib Khan