Breaking News, Latest Updates Highlights of November 30
Breaking News, Latest Updates Highlights of November 30
Updated: Mon, 30 Nov 2020 04:34 PM IST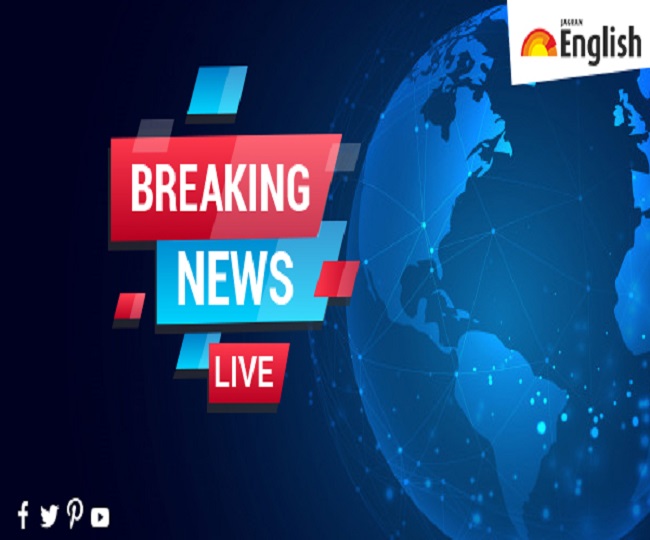 New Delhi | Jagran News Desk: Each and everything that happens around us impacts in some way and that's why it becomes important for us to know what's happening around the world. Thus at English Jagran, we provide our readers with 360-degree coverage in all genres to give them a brief insight about what's happening around the world.
Today our focus will be on farmers' protest along the borders of the national capital. The farmers have decline Home Minister Amit Shah's "conditional" offer for talks on December 3 and are demanding to hold protest at Jantar Mantar and Parliament. They are protesting against the Centre's farm acts and want the government to withdraw them immediately.
Here are the highlights of November 30:
16:33 pm: Delhi Government caps the price of RT-PCR test by private labs at Rs 800.
15:25 pm: Along with beautification of Kashi in past years, we can now witness benefit of work done on connectivity here. New highways, flyovers, widening of roads to reduce traffic jams, work currently being done in and around Varanasi has never happened since independence: PM Modi in Varanasi
15:17 pm: Varanasi is getting improved infrastructure on the occasion of Guru Nanak Jayanti and Dev Deepawali. This will benefit both Varanasi and Prayagraj: PM Modi in Varanasi
15:12 pm: PM Modi addresses at an event in Varanasi
15:12 pm: The most important challenge faced by us is terrorism, particularly cross-border terrorism...India condemns terrorism in all its manifestation. We are particularly concerned about states that leverage terrorism as an instrument of their state policy: Vice President Venkaiah Naidu
15:11 pm: India has bravely fought global pandemic and has shown remarkable resilience in fighting the virus as well as ensuring economic stability. India has kept its COVID19 death rate at lowest level in world. India's efforts have found global recognition: Vice President Venkaiah Naidu
15:10 pm: Relations between India and SCO region have flourished uninterrupted for thousands of years. By 2025, India's GDP is expected to reach 5 trillion. It will be youngest nation with an average age of 29 years: Vice President Venkaiah Naidu addressing 19th SCO Govt Heads Council meet
It's unfortunate to note that there had been attempts to deliberately bring bilateral issues into SCO and blatantly violate well-established principles and norms of SCO charter. Such acts are counterproductive to the spirit of consensus that defined SCO: Vice President Venkaiah Naidu
14:08 pm: PM Modi holds meet with 3 teams working on developing COVID-19 vaccine, lauds scientists for their efforts
14:07 pm: I would like to draw your attention towards occurrence of fire incidents in hospitals/nursing homes in recent past. Non-adherence of fire safety measures by authorities is a matter of concern: Union Home Secretary Ajay Bhalla writes to chief secretaries of States/UTs
Recently 6 precious lives of COVID-19 patients were lost in a fire incident in ICU ward of a hospital in Rajkot and 8 lives were lost in a hospital in Ahmedabad. When India is fighting against COVID-19, utmost precaution needs to be taken to avoid such incidents, he says.
13:21 pm: PM Modi also asked the companies to come out with their suggestions and ideas regarding the regulatory processes and related matters. He also suggested that they should take extra efforts to inform the general public in simple language about the vaccine: Prime Minister's Office
13:21 pm: PM Modi had virtual meetings with 3 teams working on developing and manufacturing vaccine for COVID-19 today. These teams were from Gennova Biopharmaceuticals Ltd Pune, Biological E Ltd Hyderabad and Dr Reddys Laboratories Ltd Hyderabad: Prime Minister's Office
The PM appreciated the efforts being taken by the scientists in these companies to come out with a vaccine solution to tackle COVID-19. The potential of various platforms for vaccine development was also discussed: Prime Minister's Office
12:49 pm: Karnataka, Maharashtra, Kerala, Tamil Nadu, Andhra Pradesh have reported Maximum Decline in Active Cases in the past 1 month. Total tests in India cross landmark of 14 Crores: Ministry of Health and Family Welfare
11:45 am: I have directed that the rates of RT-PCR tests be reduced in Delhi. Whereas tests are being conducted free of cost in govt establishments, however, this will help those who get their tests done in private labs: Delhi CM Arvind Kejriwal
11:45 am: There will be no discussion on the expansion of the state Cabinet. It is the Chief Minister's discretion: BJP leader Jyotiraditya Scindia before his meeting with Madhya Pradesh CM Shivraj Singh Chouhan
11:12 am: Shiv Sena MLA Pratap Sarnaik's son Vihang Sarnaik who was summoned thrice by Enforcement Directorate (ED) is yet to appear before the officials of the agency: ED official
11:11 am: She (actor Urmila Matondkar) may join Shiv Sena tomorrow, says party MP Sanjay Raut.
10:42 am: Uttarakhand govt reduces number of people allowed to gather in a closed facility to 100 from 200; registration mandatory for all inbound persons.
10:22 am: Congress leader Rahul Gandhi to hold a virtual meeting with senior party leaders in Tamil Nadu over 2021 Assembly elections.
10:13 am: A depression has formed over southeast Bay of Bengal: India Meteorological Department (IMD)
10:12 am: Delhi Environment Minister Gopal Rai was discharged from Max Hospital yesterday evening. His condition is stable & he will remain in home isolation. Rai was admitted to the hospital after being diagnosed with COVID-19: Office of Delhi Environment Minister
9:28 am: With 38,772 new COVID-19 infections, India's total cases rise to 94,31,692. With 443 new deaths, toll mounts to 1,37,139. Total active cases at 4,46,952. Total discharged cases at 88,47,600 with 45,333 new discharges in last 24 hours: Health Ministry.
9:27 am: Congress leader Rahul Gandhi to hold a virtual meeting with party leaders in Assam today.
9:18 am: With 8,76,173 COVID-19 tests yesterday, total number of tests conducted reached 14,03,79,976: Indian Council of Medical Research
9:02 am: Prime Minister Narendra Modi condoles the demise of BJP leader and MLA from Rajasthan's Rajsamand, Kiran Maheshwari.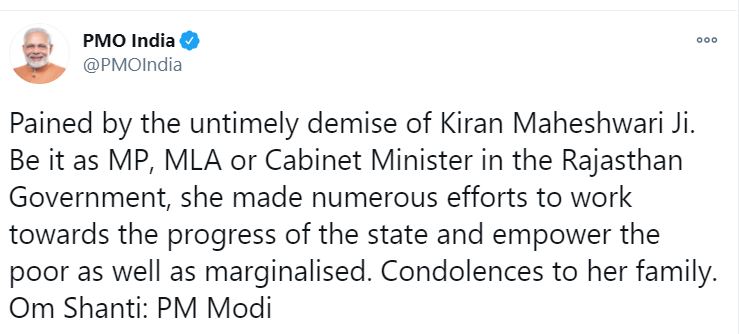 8:44 am: I bow to Sri Guru Nanak Dev Ji on his Parkash Purab. May his thoughts keep motivating us to serve society and ensure a better planet, says Prime Minister Narendra Modi.
8:16 am: India to virtually host SCO Heads of Government meet today; PM Modi to skip
7:43 am: India continues to have one of the lowest deaths per million population globally (presently 99). Focussed measures to ensure a low and manageable fatality rate have resulted in daily mortality figures of less than 500, says Ministry of Health and Family Welfare.
7:11 am: BJP leader and MLA from Rajasthan's Rajsamand, Kiran Maheshwari passes away at Medanta Hospital in Haryana's Gurugram. She had tested positive for COVID-19 and was undergoing treatment at the hospital.
7:10 am: PM Modi to visit Varanasi today and dedicate to the nation six-lane widening project of Handia (Prayagraj)-Rajatalab (Varanasi) section of NH 19. He will also attend Dev Deepawali, undertake site visit of Kashi Vishwanath Temple Corridor Project and visit Sarnath Archaeological Site.
Posted By: Aalok Sensharma