Breaking News, Latest Updates, Highlights of November 17
Stay tuned for all highlights of November 17 here
Updated: Tue, 17 Nov 2020 04:45 PM IST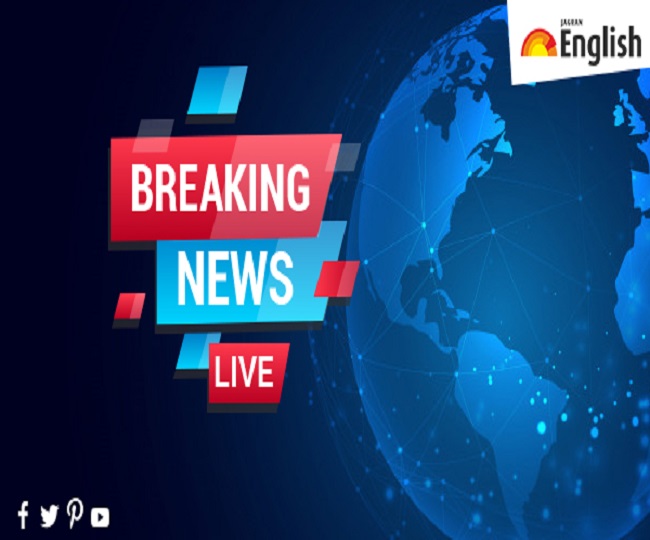 New Delhi | Jagran News Desk: Each and everything that happens around us impacts in some way and that's why it becomes important for us to know what's happening around the world. Thus at English Jagran, we provide our readers with 360-degree coverage in all genres to give them a brief insight about what's happening around the world.
Here are the Highlights of November 17:
4:00 pm: India today successfully testfired the Quick Reaction Surface to Air Missile air defence system. The Missile system secured a direct hit on its target during the trial.
3:50 pm: Bihar portfolio allocation: Nitish Kumar keeps Home Department, General Administration and Vigilance. Deputy CM Tarkishore Prasad gets Finance, Urban Development, and Deputy CM Renu Devi gets Panchayati Raj, Backward cast upliftment and Industry.
3:40 pm: Kerala Finance Minister Thomas Issac committed a violation of Constitution by disclosing content of final Comptroller and Auditor General of India report in a press meet saying it's a draft audit report, before tabling it at the Assembly: Ramesh Chennithala, Congress
3:25 pm: Scattered to widespread light to moderate rains likely over Coastal & Malnad regions. Isolated to scattered light to moderate rains likely over the south interior region & north interior regions: Karnataka State Natural Disaster Monitoring Centre
3:10 pm: I had a detailed discussion with Home Minister Amit Shah on Naxal issue in the state. We discussed various issues including the development and security of the state. Home Minister has assured immediate action on the same: Chhattisgarh CM Bhupesh Baghel
3:00 pm: Supreme Court reserves its order on an anticipatory bail plea of former Punjab Director General of Police Sumedh Singh Saini seeking protection from arrest in a case related to the alleged abduction and murder of a Junior Engineer in 1991
2:45 pm: Petroleum and E&P industries have been constantly reforming in India with the help of the industry's feedback. Govt is also making a constant effort to invite more investment to make these industries independent: Union Minister Dharmendra Pradhan
2:15 pm: Whenever you think of a kickback in a military deal of defence, you think of some Congress leaders. There is no work without kickback. 'No deal without a deal, no contract without a cut' for Congress leaders: Union Minister Ravi Shankar Prasad on AugustaWestland VVIP chopper case
2:00 pm: I'm happy he (Tamil Nadu BJP chief L Murugan) said so. But I haven't decided anything yet. I'll decide my political stand after discussion with supporters. There's no political strategy meet on 21st, it's all rumours: MK Alagiri (file pic) - DMK chief MK Stalin's brother - to ANI
1:45 pm: Cricket Australia (CA) continues to monitor the situation in South Australia but remains committed to hosting the first Test against India at the Adelaide Oval: CA statement in view of state border closures following South Australia's #COVID19 outbreak
1:30 pm: Karnataka: All India Veerashaiva Mahasabha Yuva Ghatak members today started a signature campaign in Sardar Vallabhbhai Patel Circle in Kalaburagi, demanding 16% reservation for Lingayat community
1:00 pm: Chhattisgarh CM Bhupesh Baghel today paid a courtesy visit to Union Home Minister Amit Shah during his stay in Delhi. CM Baghel conveyed Deepavali greetings to Union Home Minister & discussed various issues related to Chhattisgarh with him: Chief Minister's Office, Chhattisgarh
11:30 am: Supreme Court dismisses a plea seeking a direction to CBSE and the Delhi government to waive off examination fees for students of classes 10 and 12 in the current academic year in the wake of #COVID19 pandemic & consequent financial problems being faced by parents
11:25 am: The last day of filing nominations for GHMC (Greater Hyderabad Municipal Corporation) election is 20th Nov. Polling to be held on 1st Dec. Re-polling, if any, will be held on 3rd December. Counting will be done on 4th Dec: C Partha Sarathi, Telangana's State Election Commissioner
11:20 am: BCCI announces MPL Sports as an official kit sponsor for Team India. As part of a three-year deal, MPL Sports designed and manufactured jerseys will be worn by Men's, Women's and the Under-19 Indian cricket teams: Board of Control for Cricket in India
11:15 am: Delhi: Fire breaks out on the sixth floor of MTNL building at Kidwai Bhawan. Cooling operation underway with the help of 15 fire tenders. More details awaited.
11:10 am: There're many patients who are from outside but they get tests conducted here using Delhi address. We can't refuse anyone for tests. So, that results in an increase in numbers. Almost 25-30% outsiders are getting their tests done in Delhi: Delhi Health Minister Satyendar Jain.
11:05 am: Positivity rate is now below 13% from 15.33% last week. Though we're in the 3rd wave, the peak is now over. From here, we'll definitely see a downtrend. 16,500 beds have been reserved for COVID19 & now there are around 8000 beds available: Delhi Health Minister Satyendar Jain
11:00 am: I have no animosity with him, he is like my younger brother. But his personality used to reflect a lack of depth. I think this is the reason BJP leadership did not give him a post in the state cabinet this time: Shivanand Tiwari, RJD
10:55 am: Sushil Modi's role had become less of BJP's & more of Nitish Kumar's associate. I think that's why BJP cut him off this time. He wasn't allowing other BJP leaders to rise. He used to speak on all topics daily & couldn't live without appearing in newspaper/TV: Shivanand Tiwari,RJD
10:50 am: Two suspected militants - residents of Jammu and Kashmir - were arrested last night by Delhi Police Special Cell. Two semi-automatic pistols along with 10 live cartridges recovered.
10:40 am: Bihar: Funeral of a girl, allegedly burnt to death in Vaishali district, held by family after assurance from the police. Family members had held a protest at Kargil Chowk in Patna on Nov 15th demanding the arrest of 2 accused, who allegedly burnt the 20-yr old girl
10:30 am: Prayagraj: Eight-year-old granddaughter of BJP MP Rita Bahuguna Joshi died after getting burnt due to firecrackers.
10:20 am: Jammu and Kashmir: Doda and Kishtwar districts of Jammu region receive rain and fresh snowfall, temperature drops in the region.
10:10 am: Air quality improves slightly in NCR (National Capital Region). Visuals from Ghaziabad where the air quality is in 'Moderate' category as per Air Quality Index data by Central Pollution Control Board (CPCB).
10:00 am: Mumbai: Fire breaks out in a godown at Khadi No.3 near Sarvodaya Hotel in Kurla West. Fire tenders currently present at the spot.
#WATCH Mumbai: Fire breaks out in a godown at Khadi No.3 near Sarvodaya Hotel in Kurla West. Fire tenders currently present at the spot. pic.twitter.com/UorSQy8CjT

— ANI (@ANI) November 17, 2020
9:50 am: Air quality improves slightly in NCR (National Capital Region). Visuals from Ghaziabad where the air quality is in 'Moderate' category as per Air Quality Index data by Central Pollution Control Board (CPCB).
9:40 am: STF team conducted a raid near Kalimandir, Baramunda in Bhubaneswar on 16th Nov & seized a leopard skin along with other incriminating articles from the possession of accused Prashant Kumar Naik. Accused arrested & case registered under Wildlife Protection Act: STF, Odisha Police
9:30 am: With 29,164 new #COVID19 infections, India's total cases rise to 88,74,291. With 449 new deaths, toll mounts to 1,30,519. Total active cases at 4,53,401 after a decrease of 12,077 in the last 24 hrs. Total discharged cases at 82,90,371 with 40,791 new discharges in last 24 hrs
9:20 am: A total of 12,65,42,907 samples tested for #COVID19 up to 16th November. Of these, 8,44,382 samples were tested yesterday: Indian Council of Medical Research (ICMR)
9:10 am: Karnataka: Congress leader & former Bengaluru Mayor Sampath Raj, who has been arrested in DJ Halli & KG Halli violence incident case, brought to Central Crime Branch (CCB) office in Bengaluru
9:00 am: Air quality slightly improves in parts of Delhi. As per Central Pollution Control Board data, Air Quality Index in Anand Vihar is at 173 (Moderate), at 205 in RK Puram (Poor), at 213 in Najafgarh (Poor) and at 90 in Lodhi Road (Satisfactory)
8:52 am: BJP High Command has reprimanded Goa leadership & asked them not to indulge in such public debate. I hope Goa Minister understands that this Debate will only benefit Goans. Hope BJP High Command's diktats to Goa CM will be disregarded & public debate will happen: Raghav Chadha
8:50 am: Goa Power Minister had challenged Kejriwal model of electricity & wished to conduct a public debate. I'll be arriving in Goa by 2 pm today, he should let me know the time & venue for debate. I really hope & wish, he will come & participate in the debate: AAP leader Raghav Chadha
8:40 am: Air condition slightly improves in parts of Delhi. As per Central Pollution Control Board data, Air Quality Index in ITO area is at 176, in Moderate category. Locals in the area say, "Recent rains helped. Used to feel breathing difficulty & irritation in eyes, it's better now.
8:30 am: Uttarakhand: Chief Minister Trivendra Singh Rawat and Uttar Pradesh CM Yogi Adityanath leaving for Badrinath from Gauchar. The two CMs were stuck at Kedarnath yesterday due to weather conditions the following snowfall and later had to leave for Gauchar.
8:15 am: Kanpur: Two men sent to jail for killing a minor girl & carving out her liver after attempting to rape her in Bhadras, men's uncle-aunt arrested for giving them money for it. Police say, "Parashram(uncle)had no child & had given money to his nephews to get her liver for the same"
8:00 am: Delhi: Air quality deteriorates in the national capital with the rise of pollutants in the atmosphere. Visuals around Delhi-Noida Direct (DND) flyway.
7:40 am: Maharashtra: People begin to arrive at BalasahebThackeray Memorial, Shivaji Park in Mumbai to pay tribute to the Shiv Sena founder, on his death anniversary today
7:30 am: Mizoram reports 48 new COVID19 cases in the last 24 hours, taking the total cases here to 3444, including 2915 discharges and 5 deaths. Active cases stand at 524.
7:20 am: Jammu and Kashmir: Land preparations and designing of tulip garden are being carried out for the upcoming season by the Department of Floriculture at the foothills of the Zabarwan hills in Srinagar
7:10 am: Bharatiya Janata Party (BJP) is strengthening its organization on a war footing to contest all 117 Assembly seats in Punjab: BJP General Secretary Tarun Chugh
7:00 am: A 215-meter tall statue of Lord Hanuman will be installed in Pampapur Kishkindha, Karnataka. The project will cost Rs 1,200 crores: Swami Govind Anand Saraswati, president of Hanuman Janmabhoomi Teerth Kheshtra Trust, in Ayodhya
Posted By: Talib Khan