Breaking News Latest Updates, Highlights of March 20
Breaking News Latest Updates, Highlights of March 20
Updated: Sat, 20 Mar 2021 04:37 PM IST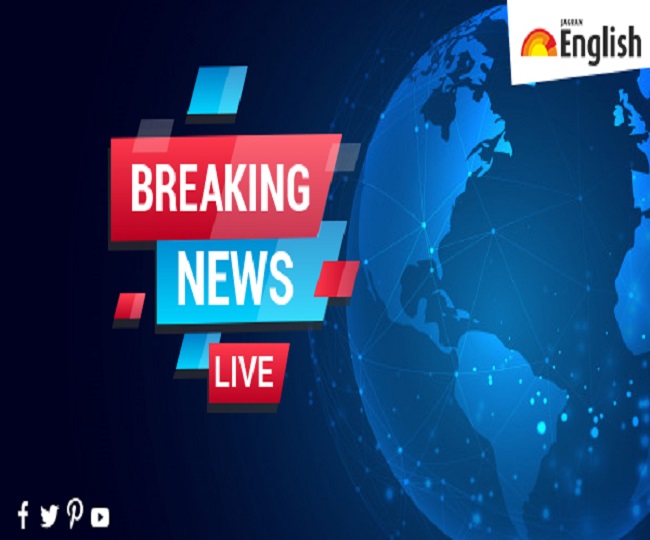 New Delhi | Jagran News Desk: From the Assembly Elections in five states -- West Bengal, Tamil Nadu, Kerala, Assam and Puducherry -- to farmers' protest against three farm acts to Parliament Budget Session, we at English Jagran focus on all the top news of the day to give our readers a 360-degree coverage in all genres to give them a brief insight into what's happening around the world.
Here are the LIVE Updates of March 20:
4:30 pm: East Japan Railway Company says services on the Tohoku Shinkansen bullet train line have been partially suspended following Saturday's earthquake: Japanese Media
4:20 pm; Welcomed US Defence Secretary Lloyd J. Austin III at Ministry of External Affairs. A wide-ranging conversation on the global strategic situation. Look forward to working with him on enhancing our Strategic Partnership: EAM Dr S Jaishankar
4:10 pm: Delhi reports 813 new #COVID19 cases, 567 recoveries and 2 deaths in the last 24 hours. Total cases 6,47,161 Total recoveries 6,32,797 Death toll 10,955 Active cases 3,409
4:00 pm: BJP should withdraw its decision as it'll affect the income of meat sellers, who are also non-Muslims. If nation runs on faith & not Constitution, then ban liquor sale on Friday. The decision only spreads hate: AIMIM's Asaduddin Owaisi on ban in sale of meat in Haryana's Gurugram
3:35 pm: Bodies of two Naxals were found near Kawasipara in Kuakonda police station limit. Two weapons ( one 9 mm pistol and one desi katta has been recovered. Two pithoos with black dress, one IED of 5 kg has also been recovered: Dantewada SP Abhishek Pallav.
3:25 pm: As practicals in HSC are crucial for further professional courses, we have not cancelled them but have limited the number of experiments to just five/six this year. Colleges will be informed separately about the details: Varsha Gaikwad, Maharashtra Minister (School Education)
3;20 pm; Conducting practicals in school has been tough this year & therefore we've decided that students need to be given a concession here. That is why, to start with, we've decided to do away with science practical exams for SSC,replacing them with internal assignments: Varsha Gaikwad
3:15 pm; SSC and HSC students will give written exams in the same school/college. Exams will be held offline: Varsha Gaikwad, Maharashtra Minister (School Education)
3:00 pm: Anti-Terrorism Squad (ATS) approached Special NIA court in Mumbai Seeking Custody of Sachin Waze in Mansukh Hiren Death Case. Court says that this can be heard and decided only after 25th March when NIA custody is getting over.
2:42 pm; Conduct of Board Exam for class 10 for Boards other than Tamil Nadu State Board as scheduled by those Boards & special classes to students who are appearing for the above Board Exam for Class 10 & functioning of Hostels for those students shall be allowed: Govt of Tamil Nadu
2:40 pm: Schools shall be closed for std 9, 10 & 11 with effect from 22nd March until further orders. Hostels for the above students shall also be closed. However online/digital mode of education shall continue for these classes: Revenue & Disaster Mgmt Department, Govt of Tamil Nadu
2:30 pm: Punjab's Kisan Mazdoor Sangharsh Committee march towards Delhi on tractors. "We're heading to Delhi to join the farmers at Singhu border. Those already there will come back, we'll be there for 20 days. Another lot will go from Firozpur on April 5", says a farmer
2;20 pm; Centre wrote to us y'day that we can't implement it. Letter read that scheme can't be called Mukhya Mantri Yojana. I held a meet with offices today & told them to remove the scheme's name. We'll just deliver ration at people's doorstep without the scheme having a name: Delhi CM
2:15 pm: A revolutionary scheme was going to start in Delhi from 25th March - Mukhya Mantri Ghar Ghar Ration Yojana. People used to get ration from shops for which they used to face problems & stand in queues. We had found a solution to deliver the ration at the doorstep instead: Delhi CM
2:10 pm; Mansukh Hiren death case taken over by NIA. Formal order from MHA issued to NIA regarding this. This case was earlier being investigated by Maharashtra ATS: Official Sources
1:55 pm; Maharashtra: Four people died and one critically injured in an explosion at a chemical factory in an industrial area in Ratnagiri district today
1:45 pm; ISSF Shooting World Cup: India's Divyansh Singh Panwar wins bronze medal in 10m Air Rifle (men's category)
1:30 pm: A Delhi Court issues summons against Bilquis Shah, wife of jailed separatist Shabbir Shah, while takes cognizance on a chargesheet in a money laundering case related to terror financing. ED in its supplementary chargesheet filed last year named Bilquis Shah as a new accused.
1:10 pm: India is an increasingly important partner in the rapidly shifting international dynamics. I reaffirm our commitment to a comprehensive forward-looking defence partnership with India as a central pillar of our approach to the Indo-Pacific region: US Defence Secy Lloyd J. Austin
1:00 pm: Our relationship is a stronghold of free & open Indo-Pacific region. PM Modi stated India stands for freedom of navigation & freedom of overflight, unimpeded lawful commerce in adherence to international law. This reaffirms our shared vision for regional security: US Defence Secy
12:56 pm: India is an increasingly important partner in rapidly shifting international dynamics. I reaffirm our commitment to a comprehensive forward-looking defense partnership with India as a central pillar of our approach to the Indo-Pacific region: US Defence Secy Lloyd J. Austin III
12:52 pm: India has scaled a significant peak in its battle against #COVID19 pandemic. The total vaccination coverage has surpassed 4 crores. 4,20,63,392 vaccine doses have been administered through 6,86,469 sessions, as per the provisional report till 7 am today: Ministry of Health
12:45 pm: We also reviewed many bilateral & multilateral exercises & we agreed for increased cooperation b/w Indian military, US Indo-Pacific command, Centre Command & Africa Command. We've signed LEMOA, COMCASA & BECA agreements & we've agreed to realise their full potential: Defence Min
12;40 pm; We're determined to realise full potential of comprehensive global strategic partnership. Talks focussed on wide-ranging defence cooperation, expanding military to military engagement, info sharing & cooperation in emerging areas of defence & mutual logistics support: Defence Min
12:25 pm: I am happy to say that we had comprehensive and fruitful talks with Secretary Austin and his delegation: Defence Minister Rajnath Singh
12;15 pm: Delhi: The delegation-level talks between Defence Minister Rajnath Singh and US Secretary of Defence Lloyd James Austin III concludes at Vigyan Bhawan. The two Ministers will issue a joint statement now.
12:00 pm: Maharashtra: 4 people died and 1 critically injured in an explosion at a chemical factory in an industrial area in Ratnagiri district. More details awaited.
11:55 am: Maharashtra: The body has been identified to be that of a 48-year-old man, Shaikh Saleem Abdul - resident of Retibunder, Mumbra. The body has been handed over to Police officials.
11:45 am: Maharashtra: A body has been found at the location in Reti Bunder, Mumbra where Mansukh Hiran's body was found a few days back. More detail awaited.
11:30 am: Delhi: Defence Minister Rajnath Singh and US Secretary of Defence Lloyd James Austin III hold delegation-level talks at Vigyan Bhawan. CDS General Bipin Rawat and the three Services Chiefs are also present at the meeting.
11:15 am: The 10-member committee will be headed by Minister of Commerce and Industry. Committee will consider investment/ project proposals in high technology areas, take action to facilitate investments & production & make recommendations for seeking approvals of competent authority: GoI
11:10 am: In order to facilitate investments & promote manufacturing in technology intensive sectors including semiconductors, Govt of India has decided to constitute an Empowered Committee for Manufacturing in High Technology Areas: Government of India
10:50 am: Luggage is being unloaded to control the fire, otherwise, it is getting difficult to douse it. Once it's taken down completely, belongings will be seized and sent for a forensic inquiry to find out what caused the fire: Ashutosh Gangal, General Manager Northern Railway
10:35 am: Delhi: US Secretary of Defense Lloyd James Austin III pays tribute at the National War Memorial.
10:15 am: A total of 23,24,31,517 samples tested for #COVID19 up to 19th March 2021. Of these, a total of 10,60,971 samples were tested yesterday: Indian Council of Medical Research (ICMR)
10:00 am: India reports 40,953 new #COVID19 cases, 23,653 recoveries and 188 deaths in the last 24 hours, as per the Union Health Ministry Total cases: 1,15,55,284 Total recoveries: 1,11,07,332 Active cases: 2,88,394 Death toll: 1,59,558 Total vaccination: 4,20,63,392
9:50 am: Three PAC women battalions to be established after three women warriors who sacrificed themeslves in India's freedom struggle - Rani Avantibai Lodhi, Uda Devi & Jhalkaribai. All formailities are complete: CM Yogi Adityanath at an event on death anniversary of Rani Avantibai Lodhi
9:30 am: About 7 am today, generator & luggage compartment of Shatabdi Express caught fire. It was immediately separated from the train. 4 fire tenders doused fire after breaking the window. No casuality, reason unknown on what caused fire, probe underway: Chief Fire Officer Sushil Kumar
9:10 am: Fire had broken out in New Delhi-Lucknow Shatabdi Express at 6:45 am. The affected coach was detached. All passengers are safe. Train departed at 8:20 am: Railways
9:00 am: Shiromani Akali Dal (SAD) patron Parkash Singh Badal speaks to his son and party leader Sukhbir Singh Badal, through a video call. The latter is admitted at Medanta Hospital in Haryana's Gurugram after testing positive for #COVID19.
8:40 am: Fire breaks out at the generator car of Shatabdi Express at Ghaziabad railway station. More details awaited.
8:30 am: Great meeting with NSA Doval last night. The breadth of collaboration b/w our 2 nations reflects significance of our major defence partnership as we work together to address the most pressing challenges facing Indo-Pacific region: US Secretary of Defense Lloyd James Austin III
8:20 am: Delhi CM Arvind Kejriwal calls review meet today over matter related to doorstep delivery of ration scheme (Mukhya Mantri Ghar Ghar Ration Yojana), Delhi Food & Supply minister to also be present. Centre y'day stopped the UT Govt's scheme, that was to be launched on 25th March.
8:15 am: Congress leader Rahul Gandhi to interact with employees at the IOC Refinery in Assam's Tinsukia & hold two public meetings in Jorhat and Biswanath today.
8:03 am: Prime Minister Narendra Modi to address rallies in West Bengal's Kharagpur and Assam's Chabua today.
7:53 am: Moradabad: Ahead of Holi celebrations, shopkeepers say sales of colours, gulal, abir, water gun & other items are down amid rising COVID cases. "Business is down, primarily because of rumours of lockdown," a businessman said yesterday.
7:45 am: Delhi's overall air quality improves to 'poor' from 'very poor' category, with air quality index standing at 293, as per System of Air Quality & Weather Forecasting & Research. Air quality in Mumbai & Ahmedabad also is in 'poor' category.
7:36 am: While Govt of India has dedicated efforts to provide clean cooking fuel to over 80 million Indian women in past 6 years, it's the construction of 100 million household toilets that have contributed immensely to women's health & welfare in India: Union Min Smriti Irani at a UN meeting
7:22 am: Madhya Pradesh: A woman lodged FIR in Indore against a man for allegedly raping her 17 years ago. "She said she couldn't lodge FIR earlier as she didn't know his name. In 2020, she came across his profile on Facebook&decided to file it," said Jyoti Sharma,SHO,Women Police Station
7:10 am: Punjab government has announced closure of educational institutions and to postpone exams of all classes till March 31: State government
Posted By: Talibuddin Khan