Breaking News Latest Update, Highlights of March 17
Breaking News Latest Update, Highlights of March 17
Updated: Wed, 17 Mar 2021 04:20 PM IST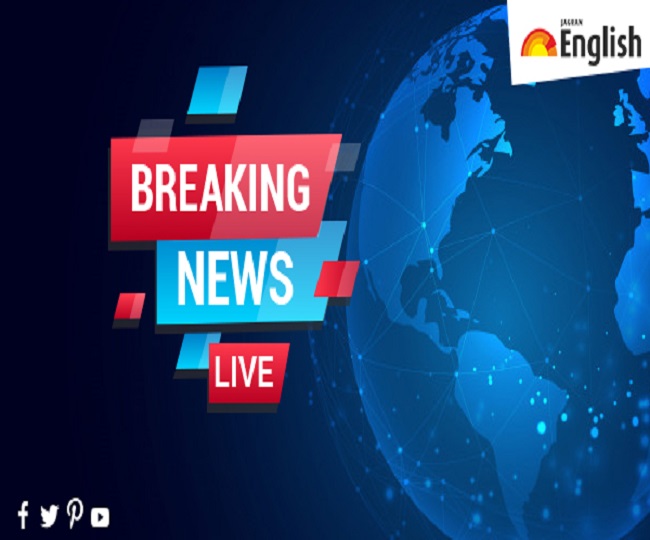 New Delhi | Jagran News Desk: From the Assembly Elections in five states -- West Bengal, Tamil Nadu, Kerala, Assam and Puducherry -- to farmers' protest against three farm acts to Parliament Budget Session, we at English Jagran focus on all the top news of the day to give our readers a 360-degree coverage in all genres to give them a brief insight into what's happening around the world.
Here are the Highlights from March 17:
2:55 pm: Don't vote for BJP otherwise, you won't be able to follow your 'dharma'. You will have to say 'Jai Shree Ram', you will not be able to say 'Jai Siya Ram'. Lord Ram used to worship Maa Durga because she is much bigger in stature: West Bengal CM Mamata Banerjee in Jhargram
2:45 pm: Many infrastructure systems- digital infrastructure, shipping lines, aviation networks- cover the entire world. Effect of disaster in one part of the world can quickly spread across the world. Cooperation is a must for ensuring the resilience of the global system: PM Modi
2:30 pm: COVID-19 pandemic has taught us that in an inter-dependent and inter-connected world, no country- rich or poor, in the east or west, north or south- is immune to the effect of global disasters: PM Narendra Modi at International Conference on Disaster Resilient Infrastructure
2:15 pm: On one hand, the pandemic has shown us how impacts can quickly spread across the world. On the other hand, it has shown how the world can come together to fight a common threat: PM Modi
2:00 pm: Over 10% vaccine wastage in Telangana & Andhra Pradesh. Vaccine wastage in UP is almost the same. It should be reviewed in states that why's vaccine wastage happening? Monitoring must be done every evening & pro-active people should be contacted so that there's no wastage: PM
1:10 pm; We haven't been given even a single seat. NDA had requested me to contest from Pala. But I told them that my personal problems - Cancer detected in my son and the treatment he needs- does not allow me to concentrate on an election: PC Thomas, Kerala Congress (PC Thomas faction)
12:55 pm: They denied us even the other seats that we had been requesting...So we are leaving the NDA: PC Thomas, Kerala Congress (PC Thomas faction)
12:45 pm: West Bengal CM Mamata Banerjee (in file photo) to skip the meeting of all Chief Ministers with PM Modi today as she has pre-scheduled election meetings: TMC Sources PM Modi's meeting with CMs has been called over growing cases of #COVID19 and the ongoing vaccination drive.
12:35 pm: CM of Chhattisgarh Bhupesh Baghel not attending the interaction with PM Modi on COVID situation and vaccination: Sources
12:25 pm: Delhi: Joint Commissioner of Police Jaspal Singh arrives at the Parliament to provide a report into the matter of BJP MP Ram Swaroop Sharma's demise.
12:15 pm; At around 2 PM this afternoon, will be speaking at the International Conference on Disaster Resilient Infrastructure. This is an important conference, which will deliberate on a subject that is of great concern for the entire humanity: Prime Minister Narendra Modi
12:00 pm: A 45-year-old woman was shot dead in Majnu ka Tila area of Delhi, earlier today. Prima facie, it appears that two bike-borne came to her shop in the area and shot her. She was taken to the hospital where she was declared brought dead. Probe on: Delhi Police
11;30 am; Goa: Chief Minister Pramod Sawant, state BJP chief Sadanand Shet Tanavade and others pay tribute to former Defence Minister and ex-CM, Manohar Parrikar on his death anniversary today.
11;15 am; India's total active caseload stands at 2.34 lakh (2,34,406) today, comprising 2.05% of the total cases. Maharashtra, Kerala & Punjab account for 76.4% of total active cases, with Maharashtra alone contributing nearly 60%: Union Ministry of Health
11;10 am; 15 states/UTs have not reported any COVID19 deaths in last 24 hours. These are Assam, Andhra Pradesh, Odisha, Uttarakhand, Lakshadweep, Sikkim, Meghalaya, Dadra&Nagar Haveli & Daman&Diu, Nagaland, Tripura, Ladakh, Manipur, Mizoram, A&N Islands & Arunachal Pradesh: Health Ministry
11;05 am; Minister said that he has no contact with his brother for past 10 yrs.But after our press conference he confessed that his brother owns the school. Why is his brother not arrested?: Tejashwi Yadav on alleged recovery of illicit liquor from school run by Bihar Min RS Rai's brother
10;50 am; PM Modi extends condolences on the demise of former BJP MP & Minister Dilip Gandhi. "He'll be remembered for his rich contributions to community service & helping poor. He made numerous efforts to strengthen BJP in Maharashtra. Condolences to his family & supporters," he tweets
10;35 am; Delhi: Union Minister Shripad Naik arrives at the Parliament. He had met with a road accident on January 11th while going from Yellapur to Gokarna in Karnataka.
10;20 am; Reports that Nita Ambani (in pic) will be a visiting lecturer at Banaras Hindu University (BHU) are fake. She hasn't received an invitation from BHU: Reliance Industries Limited spokesperson to ANI
10;00 am; West Bengal: A fire broke out in a market area near Jalpaiguri, in Siliguri. Firefighting operation underway. No casualties reported so far. More details awaited.
9;55 am; My heartfelt homage to Bangabandhu Sheikh Mujibur Rahman, a champion of human rights and freedom, on his birth anniversary. He is a hero for all Indians too. It will be my honour to visit Bangladesh later this month for the historic Mujib Borsho celebrations: PM Modi
9;45 am; India reports 28,903 new #COVID19 cases, 17,741 recoveries and 188 deaths in the last 24 hours, as per the Union Health Ministry. Total cases: 1,14,38,734 Total recoveries: 1,10,45,284 Active cases: 2,34,406 Death toll: 1,59,044 Total vaccination: 3,50,64,536
9:40 am: BJP Parliamentary Party meeting scheduled for today has been cancelled after the demise of BJP MP Ram Swaroop Sharma
9:25 am: Maharashtra: Maha Vikas Aghadi (MVA) coordination committee to meet today.
9;15 am: Loudspeakers shall not be used at night, which shall mean from 10 pm to 6 a.m. The area comprising not less than 100 meters around hospitals, educational Institutions & courts are declared as silence zone: Karnataka State Board of Auqaf
9;00 am: Whoever uses any sound amplifier or burst sound-emitting crackers, uses loudspeaker or public address system in the silence zone is liable for penalty under the provisions of Environment Protection Act, 1986: Karnataka State Board of Auqaf
8:45 am: A man suspected of carrying out all of the attacks in the Atlanta, Georgia area, has been taken into custody: Reuters
8:10 am: PM Modi will interact with Chief Ministers of all states and Union Territories to discuss the growing number of COVID-19 cases and the ongoing vaccination drive.
8:00 am: Mumbai team of Narcotics Control Bureau(NCB) arrested a Nigerian drug peddler in a raid conducted in Navi Mumbai area last night, recovered cocaine from his possession: NCB
7:46 am: Karnataka: Two Nigerian nationals arrested in Bengaluru and seized drugs including ecstasy and LSD worth Rs 75 lakhs from their possession: City Crime Branch (CCB), Bengaluru City
7:36 am: Eight people, including at least four women, have been shot dead at three day spas in the Atlanta, Georgia area, Reuters quoting local media and police
7:25 am: Even our adversaries have accepted that BJP will win in Assam. Although I don't agree with Sharad Pawar ji's whole statement, but if he also believes that BJP will win in Assam, it goes on to show that we will register a big win: BJP's Devendra Fadnavis in Guwahati
7:13 am: Congress has released a list of 14 candidates for the Puducherry Assembly elections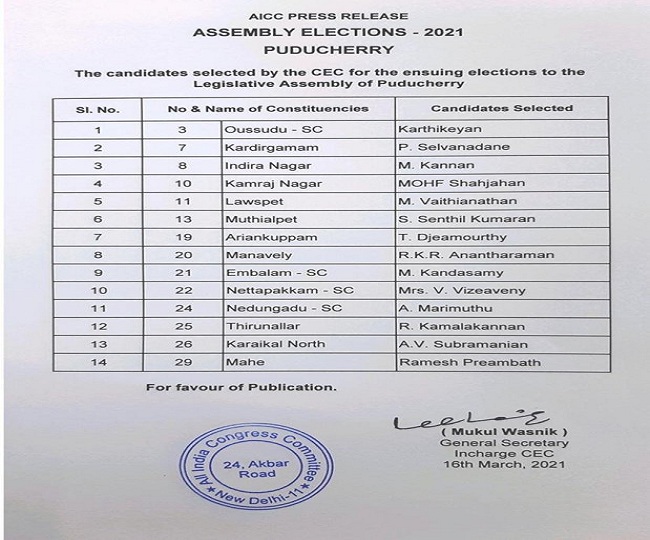 7:00 am: Pune: Cyber Cell of Crime Branch has booked 12 people incl 2 directors of regional news channels from Maharashtra for selling dormant bank accounts' data worth over Rs 216 cr. Case registered under Sec 419, 420, 34, 120(B) of IPC & Sec 43/66 & 66(d) of Information Technology Act
Posted By: Talibuddin Khan