Breaking News Latest Updates, Highlights of March 11
Stay tuned to Jagran English to catch all the LIVE updates of March 11
Updated: Wed, 11 Mar 2020 05:27 PM IST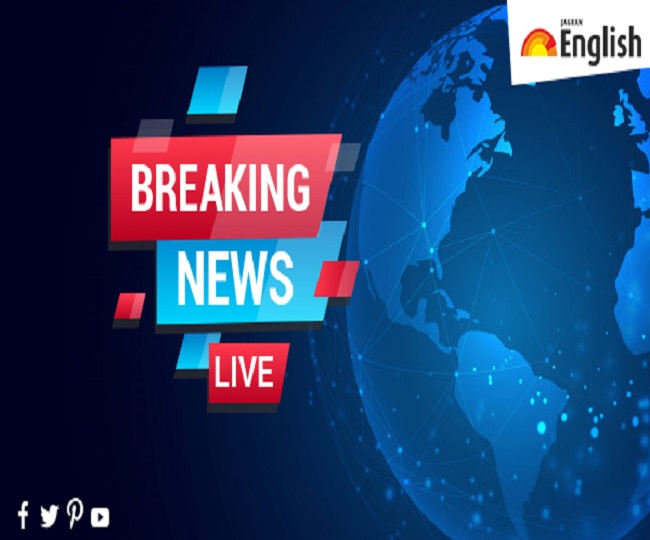 New Delhi | Jagran News Desk: At Jagran English, we try to cover all the relevant news in our latest news updates to ensure that our readers don't miss any news relevant to them. Here we provide a 360-degree coverage on all genres including politics, business, India, world, sports and entertainment.
Today, we will have a focus on the political activities in Madhya Pradesh. Senior Congress leader Jyotiraditya Scindia yesterday resigned from the Congress party. Along with him, 22 more MLAs exit the party, leaving the Kamal Nath below majority mark.
Here are the Highlights of MARCH 11:
5:00 pm: Congress leader Rahul Gandhi on reports that #JyotiradityaMScindia tried to reach out to Sonia Gandhi & him before leaving the party but wasn't given time: He is the only chap in Congress who could walk into my house anytime.
4:40 pm: Yashodhara Scindia, BJP: The arrival of my nephew (in BJP) will provide even more strength to PM Modi in politics at the centre. Ek bahut bada stambh, aage ki peedhi ka aur aaj ka bhi, gira hai Congress mein aur wo wajan ab hamari party mein aa gaya hai.
4:30 pm: Yashodhara Scindia, BJP: Family was divided into 2 as there were 2 different political parties. It's natural that if you have political differences it seeps into family too. This step has made all small issues of differences to go away.We're on 1 stage now
4:00 pm: Imarti Devi, recently resigned Congress MLA from Madhya Pradesh: All 22 MLAs are here (in Bengaluru) on their own will. We're happy Scindia Ji has taken this decision. I'll always stay with him even if I had to jump in a well. When we were in Congress, Kamal Nath Ji never heard us.
3:45 pm: Rajasthan: Madhya Pradesh Congress MLAs reach Buena Vista Resort in Jaipur.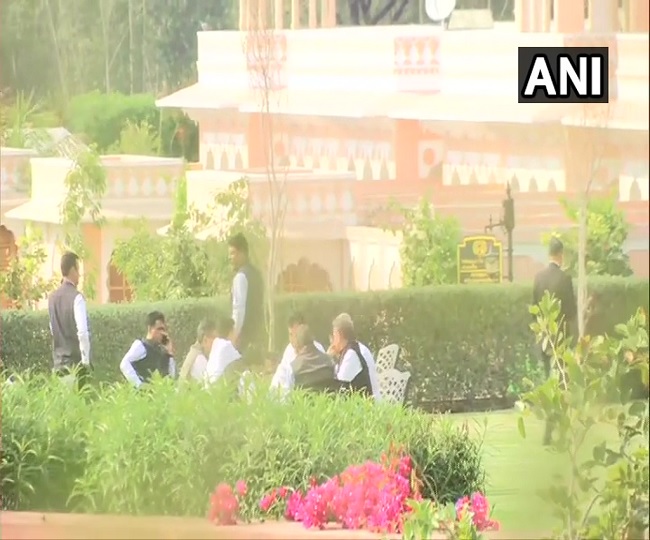 3:35 pm: Yashodhara Scindia, BJP: Very happy today. Govt will be formed under SS Chouhan's leadership. We're happy as I've worked under him&I know what wonderful schemes we had for people & today we don't have those. Best wishes to my nephew, hope we'll have a good aunt-nephew combination
3:28 pm: Shivraj Singh Chouhan, BJP on party's slogan "Hamara neta Shivraj, Maaf karo Maharaj" during state election: If there was anyone in Congress who was popular, it was 'Maharaj' (Jyotiraditya Scindia) so we used to say 'Maaf Karo Maharaj'. Ab Maharaj aur Shivraj ek hain, BJP mein.
3:22 pm: SS Chouhan, BJP: It's a joyous day for BJP & me personally. Today, I remember Rajmata Scindia Ji. #Jyotiraditya Scindia has become a member of the BJP family. Yashodhara Ji is here with us. The entire family is with BJP. They have a tradition where politics is a medium to serve people.
3:17 pm: "I am lucky that PM Modi, Amit Shah gave me this chance to serve the people. PM Modi got this huge mandate from the people of India twice. I am impressed by the PM's abilities to deliver on his promises and his vision," says Jyotiraditya Scindia.
3:15 pm: Jyotiraditya Scindia says, "Farm loans that were supposed to be waived by the Congress government within a week of coming to power has not been fulfilled even after 18 months of the government."
3:13 pm: Jyotiraditya Scindia says his motto has always been to serve the people and Congress has lost this goal. "Serving this purpose is no longer possible in Congress party," says Jyotiraditya Scindia.
3:12 pm: I thank Nadda ji for giving me this opportunity. I am eager to work with the BJP to serve the people of India: Scindia
3:10 pm: Scindia says Congress failed to create jobs in MP, fires corruption charge at Kamal Nath government
3:09 pm: "I have worked for my state and my nation through Congress but the party is not same anymore, there is widespread corruption, sand mafias and farmer distress," said Jyotiraditya Scindia.
3:08 pm: Jyotiraditya Scindia: I can say with confidence that the aim of public service is not being fulfilled by that party (Congress). Besides this, the present condition of the party indicates that it is not what it used to be.
3:05 pm: Jyotiraditya Scindia: There have been 2 life-changing events for me - one, the day I lost my father and the second, yesterday when I decided to choose a new path for my life...The Congress party is not anymore the party that it was earlier.
3:02 pm: Jyotiraditya Scindia: I would like to thank JP Nadda ji, PM Narendra Modi, Home Minister Amit Shah that they invited me to their family and gave me a place in it.
3:00 pm: Nadda welcomes Scindia into the BJP, recalls contributions of his grandmother Vijaya Raje Scindia in formation of the Jana Sangh. "This is a very democratic party where every individual has his/her say. I hope that Scindia will also get an opportunity to participate in all the activities of the party, and see to it that the BJP becomes the rightful instrument in changing the destiny of the country": Nadda
2:55 pm: Jyotiraditya Scindia formally joins BJP as JP Nadda inducts him into the party.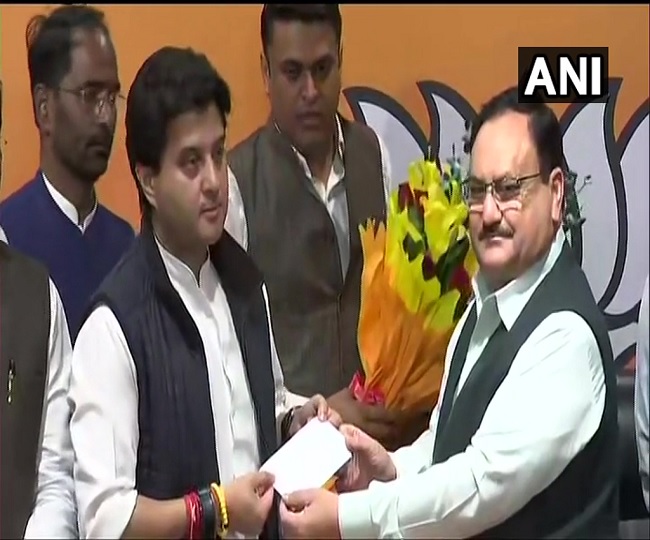 2:50 pm: Watch LIVE | Jyotiraditya Scindia joins BJP in presence of JP Nadda
#WATCH Live from Delhi: Jyotiraditya Scindia joins Bharatiya Janata Party (BJP), in presence of BJP President JP Nadda https://t.co/xBIMuF4CKZ

— ANI (@ANI) March 11, 2020
2:40 pm: Rajasthan CM: Everyone can see how democracy is being murdered. MLAs are coming to Jaipur, you can see what kind of horse-trading attempts are being made there (in MP). Aisa nanga naach kabhi nahi dekha gaya hai, jo satta mein baithe huye log kar rahe hain. We stand together.
2:35 pm: Jyotiraditya Scindia has reached the BJP headquarters. JP Nadda is expected to induct him into the party any moment now.
2:30 pm: We did not anticipate Jyotiraditya Scindia will quit Congress, that was a mistake: Digvijaya Singh
"We are not keeping quiet. We are not sleeping," Singh told PTI, a day after Congress leader Jyotiraditya Scindia quit the Congress and 22 MLAs submitted their resignations from the assembly in Madhya Pradesh
2:25 pm: Rajasthan CM Ashok Gehlot, at Jaipur Airport on Jyotiraditya Scindia: Such opportunists should have left the party much earlier. Congress party gave him so much for 18 years. Mauka aane pe maukaparasti dikhai hai. People will teach him a lesson.
2:10 pm: Jyotiraditya Scindia leaves from his residence in Delhi.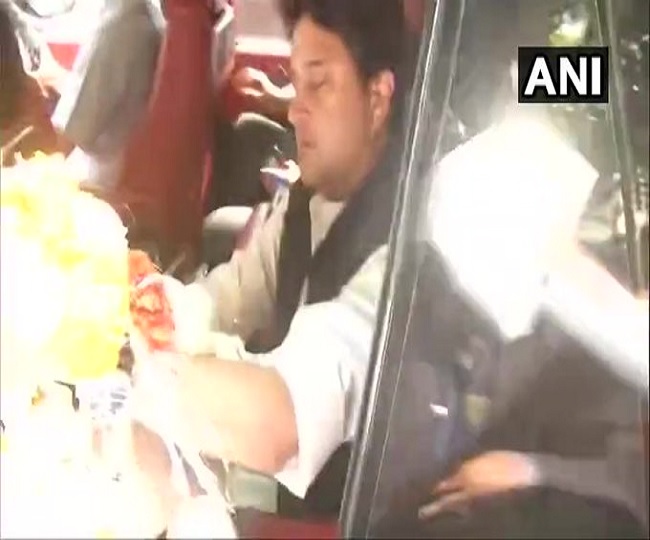 2:00 pm: Sanjay Raut, Shiv Sena on political situation in Madhya Pradesh: BJP tried to form govt in Maharashtra too but failed. No such operation will be successful here. Surgeons like us are sitting here in operation theatre. If anyone comes to do it, he himself will be operated upon.
1:55 pm: Madhya Pradesh: Nameplate of Jyotiraditya Scindia was removed from Congress office in Bhopal yesterday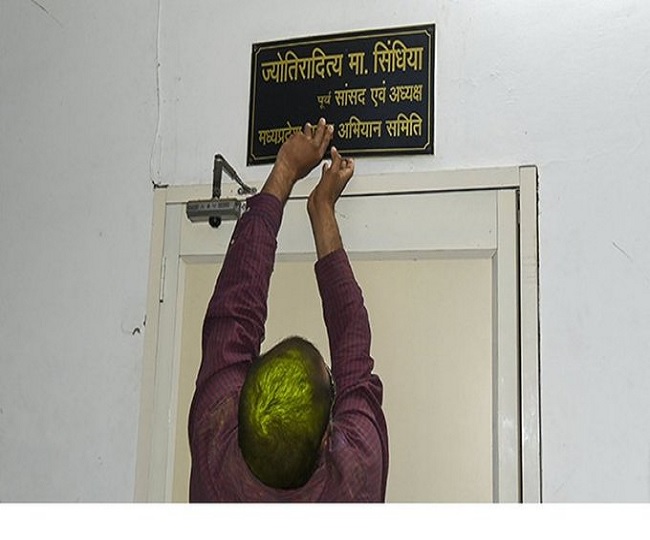 1:50 pm: After meeting with 19 party MLAs who have tendered their resignations, Congress leader Sajjan Singh Verma on Wednesday said they are neither willing to support Jyotiraditya Scindia nor in favour of joining BJP as they were "misled and taken to Bengaluru" in Karnataka.
1:40 pm: Delhi: BJP leader Zafar Islam arrives at Jyotiraditya Scindia's residence.
1:30 pm: Madhya Pradesh: Posters of Jyotiraditya Scindia with Prime Minister Narendra Modi & Union Home Minister Amit Shah, put up in Bhind.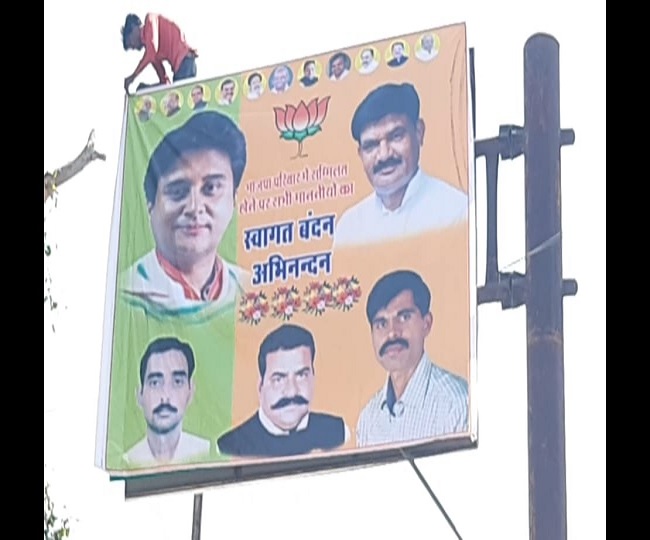 1:20 pm: Congress leader DK Shivakumar in Bengaluru: No one can destroy Congress. Leaders may come, leaders may go, that doesn't make any difference. All the MLAs (Madhya Pradesh) who are here don't want to lose their membership. I am sure they will understand, go back and save the govt.
1:10 pm: Amid the political crisis in Madhya Pradesh, 95 Congress MLAs reached the Bhopal airport to leave for Jaipur on Wednesday after the ruling party decided to shift its MLAs out of the state in a bid to keep its flock together.
12:45 pm: Jyotiraditya Scindia will join the BJP today at the party headquarters. Top BJP leaders likely to be present: Sources
12:30 pm: ACR Nair, director of Cochin International Airport Limited: A passenger flew down from Italy some days ago. Later, he tested positive for #Coronavirus. Keeping this in view, we have asked the airport staff who came in his contact to place themselves under home quarantine.
12:25 pm: Karnataka: Youth Congress workers protest outside Prestige Golfshire in Bengaluru, where 19 Madhya Pradesh Congress MLAs, who tendered their resignations yesterday are staying.
12:20 pm: Delhi High Court now allows authorities to dispose of the unidentified bodies after two weeks from the date of the publication of the names of those who died during violence in Delhi. Delhi HC had earlier asked the government hospitals of Delhi not to dispose of the unidentified bodies till March 11 and to conduct videography of post-mortem of bodies who died during violence in Northeast Delhi.
12:15 pm: Senior Madhya Pradesh Congress leader Sajjan Singh Verma on his meeting with 19 party MLAs who tendered their resignations: Nobody is ready to go with Scindia ji. They said they were misled and taken to Bengaluru, most of them said they are not ready to join BJP.
12:10 pm: Senior journalist & activist Ajit Bhuyan will be an independent candidate for the upcoming Rajya Sabha elections from Assam; Congress and AIUDF (All India United Democratic Front) will support him.
12:00 pm: Congress MP Nakul Nath (son of Madhya Pradesh CM Kamal Nath): MLAs who have gone to Karnataka will soon return to the Congress fold. I am very confident the government will survive.
11:45 am: Rohit Kansal, Principal Secretary Planning, Jammu & Kashmir: All primary schools, cinema halls and Anganwari centres in the 5 districts, Jammu, Samba, Kathua, Reasi and Udhampur to be closed till March 31
11:40 am: Madhya Pradesh: Congress MLAs leave for Bhopal airport. They will be flying to Jaipur shortly.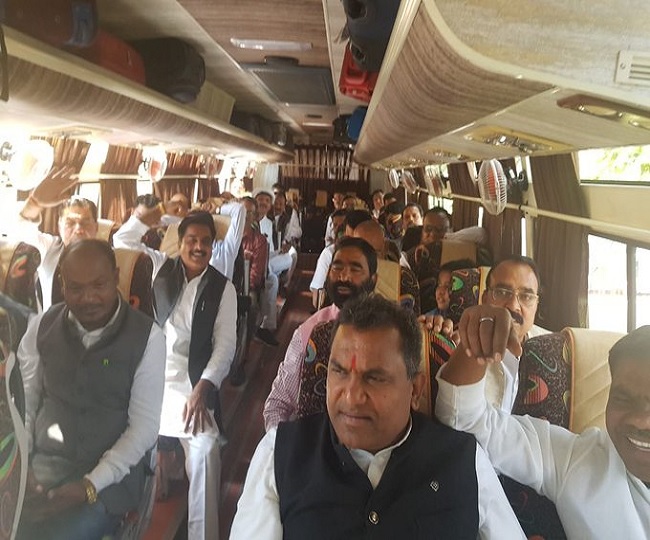 11:35 am: Delhi High Court asks Central Government and Delhi Government to file response on the plea seeking proper preventive measures to control coronavirus.
11:30 am: Madhya Pradesh: Senior Congress leader Digvijaya Singh arrives at Madhya Pradesh Chief Minister Kamal Nath's residence in Bhopal.
11:25 am: Delhi HC issues notice to Google India, Facebook India&Twitter India on the plea&posted matter for 13 April. Court seeks response of Centre&social media organizations to take action through designated officers of intermediaries for removal of fake news on social media platforms.
11:18 am: Chhattisgarh Chief Minister Bhupesh Baghel on political situation in Madhya Pradesh: How many people were there in BJP MLAs meeting, what number do they have? The government will survive, it is just the beginning, Kamal Nath ji's moves have not come to light yet.
11:16 am: Lok Sabha also adjourned, till 12:30 pm today after opposition uproar over different issues.
11:15 am: Rajya Sabha adjourned till 2 pm today amid ruckus by opposition MPs over different issues.
11:10 am: Enforcement Directorate (ED) has also registered a case against the PFI (Popular Front of India), in connection with Delhi Violence.
11:05 am: Air India AI-138 from Milan to Delhi has been taken to isolation bay at Delhi Airport; currently, all passengers are going through screening at the airport.
11:00 am: Independent Madhya Pradesh MLA Surendra Singh Shera in Bhopal: The government will survive. All independent MLAs are with us. We will bring back the MLAs who are in Bengaluru.
10:55 am: Enforcement Directorate (ED) registers a case against suspended AAP Councilor Tahir Hussain (accused in Intelligence Bureau Officer Ankit Sharma murder case) under Prevention of Money Laundering Act. His alleged links with the PFI (Popular Front of India) are being investigated.
10:50 am: Congress strategy meeting for Lok Sabha, chaired by Rahul Gandhi is underway in Parliament.
10:45 am: Tamil Nadu: A plea has been filed in Madras High Court, seeking direction to the Central Government to not allow Board of Control for Cricket in India (BCCI) to conduct IPL matches from March 29-May 24, in view of CoronaVirus.
10:40 am: Chhattisgarh Chief Minister & Congress leader Bhupesh Baghel in Raipur: We need to decide candidates for the two Rajya Sabha seats from the state. I am going to Delhi to discuss it with the high command of the party.
10:35 am: Congress MP Adhir Ranjan Chowdhury has given Adjournment Motion Notice in Lok Sabha over 'revocation of the suspension of 7 Congress MPs'
10:30 am: Madhya Pradesh Home Minister, Bala Bachchan: Congress is in a safe & strong position. Everybody is in touch with Chief Minister, everything will be alright soon. We will prove majority on the floor of the assembly and our government will continue till 2023
10:20 am: Bhopal: Independent MLA Surendra Singh Shera arrives at Madhya Pradesh Chief Minister Kamal Nath's residence.
10:10 am: Union Home Minister Amit Shah to reply on discussion over #DelhiViolence in Lok Sabha around 5.30 pm today, subject to functioning of the house.
10:00 am: Bihar: JDU leader Kanhaiya Kaushik was shot dead by unidentified miscreants in Patel Nagar in Patna last night. DSP Rajesh Singh Prabhakar says, "Postmortem report awaited. An investigation is underway. The accused will be arrested soon."
9:50 am: KK Ragesh, Communist Party of India (Marxist) MP, has given Suspension of Business Notice in Rajya Sabha under Rule 267, over 'Centre's attempt to suppress media by imposing the 48-hour ban on two Malayalam news channels' and 'violence in Delhi'
9:45 am: Congress MPs Ghulam Nabi Azad & Anand Sharma have given Suspension of Business Notice in Rajya Sabha over 'need to provide relief to riot-affected families in Delhi & setting up of an independent inquiry commission'.
9:40 am: Delhi Police: 647 challans were issued yesterday for driving under the influence of alcohol, 181 for triple riding on a two-wheeler, 1192 for driving without helmet and 156 for dangerous driving.
9:35 am: Rohit Singh, Additional Chief Secretary (Health), Rajasthan Health Department: One person from Jaipur, who has a history of travel to Dubai has been tested positive for Coronavirus.
9:25 am: Shobha Oza, Congress: We will prove majority on the floor of the house. All the Congress MLAs who are in Bengaluru were being misled; they are with us. Even BJP MLAs are in touch with us.
9:15 am: A 85-year-old man in Jaipur, who had returned from Dubai on February 28, has tested positive for coronavirus, a state government official said on Wednesday. He was found presumptive positive in the first test on Tuesday and hence, a second test was conducted with fresh samples, the reports of which arrived late Tuesday night, Additional Chief Secretary, Medical and Health, Rohit Kumar Singh, said.
8:45 am: Madhya Pradesh Congress MLA Arjun Singh: Congress & Kamal Nath's government will remain. You will see on 16th, numbers (of MLAs) will stay the same. Him (Jyotiraditya Scindia) leaving doesn't affect anything, days of Rajas-Maharajas are long gone
8:00 am: Petrol price at Rs 70.29, reduced by Rs 2.69. Diesel price at Rs 63.01, reduced by Rs 2.33 in Delhi.
7:45 am: Trinamool Congress gives notice in Rajya Sabha for immediate discussion under Rule 267 on 'Delhi carnage and the healing process'.
7:30 am: Congress' Adhir Ranjan Chowdhury and BJP's Meenakshi Lekhi to raise a discussion on the 'recent law and order situation in some parts of Delhi' in Lok Sabha today.
7:15 am: Kerala Health Minister KK Shailaja: If they become positive, they will spread the disease. So we are asking them to reveal their identity&contact health department.Chief Minister has announced that hiding travel history is a crime&proper action will be taken.
7:10 am: Kerala Health Minister: According to Public Health Act,people who are supporting or hiding anything that leads to spreading of the disease is a crime. Those who are not revealing their travel history of coming back from affected areas&countries will be considered a crime.
7:05 am: Biden wins Missouri, Mississippi Democratic Primaries
7:00 am: Congress tasks senior leaders for crisis management in Madhya Pradesh
Posted By: Talib Khan