Breaking News, Latest Updates Highlights of July 26
Breaking News, Latest Updates Highlights of July 26
Updated: Fri, 26 Jul 2019 06:57 PM IST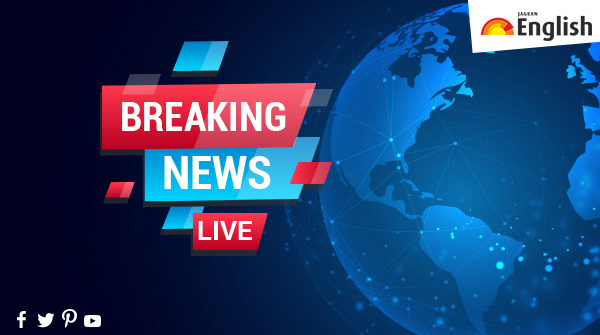 New Delhi | Jagran News Desk: Everything that happens around the world does not necessarily impact us and that's why at Jagran English we have decided to come with our Breaking News and Latest Update method where you can get updates of all the big events that are happening around us.
This is done to ensure that our readers find all news which is important to them in just 'One Click' and in 'One Page'.
Breaking News, Latest Updates Highlights of July 26
6:10 pm: Lok Sabha Speaker Om Birla appoints Meenakshi Lekhi as the Chairman of the Committee on Public Undertakings for the term 2019-2020. The Committee consists of 15 Lok Sabha members & 7 Rajya Sabha members.
5:40 pm: IMA Ponzi scheme case: IMA founder Mansoor Khan's Enforcement Directorate (ED) custody has been extended for 7 days
5:10 pm: Sources: Opposition leaders & Lok Sabha Speaker have come to the conclusion that SP MP Azam Khan should apologize in the House for his remarks on BJP MP Rama Devi. Speaker will take action if Azam Khan doesn't apologize.
5:04 pm: Lok Sabha Speaker Om Birla today met opposition leaders Adhir Ranjan Chowdhury, Jayadev Galla, Danish Ali, Supriya Sule, and others over Samajwadi Party MP, Azam Khan's remark on BJP MP Rama Devi.
5:00 pm: Former cricketers Kapil Dev, Anshuman Gaekwad & Shantha Rangaswamy have been appointed as members of the Cricket Advisory Committee for appointing the next Head Coach. Deadline for filing applications for the post of Head Coach and support staff for Indian Cricket Team is July 30
4:45 pm: JP Nadda, BJP on O Abdullah's remark "If there's a boycott of polls, BJP may win Tral": Stance of these parties is more concerned with their politics rather than country,it changes from time to time. It's same party that said they will boycott panchayat elections& then took part.
4:44 pm: West Bengal Chief Minister Mamata Banerjee writes to Prime Minister Narendra Modi over "electoral reforms to prevent corruption & criminality". The letter states, "time has come for government funding of elections which is the norm in 65 countries"
4:05 pm: BJP Working President, JP Nadda: There is a tradition that report card is released after 100 days but Modi ji has decided to put forth the 50-day report card before the country. The most important decision is that by 2022, 1.95cr houses will be built with pure drinking water facility
3:48 pm: MA Ponzi scheme case: Three including Bengaluru Deputy Commissioner Vijay Shankar & Assistant Commissioner, Nagaraj granted bail in the case. Bail plea of cleric Haneef Afsar rejected.
2:50 pm: 17 opposition MPs write to the Rajya Sabha Chairman, M Venkaiah Naidu over "serious concern over the manner in which the Government is hurriedly passing legislation without any scrutiny by Parliamentary Standing or Select Committees".
2:28 pm: Bahujan Samaj Party (BSP) Chief Mayawati on Azam Khan's remark against BJP MP Rama Devi: His statement is against the dignity of women, it is hurtful. It is highly condemnable, he should not only apologize to the Lok Sabha but also to all women
2:18 pm: Gujarat: Fire breaks out in an apartment building in Ahmedabad. Rajesh Bhatt, Fire Officer says, "Fire broke out on 5th-6th floor of the building. All people have been safely rescued, 2 were in serious condition, their status will be updated by the hospital."
1:44 pm: Punjab: One dead and at least ten injured in an explosion at a factory in Mundian Kalan, Ludhiana. More details awaited
1:31 pm: Filmmaker Adoor Gopalakrishnan on a BJP leader asking him to go to the moon if he can't tolerate 'Jai Sri Ram' slogans: It is a good suggestion for this BJP friend that I should go to the moon, if he can book a room for me on the moon and buy me a ticket then it will be a nice stay
1:16 pm: Lok Sabha Speaker Om Birla on Azam Khan: I will call a meeting of leaders of all parties and then take a decision on this issue
1:10 pm: Hyderabad: Vishva Hindu Parishad and Bajrang Dal workers have lodged a complaint against AIMIM leader Akbaruddin Owaisi in Sultan Bazar Police Station for 'giving a statement against Hindus and instigating Muslims
1:00 pm: Uttarakhand: Houses in Haldwani partially damaged due to overflowing Kalsiya Nallah and a silt deposit. ADM Haldwani, Vivek Rai says, "The families were shifted to a school last night. An inspection conducted in the area, action to be taken."
12:50 pm: Finance Minister Nirmala Sitharaman on Azam Khan: It is very encouraging to see everyone stand up and speak in once voice condemning what happened yesterday. We look towards you (LS Speaker) for exemplary action against him.
12:33 pm: Union Minister Ravi Shankar Prasad in Lok Sabha: Azam Khan should apologize or else he should be suspended from Lok Sabha, this is our demand.
12:33 pm: TMC MP, Mimi Chakraborty on Azam Khan, in Lok Sabha: Nobody can stand in the Parliament and tell a woman "look into my eyes and talk." Speaker sir, all women here are expecting something big from you on this.
12:30 pm: BJP MP Smriti Irani on Azam Khan, in Lok Sabha: Let us not reduce this to a problem of just women. This is a blot on all legislators including men. This is not a House where men come in and 'Kisi aurat ki aankhon mein jhanka jaye'. The entire nation watched yesterday what happened. This House passed the Sexual Harassment of Women at Workplace Bill. I appeal to all to speak in one voice- You cannot misbehave with a woman and get away with it by just dramatizing it.
12:15 pm: Delhi High Court has dismissed a PIL against the Board of Control for Cricket and Indian Premier League's auction process. The Plea stated that auctioning of players in IPL is illegal and should be stopped.
12:11 pm: Indian Meteorological Department, Dehradun: Heavy to very heavy rainfall likely to occur at isolated places in districts of Nainital, Champawat, Pithoragarh, Chamoli, Haridwar, Dehradun and Pauri during next 24 hrs
12:06 pm: Kangana Ranaut: We are a part of a major shift, things are changing for the betterment of the nation and few people are rattled by this. Common people have chosen their leaders, those who disregard people's will are the ones who have no respect or consideration for democracy.
12:02 pm: Kangana Ranaut on 62 personalities write an open letter against 'selective outrage&false narratives': Some ppl are misusing their position to generate a false narrative that under this Govt things are going wrong, whereas for the first time things are going in the right direction
11:50 am: Rahul Gandhi reaches late former Delhi CM, Sheila Dikshit's residence to meet her son Sandeep Dikshit. Rahul Gandhi arrived in India yesterday morning.
11:39 am: Samajwadi Party leader, Akhilesh Yadav on Azam Khan's remark on BJP MP Rama Devi: If any unparliamentary words were used yesterday... if BJP MPs take back their words and if I have used any unparliamentary words, I will also take them back.
11:01 am: Prime Minister Narendra Modi plants a sapling in Parliament as part of a tree plantation campaign by Lok Sabha Speaker Om Birla.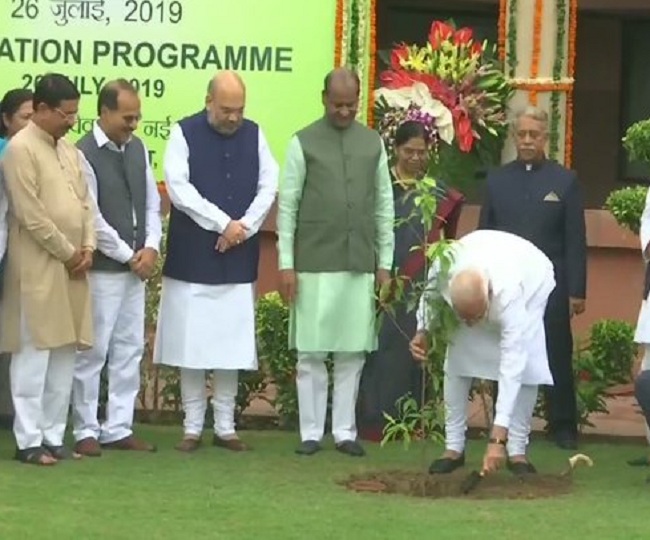 10:39 am: 61 personalities including actor Kangana Ranaut, lyricist Prasoon Joshi, Classical Dancer, and MP Sonal Mansingh, Instrumentalist Pandit Vishwa Mohan Bhatt, Filmmakers Madhur Bhandarkar, and Vivek Agnihotri write an open letter against 'selective outrage and false narratives'.
10:09 am: He has never respected women, we all know what he had said about Jaya Prada Ji. He has no right to stay in Lok Sabha, I will request Speaker to dismiss him. Azam Khan must apologise: NJP's Rama Devi on Azam Khan's remarks
Posted By: Abhinav Gupta