Breaking News, Latest Updates Highlights of July 21
Breaking News, Latest Updates Highlights of July 21
Updated: Tue, 21 Jul 2020 04:23 PM IST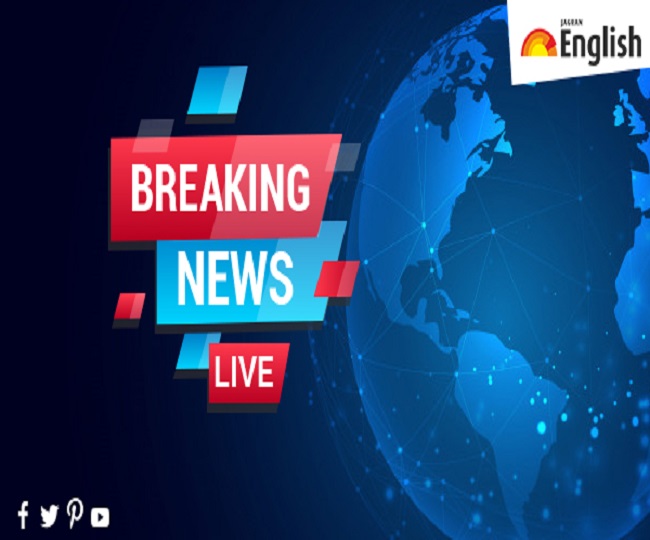 New Delhi | Jagran News Desk: Everything that happens around the world impacts us in some way or the other. It therefore becomes vital to stay informed in these rapidly changing times. We at Jagran English provide you a 360-degree coverage of all genres to keep you up-to-date with current events.
Today we will be focusing on the ongoing Rajasthan political crisis. The Rajasthan High Court will resume its hearing on Saching Pilot and 18 rebel MLAs plea against disqualification notices by the Assembly Speaker today. The High Court will likely pronounce the order today.
Meanwhile, we will also focus on the coronavirus crisis. The novel coronavirus, which was first reported in China's Wuhan, has affected more than 11.55 lakh in India so far. Meanwhile, over 28,000 have succumbed to the deadly pathogen while more than 7 lakh have been cured and discharged from hospitals.
Here are the highlights of July 21:
15:09 pm: Tripura: Incessant rainfall has caused waterlogging in various parts of Agartala. India Meteorological Department (IMD) has predicted 'generally cloudy sky with heavy rain' in the city during the next three days, reports ANI
14:14 pm: Armed man takes 'around 20' hostages on a bus in Ukraine, reports AFP
14:07 pm: Era of 'great caution' in foreign policy is over, India needs to 'step out more': Jaishankar on LAC standoff
13:48 pm: Himachal Pradesh reports 10 new COVID-19 positive cases, taking the total number of cases in the state to 1,641 including 547 active cases, 1,067 recoveries and 10 deaths: State Health Department
13:16 pm: Loss of lives due to the floods in West Garo Hills, Meghalaya is very disturbing. I have spoken to Chief Minister Sangma Conrad and assured him all possible help from the Cente: Home Minister Amit Shah
12:51 pm: COVID-19 cases reach 1,641 in Himachal Pradesh; active cases stand at 547: State Health Department
12:27 pm: Results of sero-prevalence study show that nearly 6 months into the epidemic, only 23.48% of people are affected in Delhi, which has several pockets of dense population.This can be attributed to efforts taken by government as well as citizen compliance to COVID appropriate behaviours, says government
12:26 pm: The results of the sero-prevalence study in Delhi show that on an average, across the capital, the prevalence of IgG antibodies is 23.48%. The study also indicates that a large number of infected persons remain asymptomatic, says government
12:18 pm: One more person has lost life in a flood-related incident, taking the total death toll to 85. A total of 24,48,128 people are affected in 24 district of the state due to the flood: Assam government
12:11 pm: Rahul Gandhi is tweeting daily. I think Congress will be reduced to a party that only tweets. One after the other, states are proof that Congress isn't working. A dejected party is attempting to attack Centre in every manner, but they'll not succeed: Union Minister Prakash Javadekar
12:11 pm: Our Cabinet has approved 'Mukhya Mantri Ghar Ghar Ration Yojana', beneficiaries can avail door-step delivery of ration, says Delhi Chief Minister Arvind Kejriwal
11:48 pm: Supreme Court seeks an affidavit from Centre within two weeks about the details of funds provided by it for shelter homes for children across the country. The court posts the matter for hearing on August 13
11:47 am: Prime Minister Narendra Modi will deliver the keynote address at the India Ideas Summit on 22 July. The Summit is being hosted by US-India Business Council. This year marks the 45th anniversary of the formation of the Council: Prime Minister's Office (PMO)
11:32 am: Uttarakhand High Court dismisses a public interest litigation (PIL) filed by BJP leader Subramanian Swamy, challenging the validity of Uttarakhand Char Dham Devasthanam Management Act, 2019
11:19 am:
Bhopal: Madhya Pradesh Chief Minister Shivraj Singh Chouhan along with his cabinet ministers pays tribute to late governor Lalji Tandon, who passed away earlier today. The state cabinet meeting to be held today will take place tomorrow. pic.twitter.com/pVSWJRtgTU

— ANI (@ANI) July 21, 2020
10:43 am: With 954 new cases, the total number of COVID-19 positive cases in Delhi rises to 1,23,747 and 1,04,918 have recovered till now. Recovery rate is at 84%, says Delhi Health Minister Satyendra Jain
10:42 am: 647 new COVID-19 positive cases, 457 recovered in the last 24 hours in Odisha. The total number of positive cases in the state rises to 18,757 including 12,909 recovered, says state government
10:42 am: BJP MP Shiv Pratap Shukla has been appointed as the chief whip of the party in Rajya Sabha, reports ANI
10:08 am: Lucknow Police has announced a reward of Rs 20,000 for providing information related to whereabouts of Vikas Dubey's brother Deep Prakash Dubey. Deep Prakash is absconding since Kanpur Encounter, says Prashant Kumar, UP ADG Law and Order
9:44 am: As per Health Ministry, there are 4,02,529 active coronavirus cases in India
9:20 am: According to the latest information available at the Health Ministry website, the novel coronavirus, caused by SARS‑CoV‑2, has affected 11,55,191 and claimed 28,084 in India so far
8:58 am: 1,43,81,303 samples tested for COVID-19 up to 20th July. Of these 3,33,395 were tested yesterday: Indian Council of Medical Research
8:39 am: Grieved to hear the news of the demise of Madhya Pradesh Governor Shri Lalji Tandon. With his death, the country has lost a qualified administrator and a great social worker. I pray to God for peace of the departed soul. My condolences to the bereaved family: Uttar Pradesh Chief Minister Yogi Adityanath
8:24 am: Shri Lalji Tandon will be remembered for his untiring efforts to serve society. He played a key role in strengthening BJP in Uttar Pradesh. He made a mark as an effective administrator, always giving importance of public welfare. Anguished by his passing away: Prime Minister Narendra Modi
8:06 am: Rajasthan Crisis | Congress Legislative Party (CLP) meeting to take place today at Fairmont Hotel in Jaipur, reports ANI
7:46 am: Meanwhile, more than 7 lakh have been cured from COVID-19 and discharged from hospitals
7:27 am: Madhya Pradesh Governor Lalji Tandon passes away, confirms his son Ashutosh Tandon
7:20 am: According to Health Ministry, there are 3,90,459 active coronavirus cases in India
7:19 am: The deadly COVID-19 infection has claimed 27,497 lives in India so far
7:15 am: The novel coronavirus has affected 11,18,043 in India so far
Posted By: Aalok Sensharma