Breaking News Latest updates Highlights of July 20
Updated: Sat, 20 Jul 2019 06:23 PM IST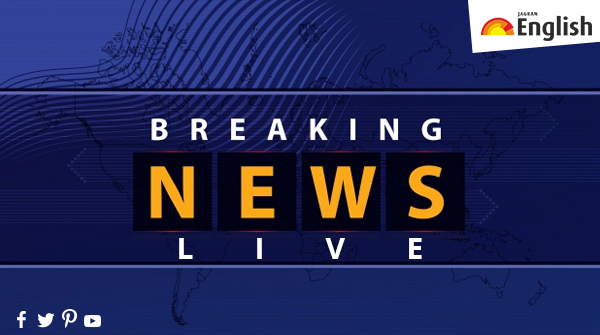 New Delhi | Jagran News Desk: Jagran English is back with its Latest News updates in which we provide all the relevant news for our readers in 'One Page' and 'One Click'.
Here, we have a 360-degree focus on major developments that take place across all genres -- politics, crime, international news, business, sports, entertainment and lifestyle.
This is done to ensure that our readers don't miss any important update which might impact them.
So here are the Highlights of July 20:
06:15 pm: Uttar Pradesh Chief Minister Yogi Adityanath will visit Sonbhadra tomorrow to meet family members of the victims of the Sonbhadra firing incident that claimed the lives of 10 people.
05:40 pm: Mumbai: Actor Ajaz Khan sent to judicial custody for 14 days. A case was registered against him for creating/uploading videos with objectionable content promoting enmity between different groups on grounds of religion, and creating hatred among the public at large.
04:07 pm: Former Delhi Chief Minister and Congress leader Sheila Dikshit, passes away in Delhi at the age of 81 years.
03:51 pm: Ten members of Congress of the United States have written to US President Donald Trump urging him to raise the issue of 'human rights abuses in Sindh Province' with Prime Minister of Pakistan, Imran Khan in his meeting with Pak PM on 22nd July.
03:50 pm: "We request Modi government to declare flood and drought in Bihar a national calamity and sanction a package of Rs 10,000 Crore for the state as soon as possible," says RJD leader Tejaswi Yadav.
03:32 pm: "People who are running a movement in Kashmir, if they want a solution through it, I appeal to them to at least sit and talk once, to understand what is the issue, what are the problems, so they could be solved together," says Rajnath Singh.
"Problem of Kashmir will get solved, no power in the world can stop it. If somebody does not want a solution through talks, then we know very well how a solution can be found," he added.
03:31 pm: The NIA conducted searches at 14 locations in Tamil Nadu in connection with the Tamil Nadu Ansarulla terrorist gang case, today.
03:11 pm: NIA files supplementary chargesheet against accused Mohd Hussain Molina. Investigation reveals Falah-i-Insaniyat Foundation chief Hafiz Mohd Saeed and Deputy Chief(FIF) Shahid Mahmood conspired in 2012 to create sleeper cells and logistic base in Delhi&Haryana under the garb of religious work.
03:10 pm: Priyanka Gandhi Vadra will be visiting Kashi Vishwanath temple and Kaal Bhairav temple, in Varanasi to offer prayers, later today.
02:26 pm: A businessman has filed a criminal defamation complaint before Delhi's Saket Court against Bollywood actress Esha Gupta after she accused him of sexual misconduct. Court has posted the matter for 28th August for the recording of pre- summoning evidence of the complainant.
02:26 pm: Ministry of External Affairs (MEA) on the detention of Indian crew members along with the oil tanker STENA IMPERO by Iranian authorities: We are ascertaining further details. Our Mission is in touch with the Government of Iran to secure the early release and repatriation of Indian nationals.
02:25 pm: India Meteorological Department, Goa: Heavy rainfall is very likely to occur at isolated places over North Goa and South Goa districts over the next four days.
01:49 pm: Punjab Governor Vijayender Pal Singh Badnore accepts Punjab Minister Navjot Singh Sidhu's resignation as State Minister. CM Captain Amarinder Singh to hold Sidhu's portfolio for the time being.
01:49 pm: IMA ponzi scam case: Special PMLA Court in Bengaluru sends IMA founder-owner Mohammed Mansoor Khan to ED (Enforcement Directorate) custody till 23rd July.
01:48 pm: Priyanka Gandhi Vadra, Congress: My objective has been served as I have met them (victim of Sonbhadra firing). I am still under detention, let's see what the administration says. Congress party will give a compensation of Rs 10 lakh to the kin of the person who died in the incident.
01:48 pm: UP Deputy CM Dinesh Sharma on Priyanka Gandhi Vadra meeting those affected in Sonabhadra firing incident: Section 144 is imposed there, if you go to fulfill your political intentions, then it's not right. No one should do politics on sensitive issues. Our government is committed to maintaining peace.
01:46 pm: Sanjay Jha, State Water Resource Minister on Bihar floods: The problem has not been created in Bihar. The problem is excess rainfall in Nepal. Our target is to repair dams that have been damaged.
01:17 pm: Uttar Pradesh government makes movie 'Super 30' tax-free in the state.
01:16 pm: Anandiben Patel, Governor of Madhya Pradesh is transferred and appointed as Governor of Uttar Pradesh, Jagdeep Dhankhar as Governor of West Bengal, Ramesh Bais as Governor of Tripura.
Lal Ji Tandon, Governor of Bihar is transferred and appointed as Governor of Madhya Pradesh, Phagu Chauhan as Governor of Bihar, RN Ravi as Governor of Nagaland. The appointments will take effect from the dates they assume charge of their respective offices.
01:00 pm: IMA ponzi scam case: IMA founder-owner Mohammed Mansoor Khan at Shanti Nagar Enforcement Directorate (ED) office in Bengaluru. He will be produced before Special PMLA court today where the agency will seek his custodial remand.
12:21 pm: Sonbhadra firing incident: Congress leaders, including RPN Singh, Rajeev Shukla, Jatin Prasad, stopped at Varanasi airport.
12:17 pm: Sonbhadra firing incident: "This government doesn't want that someone should wipe off victims' tears. Whatever has happened is unconstitutional and undemocratic and it seems as if Uttar Pradesh government has implemented undeclared emergency to hid its sins and short comings," says Congress leader Pramod Tiwari.
12:03 pm: Congress delegation led by Pramod Tiwari meets Governor Ram Naik over the Sonbhadra firing incident that claimed the lives of 10 people.
11:52 am: Sonbhadra firing incident: "Two relatives of victims have come here to meet me, 15 others are not being allowed to meet me. Even I am not being allowed to meet them. Bhagwan jane inki mansikta kya hai? Aap thoda dawab banayiya, unhe aana dijiye. Mere pichhe pade hain," says Priyanka Gandhi Vadra.
11:28 am: Arjun Munda, Union Minister of Tribal Affairs on the firing incident in Sonbhadra (UP) that claimed 10 lives: The incident is unfortunate. As per the information I have received, the state government is taking action. I think state govt will do an unbiased investigation and culprits will be punished.
11:28 am: Maharashtra: An earthquake with a magnitude of 3.5 on the Richter Scale hit Palghar today at 9:17 am.
11:28 am: Punjab Chief Minister Captain Amarinder Singh accepts Navjot Singh Sidhu's resignation as State Minister. CM has forwarded his resignation to Governor of Punjab Vijayender Pal Singh Badnore.
10:20 am: Chhattisgarh CM Bhupesh Baghel to go to Chunar, UP today to meet Priyanka Gandhi, Congress General Secretary for UP East who is on a dharna since yesterday. She was detained in Narayanpur by police yesterday while she was on her way to meet victims of Sonbhadra's firing case.
10:19 am: Four-member Parliamentary delegation of Trinamool Congress (TMC) has been stopped by Varanasi police at Lal Bahadur Shastri International Airport in Babatpur, ahead of their visit to Sonbhadra where 10 people were killed in a land dispute incident on 17 July.
09:58 am: Jammu and Kashmir: Pakistan violated ceasefire in the Mendhar Sector of Poonch at around 9 am today. Indian Army retaliating.
09:57 am: Union Finance Minister Nirmala Sitharaman in Chennai: For Budget 2019, I didn't carry a suitcase. We aren't a suitcase-carrying government as the suitcase also denotes something else, suitcase-taking, suitcase-giving. Modi Ji's government is not a suitcase government.
09:41 am: Tamil Nadu: National Investigation Agency (NIA) raids underway at the residence of Muhammad Sheikh Maiden in Narimadu, Madurai in connection with Tamil Nadu Ansarulla Case.
09:40 am: IMA ponzi scam case: Enforcement Directorate (ED) has got transit remand of IMA founder-owner Mohd Mansoor Khan. He will be produced before the Special PMLA court in Bengaluru today where the agency will seek his custodial remand.
09:35 am: Bhopal: Madhya Pradesh BJP sends notice to former BJP MLA Surendra Nath Singh over his reported statement, 'Blood will flow on the streets, and that blood will be of Kamal Nath (Madhya Pradesh CM).'
Posted By: Aalok Sensharma