Rajasthan Crisis: Hearing on Sachin Pilot's plea resumes in High Court, verdict likely tomorrow | As It Happened
Here are the highlights of July 20.
Updated: Mon, 20 Jul 2020 06:27 PM IST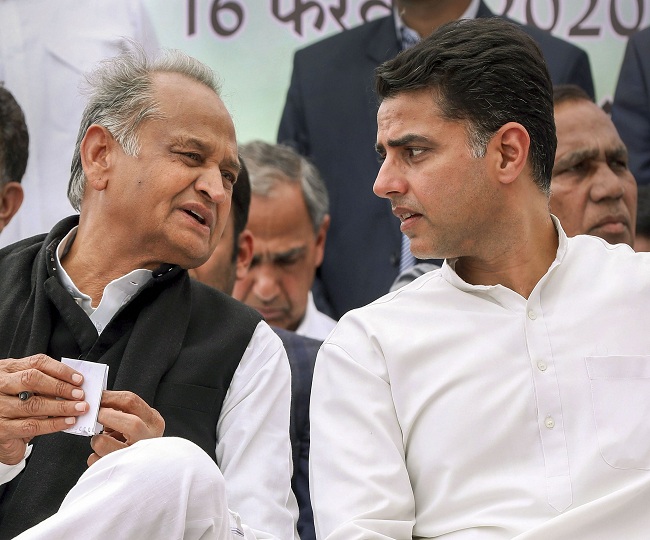 New Delhi | Jagran News Desk: Everything that happens around the world impacts us in some way or the other. It therefore becomes vital to stay informed in these rapidly changing times. We at Jagran English provide you a 360-degree coverage of all genres to keep you up-to-date with current events.
Today, we will be focusing on the ongoing political crisis in Rajasthan. The Rajasthan High Court is hearing the plea of Sachin Pilot and the rebel 18 MLAs against the Speaker's action to issue disqualification notices to them. The petition was taken up a by a bench of Chief Justice Indrajit Mahanty and Justice Prakash Gupta on Friday and arguments were heard.
Apart from it, we will also focus on the coronavirus pandemic. The novel coronavirus, which was first reported in China's Wuhan, has affected more than 10.77 lakh people and claimed the lives over 26,800 in India so far.
Here are the highlights of July 20:
18:32 pm: Rajasthan Crisis | The court will start proceedings tomorrow at 10.30, reports Bar and Bench
18:25 pm: Rajasthan Crisis | Intra Party disputes cannot be a ground for starting disqualification proceedings: Bar and Bench quoted Harish Salve as saying
17:39 pm: Rajasthan Crisis | I'll be taking appropriate, strictest possible legal action against the MLA who was made to make the accusations. I'm sure more such concocted allegations will be thrown at me to cause aspersions on my image but I'll be unfettered and remain firm in my beliefs and convictions: Sachin Pilot
17:38 pm: Rajasthan Crisis | This is done solely to malign me and to stifle legitimate concerns I raised against Rajasthan party leadership, as member and MLA of Congress. This attempt further aims at defaming me and attack my credibility. Narrative is being redirected to avoid addressing the main issue: Sachin Pilot
17:38 pm: Rajasthan Crisis | I'm saddened but not surprised to be at receiving end of such baseless, vexatious allegations being levelled against me: Sachin Pilot to ANI on Rajasthan Congress MLA Giriraj Singh's allegation that Pilot offered him Rs 35 crores to cross vote in Rajya Sabha polls
17:08 pm: Rajasthan Crisis | Bench commences hearing. Harish Salve beings his arguments, reports Bar and Bench
16:56 pm: Rajasthan Crisis | Court has taken a break, will resume hearing at 5 pm. Effort will be that the hearing is completed today so that court can deliver its order by tomorrow so that it can be clear whether hearing before Speaker will take place or not, says Prateek Kasliwal, lawyer of Speaker CP Joshi
16:14 pm: Nobody knew such innocent face will do this: Ashok Gehlot's fresh attack on Sachin Pilot
15:44 pm:
#WATCH Hum jaante the ki wo (Sachin Pilot) nikkamma hai, nakaara hai, kuch kaam nahi kar raha hai, khaali logon ko ladvaa raha hai...Main yahan baingan bechne nahi aaya hoon, main sabzi bechne nahi aaya hoon. Main CM ban'ne aaya hoon: Rajasthan CM Ashok Gehlot pic.twitter.com/VKicK8IRJP

— ANI (@ANI) July 20, 2020
15:29 pm:
#WATCH Sachin Pilot ne jis roop mein khel khela vo bahut durbhagyapurna hai. Kisiko yakeen nahi hota ki yeh vyakti aisa kar sakta hai...maasoom chehra, Hindi English par achchi command aur pure desh ki media ko impress kar rakha hai: Rajasthan CM pic.twitter.com/gv51qOe66n

— ANI (@ANI) July 20, 2020
15:28 pm: Rajasthan Crisis | The petitioners are asking for a declaration that they are members of the Congress party, which cannot be granted. Until the Speaker doesn't disqualify the offending MLAs they continue to be members of the Congress party and hence the party can suspend them: News18 quoted Mahesh Joshi as saying
15:15 pm: Rajasthan Crisis | Congress leader Abhishek Manu Singhvi, representing Assembly Speaker CP Joshi, concludes his argument. Advocate Devadatt Kamat, appearing for Congress leader Mahesh Joshi, begins his argument
15:03 pm: Rajasthan Crisis | Our MLAs are staying without any restrictions but they have held their's (MLAs) captive. They are calling us and crying over phone while explaining their ordeal. Their personal mobile phones have been snatched. Some of them want to join us: Rajasthan Chief Minister Ashok Gehlot
14:39 pm: Rajasthan Crisis | He (Sachin Pilot) was conspiring from past 6 months with BJP's support. Nobody believed me when I used to say that conspiracy is going on to topple government. Nobody knew that a person with such innocent face will do such thing. I'm not here to sell vegetables, I am CM: Rajasthan CM Ashok Gehlot
14:24 pm: Rajasthan Crisis | I am not a robot or a post office. As long as the complaint is not outlandish, there is no need to accord reasons to issue show cause: Abhishek Manu Singhvi quoted as saying by Bar and Bench
14:09 pm: Rajasthan Crisis | The Bench commences its hearing, reports Bar and Bench
13:22 pm: Rajasthan Crisis | I first want them to check the authenticity of the audio clips, with whose permission was it recorded? Who recorded it? First they should come out with authenticity. I've already said that my doors are always open for any kind of enquiry: Union Minister Gajendra Singh Shekhawat to ANI
12:51 pm: Rajasthan Crisis | The decision on the questions raised on the notice issued is still pending. All 19 rebel MLAs will have their individual reasons hence the decision of the Speaker may be given on merit basis. The court should not intervene in the Speaker's decision: Abhishek Manu Singhvi quoted as saying by News18
12:50 pm: Rajasthan Crisis | "The Speaker is yet to decide on the mattershow-cause notice cannot be stayed. The questions of facts in the notices against 19 MLAs are yet to be decided": Abhishek Manu Singhvi quoted as saying by India Today
12:30 pm: Rajasthan Crisis | Natural Justice is not a straight jacket principle. The argument is whether an effective notice period was given to Petitioners: Bar and Bench quoted Abhishek Manu Singhvi as saying
12:29 pm:
#WATCH Rajasthan: Congress MLAs along with Chief Minister Ashok Gehlot sing 'Hum Honge Kamyaab' at Hotel Fairmont in Jaipur. pic.twitter.com/VBByRkFBku

— ANI (@ANI) July 20, 2020
12:17 pm: Rajasthan Audio Tapes: SOG issues notice to Union Minister Gajendra Singh Shekhawat
11:51 am: Odisha reports 673 new COVID19 positive cases and 6 deaths, taking the total number of positive cases to 18,110 including 5,533 active cases, 12,452 recoveries and 97 deaths: State government
11:32 pm: Rajasthan Crisis | The Speaker can do right or wrong and has the right to be wrong. This petition is based on the show-cause notice issued by the Speaker. Unless Speaker has disqualified you, you cannot approach in the interim, says Abhishek Manu Singhvi, as reported by Bar and Bench
11:04 am: Rajasthan Crisis | Senior lawyer Abhishek Singhvi, representing Rajasthan Speaker, tells court that Speaker's order can be challenged only on limited ground but those grounds aren't there in petition
10:57 am: Rajasthan Crisis | It's beyond the jurisdiction of the High Court: Bar and Bench quoted Abhishek Manu Singhvi as saying
10:45 am: 401 COVID-19 positive cases, 4 deaths, 136 recovered and 136 discharged in Rajasthan till 10:30 am today. The total number of positive cases in the state rises to 29,835 including 563 deaths, 21,866 recovered and 21,094 discharged, says state Health Department
10:29 am: Rajasthan Crisis | "Judicial Review is absolutely barred in this case": Bar and Bench quoted Abhishek Manu Singhvi as saying
10:20 am: Rajasthan Crisis | "Courts have no jurisdiction over the disqualification of any member": Bar and Bench quoted Abhishek Manu Singhvi as saying
10:18 am: Just In: Our Health Minister Satinder Jain has recovered. He will join work from today. He was always on the field visiting hospitals and meeting health workers and patients. He contracted corona. After one month, he joins back today. Welcome back Satinder and best wishes!, tweets Arvind Kejriwal
10:09 am: Rajasthan Crisis | Hearing on petition filed by Sachin Pilot, 18 MLAs has resumed in Rajasthan HC
10:07 am: Rajasthan Crisis | The High Court's hearing will begin shortly
9:51 am: India's COVID19 case tally crosses 11 lakh mark with highest single day spike of 40,425 new cases and 681 deaths reported in the last 24 hours. Total cases stand at 11,18,043 including 3,90,459 active cases, 7,00,087 cured/discharged/migrated and 27,497 deaths: Health Ministry
9:39 am: Sensex soars by 291.99 points, currently at 37,312.13
9:06 am: 1,40,47,908 samples tested for COVID-19 up to 19th July. Of these 2,56,039 were tested yesterday, says Indian Council of Medical Research
8:47 am: Rajasthan Crisis | The High Court will resume the hearing of Sachin Pilot, 18 MLAs pleas against Speaker's disqualification notices today
8:10 am: Postmortem report of history-sheeter Vikas Dubey states 'hemorrhage and shock due to ante-mortem firearm injuries' as the cause of his death, reports ANI
7:42 am: 617 new COVID-19 cases in Haryana, tally 26,164, active cases 6,022. Toll rises to 349 with 5 more deaths, says state government
7:30 am: Rajasthan Crisis: Congress demands Union Minister Gajendra Singh Shekhawat's resignation over 'leaked audio tapes'
7:16 am: On the other hand, 6,77,423 people have been cured from coronavirus and discharged from hospitals
7:15 am: Active number of coronavirus cases in India is 3,73,379
7:12 am: The novel coronavirus has affected 10,77,618 and claimed 26,816 lives in India so far
Posted By: Aalok Sensharma