Modi at UN ECOSOC Session 2020: Our motto is 'Sabka Saath, Sabka Vikaas, Sabka Vishwas', says PM | Highlights
Stay tuned to catch all the LIVE Updates of July 17
Updated: Fri, 17 Jul 2020 09:03 PM IST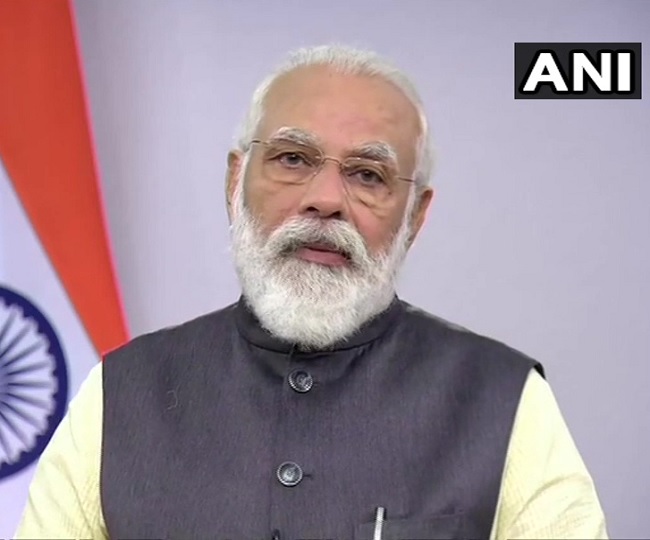 New Delhi | Jagran News Desk: Each and everything that happens around us impacts us in some way and that's why it becomes important for us to know what's happening around the world. Thus at Jagran English, we provide our viewers a 360-degree coverage in all genres to give them a brief insight about what's happening around the world.
India's COVID-19 count on Friday crossed two grim milestones of 10 lakh cases and 25,000 deaths, according to official data by Union Health Ministry, even as the Centre said active cases now constituted one-third of the total infections. The total coronavirus caseload stood at 10,03,832 while there were 25,602 deaths from the disease.
India is ranked third in the global COVID-19 tally after the US and Brazil. According to the Union Health Ministry, India has 3,42,473 active COVID-19 cases, which is around a third of the country's infection tally. It credited targeted measures for the steady decline in the active caseload. Just two states -- Maharashtra and Tamil Nadu -- account for 48 per cent of the country's total active caseload, the health ministry said. Ten states including Maharashtra and Tamil Nadu reported 84.62 per cent of the total active caseload.
Of the total COVID-19 cases, 63.25 per cent have recovered so far. Simultaneously, there has been a steady dip in the number of active cases, from around 45 per cent in mid-June to around 34.18 per cent as of now.
Here are the Highlights of July 17:
8:48 pm: From the very beginning, India has actively supported the UN's development work and the ECOSOC. The first president of ECOSOC was an Indian. India also contributed to shaping the ECOSOC agenda: PM Modi
8:47 pm: COVID19 pandemic has severely tested the resilience of all nations. In India, we have tried to make the fight against the pandemic a people's movement, by combining the efforts of Government and civil society: PM Modi
8:47 pm: Our 'Housing for All' programme will ensure that every Indian will have a safe and secure roof over their head by 2022, when India completes 75 years as an independent nation: PM Modi
8:45 am: Our motto is 'Sabka Saath, Sabka Vikaas, Sabka Vishwas' - meaning 'Together, for everyone's growth, with everyone's trust'. This resonates with the core SDG principle of leaving no one behind: PM
8:45 pm: Today, through our domestic efforts, we are again playing a salient role in achieving Agenda 2030 and the Sustainable Development Goals. We are also supporting other developing countries in meeting their Sustainable Development Goals: PM Modi
8:44 pm: From the very beginning, India has actively supported the UN's development work and the ECOSOC. The first president of ECOSOC was an Indian. India also contributed to shaping the ECOSOC agenda: PM Modi
8:44 pm: Today, the United Nations brings together 193 member countries. Along with its membership, the expectations from the organisation have also grown: PM Modi
3:00 pm: To curb the spread of #COVID19, it has been decided to impose lockdown on Saturdays and Sundays in the state. Guidelines for the same to be issued soon: Uttarakhand CM Trivendra Singh Rawat
2:45 pm: Saket Court allows 34 Thailand nationals to walk free on plea bargaining and imposing fine of Rs 6,000 each in connection with Nizamuddin Markaz case. The fine was deposited to PM CARES Fund on the directions of the court. 7 other Thailand nationals have gone for trial.
2:30 pm: Mumbai police are doing a detailed inquiry in Sushant Singh Rajput's death case. There is no need for Central Bureau of Investigation inquiry: Anil Deshmukh, Home Minister Maharashtra
2:15 pm: Human trial with Corona vaccine (COVAXIN) of Bharat Biotech started at PGI Rohtak today. Three subjects were enrolled today. All have tolerated the vaccine very well. There were no adverse efforts: Anil Vij, Haryana Health Minister
2:00 pm: People expect the Commission to ensure and satisfy the people that the entire poll exercise does not become a super spreader event: Bihar opposition parties to Election Commission of India
1:50 pm: Pakistan offers third consular access to India for Kulbhushan Jadhav, a note verbale has been sent meeting India's demand to not have security personnel during the meeting says Pakistani Foreign Minister Shah Mahmood Qureshi: Pakistan Media
1:45 pm: Himachal Pradesh detects 7 new #COVID19 positive cases today, taking the total number of positive cases in the state to 1,384 including 375 active cases, 985 recoveries and 9 deaths: State Health Department
1:40 pm: Karnataka: Bruhat Bengaluru Mahanagara Palike (BBMP) starts around 200 mobile labs to conduct antigen tests in containment zones & COVID-19 hotspots in Bengaluru. Bengaluru has reported 25,288 COVID-19 cases and 507 deaths so far, as per the health bulletin released last night.
1:35 pm: Newly elected members of Rajya Sabha to be administered oath on 22nd July. For the first time, administration of oath will be done in chamber of the House during inter-session. Subscribing to oath or affirmation is usually done either during the session or in the chamber of the Chairman of Rajya Sabha, if the House is not in session
1:25 pm: Puducherry reported 91 new COVID-19 cases and three deaths in the last 24 hours, taking total number of cases to 1,832 including 1,014 recoveries and 25 deaths: Puducherry Health Department
1:15 pm: At 8:30 this evening, I would be addressing the High-Level Segment of ECOSOC. Would be speaking on various issues including this year's theme of multilateralism after #COVID19, at a time when we mark 75 years of the United Nations: Prime Minister Narendra Modi
1:05 pm: Meeting of Standing Committee on External Affairs scheduled for today called off as the quorum was not complete: Sources
12:55 pm: The Monsoon session of Madhya Pradesh Assembly, which was scheduled to begin from July 20, has been cancelled after an all-party meeting at the Assembly in Bhopal.
12:45 pm: Supreme Court adjourns for July 24 the hearing on 24 PILs over the 'miseries & difficulties' being faced by migrants labourers across the country following COVID-19 induced lockdown.
12:30 pm: Rahul targets Centre, says PM Modi's constant blunders, indiscretions have fundamentally weakened India
12:20 pm: It is shocking that Principal Secretary to Chief Minister Pinarayi Vijayan was involved in gold smuggling, it is a threat to national security. Chief Minister Pinarayi Vijayan should take moral responsibility and resign: Ramesh Chennithala, Leader Of Opposition in Kerala
12:10 pm: Karnataka: A 60-year-old female COVID-19 patient died by hanging herself at KC General hospital, Malleshwaram around 5 am today, says the Deputy Commissioner of Police, Bengaluru (North)
12:00 pm: Lucknow: Special Investigation Team (SIT) constituted to probe #KanpurEncounterCase to record statements in the matter today & from 20 to 25 July b/w 12 pm to 2 pm. Any person who has information can contact them. 8 policemen were killed in the incident in Kanpur's Bikru village
11:50 am: Jammu & Kashmir: 3 Jaish-e-Mohammed terrorists killed and 3 Army personnel injured in an encounter in Kulgam, as per Dilbag Singh, Director General of Police.
11:40 am: Adverse reports have also been received on 3 'star exporters'. These 10 'star exporters' have claimed IGST refunds amounting to Rs 28.9 crores deceitfully: Finance Ministry Sources
11:30 pm: A total of 1377 exporters who have fraudulently claimed IGST refund amounting to Rs 1,875 crores, have been found untraceable at their principal place of business. This number of risky exporters also includes 7 exporters accredited as 'star exporters': Finance Ministry Sources
11:20 am: Supreme Court refuses to entertain a fresh plea seeking direction to set up judicial inquiry by a retired judge into the April 16 lynching of three people in Palghar, Maharashtra.
11:10 am: It will be better if we get more time to tackle #COVID19 cases, we wish for the extension lockdown of lockdown for one more week. We have given the proposal to government: M Goutham Kumar, Bruhat Bengaluru Mahanagar Palike (BBMP) Mayor
11:00 am: This is a condemnable act by Congress. We removed SP, Collector&IG after Guna incident. What did they do when a Dalit man was burned alive in Sagar&a person was lynched in Dhar during Kamal Nath's tenure?: MP Home Minister Narottam Mishra on Congress' probe panel in Guna incident
10:45 am: Tamil Nadu: Saffron colour allegedly thrown on Periyar statue in Sundarapuram, Coimbatore. Complaint filed by Dravidar Kazhagam (DK) workers in the matter.
10:30 am: Odisha reported 718 COVID-19 cases yesterday, taking total number of cases to 16,110 out of which 5,124 cases are active. A total of 3,69,738 tests were conducted in the state till yesterday: State Health Department
10:10 am: 1,30,72,718 samples tested for #COVID19 till 16th July, of these 3,33,228 samples were tested yesterday: Indian Council of Medical Research (ICMR)
10:00 am: Welcome this news. TTP is responsible for many deadly terrorist attacks in Pakistan. The US domestically designated Noor Wali as a terrorist in September 2019: Bureau of South and Central Asian Affairs, US State Department
9:35 am: #COVID19 cases cross the 10 lakh mark in India with the highest single-day spike of 34,956 cases, and 687 deaths. Total positive cases stand at 10,03,832 including 3,42,473 active cases, 6,35,757 cured/discharged/migrated and 25,602 deaths: Ministry of Health and Family Welfare
9:20 am: We started 'Sewa' in Delhi after COVID-19 outbreak&have performed last rites of 165 dead bodies including that of 35 people whose family members couldn't do so as they had tested positive &7 unclaimed bodies: Jitender Singh Shunty, founder of Shaheed Bhagat Singh Seva Dal
9:10 am: Ladakh: Defence Minister Rajnath Singh, Chief of Defence Staff General Bipin Rawat and Army Chief General MM Naravane arrive at Stakna, Leh. They will witness para dropping skills of the Armed Forces here.
8:55 am: Goa: Streets in Panaji wear a deserted look as the state observes lockdown in view of rising cases of COVID-19. The state government has announced 'Janata Curfew' between 8 pm and 6 am till August 10 and complete lockdown for three days on Friday, Saturday and Sunday this week.
8:45 am: An earthquake of magnitude 7.2 struck 174km North North-East (NNE) of Port Moresby, Papua New Guinea at 8:20 am today: National Centre for Seismology (NCS)
8:35 am: Security forces apprehended an active cadre of NSCN (K-YA) near Perizie Colony, Kohima on July 14 along with one point 22 mm pistol, live ammunition and incriminating documents: Eastern Command, Indian Army
8:25 am: Thunderstorm with rain would occur over and adjoining areas of Khurja, Bulandshahr, Jhangirabad, Greater Noida, Guloti, Siyana, and Narora during the next 2 hours: India Meteorological Department
8:15 am: Defence Minister Rajnath Singh, Chief of Defence Staff General Bipin Rawat and Army Chief General MM Naravane arrive at Leh Airport. Defence Minister is on a two-day visit to Ladakh and Jammu & Kashmir.
8:00 am: 68,428 #COVID19 cases & 974 deaths in USA in the last 24 hours. Total number of cases in the country now at 35,60,364, including 1,38,201 deaths: AFP news agency
7:40 am: 23 people have been rescued so far and 6 people have lost their lives in the incident where a part of Bhanushali building at Fort, Mumbai collapsed on 16th July. Rescue operation underway.
7:30 am: Bengaluru: Karnataka Medical Education Min K Sudhakar held a meeting through video conference with private/govt establishments involved in testing&treatment of COVID-19 in State, y'day. Total 51,422 cases including 19,729 recoveries&1032 deaths were reported in State till y'day.
7:20 am: Delhi: Defence Minister Rajnath Singh leaves for Leh on a two-day visit to Ladakh and Jammu&Kashmir. He is being accompanied by Chief of Defence Staff General Bipin Rawat and Army Chief General Manoj Mukund Naravane. He will visit Ladakh today and Srinagar tomorrow.
7:10 am: Telangana: State Minister Talasani Srinivas Yadav visited Osmania General Hospital in Hyderabad yesterday, following the incident wherein rainwater had entered the hospital.
7:00 am: Leaving for Leh on a two-day visit to Ladakh and Jammu&Kashmir. I shall be visiting the forward areas to review the situation at the borders and also interact with the Armed Forces personnel deployed in the region. Looking forward to it: Defence Minister Rajnath Singh
Posted By: Talib Khan