Breaking News, Latest Updates, Highlights of July 16
Stay Tuned to Catch All the LIVE Updates of July 16
Updated: Thu, 16 Jul 2020 04:39 PM IST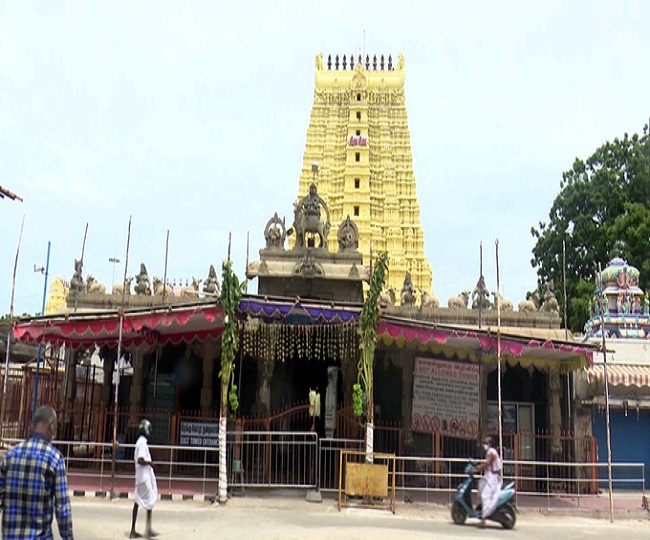 New Delhi | Jagran News Desk: Each and everything that happens around us impacts us in some way and that's why it becomes important for us to know what's happening around the world. Thus at Jagran English, we provide our viewers a 360-degree coverage in all genres to give them a brief insight about what's happening around the world.
Today, our focus will be on coronavirus, which has afflicted 9,68,876 people in the country till Wednesday, while the death toll climbed to 24,915 with record 606 new fatalities recorded till Thursday morning. This was the fourth consecutive day that coronavirus cases have increased by more than 28,000.
We will also focus on Rajasthan Political Crisis, where the Congress has sought the disqualification of Sachin Pilot and 18 other dissident MLAs from the state assembly even as it repeated that the party has not closed its doors on him. Rajasthan Assembly Speaker C P Joshi confirmed that disqualification notices have been sent out Tuesday on the basis of the complaint made by the party. The dissidents have to reply by Friday.
Here are the Highlights of JULY 16:
4:50 pm: Punjab govt has fixed rates for COVID-19 treatment. For moderate sickness requiring isolation beds, including supportive care & oxygen, rates per day of admission are fixed at Rs 10,000 for all private medical colleges & Rs 9,000 for NABH accredited hospitals: State government
4:40 pm: We have decided to create a data bank of COVID19 recovered patients in the state and convince them to donate plasma for treatment of COVID19 patients: Rajasthan Health Minister Raghu Sharma
4:30 pm: Central Bureau of Investigation (CBI) has arrested a Manager, National Thermal Power Corporation (NTPC) Phalodi, District Jodhpur for demanding and accepting a bribe of Rs 1 lakh.
4:20 pm: Union Minister for Petroleum & Natural Gas & Steel, Dharmendra Pradhan will meet with his American counterpart US Secretary of Energy, Brouillette tomorrow to co-chair the 2nd India-US Strategic Energy Partnership Ministerial meeting through virtual meetings.
4:10 pm: Indian citizen Kulbhushan Jadhav granted second consular access today. Indian officials at Pakistan foreign office: Pakistan Media
4:00 pm: Our negotiations are at an advanced stage with 3 countries. Air France will operate 28 flights from July 18 to Aug 1 b/w Delhi, Mumbai, Bengaluru & Paris. US will be flying 18 flights b/w July 17-31 but this is an interim one. We have request from Germany too: Civil Aviation Min
3:45 pm: In last 24 hours, 2593 new #COVID19 positive cases and 40 deaths have been reported in Andhra Pradesh. Total number of cases rise to 38044 including 18159 active cases, 19393 discharged cases and 492 deaths: State COVID Nodal Officer
3:30 pm: In case of the United States, we have an agreement with United Airlines to operate 18 flights between India-US between July 17 & July 31 but this is an interim one. We have a request from Germany also & an agreement with Lufthansa is almost done: Civil Aviation Min HS Puri
3:15 pm: We are at a very advance stage of negotiations with at least 3 countries - France, US & Germany for air bubble. Air France will be operating 28 flights from Delhi, Mumbai & Bengaluru to Paris between July 18 to August 1: Civil Aviation Minister Hardeep Singh Puri
3:00 pm: Andhra Pradesh: 14 priests of Tirumala Tirupati Devasthanams have tested positive for #COVID19. Anil Kumar Singhal, Executive officer of TTD today held a meeting with temple priests, health and vigilance officials.
2:45 pm: Till international civil aviation can reclaim its pre-COVID numbers, I think answer will lie through bilateral air bubbles which will carry a possible number of people but under defined conditions as countries are still imposing entry restrictions incl India: Civil Aviation Min
2:30 pm: Abhishek Manu Singhvi to represent Rajasthan Assembly Speaker at the High Court. The matter will be heard at 3 pm today.
2:20 pm: Assam: Villages near Guwahati have been flooded as water level in Brahmaputra river has risen following heavy rainfall in the region.
2:10 pm: Locust swarms attacked 6 districts of Haryana last week but couldn't do much damage as we were prepared. We've been able to successfully control locusts by using drones&tractor-mounted sprayers so far. Districts bordering Rajasthan are on alert:State Agriculture Minister JP Dalal
2:00 pm: Prithviraj Meena, MLA supporting Sachin Pilot, moves Rajasthan High Court challenging state Assembly Speaker's disqualification notice to them; matter to be heard at 3 pm today. Harish Salve & Mukul Rohatgi to represent them.
1:50 pm: Congress is involved in political mudslinging. It's not fine & it won't help them. It's a crucial time. I request Congress leaders to not indulge in loose talk about the issue. It leads to panic among people. We're ready for punishment if we did anything wrong: B Sriramulu
1:30 pm: Blaming ministers and govt & allegations of a divide between cabinet ministers leading to mismanagement of #COVID19, are baseless. Who can help us at this time? Either God can, or people should make themselves aware: B Sriramulu, Karnataka Minister for Health and Family
1:20 pm: The approach slab that has collapsed is 2 km away from main Sattarghat Bridge; no damages have been caused to any bridge. Just the approach slab of a minor bridge has collapsed: Nand Kishore Yadav, Bihar Road Construction Minister
1:15 pm: Incident is very upsetting. Transferring officers is of no use, these tactics are only part of a show but building a good environment is what matters. Officers removed today will be posted someplace good tomorrow: Former Madhya Pradesh CM & Cong leader Kamal Nath on Guna incident
1:12 pm: India & China have been engaged in discussions through established military & diplomatic channels to address the prevailing situation along LAC. Commanders from PLA & Indian Army held meeting at Chushul, on Indian side, for the fourth round of talks, on 14 July: Indian Army spox
1:08 pm: In case of 27 private universities, which were established during 2019-20 to till date, the first batch is yet to become eligible for final examination: University Grants Commission
1:03 pm: Puducherry reports 147 new #COVID19 positive cases today, taking the total number of cases to 1743 including 774 active cases, 947 discharged cases and 22 deaths: Puducherry Health Department
12:55 pm: When it was Rahul Gandhi's govt in MP then officers were posted under prepaid system. There were problems at the time of such officers. As soon as we got to know of the incident, Collector and SP were removed: MP Minister Narottam Mishra on Rahul Gandhi's tweet on Guna incident
12:45 pm: 66 people dead and 48,07,111 affected across 30 districts due to floods in the state, as of 15th July: Assam State Disaster Management Authority (ASDMA)
12:35 pm: Gajendra Singh, a close aide of 1993 Mumbai blasts case convict Abu Salem, and gangster Khan Mubarak, was arrested by Uttar Pradesh Special Task Force (STF) team last night. Singh used to invest their money in property and was also involved in extortion: UP STF
12:25 pm: PM has promoted 'One Sun, One World, One Grid'. India is taking lead role in International Renewable Community. Transitioning into international solar grid is something we are all working on. With PM-KUSUM Yojana we are bringing farmers too in renewable energy fold: Piyush Goyal
12:10 pm: Railways will move to 100% electrification in next 3.5 yrs & 100% 'Net Zero' operator in next 9-10 yrs. By 2030, each one of us will be a proud citizen, owning the world's first large 'Clean Railways': Min of Railways Piyush Goyal at a Confederation of Indian Industry (CII) event
12:00 pm: A BSF Constable has been nabbed by Police in connection with the incident where a woman Police Constable was found dead at her residence in Palam Vihar yesterday: Delhi Police
11:50 am: A passenger who had arrived in Kolkata from Delhi via Guwahati on a SpiceJet flight on 14th July was found to be carrying his test report showing him to be #COVID19 positive. During thermal screening, his temperature had come out normal: Kolkata Airport Director
11:35 am: Despite being such a largely populated nation, we can perhaps claim to have performed better than any other country. Today our fatality rate is 2.57% and recovery rate is 63.25%: Union Health Minister Dr Harsh Vardhan.
11:25 am: Union Health Minister Dr Harsh Vardhan today inaugurated Rajkumari Amrit Kaur OPD building at AIIMS Delhi premises today. The building is dedicated to OPD services & physiotherapy of elderly people.Union Minister of State for Health&Family Welfare Ashwini Choubey was also present
11:05 am: PM Modi will deliver a keynote address virtually at this year's High-Level Segment of United Nations Economic & Social Council session on 17th July at United Nations in New York. PM will be speaking at the valedictory session along with PM of Norway & UN Secretary-General.
10:55 am: 40 Indian fishermen, stranded in Iran due to COVID lockdown, returned to Tamil Nadu y'day. This fisherman from Kanyakumari, Nagapattinam, Thuthukudi, Ramanathapuram, Nagapattinam,Cuddalore, Thirunelveli were handed over to respective dist officials. They'll be quarantined for 14 days.
10:50 am: Rajasthan: Congress party puts notice at MLA Indraj Singh Gurjar's residence in Kotputli, Jaipur for not attending the recent Congress Legislative Party meetings. He has to respond to the notice within 2 days.
10:45 am: Thunderstorm with rain would occur over and adjoining areas of Bijnor, Muzaffarnagar, Bagpat, Ballabhgarh, Palwal, Naziababad during next 2 hours: India Meteorological Department (IMD)
10:40 am: Bihar: Portion of Sattarghat Bridge on Gandak River that was inaugurated by CM Nitish Kumar last month in Gopalganj collapsed yesterday, after water flow increased in the river due to heavy rainfall.
10:30 am: India took extraordinary step of banning Chinese apps,incl TikTok...US shouldn't trust TikTok/other Chinese apps to protect Americans' data. Urge you to take strong action to stop CCP's sophistocated espionage campaign&protect our national security: US' Congress to US President
10:25 am: In June, India took extraordinary step of banning Chinese affiliated-apps,including TikTok,due to national security concerns. CCP's systemic campaign to collect&illicitly transmit user data to Chinese govt is not unique to Indian consumers: US' Congress to US President Trump
10:20 am: US shouldn't trust TikTok or other Chinese-affiliated social media websites/apps to protect Americans' data, privacy or security. We urge you to take strong action to stop CCP's sophistocated espionage campaign against our country&protect our national security: US' Congress
10:10 am: India has asked Pakistan to give unconditional access to Kulbhushan Jadhav: Sources Earlier Pakistan had claimed that he had refused to file a review plea. India said that he had been coerced into doing that.
10:05 am: Gurugram: Local shop owners in Sadar Bazaar claim Municipal Corporation issues them hefty fines & seal their shops allegedly for land encroachment. Vice President, Sadar Bazar Association says, "We abide by guidelines still receive hefty fines. We will break this seal & work."
10:00 am: Customs, Kochi arrested two more persons - Muhammad Anwar TM and Saidalavi E today in connection with the case. Both of them hail from Malappuram. More details awaited.
9:50 am: Air Traffic Control (ATC) shall not allow the arrival unless the approval is provided to them: Directorate General of Civil Aviation (DGCA)
9:45 am: Some charter flights coming from UAE didn't have requisite Indian state consent required for operation of such flights. It's been decided that the airline shall submit approval of concerned state govt to ATC of point of destination prior to their departure from UAE airports: DGCA
9:40 am: Karnataka: Lockdown being observed in the Dakshina Kannada district. A week-long lockdown has been imposed in the district starting from today till July 23 with relaxation hours between 8 am to 11 am. Visuals from Mangaluru.
9:30 am: Highest single day spike of 32,695 #COVID19 cases and 606 deaths reported in the last 24 hours in India. Total positive cases stand at 9,68,876 including 3,31,146 active cases, 6,12,815 cured/discharged/migrated and 24,915 deaths: Ministry of Health and Family Welfare
9:20 am: Bihar: Movement of vehicles continue near Chandani Chowk in Muzaffarpur dist amid the lockdown imposed in the state from 16th to 31st July. All transport suspended in state except taxis-autos, pvt vehicles for permitted activities,essential service providers& transport of goods
9:10 am: Entry to the Court complex shall be restricted to very few authorised persons and other persons including staff are not required to come to the office from 16th July to 23rd July in view of the lockdown in Bihar from 16th July: Patna High Court
9:00 am: 1,27,39,490 samples tested for COVID19 till 15th July, of these 3,26,826 samples were tested yesterday: Indian Council of Medical Research (ICMR)
8:00 am: The CID Team examined 808 suspects & 118 witnesses to collect strong evidence against the accused. 154 persons were arrested and 11 juveniles in conflict with law, were detained. None of the accused has been released on bail so far: CID Crime, Pune
7:50 am: A 4955 pages charge sheet has been filed by the Deputy SP and Investigation Officer Vijay Pawar in the Court of JMFC Dahanu, against 126 accused: CID Crime, Pune
7:40 am: 29 new #COVID19 positive cases confirmed in the state in last 24 hours, taking the total positive cases' tally to 267 including 159 cured/discharged: Department of Information and Public Relations, Government of Mizoram
7:35 am: In response to Beijing's broken promises, President Donald Trump has taken steps to end Hong Kong's preferential treatment & announced the US will place a special focus on the admission of Hong Kong residents as refugees. We stand with the Hong Kong people: US Secretary of State
7:30 am: West Bengal: Police seized about 1 kg of brown sugar in Siliguri's Matigara. Bhushan Singh, Deputy Commissioner of Police says, "We intercepted a woman and recovered about 1 kg of brown sugar worth Rs 50 lakhs from her possession."
7:20 am: US posts new daily #COVID19 case record of 67,632: AFP news agency quoting tracker
7:10 am: Vijay Kulange, Ganjam District Magistrate says, "We are looking into the supply chain management and we will involve SHGs and volunteers for doorstep delivery of farmer's produce
7:00 am: Chhattisgarh: Congress MP Phulo Devi Netam was seen cultivating paddy at her village in Kondagaon.She says, "I come from a family of farmers. It gives me solace to work here. Many people are saying there's labour shortage due to #COVID. There's no shame in doing our own work.
Posted By: Talib Khan