Breaking News, Latest Updates July 15: India's COVID-19 tally reaches 9.36 lakh; death toll crosses 24,000-mark | As it happened
Stay Tuned To Catch All The LIVE Updates of July 15
Updated: Wed, 15 Jul 2020 06:21 PM IST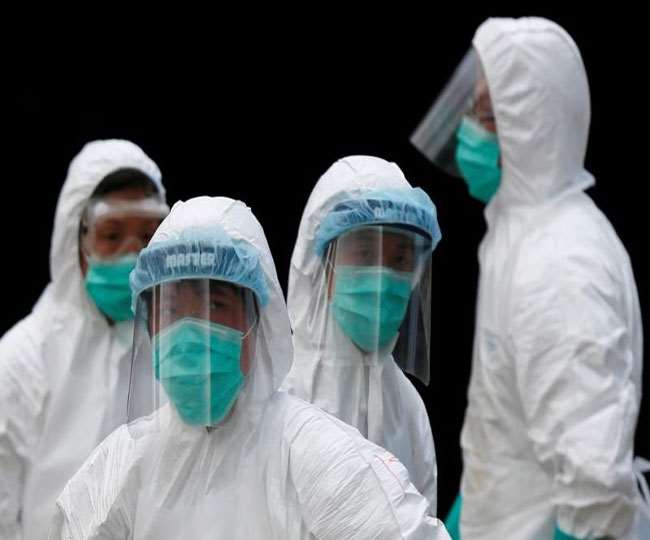 New Delhi | Jagran News Desk: Each and everything that happens around us impacts us in some way and that's why it becomes important for us to know what's happening around the world. Thus at Jagran English, we provide our viewers a 360-degree coverage in all genres to give them a brief insight about what's happening around the world.
Today our focus will be on the coronavirus, which has afflicted over 9 lakh people in the country and has claimed the lives of over 24,000 people so far. Maharashtra, with over 2.60 lakh cases is the worst-hit state in the country, while Tamil Nadu and Delhi with over 1.42 and 1.13 lakh cases respectively are the second and third worst-hit state in the country.
Apart from that, we will also focus on the ongoing political crisis in Rajasthan. Deputy Chief Minister Sachin Pilot was sacked from his post as well as the Congress chief of Rajasthan. The decision came after Pilot skipped the legislature party meeting for the second straight day. The ouster of Pilot is believed to have brought down the Congress' count to 100 - 90 MLAs, seven MLAs and three from smaller parties.
Here are the LIVE Updates of July 15:
4:59 pm: We invite the initiative of 'accelerating the access to COVID tools' taken by EU and its countries. India's pharma companies are ready to contribute to this global attempt: PM Modi
4:57 pm: We've till date sent medicines to nearly 150 countries. We have also taken the initiative to create a joint operation against COVID in our region: PM Modi
4:55 pm: In the post-COVID world, there have been new challenges in the economic world globally. To solve this, democratic countries must come together: PM Modi
4:52 pm: Both India and EU share universal values like democracy, pluralism, inclusivity, respect for international institutions, multilateralism, freedom and transparency: PM Modi
4:47 pm: India and the EU are natural partners. Our partnership is significant for the peace and stability of the world. This reality has become even more clear in the global situation today
4:42 pm: We had to cancel India-EU summit in March due to #COVID19. It is good that we are able to come together today through virtual medium: Prime Minister Narendra Modi at the 15th India-EU (virtual) summit
4:40 pm: I would like to thank India for the cooperation your country has shown with the EU. I would like to pay tribute to your role nationally and internationally, multilaterally in combating COVID19 pandemic: European Council President Charles Michel during India-EU Summit
4:30 pm: Punjab Cabinet has approved the recruitment of as many as 798 experts as plainclothes Civilian Support Staff for Punjab Investigation Bureau, which is all set to induct a total of 4251 personnel, across different ranks & positions: State government
4:20 pm: Puducherry reports 67 new #COVID19 positive cases today, taking the total number of cases to 1596 including 686 active cases and 21 deaths: Puducherry Health Department
4:15 pm: Till now, 268 police personnel, 30 doctors, 43 nurses and 62 government officials in the state have been infected with COVID19: West Bengal CM Mamata Banerjee
4:10 pm: A parliamentary panel on home affairs met today and discussed important issues related to COVID19. The panel demanded that the drugs for COVID19 treatment should be easily available and affordable.
4:00 pm: Members of the parliamentary panel on home affairs also raised the issue of black marketing of drugs related to COVID19. Home Secretary Ajay Bhalla, Joint Secretary Health Ministry Lav Agarwal were present in the meeting. The meeting was headed by Congress leader Anand Sharma.
3:45 pm: 2,432 new COVID19 cases and 44 deaths reported in Andhra Pradesh in the last 24 hours, taking the total number of positive cases in the state to 35,451 including 18,378 persons recovered/discharged: State Health Department
3:30 pm: The review also focussed on ensuring that travellers get all facilities on the Gaurikund-Kedarnath route and arrangements be made to showcase the historical and cultural significance of the pilgrimage through technology.
3:20 pm: Delhi: PM Narendra Modi today reviewed the development work going on in Kedarnath Dham. The discussions centred around furthering the divinity of Kedarnath temple and Jagadguru Adi Shankaracharya's 'samadhi sthal', maintaining cleanliness and ensuring extensive development.
3:10 pm: Governor of Madhya Pradesh Lal Ji Tandon (in file pic) is still on ventilator and is undergoing dialysis: Dr Rakesh Kapoor, Medical Director, Medanta Lucknow
3:00 pm: All hospitals registered under KPME in Karnataka should display at the reception center, a bed allocation display board which should display details related to beds for COVID-19 patients. The display board should be arranged by tomorrow: Karnataka Govt
12:25 pm: On 1st June there were 4,100 beds in Delhi, today there are 15,500 beds. Today there are 2,100 ICU beds, of which 1,100 are vacant. Because of this, today people have the confidence that in case they need to be hospitalised, there will be no shortages: Delhi CM Arvind Kejriwal
12:15 pm: If the Delhi Government had decided to battle #COVID19 alone, we would have failed. That is why we went to everyone including central government, NGOs & religious organisations. I thank all parties including BJP and Congress: Arvind Kejriwal Delhi CM
12:10 pm: Mehraj Din Malla, BJP leader & Vice President of Municipal Committee (MC) Watergam in Sopore area of Baramulla district, abducted by unknown person today morning. Police have launched a search operation in the area: BJP Spokesperson, Kashmir.
12:00 pm: As per estimates, 2.25 lakh cases were predicted by 15 July in Delhi but after united efforts, the cases today are half of the prediction. Today we have 1.15 lakh cases: Delhi CM Arvind Kejriwal
11:55 am: Bihar: Around 20 staff members at Governor house have tested positive for #COVID19.
11:45 am: The girls address Pyare Miyan as 'abbu'. Some girls have revealed that he took girls to foreign countries. He is well-travelled & has visited Dubai, Singapore & Thailand. He has been involved in such activities for 7-8 yrs. We've issued a lookout notice for him: South Bhopal SP
11:35 am: Some people always create confusion between knowledge & skill. I say to them that you can read in books & watch on the internet how to ride a cycle, this is knowledge but it doesn't guarantee you will be able to ride a cycle. To actually ride a cycle, you need skill: PM Narendra Modi
11:32 am: Skill is something which we gift to ourselves, which grows with experience. Skill is timeless, it keeps getting better with time. Skill is unique, it makes you different from others: Prime Minister Narendra Modi
11:30 am: People ask me that in these times when businesses & markets are changing so fast how to stay relevant. This question is even more important during this #COVID19 pandemic. Mantra to be relevant is to skill, reskill & upskill: Prime Minister Modi's address on World Youth Skills Day
11:20 am: Maharashtra: Waterlogging in parts of Mumbai due to incessant rainfall; visuals from King's Circle area. Brihanmumbai Municipal Corporation (BMC) has requested people stay to away from the shore and not venture into waterlogged areas.
11:10 am: 235 #COVID19 positive cases, 3 deaths, 30 recovered and 30 discharged in Rajasthan today. The total number of positive cases in the state rises to 25,806 including 527 deaths, and 6,080 active cases: State Health Department
11:00 am: Partial Credit Guarantee Scheme revamped under #AatmanirbharBharat package to support the liability side of NBFCs by providing a 20% portfolio guarantee to Public Sector Banks for the purchase of Bonds/Commercial Papers rated AA and issued by NBFCs: Minister of Finance
10:50 am: 618 #COVID19 cases and 609 recoveries reported in Odisha on 14th July (yesterday). Total number of cases in the state at 14898, including 9864 recovered & 4933 active cases: State Government
10:25 am: Delhi: A Group of Ministers (GoM) meeting chaired by Home Minister Amit Shah to be held at Home Ministry today.
10:10 am: Rajasthan: Police has launched a campaign, 'Har Ghar Dastak' in Jodhpur, against spread of #COVID19. Jodhpur Commissioner Police says, "Under this campaign, policemen will visit residences of the citizens infected with virus&check if quarantine norms are followed or not."(14.07)
10:00 am: Maharashtra: The second phase of lockdown will commence from July 18th till July 23rd. Medical stores, dairies, hospitals and essential services will be allowed to remain open.
9:45 am: Maharashtra: Shops closed, and police personnel check vehicles in Pune. Municipal Corporation has ordered lockdown in Pune in two phases till July 18, to control the spread of #COVID19.
9:30 am: The recovery rate among COVID-19 patients has increased to 63.20%. The recoveries/deaths ratio is 96.05%:3.95% now: Government of India
9:20 am: Karnataka: Lockdown being observed in Bengaluru, to combat the spread of #COVID19, as the state government has ordered lockdown in Bengaluru for 7 days with effect from 8 pm on 14th July till 5 am on 22nd July.
9:15 am: Spike of 29,429 #COVID19 cases & 582 deaths reported in the last 24 hours in India. Total positive cases stand at 9,36,181 including 3,19,840 active cases, 5,92,032 cured/discharged/migrated and 24,309 deaths: Ministry of Health
9:00 am: 1,24,12,664 samples tested for #COVID19 till 14th July, of these 3,20,161 samples were tested yesterday: Indian Council of Medical Research (ICMR)
8:40 am: Delhi: No change in the price of petrol in the national capital today, stands at Rs 80.43. Price of diesel increased by Rs 0.13, now at Rs 81.18 per litre
8:30 am: NDRF team rushed to building collapse site at Chhukhuwala, Dehradun & did search & rescue operation with local SDRF. 3 rescued alive and 3 dead bodies retrieved. Operation on: Satya Pradhan, Director General of NDRF (National Disaster Response Force).
8:10 am: Thunderstorm with rain would occur over Haryana's Kaithal & Kurushetra area, and over UP's Shamli, Muzaffarnagar and adjoining areas during the next 2 hours: India Meteorological Department (IMD)
8:00 am: Customs, Kochi arrested 3 more persons - Jalal from Muvattupuzha in Ernakulam, Mohd Shafi from Malappuram, Hamjad Ali from Kondotty. They'll be produced in the Economic Offences Court today. Customs officials say, "They had delivered gold to the traders"
7:50 am: Based on a complaint of the wife of deceased BJP MLA Debendra Nath Roy, Criminal Investigation Department (CID) has registered a murder case under section 302 IPC (Indian Penal Code). Several persons examined, including the 2 mentioned in the suicide note: Sources
7:45 am: PM Modi will deliver keynote address virtually at Valedictory of High-Level Segment of UN ECOSOC on 17 July in New York, on eve of 75th anniversary of UN. It'll be the 1st speech of PM at UN after India's Security Council win: TS Tirumurti, Permanent Representative of India to UN
7:40 am: The Corps Commander-level talks between India and China went on for almost 14.5 hours. The meeting had started at 1130 am at Chushul in Eastern Ladakh yesterday and ended around 2 am on July 15.
7:30 am: They (WHO) were really a puppet of China. And make no mistake, we hold China fully responsible for concealing the virus and unleashing it upon the world: US President Donald Trump
7:20 am: No, I haven't spoken to him (Chinese President) in a while and I have no plan to speak to him: US President Donald Trump on being asked about the last time he spoke to Chinese President Xi Jinping and his plan to speak to him in near future
7:10 am: Mizoram reports 5 new #COVID19 positive cases; the total number of cases in the state stands at 238 including 79 active cases and 159 cured/discharged: State Chief Minister, Zoramthanga
7:00 am: Uttarakhand: 3 injured people rescued and others feared trapped after a building collapsed in Chukkuwala area of Dehradun. State Disaster Response Force (SDRF) team present at the spot; rescue operation underway. Injured have been sent to the hospital.
Posted By: Talib Khan