Breaking News, Latest Updates July 14: India's COVID-19 tally crosses 9-lakh mark, death toll at 23,727 | Highlights
Stay tuned to catch all the LIVE updates of July 14.
Updated: Tue, 14 Jul 2020 05:01 PM IST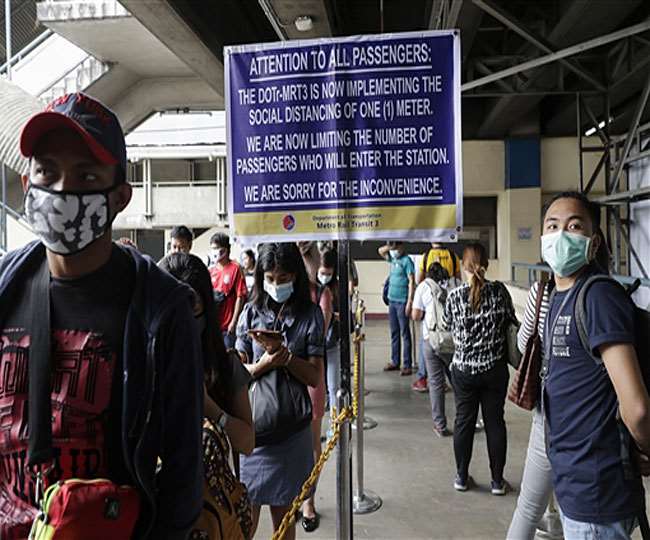 New Delhi | Jagran News Desk: Each and everything that happens around us impact us in some way and that's why it becomes important for us to know what's happening around the world. Thus at Jagran English, we provide our viewers a 360-degree coverage in all genres to give them a brief insight about what's happening around the world.
Today our focus will be on the coronavirus crisis. The novel coronavirus has affected over 8.78 lakh people in India so far. The death toll, meanwhile, has crossed the 23,000-mark while the recovery rate in India stands at 63.01 per cent.
Apart from that, we will also focus on the ongoing political crisis in Rajasthan. Deputy Chief Minister Sachin Pilot has started an open revolt against Chief Minister Ashok Gehlot, leading to political turmoil in the state.
Here are the Highlights from July 14:
6:00 pm: When Kamal Nath was CM he didn't have time to hold a meeting over COVID but he had the time to go to Indore for IIFA awards. A fighter came to the front and took the reins in his hands on 23rd March and single handedely faced the pandemic in the state: Jyotiraditya Scindia, BJP
5:45 pm: Rajasthan: Congress district president of Pali, Chunnilal Chadwas, resigns from his post, says he is "hurt by the undemocratic removal of Sachin Pilot as state unit chief".
5:30 pm: The Army Chief commended the efforts of the formations in the ongoing fight against the COVID-19 pandemic and also exhorted all ranks to maintain focus on operational preparedness at all times.
5:25 pm: Punjab: Army Chief Gen MM Naravane visited formations of Vajra Corps in Amristar & Ferozepur today. He reviewed operational preparedness along western border. He interacted with troops,lauded them&also awarded Commendation Cards to individuals for their bravery & devotion to duty
5:10 pm: We are thinking of imposing certain restrictions in four districts bordering Delhi, which are Gurugram, Faridabad, Sonipat and Jhajjar. These areas have 80 per cent of Haryana's #COVID19 cases. A final decision will be taken after discussions: Haryana Health Minister Anil Vij
5:05 pm: State cabinet meeting to be held at Chief Minister Ashok Gehlot's residence at 7:30 pm and meeting of Council of Ministers at 8:00 pm today.
5:02 pm: COVID-19 is a droplet infection. There has been hypothesis & suggestions by several scientists that there may be some airborne transmission with microdroplets (less than 5 microns in size). What remains important is physical distancing & use of masks: ICMR DG Balram Bhargava
4:58 pm: MoS PMO Jitendra Singh goes into self-quarantine after J&K BJP President Ravindra Raina tested positive for #COVID19 with whom he had come in contact.
4:53 pm: The US, as your read today, has fastracked two of its vaccine candidates. The UK is also lookin g at how it can fastrack the Oxford vaccine candidate, how it can fastrack it for human use: Balram Bhargava, DG-ICMR.
4:50 pm: Russia has fast-tracked a vaccine which has been successful in its early phases. They have fast-tracked its development. China has fast-tracked its vaccine programme and has also fast-tracked its studies with that vaccine in China: Balram Bhargava, DG-ICMR.
4:44 pm: Karnataka govt orders cancellation of outpatient services for 48 hours at Apollo hospital in Jayanagar & Vikram hospital in Bengaluru for allegedly not admitting COVID-19 patients. Yesterday, govt served show-cause notices to hospitals over the allegations but they didn't reply.
4:40 pm: Bihar govt issues guidelines for lockdown from 16 to 31 July: Farming & construction-related activities allowed. Places of worship to remain closed. Commercial, private and govt establishments to remain closed apart from mentioned exceptions. Essential services allowed
4:36 pm: WHO says if you're testing 140 people per day, per 10 lakhs, that would be indicative of comprehensive testing. There're 22 states who test 140 or over tests per day, per million. We advise the states/UTs to increase testing to meet WHO criteria. These candidate have got their sites ready and they are doing their clinical study on approximately a 1000 human volunteers each at different sites: Balram Bhargava, DG-ICMR: Rajesh Bhushan, Ministry of Health
4:32 pm: There are 2 Indian indigenous candidate vaccines. They have undergone successful toxicity studies in rats, mice and rabbits. Data was submitted to DCGI following which both these got clearance to start early phase human trials early this month: Balram Bhargava, DG-ICMR
4:28 pm: Bihar reports 1,432 new #COVID19 cases taking the total to 18,853. The number of recovered patients stands at 12,364.
4:23 pm: B/w May 2 to May 30, the number of active COVID-19 cases was more than recovered cases. After that, the difference between the number of active & recovered cases is rising. Today, the number of recovered cases is 1.8 times higher than the active cases: Rajesh Bhushan, OSD, Ministry of Health
4:18 pm: In May, the recovery rate was around 26 per cent which rose to 48 per cent by May end & further increased to around 63 per cent by July 12 in the country. Recovery rates in 20 states are higher than the national recovery rate: Rajesh Bhushan, OSD, Ministry of Health
4:13 pm: There are 20 states that have a recovery rate which is more than the national average. India's national average is 63%: Rajesh Bhushan, OSD, Ministry of Health. Of these states, Uttar Pradesh has a recovery rate of 64%, Odisha 67%, Assam 65%, Gujarat 70%, Tamil Nadu has a recovery rate of 65%.
4:10 pm: 86% of the total cases are confined to 10 states. Two of these have 50% of these cases - Maharashtra and Tamil Nadu - and eight other states have 36% cases: Rajesh Bhushan, OSD, Ministry of Health.
4:00 pm: A vertical division can be seen in Congress party in Rajasthan, with the sacking of Dy CM. Now, if chief minister wants to expand his Cabinet, he should first prove majority on the floor. He will not send a good message if he does it without floor test: Gulab Chandra Kataria, BJP
3:55 pm: Lockdown to remain imposed in Dakshina Kannada district from 8 pm of 15th July 2020 to 5 am of 23rd July 2020 in the wake of #COVID19: Deputy Commissioner, Dakshina Kannada.
3:50 pm: We have untapped trade potential with India. India is important partner to fight environmental issues: European Union (EU) Sources
3:45 pm: India and EU have to work towards securing peaceful use of nuclear energy. EU is India's trading partner & also largest investment partner. We have great potential to further develop a comprehensive Foreign Trade Agreement (FTA): European Union (EU) Sources
3:40 pm: Karnataka: Yadgir district Deputy Commissioner Kurma Rao M orders lockdown for one week in the district, starting July 15.
3:35 pm: Andhra Pradesh: A person has been found dead at a pharma company where a major fire broke out in JN Pharma City in Visakhapatnam last night.
3:30 pm: Karnataka: Bangalore Metropolitan Transport Corporation suspends bus services from July 15 to July 21 in view of lockdown in Bengaluru Metropolitan area, Bengaluru Urban & Bengaluru Rural districts. The corporation to operate essential services for permitted activities.
3:15 pm: Dr. Harsh Vardhan, Union Minister for Health and Family Welfare discusses bilateral health co-operation including management of #COVID19 with Australian Health Minister Gregory Andrew Hunt: Ministry of Health
3:10 pm: Lockdown to be imposed in the state from 16 to 31 July to curb the spread of #COVID19. Guidelines are being prepared: Bihar Deputy CM Sushil Kumar Modi
3:05 pm: For these children,this will lead to a disruption in their studies&learning. As a result,some states may see a reduction in numbers of children enrolled in their schools or they will be reported as absent,while others will see a surge in children requiring admissions:HRD Ministry
3:00 pm: In order to ensure that there is no loss of learning or academic year for all such children, it is suggested to that the following steps may be carefully implemented by all states/UTs: HRD Ministry
2:55 pm: In view of lockdown due to #COVID19, a large number of migrant labourers are returning to their homes & are likely to stay there for varying periods. Along with the migrant workers, their families &children are also returning to their homes: Ministry of Human Resource Development
2:50 pm: Rajasthan Governor Kalraj Mishra has accepted CM Ashok Gehlot's proposal to remove Sachin Pilot as Deputy CM, and Vishvender Singh and Ramesh Meena as ministers.
2:40 pm: Delhi: Congress leader Priyanka Gandhi reaches 10, Janpath to meet party president Sonia Gandhi.
2:35 pm: Truth can be disturbed, cannot be defeated, tweets Sachin Pilot. He has been removed as Rajasthan Deputy CM and state Congress chief.
2:30 pm: Rajasthan: Sachin Pilot's nameplate removed from Congress headquarter in Jaipur after he was removed as Deputy CM and PCC Chief, Govind Singh Dotasra appointed as state unit chief.
2:25 pm: Bengaluru: Over 80 labourers working on the Nagavara - Gottigere lane of Namma Metro phase two, have tested positive for #COVID19.
2:20 pm: 1916 new #COVID19 positive cases and 43 deaths have been reported in Andhra Pradesh today. Total number of cases now at 33019 including 15144 active cases, 17467 discharged cases and 408 deaths: State COVID-19 Nodal Officer
2:10 pm: Rajasthan: CM Ashok Gehlot meets Governor Kalraj Mishra, at Raj Bhawan in Jaipur.
2:00 pm: Hemang Amin has been given the interim charge of CEO of BCCI (Board of Control for Cricket in India): BCCI sources
1:50 pm: Delhi University agrees in Delhi High Court to advance its final year Open Book Examination to August 10 and it will be concluded till August 31. Yesterday, in an affidavit, DU told the Court that OBE will be conducted from August 17 to September 8.
1:45 pm: Sachin Pilot also removed as Rajasthan PCC Chief, Govind Singh Dotasra appointed in his place: Randeep Surjewala, Congress.
1:40 pm: Sachin Pilot removed as Deputy Chief Minister, announces Congress leader Randeep Singh Surjewala
1:30 pm: On reading post mortem report & examining attendant circumstances of witnesses & evidence, West Bengal Police is prima facie of the opinion that this is a case of suspected suicide: Alapan Bandyopadhyay, State Home Secretary on BJP MLA Debendra Nath Ray's death
1:20 pm: Delhi education model has made history with 98 per cent children in our government schools passing in the Class 12 CBSE exams: Delhi Chief Minister Arvind Kejriwal
1:15 pm: Supreme Court directs Centre to reply on the petition filed by Jharkhand government challenging Centre's decision to auction nine coal blocks in the state for commercial purposes.
1:00 pm: Result of Class 10 exams will be out tomorrow, while Class 12 results will be announced on 17th July: West Bengal CM Mamata Banerjee
12:45 pm: 102 MLAs present at the ongoing Congress Legislative Party (CLP) meeting at Fairmont Hotel in Jaipur have unanimously demanded that Sachin Pilot should be removed from the party: Sources.
12:40 pm: Air Intelligence Unit (AIU), Trivandrum seized 2.049 kg gold in compound form from 6 passengers travelling from Ras Al Khaimah. Gold was concealed by passengers inside undergarments. Further investigation is in progress: Commissionerate of Customs (Preventive), Kochi
12:30 pm: Results of Class 10 CBSE Board Examinations will be announced tomorrow: Union Minister Dr. Ramesh Pokhriyal Nishank
12:25 pm: Kochi Special National Investigation Agency (NIA) Court issued a non-bailable warrant to Faisal Fareed, another accused in #goldsmugglingcase. NIA informed the court that they will hand over the warrant to Interpol as Faisal is in Dubai now.
12:20 pm: The annual rate of inflation, based on monthly Wholesale Price Index (WPI), stood at -1.81% (provisional) for the month of June, 2020 (over June, 2019) as compared to 2.02% during the corresponding month of the previous year: Government of India.
12:15 pm: Rajasthan: Congress Legislative Party (CLP) meeting underway at Fairmont Hotel in Jaipur.
12:05 pm: Corps Commander level talks between India and China have started in Chushul, Eastern Ladakh today, where they will discuss the second phase of disengagement between the two armies on the Line of Actual Control: Indian Army officials
12:00 pm: June 2020 total domestic passenger vehicle sales down 49.6% against June 2019. Domestic passenger car sales down 58% year on year, at 55,497 units. Two-wheeler sales down 38.6% year on year at 10,13,431 units: Society of Indian Automobile Manufacturers (SIAM)
11:55 am: Officials from the Income Tax Department have reached NIA (National Investigation Agency) office in Kochi. Interrogation of the accused Swapna Suresh and Sandeep Nair is underway, at NIA office in Kochi. More details awaited.
11:50 am: Positivity rate and death rate is coming down but people shouldn't be complacent. You never know, #COVID19 may surge again. Use of masks, sanitisers & washing hands is very important. Increased testing and working in unison is to credit for the betterment in situation: Delhi CM
11:45 am: Supreme Court today adjourned the matter to 17th July, pertaining to the petition filed by Rajeev Suri, against Rs 20,000 crore Central Vista Project that involved renovation & redevelopment of approximately 86 acres of land in Delhi
11:40 am: Congress has been claiming that their leaders are united but it's clear that there are internal disputes, because of which, Sachin Pilot had to leave the party after facing humiliation. At present, we are not demanding floor test: Rajasthan BJP President Satish Punia
11:30 am: Puducherry reports 63 new #COVID19 positive cases today, taking the total number of cases to 1531 including 684 active cases and 18 deaths: Puducherry Health Department
11:15 am: 33 new #COVID19 positive cases have been confirmed today, taking the total number of cases to 878 including 538 active cases and 340 recoveries: S Pangnyu Phom, Nagaland Health Minister
11:00 am: Vikas Dubey had asked his gang members to hide the looted arms & ammunition at his residence at Bikru village. During search at Vikas Dubey's residence, we recovered the looted arms: Prashant Kumar, UP ADG Law & Order
10:45 am: Maharashtra: Traffic congestion at Shivajinagar area in Pune. Municipal Corporation has ordered lockdown in Pune in two phases from today to July 18, to control the spread of #COVID19.
10:30 am: Congress leaders Rahul Gandhi, Priyanka Gandhi Vadra and Ahmed Patel, P. Chidambaram and KC Venugopal have talked to Sachin Pilot several times, but there is less possibility of his attending the CLP meet today: Sources
10:25 am: Congress Legislative Party meeting is being conducted again & again to send messages to Sachin Pilot that still there's time for him to come. Party's top leadership still has flexibility for him. A decision will be taken after today's meeting over further course of action: Sources
10:20 am: There are total 21 accused in the case, of which 4 have been arrested while 6 accused, including Vikas Dubey, killed during police proceedings in different incidents: Prashant Kumar, UP ADG Law & Order.
10:15 am: The recovery rate among COVID-19 patients has increased to 63.02%. The recoveries/deaths ratio is 96.01%:3.99% now: Government of India
10:00 am: Post-mortem report reveals that sharp weapons and guns were used to kill the 8 policemen at Bikru village on July 3. Circle Officer Devendra Mishra had four bullet injuries. Also, it reveals that all bullets were shot from point blank range.
9:45 am: Maharashtra: Shops closed, and police personnel check vehicles in Pune. Municipal Corporation has ordered lockdown in Pune in two phases from today to July 18, to control the spread of #COVID19.
9:30 am: India's #COVID19 case tally crosses 9 lakh mark with 28,498 new cases & 553 deaths reported in the last 24 hours. Total positive cases stand at 9,06,752 including 3,11,565 active cases, 5,71,460 cured/discharged/migrated and 23,727 deaths: Ministry of Health
9:15 am: 1,20,92,503 samples tested for #COVID19 till 13th July, of these 2,86,247 samples were tested yesterday: Indian Council of Medical Research (ICMR)
9:00 am: We are giving a second chance to Sachin Pilot,asked him to attend today's CLP meet.I hope today all MLAs come&give solidarity to leadership&for which ppl of Rajasthan voted, we all want to work for development of state: Rajasthan Congress in-charge Avinash Pande to ANI
8:39 am: In India, Maharashtra remains the worst affected state with 2,54,427 coronavirus cases and 10,289 deaths
8:09 am:
#WestBengal BJP has called 12-hour 'bandh' in the districts of North Bengal today to protest over the death of BJP MLA Debendra Nath Ray, whose body was found hanging in Bindal near his village home. Visuals from Siliguri and Raiganj. pic.twitter.com/GJJUsTxldk

— ANI (@ANI) July 14, 2020
7:50 am: Ladakh Standoff: India, China to hold Corps Commander-level talks today, disengagement of troops in focus
7:23 am: Meanwhile, 5,53,471 have recovered from coronavirus in India
7:22 am: There are 3,01,609 active coronavirus cases in India
7:20 am: The novel coronavirus has affected 8,78,254 and claimed 23,174 lives in India so far
Posted By: Aalok Sensharma