Breaking News Latest Updates, Highlights of Jan 7
Breaking News Latest Updates, Highlights of Jan 7
Updated: Thu, 07 Jan 2021 04:57 PM IST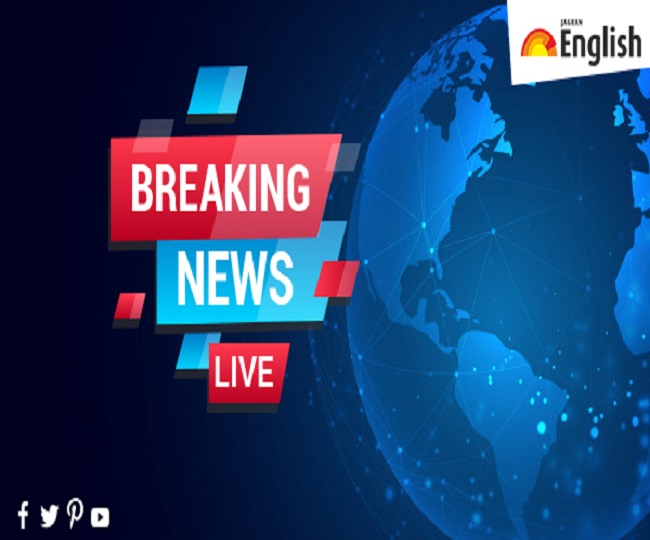 New Delhi | Jagran News Desk: Each and everything that happens around us impacts in some way and that's why it becomes important for us to know what's happening around the world. Thus at English Jagran, we provide our readers with 360-degree coverage in all genres to give them a brief insight about what's happening around the world.
On Wednesday, violence erupts at US Capitol after dozens of US President Donald Trump supporters storms the building and clashed with police. As per reports, Trump supporters flocked the building as Congress was expected to vote and affirm Joe Biden's presidential win.
Here are the Highlights of Jan 7:
4:35 pm: Final year student will be eligible to appear in final year annual exams on successful training, on passing of which they will be eligible to join as interns. Thereafter process will be initiated for permitting second-year MBBS/BDS students to rejoin college: Delhi Government
4:20 pm: Expressing concern over large gatherings of farmers at Delhi borders, Supreme Court today asked Union of India as to whether they (farmers) were protected from COVID. SC asked SG Tushar Mehta, "You must tell us what's happening? I don't know if farmers are protected from COVID."
4:00 pm: Noida: Bharatiya Kisan Union (Bhanu) begins tractor march from Maha Maya Flyover to Chilla border in continuation of farmers' protest against the Farm Laws by the Central Government.
3:31 pm: IAF, commercial airlines to provide transportation facilities for country-wide Covid-19 vaccination drive
3:30 pm: Trump finally pledges an "orderly" transfer of power to Biden, while repeating false claims about the election that led to a mob storming the Capitol, reports CNN.
3:20 pm: Announcing successful completion of volunteer enrolment for Phase-3 Clinical trials of COVAXIN: BharatBiotech
3:05 pm: On January 15th, the Finance Minister will present the budget and will be discussed. The assembly session will conclude January 28 as per the calendar now: Kerala Legislative Assembly Speaker P Sreeramakrishnan
3:00 pm: Centre has decided to lift the ban and start United Kingdom flights. In view of extremely serious COVID situation in UK, I would urge central govt to extend the ban till 31 January: Delhi CM Arvind Kejriwal.
2:15 pm: Congress accepts Electoral College result, which clears the way for Joe Biden to become president of the United States: Reuters
1:52 pm: House of representatives voted 282-138 against the attempt to overturn President-elect Joe Biden's victory in Pennsylvania. Speaker Pelosi says the House and the Senate will resume joint session to consider election results: Reuters.
1:40 pm: Transportation of COVID19 vaccine to begin by today or tomorrow. Govt has allowed passenger aircraft to transport vaccines. Pune will be the central hub from where vaccine distribution will take place. 41 destinations across the country finalised for delivery of vaccines: Govt sources
1:20 pm: COVID-19 vaccines 'Covishield' and 'Covaxin' are on the verge of being available in the country. Our efforts are to ensure seamless last-mile delivery of the vaccine: Union Health Minister Dr Harsh Vardhan
1:00 pm: Will hold a meeting at 4.30 pm today on seat-sharing and other issues. Congress & Left have been holding joint demonstrations against the misrule of the state and central govt: Pradip Bhattacharya, Congress & Member, Congress & Left seat-sharing coordination committee
12:45 pm: Total COVID19 recoveries in India have crossed the 1 crore mark (10,016,859). In the past 24 hours, 19,587 patients have recovered. The national recovery rate has further grown to 96.36 per cent, becoming the highest in the world: Government of India
12:00 pm: Throughout India's development journey, Japan & its people have stood by us like a trustworthy friend. In the construction of the Western Dedicated Freight Corridor as well, Japan provided us with financial & technological assistance. I thank Japan and its people: PM Modi
11:50 am: Afghanistan | At least five civilians were killed and five were wounded in an airstrike on last night in Lashkargah, the capital of Helmand, reports TOLONews
11:30 am: Prime Minister Narendra Modi inaugurates 306 km Rewari-Madar section of the Western Dedicated Freight Corridor and flags off Double Stack Long Haul (1.5 km in length) container train run
11:00 am: Punjab: Schools reopen for students of classes V to XII in the state from today following government's order."All COVID-19 protocols will be followed. We'll take consent letters from parents before they sent their children to school," says teacher of a school in Ludhiana.
10:45 am: West Bengal: BCCI President Sourav Ganguly discharged from Woodlands Hospital in Kolkata. He says, "I thank the doctors at the hospital for the treatment. I am absolutely fine."
10:16 am: Maharashtra: Brihanmumbai Municipal Corporation (BMC) has filed a police complaint against actor Sonu Sood (in file photo) for allegedly converting a six-storey residential building in Juhu into a hotel without BMC's permission.
10:05 am: Kerala: Senior Congress leader and former state minister KK Ramachandran passed away at a private hospital in Kozhikode, early morning today
9:56 am: Haryana: Security tightened at Kundli-Manesar-Palwal (KMP) toll plaza ahead of farmers' tractor rally. Farmers to hold tractor rally today at four borders of Delhi including Eastern & Western peripheral expressways.
9:55 am: Police say four people died as Trump supporters occupied the US Capitol in Washington DC. One woman was shot by the U.S. Capitol police as a mob tried to break through a barricaded door, and three died in medical emergencies, reports The Associated Press
9:52 am: India reports 20,346 new COVID-19 cases, 19,587 discharges, and 222 deaths in the last 24 hours, as per Union Health Ministry. Total number of cases reaches 1,03,95,278, in which active number of cases are 2,28,083 and total number of people recovered are 1,00,16,859. The death toll has reached 1,50,336
9:47 am: Today, our tractor rally will go till Dasna, Aligarh road & then return to Ghazipur. This is a rehearsal for a similar rally on 26th Jan. Next round of talks with the Union Government will be held tomorrow: Rakesh Tikait, Spokesperson of Bharatiya Kisan Union, at Ghazipur border
9:45 am: Today's minimum temperature at Safdarjung 14.4°C, Palam 14.6°C, Ridge 14.2°C, & Aya Nagar 14.4°C: India Meteorological Department (IMD). Delhi
9:35 am: Sensex rises over 225 points, currently at 48,399; Nifty at 14,220
9:30 am: Protesting farmers to hold tractor rally today at four borders of Delhi including Eastern and Western peripheral expressways.
9:25 am: I have issued orders extending the public emergency declared earlier today for a total of 15 days: Mayor of Washington DC, Muriel Bowser
9:06 am: Delhi: Heavy security deployed at Singhu border where farmers are protesting against FarmLaws. Protesting farmers to hold tractor rally today at four borders of Delhi including Eastern and Western peripheral.
9:05 am: Total number of samples tested up to 6th January is 17,84,00,995 including 9,37,590 samples tested yesterday: ICMR
8:45 am: A number of Republican leaders and Cabinet officials have said that they believe US President Donald Trump should be removed from office before January 20, reports CNN
8:40 am: BCCI President Sourav Ganguly will be discharged today, 7th January, in the morning: Woodlands Hospital in Kolkata.
8:20 am: We are locking President Donald Trump's Instagram account for 24 hours as well: Adam Mosseri, Head of Instagram
8:15 am: US House Speaker Nancy Pelosi says Congress' certification of President-elect Joe Biden's election win will show the world it won't back down, reports The Associated Press
8:12 am: "Distressed to see news about rioting & violence in Washington DC. An orderly and peaceful transfer of power must continue. The democratic process cannot be allowed to be subverted through unlawful protests," says Prime Minister Narendra Modi
7:40 am: Earthquake of magnitude 4.4 on the Richter scale occurred at 0657 hours 2 km south southeast of Campbell Bay, Andaman and Nicobar Islands: National Centre for Seismology
7:20 am: US: In wake of violent protests at US Capitol, Stephanie Grisham, Chief of Staff for US First Lady Melania Trump, resigns.
7:00 am: US lawmakers reconvene to certify Electoral College votes after the violence at the US Capitol in Washington DC
5:50 am: Twitter locks account of outgoing US President Donald Trump for 12 hours following removal of three of his tweets.
4:40 am: Facebook removes US President Donald Trump's video addressing his supporters during violence at US Capitol. "We removed it because on balance we believe it contributes to rather than diminishes the risk of ongoing violence," tweets Facebook Vice President of Integrity, Guy Rosen
1:45 am: US Capitol under lockdown following violent protests by pro-Trump demonstrators
1:35 am: Supporters of outgoing US President Donald Trump hold a demonstration at US Capitol in Washington DC as Congress debates certification of Joe Biden's electoral victory.
Posted By: Niharika Sanjeeiv