Breaking News Latest Updates Highlights of Jan 6
Breaking News Latest Updates Highlights of Jan 6
Updated: Wed, 06 Jan 2021 04:05 PM IST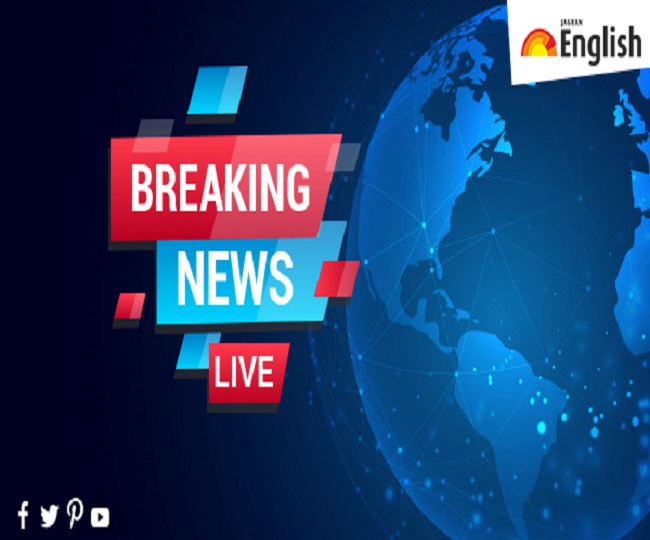 New Delhi | Jagran News Desk: Each and everything that happens around us impacts in some way and that's why it becomes important for us to know what's happening around the world. Thus at English Jagran, we provide our readers with 360-degree coverage in all genres to give them a brief insight about what's happening around the world.
The coronavirus pandemic has wreaked havoc across the country and has afflicted over 10.4 million people in India, while nearly 1.50 lakh people have succumbed to the deadly virus so far. However., the government has started its preparations to start the vaccination drive in the country. The Health Ministry on Tuesday said that it was ready to roll out the vaccine within 10 days from the date of emergency use authorisation. The DCGI on Sunday approved two COVID-19 vaccines for restricted emergency use authorisation in India. The two vaccines are Oxford-AstraZeneca's 'COVISHIELD', which is manufactured by Serum Institute of India (SII) and Bharat BioTech's 'COVAXIN'.
Here are the Highlights of January 6:
2:30 pm: Kolkata International Film Festival 2021 to be held virtually, on a smaller scale, says West Bengal CM Mamata Banerjee
2:15 pm: Classes for students of 10th & 12th standard will resume from 11th January, following all COVID19 guidelines: Gujarat Education Minister, Bhupendrasinh Chudasama
2:00 pm: Odisha: Four people dead, six people fall ill due to toxic gas leakage from a unit at Rourkela Steel Plant.
1:55 pm: We've taken cognisance of the matter. One NCW member is going to the spot to investigate the matter to meet the family and the police and take an exact stock of the situation: Rekha Sharma, Chairperson, National Commission for Women, on alleged gangrape in Badaun, UP
1:33 pm: India- Sri Lanka joint working group on fisheries met recently where all outstanding issues were discussed. We look forward to the early return of our fishermen: External Affairs Minister Dr S Jaishankar, in Sri Lanka
1:25 pm: On behalf of President of Sri Lanka, the govt and people for Sri Lanka, I convey our profound gratitude to PM Modi, Indian govt for the tremendous support India extended in the past several months to mitigate the adverse impact of the COVID pandemic: Foreign Minister of Sri Lanka
1:10 pm: By-election for one casual vacancy in Andhra Pradesh Legislative Council and two casual vacancies in Bihar Legislative Council and biennial election to UP Legislative Council to be held on 28th January.
1:05 pm: We've completed the dry run for COVID19 vaccine at four sites in Goa. We are fully prepared with cold chain management system both in government depts & private sector. The cold chain management system is fully operational up to Primary Healthcare Centre level: CM Pramod Sawant
12:55 pm: Bird flu not found in any poultry farm in the affected area. We will temporarily restrict trafficking of poultry from Kerala and other affected states. We are keeping a watch on the situation: Madhya Pradesh CM Shivraj Singh Chouhan
12:30 pm: Cabinet has approved the signing of a Memorandum of Cooperation between the Government of India & Government of Japan, on a Basic Framework for Partnership for Proper Operation of the System Pertaining to "Specified Skilled Worker": GoI
12:00 pm: AIADMK expels K Arulanandam, party's Pollachi town Students Wing secretary in connection with his arrest in the Pollachi sexual assault case.
11:43 am: Supreme Court today adjourned the hearing to January 11, while noting that "we understand the farmers' situation", during the hearing in a petition filed by a lawyer, seeking quashing of Centre's three farm laws.
11:30 am: Union Home Minister Amit Shah to visit Mizoram on 9th and 10th January.
11:25 am: The total number of cases infected with the UK strain of the Coronavirus now stands at 71: Ministry of Health and Family Welfare
11:12 am: CM chaired a high-level meeting to review the bird flu situation. Instructions to monitor the entire situation at a district level have been issued & random checks on birds at poultry farms across districts to detect virus will be conducted: Madhya Pradesh minister Vishvas Sarang
11:10 am: Sourav Ganguly who is admitted here is doing well. He is clinically fit. He wanted to stay back in the hospital for one more today so he will go home tomorrow: Woodlands Hospital, Kolkata
10:40 am: Someone definitely wanted to do some harm to Indian Space Research Organisation(ISRO). The only solution is to catch the culprit & punish them. Not provide security to 2,000 scientists: ISRO scientist Tapan Mishra, on his allegations of being poisoned by arsenic three years ago
10:25 am: Eastern India Motion Picture Association writes to West Bengal CM Mamata Banerjee over the "resumption of cinema shows with 100 per cent seating capacity".
10:15 am: After confirmation of bird flu in Rajasthan, Madhya Pradesh, Himachal Pradesh & Kerala, Dept of Animal Husbandry & Dairying, GoI has set up a control room in New Delhi to take stock on a daily basis of preventive & control measures undertaken by State authorities: Govt of India
10:11 am: Kochi: K Ayyappan, Assistant Private Secretary of Kerala Assembly Speaker P Sreeramakrishnan skips appearing before Customs department today citing busy schedule due to upcoming Kerala assembly session. He was summoned in connection with dollar smuggling case.
9:55 am: Government of Delhi issues guidelines to reduce the weight of school bags for students of primary, secondary and senior secondary schools, under its School Bag Policy 2020; recommends maximum bag weight of 3.5-5kg.
9:45 am: Madhya Pradesh CM Shivraj Singh Chouhan to hold a meeting of relevant departments today over Bird flu scare.
9:35 am: Jammu and Kashmir: Heavy snowfall in Rajouri district leads to the closure of the Thanamandi-Bufliaz road.
9:15 am: BSE Sensex up 57 points in opening trade, currently at 48,495; Nifty at 14,227.
9:10 am: Gilgit-Baltistan: Students of Karakoram International University held protest march yesterday after the under-construction building of the University's engineering department was set on fire by unknown persons.
9:00 am: Narcotics Control Bureau, Mumbai has summoned actor Arjun Rampal's sister today, in connection with a drugs case: NCB officer
8:30 am: I have heard the hurtful language used against me. As the president of the BJP's state unit, he is a representative of the party itself. I am deeply hurt & want the matter to be taken cognisance of, & an apology issued: Indira Hridayesh, Congress leader & LoP, Uttarakhand

8:15 am: 3 more people have tested positive for UK variant of Covid-19 in Chennai. So far, 4 people have tested positive for the new variant of the virus: Tamil Nadu Health Secretary Dr Radhakrishnan in Chennai yesterday
8:00 am: Over 50 pro-democratic activists in Hong Kong have been arrested for breaking the city's contentious national security law, local media reported: Reuters
7:45 am: Thunderstorm with light to moderate rain would occur at isolated places over & adjoining areas of South, Southwest, Northwest Delhi, Rewari, Bhiwadi, Manesar, Gurugram, Palwal, and Muzaffarnagar during next 2 hours (issued at 6:15 am): India Meteorological Department
7:35 am: Grammy Awards ceremony due to take place on Jan 31 has been postponed because of coronavirus surge in Los Angeles, US: media reports
7:25 am: Over 50 birds including crows & pigeons have died in Baran district (of Rajasthan). Samples of the birds have been sent to a lab in Bhopal for the test: Baran Additional DM Mohammed Abubakr
7:10 am: On Wednesday, 18,088 new COVID-19 cases were reported in India with 3,478 deaths. The total number of cases now stand in-country is 1,03,74,932 cases, in which 2,27,546 are active and 99,97,272 have recovered. Total number of Fatalities in India has reached to 1,50,114.
Union Home Minister Amit Shah to visit Mizoram on 9th and 10th January.
Posted By: Niharika Sanjeeiv