Breaking News Latest Updates, Highlights of Jan 5
Breaking News Latest Updates, Highlights of Jan 5
Updated: Tue, 05 Jan 2021 06:28 PM IST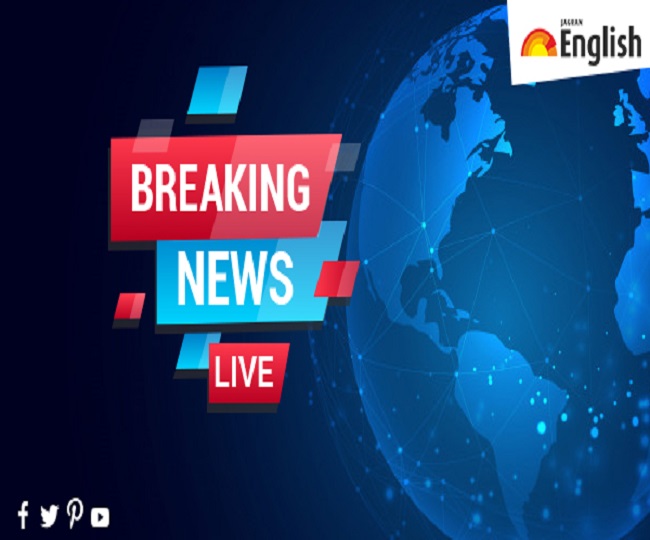 New Delhi | Jagran News Desk: Each and everything that happens around us impacts in some way and that's why it becomes important for us to know what's happening around the world. Thus at English Jagran, we provide our readers with 360-degree coverage in all genres to give them a brief insight about what's happening around the world.
Here are the Highlights of January 5:
3:15 pm: Delhi: Income Tax Department officials reach Robert Vadra's residence.
3:00 pm: We are fully aware of the importance of vaccines for people and countries alike, we hereby communicate our joint pledge to provide global access for our COVID-19 vaccines: Joint statement of Serum Institute of India and Bharat Biotech
2:45 pm: Bird flu is declared as state-specific disaster in Kerala and high alert has been issued after an outbreak of bird flu was confirmed in certain parts of Kottayam and Alappuzha districts: Kerala Government
2:30 pm: West Bengal Minister-of-State, Department of Youth Services and Sports Laxmi Ratan Shukla resigns from his post.
2:15 pm: Defence Minister Rajnath Singh met senior BJP leader Dr Murli Manohar Joshi on latter's birthday today.
2:00 pm: Madhya Pradesh Chief Secy & Additional Chief Secy (Home) apprised EC on action initiated by Economic Offence Wing in the direction issued by ECI in the matter concerning action on report of CBDT on extensive use of unaccounted cash during 2019 Lok Sabha polls: Election Commission
1:45 pm: Sensex up by 36.05 points, currently trading at 48,212.85
1:30 pm: Division bench of Kerala High Court declines to stay a single bench's order upholding central govt's decision to invoke provisions of UAPA against Senior CPIM Leader P Jayarajan and other five accused in connection with the murder case of RSS' Kathiroor Manoj.
1:15 pm: There's no connection b/w my Delhi visit & change of Maharashtra Congress Pres. I hold many posts, so there may be talks about it. I've told to party that if they've someone who can work for the party, I'm ready to resign as State Congress pres: Maharashtra Min Balasaheb Thorat
1:00 pm: Kazakhstan is producing 3 vaccines which are in 2nd & 3rd phase, there's been no official dialogue with India, but we know India has 2 vaccines, which is good.We're ready to talk for ordering India's vaccine after approval of both countries: Kazakhstan Ambassador to India, to ANI
12:45 pm: Nearly 400 crows have died due to viral infection so far in 7-8 districts of Madhya Pradesh. The virus is not found in poultry, it is airborne and there is no vaccine for it. We believe it came from Rajasthan: Dr RK Rokde, Director of Animal Husbandry Department, MP
12:30 pm: BCCI President Sourav Ganguly to be discharged from the hospital tomorrow, will be monitored at home on a daily basis: Dr Rupali Basu MD & CEO Woodlands Hospital, Kolkata
12:15 pm: The BJP govt has done a great disservice to that company which must have invested crores of rupees in research and development. In their quest to prove their 'Atmanirbhar Bharat' they have licensed a vaccine whose phase III trials are not complete: Congress leader Manish Tewari
12:10 pm: The BJP government has politically misused the COVID-19 pandemic in its entirety. The controversy over the vaccine is its latest manifestation. Who is going to get himself vaccinated with a vaccine that has question marks on its reliability: Congress leader Manish Tewari
12:00 pm: The total number of cases infected with the new strain of the novel Coronavirus first reported in the UK now stands at 58: Union Health Ministry
11:50 am: Former president of Mumbai Dabbawala Association Subhash Talekar was arrested by Ghatkopar police last night Case registered against him on a complaint filed by another dabbawala association: Mumbai Police
11:35 am: I do not want to talk about the reasons behind the rate of India's progress in previous decades. India cannot develop slowly now. In recent years, the country has increased its speed, scale, and scope of development: PM Narendra Modi
11:20 am: Police along with Army apprehended a person from Dabbi village in Balakote of Mendhar subdivision and recovered 300 grams of heroin-like substance from his possession: Poonch Senior Superintendent of Police
11:05 am: PM Narendra Modi inaugurates the Kochi-Mangaluru natural gas pipeline, via video conferencing; says, "It is an honour to dedicate the 450-km pipeline to the nation. This is an important day for India, especially for people of Karnataka and Kerala."
10:50 am: Prime Minister Narendra Modi attends the inauguration event of the Kochi-Mangaluru natural gas pipeline, via video conferencing. Governors and Chief Ministers of Karnataka and Kerala, along with Union Minister for Petroleum and Natural Gas present.
10:35 am: Supreme Court gives a go-ahead to the redevelopment plan of the Central Vista project
10:30 am: Central Vista project: Supreme Court says excercise of the power under DDA Act is just and valid. The recommendations of environmental clearance by Ministry of Environment is just, valid and proper and we uphold the same.
10:20 am: Supreme Court begins pronouncing its verdict on the petitions challenging the validity of the Centre's plan for the redevelopment of the Central Vista area.
10:10 am: CM Yogi Adityanath announces ex-gratia of Rs 10 lakhs each for famillies those who lost their lives in Muradnagar roof collapse incident. The National Security Act to be imposed on the accused.
9:55 am: KL Rahul sprained his left wrist while batting in the nets at the MCG during Team India's practice session on 2nd Jan. The wicketkeeper-batsman won't be available for the remaining 2 Tests of Border-Gavaskar Trophy as he will need about 3 weeks time to recover completely: BCCI
9:45 am: India reports 16,375 new COVID-19 cases, 29,091 recoveries, and 201 deaths in last 24 hours, as per Union Health Ministry Total cases: 1,03,56,845 Active cases: 2,31,036 Total recoveries: 99,75,958 Death toll: 1,49,850
9:35 am: France: Protesters, including Baloch, Pashtun, Hazara & French community held protest outside Canadian embassy in Paris seeking justice for Karima Baloch. Protesters are demanding thorough probe into the death of the Baloch activist in Toronto on December 22, 2020.
9:25 am: Dry run for #COVID19 vaccine rollout in all 75 districts of UP will begin at 10 am. It'll help us to identify gaps in preparation & take corrective steps so that everything is conducted smoothly when actual vaccination is done: Amit Mohan Prasad,Additional Chief Secretary(Health)
9:15 am: Minimum temperatures of 14.4 degrees Celsius and 13.2 degrees Celcius recorded at Palam and Safdarjung respectively: India Meteorological Department, Delhi
8:55 am: The total number of samples tested up to 4th January is 17,65,31,997 including 8,96,236 samples tested yesterday: ICMR
8:40 am: Coimbatore: Male elephant found dead at an agricultural land in Semmedu village near Alandurai in Boluvampatti forest range; Forest Department officials investigating the cause of death
8:20 am: Karnataka | Three interstate drug peddlers arrested and 200 gms MDMA worth Rs 15 lakhs recovered by Central Crime Branch, Bengaluru
8:00 am: Light to moderate rain/thundershowers and lightning are very likely to occur today during next three hours at an isolated places over Shamli, Baghpat, Ghaziabad, Meerut, Hapur Gautam Buddha Nagar districts and adjoining areas: IMD
7:45 am: Dry run for #COVID19 vaccine administration will be held across Uttar Pradesh today.
7:30 am: Supreme Court will pronounce its verdict on the petitions challenging the validity of the Centre's plan for the redevelopment of the Central Vista area, today
7:15 am: Thunderstorm with light to moderate intensity rain would occur over and adjoining areas of many places of Delhi, Rewari, Kosali, Bhiwarim Mahendargarh, Charkhidadri, Mattanhai, Farukhnagar, Jhajjar, Rohtak, Meham, Gohana, Jind, Sonipat, Kharkhoda, Panipat during next 2 hours: IMD
7:00 am: External Affairs Minister Dr S Jaishankar to embark on a three-day official visit to Sri Lanka today. During his visit, he will hold discussion with his counterpart Dinesh Gunawardena and Sri Lanka's leadership on the entire gamut of bilateral relations, said MEA
Posted By: Talibuddin Khan