Updated: Wed, 05 Jan 2022 04:59 PM IST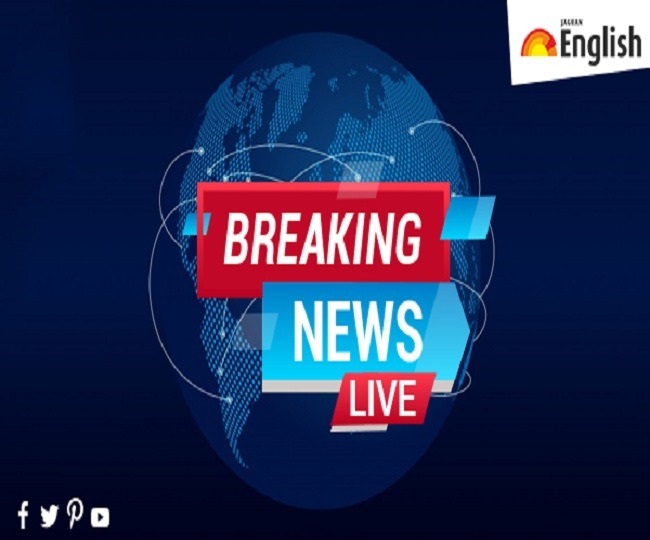 New Delhi | Jagran News Desk: In today's 'Breaking News, Latest Updates' blog, we at English Jagran will continue our focus on the COVID-19 pandemic. India over the past few days has been witnessing a spike in cases, thanks to the Omicron variant of COVID-19. Experts have warned that it's the beginning of the third wave, urging people to make sure that all appropriate COVID-19 norms are followed.
Meanwhile, we will also focus on the five-state assembly elections - Uttar Pradesh, Punjab, Uttarakhand, Goa and Manipur. Today, PM Modi will visit Punjab and lay the foundation stone of multiple development projects worth Rs 42,750 crore.
Here are the highlights of the day:
16:59 hours: Also Read - Jagran Explainer: What is IC15, India's first cryptocurrencies index | How will it benefit investors
16:28 hours: 108 Omicron-related deaths reported globally so far, says Union Health Ministry.
16:17 hours: 7.40 crore children between 15-18 years eligible for COVID-19 vaccination, says Union Health Ministry.
16:13 hours: The States of concern are Maharashtra, West Bengal, Delhi, Kerala, Tamil Nadu, Karnataka, Jharkhand, Gujarat where there has been a rise in cases. 28 districts in the country are reporting more than 10 per cent weekly positivity, says Union Health Ministry.
16:11 hours: India has reported a more than 6.3 times increase in cases in the last 8 days. A sharp increase seen in case positivity from 0.79 per cent on 29 December 2021 to 5.03 per cent on 5 January, says Union Health Ministry.
16:10 hours: 25.2 lakh cases were recorded globally on 4 January, the highest ever since the onset of the pandemic. Approximately 65 per cent of cases in the week ending 4 January reported from the USA, UK, France, Italy and Spain, says Union Health Ministry.
15:35 hours: All parties should responsibly conduct rallies and follow COVID guidelines for both big and small rallies. We are a cadre-based party, will also use technology to reach out to the people, says BJP National General Secretary CT Ravi.
15:18 hours: In view of the evolving COVID situation and rising number of new cases in Kolkata, BJP president JP Nadda's scheduled visit to West Bengal on January 9 and 10 stands postponed, says the state's BJP unit.
15:14 hours: Also Read - Jagran Explainer: How dangerous is the new 'IHU variant' and will vaccines work against it
14:35 hours: BREAKING: PM Modi has cancelled his scheduled visit to Punjab's Ferozepur to address a rally "due to some reasons", Union Minister Mansukh Mandaviya says.
14:31 hours: Just In: Bihar Cabinet approves an ex-gratia of Rs 4 lakhs each to the next of kin of those who lost their lives to COVID-19.
14:27 hours: Out of 60 COVID positive patients on a Cordelia cruise ship, 41 have been shifted to COVID-care center, hospital, and hotels, says Municipal Corporation of Greater Mumbai.
14:10 hours: Over 1 crore youngsters between 15-18 age group have received 1st dose of COVID-19 vaccine, says Union Health Minister Mansukh Mandaviya.
14:01 hours: Bihar Government cancels chief minister's 'Janta Darbar' and all events of 'Samaj Sudhar Abhiyan' due to rising cases of COVID-19.
13:44 hours: Congress has decided to postpone major rallies in Uttar Pradesh and other poll-bound states. We have asked state units to assess the COVID-19 situation in their states and take a decision on holding rallies, says party General Secretary (Organisation) KC Venugopal.
13:40 hours: Just In: Gujarat High Court bans entry of general public into its premises, makes it mandatory for 'party-in-person' to produce negative COVID certificate not older than 48 hours for entry.
13:16 hours: 61 resident doctors found positive for COVID-19 at JJ Hospital in Mumbai, says Maharashtra Association of Resident Doctors.
12:38 hours: Also Read - Jagran Explainer | How will Delhi-Amritsar-Katra Expressway build inroads for BJP in Punjab ahead of 2022 polls
12:35 hours: A staff member working at actor Amitabh Bachchan's bungalow 'Jalsa' has tested positive for COVID. He is asymptomatic, says Brihanmumbai Municipal Corporation.
12:14 hours: Supreme Court issues notices to Central and State governments on a PIL regarding the prevention of electrocution of elephants across the country.
12:00 hours: Delhi Government has instructed private hospitals to increase the number of reserved beds for COVID patients to 40 per cent from 10 per cent of their capacity. Nearly 2 per cent of beds are occupied in the government hospitals, says state Health Minister Satyendar Jain.
11:49 hours: It depends on the state governments, keeping in mind the situation in their states whether they want to organise rallies or not. No one should panic in this situation, we need planning, prevention and precaution to fight Covid, says Union Minister Mukhtar Abbas Naqvi.
11:35 hours: Delhi is likely to report around 10,000 COVID infections today, with the daily positivity rate rising to nearly 10 per cent. The third wave of COVID-19 has set in, says state Health Minister Satyendar Jain.
11:23 hours: 60 employees of BEST including bus drivers test positive for COVID-19 in Mumbai, as per BEST PRO.
11:14 hours: Bihar Deputy Chief Minister Tarkishore Prasad and Ministers Ashok Choudhary and Vijay Choudhary have also tested positive for COVID-19.
10:49 hours: Just In: Bihar Deputy Chief Minister Renu Devi and state Minister Sunil Kumar diagnosed with COVID-19, reports ANI.
10:35 hours: Just In: Shiromani Akali Dal (Sanyukt) president and Rajya Sabha MP Sukhdev Singh Dhindsa tests positive for COVID-19. Dhindsa says he was on his way to Firozepur to attend PM Modi's rally but returned after receiving the test report.
10:15 hours: BREAKING: Freedom fighter and BJP leader K Ayyappan Pillai passes away at the age of 107, reports ANI.
9:50 hours: Just In: DCGI's Subject Expert Committee (SEC) grants 'in principle' approval to Bharat Biotech for conduct of 'Phase III superiority study and Phase III booster dose study' for its intranasal COVID vaccine and asks it to submit protocols for approval, reports ANI.
9:31 hours: Just In: India reports 58,097 fresh COVID cases, 15,389 recoveries, and 534 deaths in the last 24 hours, says Union Health Ministry.
Daily positivity rate: 4.18 per cent
Active cases: 2,14,004
Total recoveries: 3,43,21,803
Death toll: 4,82,551
Total vaccination: 147.72 crore doses
8:45 hours: Light to moderate intensity rain would occur over and adjoining areas of entire Delhi and NCR (Bahadurgarh, Ghaziabad, Indirapuram, Noida, Dadri, Greater Noida, Gurugram, Faridabad, Manesar) during next 2 hours (issued at 8 am), says IMD.
8:18 hours: North Korea fired a suspected ballistic missile off its east coast, reports Reuters.
8:06 hours: Just In: One terrorist killed in an anti-terror operation in Pulwama district of Jammu and Kashmir, say police.
8:00 hours: Delhi AQI is presently at 369 (overall) in the 'very poor' category, as per SAFAR.
7:54 hours: I think that if we can close schools and colleges then rallies should also not happen. As per the central government's guidelines, there are no restrictions on rallies. Soon CM will call a Corona review meeting and will take a decision on it, says Punjab Health minister OP Soni.
7:45 hours: In the wake of the latest guidelines issued by DDMA, Delhi Metro will be running with 100 per cent seating capacity. However, no standing passengers will be allowed till further notice, says Delhi Metro Rail Corporation.
7:31 hours: In India, there are no expiry dates for bridges and as a result, we have faced many accidents and deaths. I always tell people that financial audit is important but performance audit, quality construction audit is even more important, Union Minister Nitin Gadkari said yesterday.
7:22 hours: PM Modi to visit Punjab's Ferozepur today. PM will lay foundation stone of multiple development projects worth more than Rs 42,750 crore. These projects include Delhi-Amritsar-Katra Expressway, PGI Satellite Centre at Ferozepur and two new medical colleges at Kapurthala and Hoshiarpur, says Prime Minister Office.
Posted By: Aalok Sensharma