Updated: Wed, 19 Jan 2022 04:08 PM IST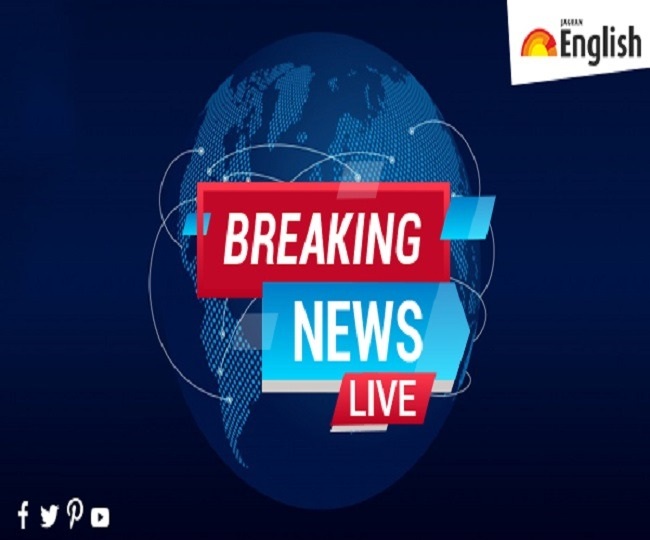 New Delhi | Jagran News Desk: In today's 'Breaking News, Latest Updates' blog at English Jagran, we will continue our focus on the assembly elections in five states - Uttar Pradesh, Punjab, Uttarakhand, Goa and Manipur. Today, Aam Aadmi Party (AAP) national convenor Arvind Kejriwal will announce the party's Chief Ministerial candidate for Goa.
Besides the five-state assembly elections, we will also focus on the COVID-19 pandemic. India, over the past two days, has been witnessing a dip in daily cases. Experts have said that the third wave has reached its peak in Delhi, Mumbai and Kolkata, and the country will unlikely see daily cases cross the four lakh-mark.
Here are the highlights of January 19:
16:07 hours: Also Read - Jagran Exclusive: Founder of India's first diving grant wants an Indian to lead global narrative on climate change
15:43 hours: Puducherry reports 1849 new COVID-19 cases, 895 recoveries and 3 deaths in the last 24 hours. Active cases stand at 11,344. Test positivity rate at 30.23 per cent, says UT health department.
15:30 hours: The Union Cabinet has approved the extension of tenure of the National Commission for Safai Karamcharis for three years beyond 31 March 2022, says Union Minister Anurag Thakur.
15:28 hours: The Union Cabinet has approved scheme for grant of ex-gratia payment of difference between compound interest and simple interest for six months to borrowers in specified loan accounts, says Union Minister Anurag Thakur.
15:26 hours: The Union Cabinet has approved infusion of Rs 1,500 crore in Indian Renewable Energy Development Agency Limited (IREDA). This will enable IREDA to lend Rs 12,000 crores to the renewable energy sector, says Union Minister Anurag Thakur.
15:24 hours: Also Read - OPINION: What we can expect from Union Budget 2022 and how it might help India revive pandemic-hit economy
15:07 hours: PM Modi will host the first meeting of the India-Central Asia Summit, with the participation of the Presidents of Kazakhstan, Kyrgyz Republic, Tajikistan, Turkmenistan and Uzbekistan, in a virtual format on 27 January, says MEA.
15:00 hours: 17,776 new COVID-19 cases reported in Uttar Pradesh in the last 24 hours. Active cases stand at 98,238. Till yesterday, 45 per cent population in 15-18 age group vaccinated with first dose and over 40 per cent eligible population administered the 'precautionary dose', says state government.
14:24 hours: State-owned Non-Banking Financial Companies, Power Finance Corporation and REC Ltd have further reduced their lending rates across all types of loans by 40 Bps. In last about one year, both the organisations have reduced lending rates cumulatively by upto 3 per cent, says Union Power Ministry.
14:05 hours: Also Read - Jagran Explainer: Is 5G rollout near airports a threat to airline safety? Here's what you should know
13:16 hours: The positivity rate has come down from 30 per cent to 22.5 per cent and the total number of cases in Delhi has also decreased. However, the positivity rate is not low enough that we can relax the COVID restrictions, says Delhi Health Minister Satyendar Jain.
There is not much occupancy in hospitals and beds are also vacant. We are doing more testing in Delhi. Today around 24 per cent positivity rate will come with around 13,000 COVID cases, he adds.
12:58 hours: Also Read - Aparna Yadav, the 'chhoti bahu' of Mulayam Singh Yadav who ditched SP to join BJP | All you need to know about her
12:30 hours: Tamil Nadu Assembly Opposition leader and former CM Edappadi K Palaniswami demands "closure of government-run TASMAC liquor shops till COVID19 situation in the State come under control".
12:30 hours: BREAKING: Amit Palekar will be AAP's chief ministerial candidate for the Goa assembly polls, announces Arvind Kejriwal.
12:10 hours: The number of daily new COVID-19 cases is decreasing and the overall situation is under control. Hospitalisations are less in number. We are using our full potential to increase testing and vaccination coverage, says Maharashtra Health Minister Rajesh Tope.
11:49 hours: The high command takes the decision on it (alliance). To stop BJP in Maharashtra, Sonia Gandhi helped them. In other states (in Goa), the Congress situation is good so there is no need to take them (Shiv Sena and NCP) together, says Maharashtra Congress chief Nana Patole.
11:39 hours: Supreme Court summons Chief Secretaries of Andhra Pradesh and Bihar for non-payment of ex-gratia compensation to the kin of the victims of COVID-19 despite the earlier orders of the court. The top court has asked them to be present before it through virtual hearing at 2 pm today.
11:21 hours: Congress Central Election Committee (CEC) meeting for Uttarakhand Assembly polls to be held tomorrow at 5 pm, reports ANI.
11:01 hours: Also Read - Assembly Elections 2022: How BJP plans to hold rallies in five states in 'hybrid mode' | Jagran Explainer
10:21 hours: More than 158.46 crore COVID-19 vaccine doses have been provided to states and UTs. Over 12.84 crore balance and unutilized vaccine doses are still available with States/UTs to be administered, says Union Health Ministry.
9:54 hours: We held discussions with Congress but no outcome came out of it. Shiv Sena and NCP tried to form a 'Maha Vikas Aghadi' like of Maharashtra in Goa but Congress leaders think they can get the majority on their own, says Shiv Sena leader Sanjay Raut.
9:30 hours: BREAKING: India reports 2,82,970 COVID cases (44,889 more than yesterday), 441 deaths, and 1,88,157 recoveries in the last 24 hours, says Union Health Ministry.
Active case: 18,31,000
Daily positivity rate: 15.13 per cent
8,961 total Omicron cases detected so far; an increase of 0.79 per cent since yesterday
9:05 hours: BREAKING: Samajwadi Party chief Akhilesh Yadav will contest Uttar Pradesh assembly elections 2022, reports ANI.
8:49 hours: 84 people including trainee IAS officers and employees of the Lal Bahadur Shastri National Academy Of Administration (LBSNAA) tested positive for COVID-19 during health screening yesterday, says Uttarakhand health department.
8:37 hours: Mizoram reports 1,312 new COVID-19 cases and one death. Active cases stand at 9,012, says state health department.
8:01 hours: 21 more police personnel have tested positive for COVID-19 in Pune city yesterday. The number of infected police personnel in the city rises to 504, says Pune Police.
7:35 hours: Mumbai Police says 28 of its personnel tested positive for COVID-19 in the last 24 hours, taking the number of active cases in the force to 1,273.
7:28 hours: Congress thinks it can fight the Goa Assembly elections on its own. It is up to them. We are not talking to them anymore. NCP and Shiv Sena will fight this election together. NCP will definitely win a few seats in Goa, says NCP's Praful Patel.
7:10 hours: Matters related to farmers and the organisation were discussed in 3-day brainstorming session... The biggest victory of the farmers' agitation is that political parties now think about them. We will not support anyone in this election, says BKU leader Rakesh Tikait.
7:05 hours: Arvind Kejriwal to announce AAP's CM face for Goa assembly elections today.
Posted By: Aalok Sensharma