Breaking News, Latest Updates, Highlights of January 15
Stay tuned to Jagran English to catch all the LIVE updates of January 15
Updated: Wed, 15 Jan 2020 05:33 PM IST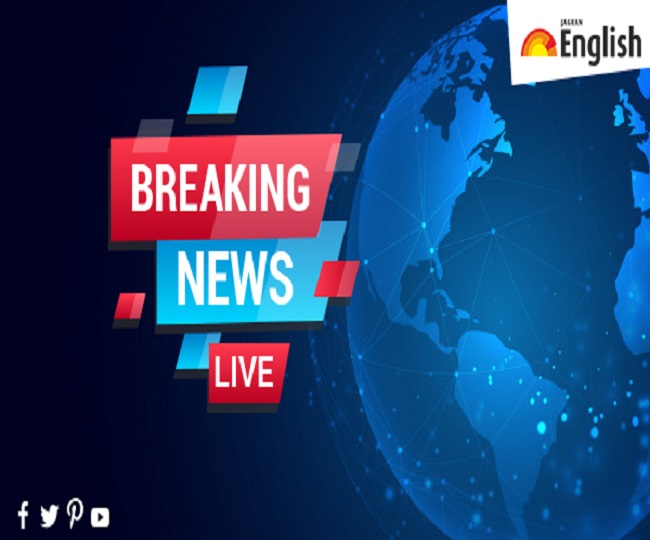 New Delhi | Jagran News Desk: Jagran English focuses on all the top news of the day to keep our readers stay updated with all the real-time trends on breaking news from India and across the world.
Here are the Highlights of January 15:
4:53 pm: Digivijaya Singh: Zakir Naik in a statement has said that in Sept 2019, Modi ji and Shah ji sent a messenger to him that if he supports abrogation of article 370 then Govt will withdraw all cases&he will be allowed to come back.Why haven't Modi ji and Shah ji condemned this yet?
4:40 pm: French diplomatic sources: France has noted request of a UNSC member to raise Kashmir issue again in this body.France's position is unchanged- Kashmir issue must be settled bilaterally as we have stated on several occasions&will continue to reiterate to our partners on UNSC
4:30 pm: Unnao rape case: Expelled BJP MLA Kuldeep Singh Sengar has approached Delhi High Court challenging his conviction by the trial court. He has also challenged the Court's judgement which awarded him life imprisonment.
4:20 pm: Bombay High Court has appointed 3-member committee headed by retired HC Judge S Radhakrishnan to expeditiously recover dues payable by Housing Development Infrastructure Limited to crisis-hit Punjab&Maharashtra Cooperative (PMC) Bank by valuation&sale of encumbered assets of HDIL
4:10 pm: Union Minister Dharmendra Pradhan has written to Odisha CM Naveen Patnaik, seeking reservation for Other Backward Classes (OBCs) in government jobs & educational institutions and for Socially Educationally Backward Classes (SEBCs) in educational institutions in Odisha.
4:00 pm: Government sources: All states have issued re-notification of National Population Register (NPR). Kerala and West Bengal have communicated to the Centre to put NPR on hold.
3:45 pm: Harun Hafaz was wanted in many terrorist incidents including killing of political activists & weapon snatching in Kishtwar. He was an associate of Osama Javed, Hizbul Mujahideen commander, Kishtwar who was killed at Ramban by police & security forces.
3:35 pm: Asha Devi, mother of 2012 Delhi gang-rape victim: Either lawyers of the convicts are trying to delay execution or our system is blind & is supporting criminals. I'm struggling since 7 years. Instead of asking me, you should ask the govt if convicts will be hanged on Jan 22 or not
3:25 pm: Delhi's Karkardooma Court adjourns its verdict for January 18, in 2013 kidnapping and rape case of five-year-old girl.
3:20 pm: Hamdullah Mohib, National Security Advisor of Afghanistan at an event in Delhi: With India, we've increased trade significantly, by opening the air trade corridor. India has been a key partner that recognises&shares our vision for a peaceful and prosperous Afghanistan
3:10 pm: 2012 Delhi gangrape case: Delhi High Court refuses to set aside the trial court order which issued death warrant. Delhi HC asks convict Mukesh's counsel to approach trial court and apprise the court about the pending mercy plea.
3:00 pm: Gandhinagar: Union Home Minister Amit Shah at foundation stone laying ceremony of Bhartiya Kaushal Sansthan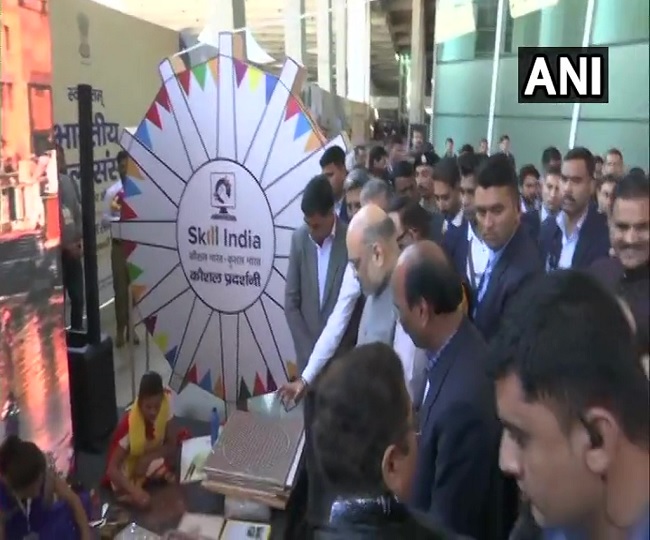 2:50 pm: Ghaziabad: Police found Gaurav Chandel's car (he was shot dead by unidentified assailants in Noida Sector 123 earlier this month), in Akash Nagar last night. Neeraj Jadon, SP Ghaziabad (Rural) says,"We are checking all CCTV footage. Matter is under investigation".
2:40 pm: The plea says,'Provisions of the NIA Act leave no room for coordination & pre-condition of consent, in any form whatsoever, by Central Government from the State Government which clearly repudiates the idea of state sovereignty as envisaged under the Constitution of India'
2:30 pm: Chhattisgarh Government has filed a plea in the Supreme Court challenging the validity of National Investigation Agency (NIA) Act, 2008 seeking direction to declare it unconstitutional.
2:20 pm: Former Congress MLA from Delhi, Rajkumar Chauhan, who had joined BJP last year, leaves after meeting Congress interim President Sonia Gandhi
2:15 pm: Ranchi: Former Bihar Chief Minister Lalu Prasad Yadav will be produced before special Central Bureau of Investigation (CBI) court tomorrow in connection with fodder scam case. He is undergoing treatment at Rajendra Institute of Medical Sciences (RIMS).
2:05 pm: Delhi: 'Langar' being prepared in #ShaheenBagh where people have been sitting on a protest for last one month against #CAA and #NRC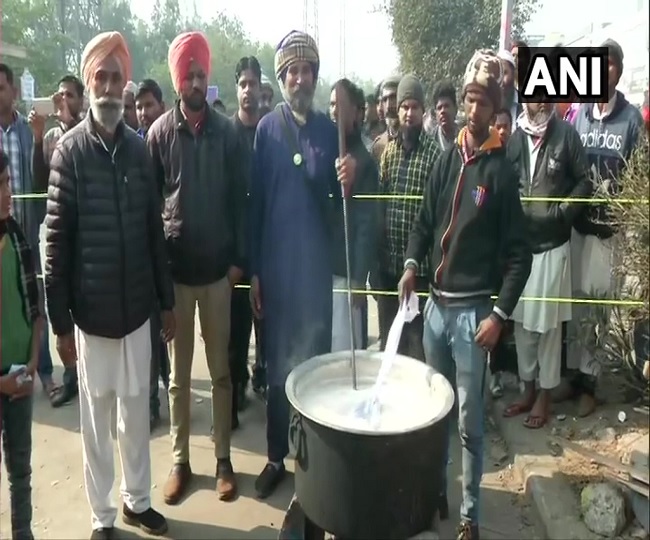 2:00 pm: Mumbai: Vikash Sachdeva, who has been convicted for molesting a Bollywood actress on-board a flight has been sent to 3 years of imprisonment by Special Protection of Children from Sexual Offences (POCSO) Court.
1:55 pm: Advocate Rahul Mehra, Standing Counsel for Tihar Jail authorities says, 'Execution of convicts(2012 Nirbhaya case) will surely not take place on January 22'. He further stated that fate of a death convict comes to finality only after his mercy plea is rejected by the President. It can only take place 14 days after the mercy plea is rejected as we are bound by the rule which says that a notice of 14 days must be provided to the convicts after the rejection of mercy plea'
1:50 pm: Kerala:State Cabinet decided to acquire 1351 acres land for setting up integrated manufacturing cluster in Palakkad as part of extending Chennai-Bengaluru industrial corridor to Kochi via Coimbatore. Kerala Infrastructure Investment Fund Board(KIIFB) to help raise Rs 1038 cr fund
1:45 pm: Sanjay Singh, AAP: When someone doesn't get a ticket, it is natural that they get hurt. Such statements are common when you don't get a ticket.
1:40 pm: Tamil Nadu: Ink being applied by AIADMK workers on index finger of people during distribution of gifts, for #Pongal, in Chennai. Gift distribution was organised in Saidpet by AIADMK's ex-district secy MM Babu. Min D Jayakumar, and party leaders V Maitreyan & others participated.
1:35 pm: Central Bureau of Investigation has registered preliminary inquiry into alleged violations of Master Plan of Patnitop (J&K) by hotel owners, in conspiracy with public servants at Patnitop Development Authority & others. A team of more than 30 officers has been constituted.
1:30 pm: Dr. Vinod, Madurai Assistant Director: 31 participants injured during #Jallikattu competitions in Madurai's Avaniyapuram. 6 people admitted to Rajaji Hospital in Madurai for treatment
1:25 pm: Mumbai: Vikas Sachdeva, a man accused of molesting a Bollywood actress on-board a flight, has been convicted by a court in Dindoshi under Section 8 of POCSO Act and Section 354 of IPC. Arguments on quantum of sentence to be held later today.
1:20 pm: Iran Foreign Minister Javad Zarif:The US didn't like General Soleimani, although he was the single most effective force against Daesh, if you don't believe me see they are celebrating. Who are celebrating the death of Soleimani, not the ordinary people, but Trump, Pompeo&Daesh.
1:15 pm: Maharashtra: Nagpur bench of Bombay High Court, while hearing an application by petitioners in Vidarbha irrigation scam over transfer of cases to CBI, has posted all issues and prayers for 'Commission of Inquiry' to February 13.
1:08 pm: Mysuru Bar Assn Pres: Our members submitted a requisition,requesting none of our lawyers should represent Nalini (who displayed 'Free Kashmir' placard during protest against JNU Violence,at Mysuru University)*.We discussed&decided not to represent or provide legal services to her
1:05 pm: Iran Foreign Min Javad Zarif on killing of Iranian military commander Qasem Soleimani: 10 million people turned out on streets of not only Tehran but various cities in Iran,Iraq,India&Russia, to commemorate him. So, US needs to think again about our region. They're making mistake
1:00 pm: Indian Army: District Commander of Hizbul Mujahideen, Harun Hafaz has been gunned down by security forces in an encounter in Doda.
12:50 pm: Iran Foreign Minister Javad Zarif, in Delhi: I think developments over past few weeks are very sad reflections of a very serious problem in United States' thinking about the region. They look at things from their own perspective&not the perspective of the people of the region.
12:45 pm: Enforcement Directorate (ED) has arrested GSC Raju - promoter of M/s Leo Meridian Infrastructure Projects & Hotels Ltd. (M/s LMIPHL) and his close associate AV Prasad under the provisions of PMLA in a bank loan and siphoning of funds fraud case, amounting to Rs 1768 Crore
12:35 pm: Faraz Fathmi, RJD MLA: I don't know why he (Tejashwi Yadav) is taking out a rally against NRC, when the state government has cleared that they will not implement it in the state. There is no bigger face than Nitish Kumar in Bihar and he will only form government in 2020.
12:30 pm: Iranian Foreign Minister Javad Zarif and National Security Advisor Ajit Doval met in Delhi today. (pic source: IRNA News Agency)
12:20 pm: Delhi: Questioning of Dolan Samanta begins at JNU Admin block. A team of Forensic Science Laboratory (FSL) reached JNU campus (Admin block) to retrieve data from the server room.
12:15 pm: Iran Foreign Minister Javad Zarif on being asked 'how you see the entire development in the region': Very dangerous
12:12 pm: Supreme Court today allowed the plea and granted parole for four weeks to Balwan Khokhar, a co-convict with Congress MP Sajjan Kumar, in a 1984 anti-Sikh riots case, to perform his father's last rites.
12:10 pm: After case related to Deputy SP Davinder Singh (arrested J&K cop) was handed over to NIA, National Investigation Agency (NIA) Director General YC Modi met Home Secretary Ajay Kumar Bhalla today. A team, headed by IG level officer, to go to Jammu and Kashmir for investigation.
12:05 pm: Sitting AAP MLA from Badarpur, ND Sharma: Manish Sisodia had called me to his residence saying that Ram Singh (who has been given ticket from Badarpur) wants a ticket from your constituency by paying Rs 20-21 Crore. He demanded Rs 10 cr from me. I left from there after refusing. I have resigned from the party. I will contest election as an independent candidate.
12:00 pm: Supreme Court has refused to entertain a plea challenging the Madras High Court order, which ordered to conduct #Jallikattu in various districts of Tamil Nadu, under supervision of monitoring committees headed by a retired district judge.
11:55 am: Delhi: New DG Central Reserve Police Force (CRPF) AP Maheshwari assumes office. ITBP DG SS Deswal, who was given additional charge of CRPF, passes on the baton to Maheshwari.
11:50 am: Mysuru Bar Assn Pres, S Anand Kumar: Our members have submitted a requisition to assn, requesting none of our lawyers should represent Nalini (convict in Rajiv Gandhi assassination case). We have discussed the matter and decided not to represent or provide legal services to her.
11:45 am: Russian Foreign Minister Sergey Lavrov, in Delhi: India and Brazil should absolutely be at the United Nations Security Council (UNSC). Developing countries should be given adequate representation there. Where RCEP (Regional Comprehensive Economic Partnership) is concerned, we have to look at the cost and benefit. We will evaluate RCEP on its economic and trade merit. We have not closed our mind to it.
11:40 am: Delhi: Protesters from Punjab, including members of Bharatiya Kisan Union (Ekta Ugrahan), join the protest at Shaheen Bagh where people are demonstrating against #CitizenshipAmendmentAct and National Register of Citizens (NRC).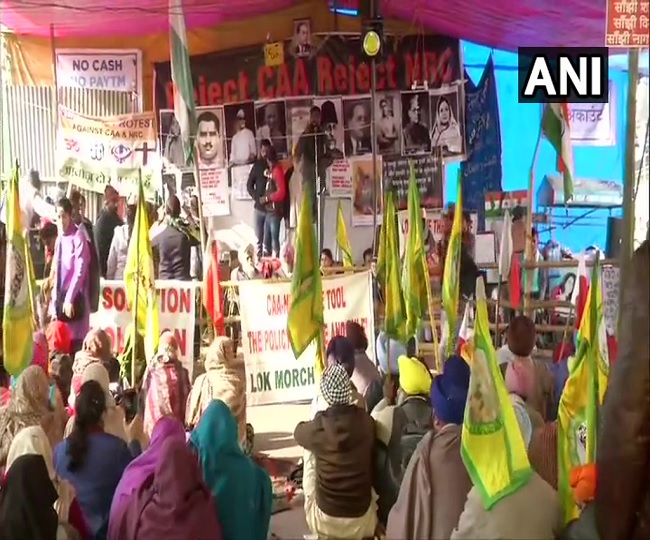 11:35 am: Asha Devi, mother of 2012 Delhi gang-rape victim on convict Mukesh approached Delhi HC seeking to set aside trial court's order issuing death warrant: He can do whatever he wants. But everything is crystal clear. SC & HC know everything. I hope his request will be dismissed.
11:30 am: Karnataka CM BS Yediyurappa after he had an argument with Panchamasali Mutt seer Vachananda Swami on stage at an event in Haveri yesterday: There has been no discussion yet about accommodating ministership to Panchamasali Lingayat community.
11:25 am: Karnataka CM BS Yediyurappa:17 legislators had quit for me to become CM. It's their sacrifice&Panchamasali Mutt's blessings with which I've become CM. You can suggest me how to govern for 3 yrs, but if you aren't willing to accept my request then I'm ready to quit&go home
11:20 am: External Affairs Minister S Jaishankar, in Delhi: I think it is not India's way to be a disruptionist power internationally, I think we should be a stablising power. There are already enough forces of disruption in the world. Somebody needs to make up a bit. It is also not the India way to be self-centered, to be mercantilist. Therefore it's important to be global, law abiding, consultative. India way would be a country which brings its capacities to bear on the inter-natal system for global good, which is a net security provider; which is firm in dealing with challenges like terrorism, which has its values, which addresses global issues like climate change.
11:15 am: Karnataka: An argument broke out b/w CM BS Yediyurappa&Panchamasali Mutt seer Vachananda Swami on stage at event in Haveri as Vachananda Swami demanded ministership for Murugesh Nirani; said,"Yediyurappa will lose support of Panchamasali Lingayaths, if not accommodated."
11:10 am: The plea has sought inquiry into role of 62 policemen named in 1984 anti-Sikh riots case.
11:05 am: Centre tells SC that it has accepted Justice Dhingra committee report in role of Delhi Police in 1984 anti-Sikh riots, & will take action accordingly. SC allows petitioner SGS Kahlon, of Delhi Sikh Gurdwara Mgmt Committee, to file suggestion on the report submitted by the SIT.
11:00 am: PM Modi tweets, "Our Army is known for its valour&professionalism. It is also respected for its humanitarian spirit. Whenever people have needed help, our Army has risen to the occasion&done everything possible. Proud of our Army. I pray for good health of Shamima&her child."
10:55 am: Delhi: #ArmyDay celebrations is underway at the Army Parade ground, Delhi Cantt. Army chief General Manoj Mukund Naravane is now conferring medals upon the jawans.
10:50 am: Delhi: Komal Sharma, a student of Delhi University, approached National Commission for Women (NCW), complaining that her name has been maligned. NCW has written to the media houses as well as to Delhi Police to look into the matter.
10:45 am: Russian Foreign Minister Sergey Lavrov, in Delhi when asked on his idea of a greater Eurasia: It's not that we're against philosophical terminology but it must be understandable. We used to say Asia-Pacific region, the reason - Indian Ocean condition. When people say we want to develop cooperation in Asian-Pacific in form of Indo-Pacific strategies, you immediately ask - Do you include African countries? Persian Gulf? No. Do you include all those who have been know as part of Asian-Pacific region? Yes. Why do you need to call it Asian-Pacific? You know the answer, the answer is to contain China. It's not even hidden. The Indian friends are smart enough to understand this threat & not to get into it.
10:40 am: Syro-Malabar Church: Syro-Malabar Media Commission report says Christian girls are targeted & killed in the name of 'love Jihad'. It is a matter of concern that 'love Jihad' is increasing in Kerala causing danger to the secular harmony & societal peace in Kerala.
10:35 am: Delhi: General Bipin Rawat takes the salute as the Chief of Defence Staff (CDS) at the #ArmyDay2020 parade.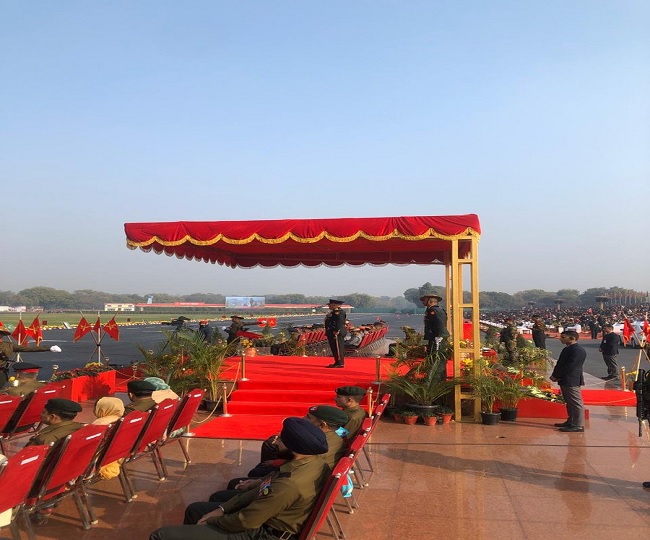 10:30 am: Delhi: A JNU student named Komal Sharma approached National Commission for Women (NCW), complaining that her name has been maligned. NCW has written to the media houses as well as to Delhi Police to look into the matter
10:20 am: Mayawati: Along with new police system, there has be willingness to act against criminals. I don't think law&order situation is going to improve in UP. There are several criminal elements in BJP but no action is taken against them. UP mein kanoon ka raj nahi, 'jungle raj' hai.
10:15 am: Indian Army's Capt Tanya Shergill, who is the first woman officer as Parade Adjutant on #ArmyDay Parade this year.
10:10 am: Russian Foreign Minister Sergey Lavrov, in Delhi: We are convinced that the overriding trend of the global development is the objective process of the formation of new centres of economic might, financial power and political influence, India is obviously one them.
10:00 am: Delhi Police: Notices have been issued to Chunchun Kumar & Dolan Samanta (who were named as suspects by Delhi Police) in connection with #JNUViolence, for questioning. FSL team is also coming to JNU today. Efforts are being made to trace Akshat Awasthi, Rohit Shah & Komal Sharma.
9:40 am: J&K: 2G mobile connectivity on post paid for accessing white-listed sites, including for e-banking, being allowed in the districts of Jammu, Samba, Kathua, Udhampur and Reasi with effect from today & it will remain in force for 7 days, unless modified earlier. Visual from Jammu.
9:30 am: Himachal Pradesh: National Highway-5 blocked near Bhawanagar in Kinnaur district, due to landslide.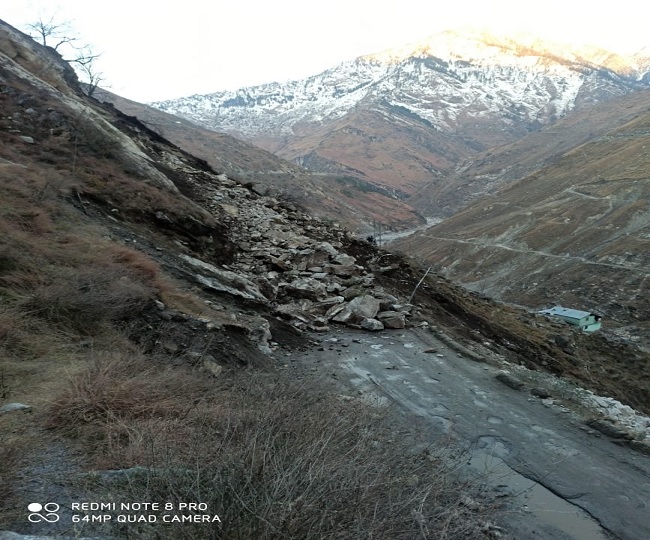 9:20 am: Bahujan Samaj Party (BSP) Chief Mayawati: BJP led Central govt is also following the path of Congress party. It is misusing its powers for political gains. Wrong policies of govt has led to disturbance&law&order situation across the country, which is a matter of national concern.
9:10 am: Delhi: Chief of Defence Staff (CDS) General Bipin Rawat, Army chief General Manoj Mukund Narawane, chief of the Air Staff Air Chief Marshal RKS Bhadauria and Navy chief Admiral Karambir Singh pay tribute at the National War Memorial on #ArmyDay2020 today.
9:00 am: Michael Patra to be new Deputy Governor of RBI
8:50 am: Sources: The file relating to the appointment of Taranjit Singh Sandhu as India's Ambassador to the US has been cleared by the competent authority but the govt is yet to make an official announcement about it.
8:40 am: After being forced to retire from her Australian Open qualifying match, Slovenia's Dalila Jakupovic slammed the organisers of the tournament, saying the tennis players expected them to take better care.
8:30 am: High Commissioner of India to Sri Lanka, Taranjit Singh Sandhu (in pic) will take charge as India's Ambassador to the US. He will succeed Harsh Vardhan Shringla, who will take charge as the Foreign Secretary.
8:15 am: Gujarat: Harvest festival of Uttarayan was celebrated in the state yesterday. People flew kites as a part of the celebration. Visuals from the 'Statue of Unity' at Sardar Sarovar Dam in Kevadia. (Pic courtesy: PM Narendra Modi's Instagram page)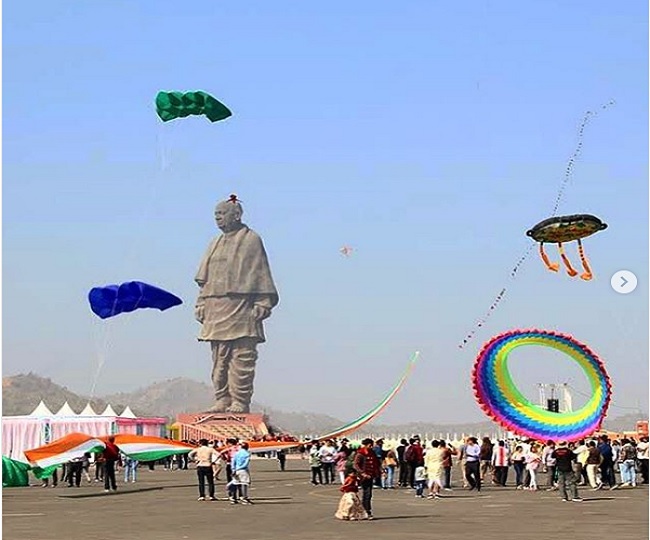 8:10 am: Tamil Nadu: #Jallikattu event begins at Avaniyapuram in Madurai. 730 bulls in Avaniyapuram, 700 bulls in Alanganallur and 650 bulls in Palamedu are participating in Jallikattu competitions this year.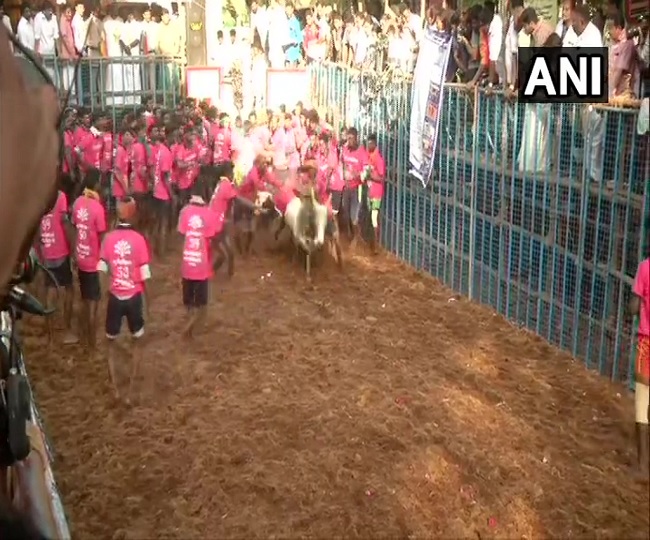 8:05 am: Retired Principal District Judge C Manickam: We've divided the players into a batch of 75 each, 60 bulls will be released one by one in one go. Top police officials are present at the spot to deal with any situation. #Jallikattu
8:00 am: Tamil Nadu: Retired Principal District Judge C Manickam, who has been appointed by the Madurai Bench of the Madras High Court, visits the venue in Madurai where #Jallikattu event will be held today, to examine the arrangements made.
7:50 am: An IndiGo pilot has been accused of allegedly verbally abusing and threatening a passenger and her elderly, wheelchair-bound mother on a Chennai-Bengaluru flight yesterday.
7:40 am: Kerala: State Youth Commission held 1st transgender 'adalat' y'day in Trivandram.50 complaints were registered in the court, besides suggestions from transgenders from across the state.Based on them,Youth Commission will recommend state govt for speedy redressal of their problems
7:30 am: IndiGo: We're aware of complaint raised by a passenger on Chennai-Bangalore flight last night. Matter is under internal review&necessary action will be taken. Our team is in touch with the customer to ensure her concern is understood well&to help avoid such experiences in future
7:25 am: Delhi: Major pollutants PM 2.5 at 205 & PM 10 at 185, in 'Poor and 'Moderate' categories respectively, in Lodhi Road area, according to the Air Quality Index (AQI) data.
7:20 am: BH Anil Kumar, Commissioner BBMP says,"despite repeatedly cleaning those black spots, people kept using those places for urinating. So we came up with this idea. We have also given a QR Code which will help people locate the nearest public toilet."
7:10 am: Karnataka: As part of Swachh Survekshan 2020, Bruhat Bengaluru Mahanagar Palike (BBMP) has installed mirrors in five locations across the city to deter people from urinating in public and eliminate public urination spot.
7:00 am: 18 trains are running late due to low visibility in the Northern Railway region.
Posted By: Talib Khan