Breaking News, Latest Updates, Highlights of January 14
Stay tuned to Jagran English to catch all the LIVE updates of January 14
Updated: Tue, 14 Jan 2020 05:28 PM IST
New Delhi | Jagran News Desk: Jagran English focuses on all the top news of the day to keep our readers stay updated with all the real-time trends on breaking news from India and across the world.
Yesterday, top leaders from opposition parties including Congress are likely to meet in New Delhi where they will discuss about CAA, NRC and the recent attacks on the campuses and universities. The meet will be convened by Congress president Sonia Gandhi.
Here are the Highlights of January 14:
5:30 pm: Indian Army: In a snow slide in Machhil sector, teams have been engaged in rescue of 5 soldiers, out of which 4 have been pulled out of snow. Search for another soldier is still underway. 2 soldiers are non responsive, for whom medical care is hampered due to inclement weather.
5:25 pm: Karnataka: Congress senior leader and former Karnataka minister KJ George has been summoned by Enforcement Directorate (ED), in connection with a case related to Foreign Exchange; he has to appear before ED on 16 January, 2020
5:23 pm: Karnataka Home Minister, Basavaraja Bommai: Two suspected terrorists from Kerala, have been picked up by us from the Udupi railway station.
5:20 pm: Chief Minister Office, Himachal Pradesh: CM Jairam Thakur ji with the Guinness World Records' certificate for the feat achieved by the Himachal Pradesh Tourism Development Corporation (HPTDC) for cooking 1995 kg serving of beans&rice at Tattapani Tourism Festival.
5:15 pm: India vs Australia, 1st ODI: India all out at 255 in 49.1 overs.
5:10 pm: Himachal Pradesh: Pooh village in Kinnaur district covered in a blanket of snow.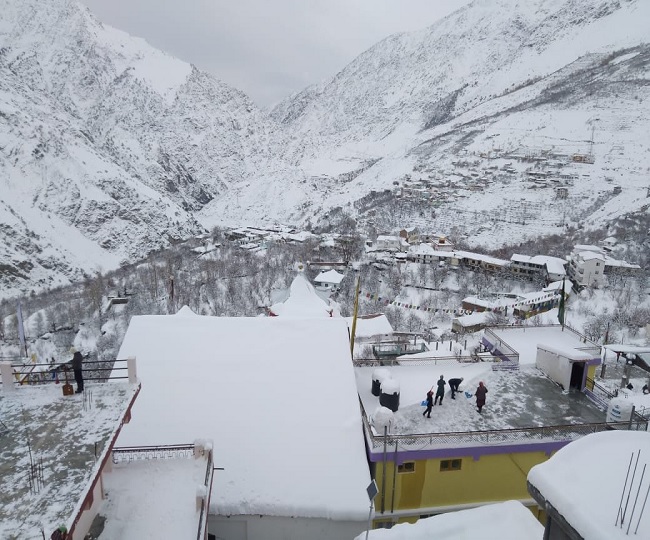 5:03 pm: CRPF Inspector General (IG) GHP Raju: CRPF Constable Ramanuj Yadav has got injured in an IED blast planted by naxals between Mahadev Ghati and Chinnakodepal area of Bijapur District. He is being air lifted to Raipur for immediate and specialist medical attention.
5:00 pm: Delhi Government: Consequent upon attaining the age of superannuation, Delhi Commissioner of Police, Amulya Kumar Patnaik shall stand retired from government services with effect from 31st January 2020.
4:55 pm: Delhi: Puducherry Chief Minister V Narayanasamy met Finance Minister Nirmala Sitharaman today, and requested to release immediately the GST compensation amount payable to Puducherry.
4:50 pm: Tamil Nadu: Students of Madurai College take part in Pongal festival celebrations, in Madurai.
4:45 pm: Indian Army: Six seriously ill tourists who were suffering from effects of frostbite and High Altitude Pulmonary Odema (HAPO) were evacuated by the helicopters to the Army medical facility in Leh.
4:35 pm: Government Sources - In JNU violence case, out of 43 suspects, 34 people who were members of a WhatsApp group will be sent notices by Delhi Police. Total 8 suspects have been examined, including 3, who were named by the Police.
4:30 pm: Delhi: A 4 member team of National Human Rights Commission (NHRC) met the students of Jamia Millia Islamia University, today. The NHRC team recorded oral & written statements of students, in connection with the 15th December 2019 incident at the university.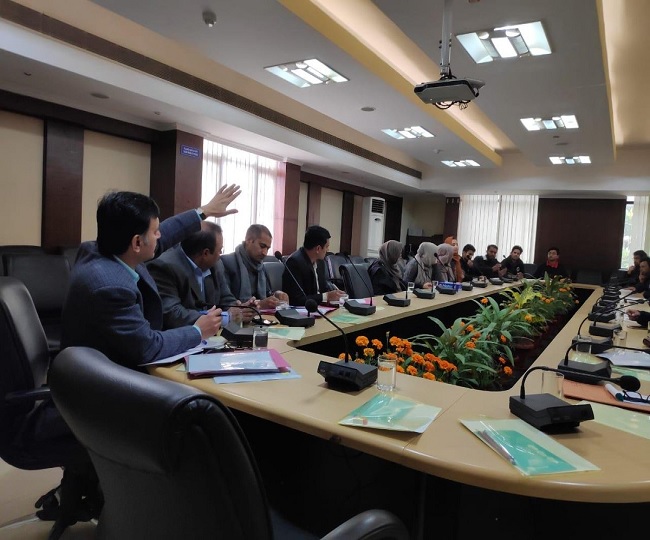 4:20 pm: Delhi: Former Chief Minister & Congress leader Siddaramaiah along with other party leaders met AK Antony and Ahmed Patel, today.
4:10 pm: Delhi: Supreme Court lawyers hold a protest march from SC to Jantar Mantar, against Citizenship Amendment Act (CAA), National Register of Citizens (NRC) and National Population Register (NPR).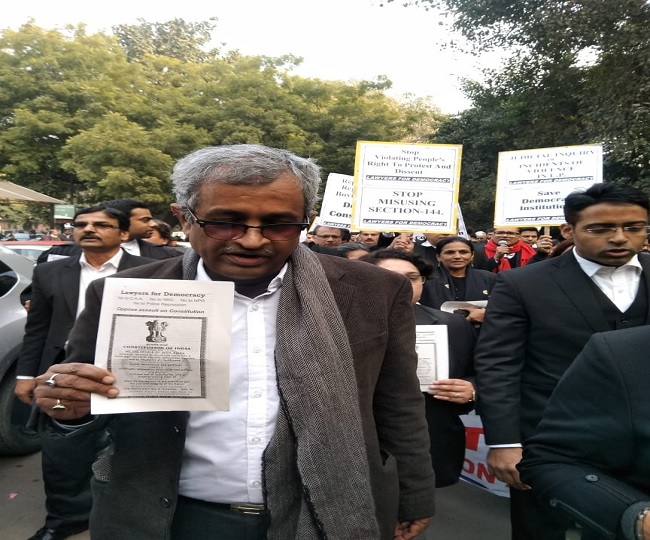 4:00 pm: FIR filed by TMC leader Krishendu Banerjee in Nadia, against West Bengal BJP President Dilip Ghosh over the latter's statement on 12 Jan,"Our govts in UP, Assam, & Karnataka has shot these people (those who destroyed public property during anti-CAA protests) like dogs"
3:50 pm: Ram Vilas Paswan, Union Minister of Consumer Affairs, Food & Public Distribution: Around 18,000 ton onion has been imported now, but even after all the efforts, only 2000 ton onion has been sold. We are providing onions at Rs. 22/kg now.
3:40 pm: Government Sources: Government Sources - Jamia Millia Islamia University Vice Chancellor met senior Delhi Police officers over registration of FIR, today.
3:30 pm: Delhi: Union Information & Broadcasting Minister, Prakash Javadekar met Bangladesh Information Minister, Muhammad H Mahmud, today. India extended its support to establish a film city in Bangladesh.
3:30 pm: Gujarat: Defence Minister Rajnath Singh to flag off 51st K-9 Vajra T Gun at L&T Armoured Systems Complex at Hazira, Surat on 16th January.
3:20 pm: Lok Janshakti Party (LJP) releases list of 15 candidates for Delhi Elections 2020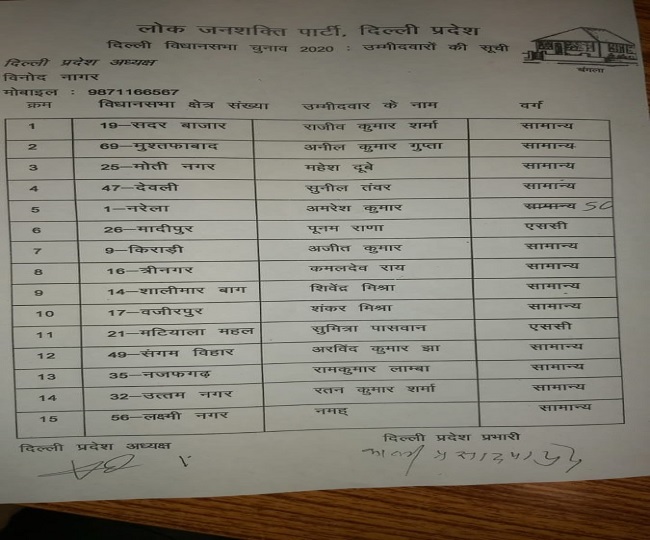 3:10 pm: Delhi: International Democrat Union (IDU) Chairman & former Canada Prime Minister, Stephen Harper met Bharatiya Janata Party (BJP) Working President Jagat Prakash Nadda at the latter's residence today.
3:00 pm: Iran's judiciary says arrests have been made over shootdown of Ukrainian plane that killed 176 people: The Associated Press
2:45 pm: Delhi: External Affairs Minister (EAM) S Jaishankar meets Foreign Minister of Uzbekistan, Abdulaziz Kamilov.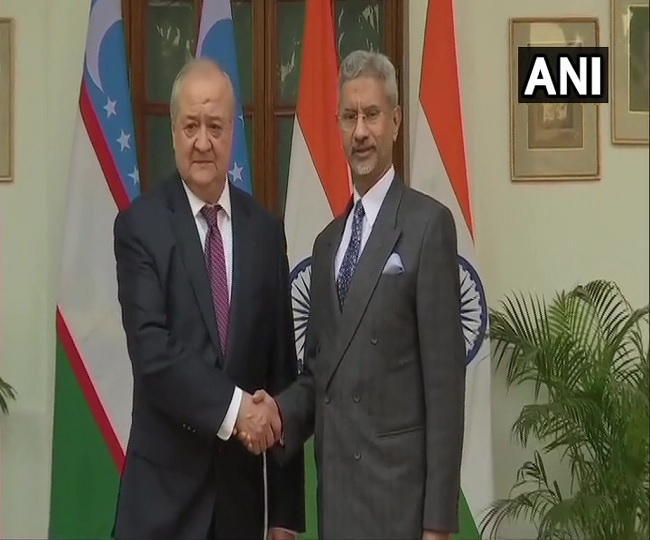 2:35 pm: Asha Devi, mother of 2012 Delhi gang-rape victim: This is a big day for me. I had been struggling for the last 7 years. But the biggest day will be 22nd January when they (convicts) will be hanged.
2:32 pm: Jammu & Kashmir Police: Deputy SP, Davinder Singh was earlier awarded gallantry medal for his participation in countering a fidayeen attack by terrorists at District Police Lines Pulwama on 25-26 August 2017, when he was posted there.
2:27 pm: J&K Police: It is to clarify that Deputy SP, Davinder Singh is not awarded any gallantry or meritorious medal by MHA as has been reported by some media outlets/persons. Only gallantry medal awarded to him during his service was by the erstwhile J&K state, on Independence Day 2018
2:20 pm: Jharkhand: A gang of extortionists, operating in Palamu and Chatra range, busted by Latehar Police in an ongoing operation. Total 11 members of the gang have been arrested.
2:15 pm: 2012 Delhi gang-rape case: Supreme Court dismisses curative petitions of two convicts - Vinay Kumar Sharma and Mukesh Singh.
2:10 pm: Punjab: India, today repatriated two Pakistani nationals who had served their sentences, & handed them over to the Pakistani Rangers at the Attari/Wagah border.
2:00 pm: AR Chowdhury: BJP leaders are suggesting that you should follow examples of UP, K'taka where police resorted to firing & agitators were killed.I got provoked to ask them why RSS-BJP are remaining reticent on Davinder Singh issue?Had the same prevailed had he been Davinder Khan?
1:58 pm: SC's 5-judge bench, headed by Justice NV Ramana, starts hearing curative petitions filed by two Delhi 2012 gangrape&murder case convicts Vinay&Mukesh, in a chamber hearing.Curative petitions are decided in-chambers by judges. It' the last&final legal remedy available to convicts.
1:55 pm: Advisor to J&K Lt Guv, Farooq Khan: I don't want to discuss the details of the case,it's being investigated.Every org has black sheep,he(Davinder Singh)was a black sheep too.But the credit goes to J&K Police who identified him,caught him&exposed conspiracies being hatched by him. It is unfortunate that political parties are doing politics on matters which are directly related to the security of India.
1:53 pm: Indian Embassy in Oman: Union Minister MA Naqvi today met Oman's HM Sultan Haitham bin Tariq Al Said & conveyed condolences on passing away of HM Sultan Qaboos, on behalf of President Kovind, PM Modi, Govt, & people of India. He also handed over a personal letter from PM Modi.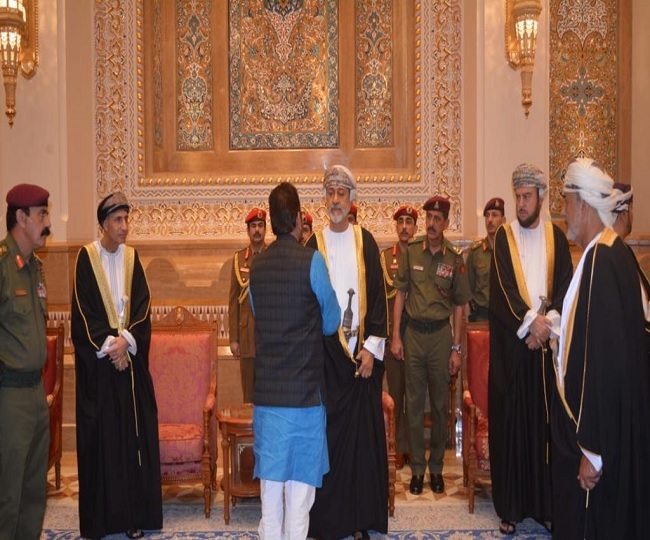 1:48 pm: Adhir R Chowdhury on his tweet on arrested J&K cop Davinder Singh: I'd referred that had Davinder Singh,by default been Davindar Khan,reaction of troll regiment of RSS would've been more vociferous.Reason is,RSS-BJP has been striding hard to disrupt communal harmony of our nation
1:40 pm: Congress MLA M Dhanavelu: I'm collecting evidences of corrupt practices of this govt. CM, along with ministers, is doing corruption. Many MLAs are dissatisfied with him & are waiting to raise their voice against him. I'll meet Rahul Gandhi after Pongal&apprise him of situation
1:35 pm: Puducherry: Congress MLA M Dhanavelu met Lt Governor Kiran Bedi y'day&complained against CM V Narayanasamy. He says "There've been continuous attempts by the CM to stop welfare activities in my constituency.Officials have been instructed to not carry out developmental work there"
1:30 pm: KM Poswal, SSP Ganderbal, Jammu&Kashmir: The area received 4 inch snowfall&2 avalanches. First avalanche came in Raisn near Kolan,total 12 people were rescued.Another avalanche struck near Kolan's Khaus, where 5 people lost their lives and 4 were rescued following an overnight Op
1:25 pm: Border Security Force: Last evening at 8:30 pm, an avalanche hit a BSF deployment in Naugam sector along LoC. A search and rescue operation was launched immediately. Out of 7 BSF personnel deployed, 6 were safely rescued while one BSF constable trapped couldn't be revived.
1:20 pm: Jammu and Kashmir: Snow clearance operation underway in Srinagar by the city's municipal corporation. Srinagar has received snowfall with temperatures oscillating from minus 3 degree Celsius to 5 degree Celsius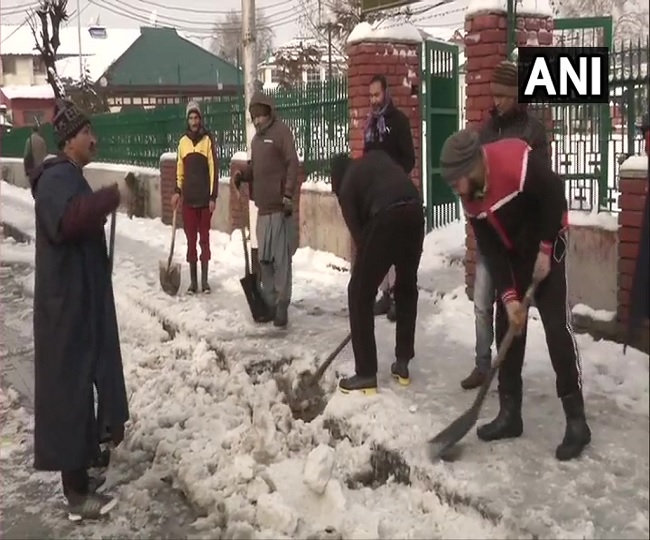 1:15 pm: Bangladesh's state-owned radio public broadcaster, Bangladesh Betar and All India Radio inaugurated a content sharing programme. Both the ministers also held talks on the bilaterally planned biopic of Sheikh Mujibur Rahman.
1:10 pm: Delhi: An MoU between National Film Development Corporation, India & Film Development Corporation, Bangladesh, was signed in the presence of Union Minister of Information and Broadcasting Prakash Javadekar and Bangladesh Information Minister Muhammad H Mahmud today.
1:05 am: India vs Australia, 1st ODI: Australia wins toss, opts to bowl first against India, in Mumbai
1:00 pm: Udayanraje Bhosale, Ex-MP & descendant of Chhatrapati Shivaji Maharaj on the book "Aaj ke Shivaji: Narendra Modi": I am telling you that your time is over. Stop calling yourself Shiv Sena, instead you should call yourself 'Thackeray Sena'. People of Maharashta aren't fools.
12:55 pm: Bharat petroleum PRO (Public Relations Officer): It was a very minor fire in a pipe. It has been extinguished now. It was nothing significant. #Mumbai
12:50 pm: Mumbai Fire brigade: Fire Brigade has moved 4 vehicles towards Bharat Petroleum plant after a fire was reported. More details awaited.
12:45 pm: Puducherry CM V Narayanasamy met HM Amit Shah&sought central financial assistance, waiver of legacy loan, financial assistance for release of 7th central pay commission arrears, statehood for Puducherry, annual increase of financial assistance to 10% every yr, among other demands
12:40 pm: BJP MP Tejasvi Surya on RBI notice to Sri Guru Raghavendra Cooperative Bank: I have met with many depositors of this bank and to be honest my family also has an account here. I met Finance Minister yesterday and today a meeting is underway at RBI with depositors&bank authorities. I can assure all of you that the government is committed to protect the interest of the depositors. This issue is nothing like the PMC bank issue, so do not panic.
12:35 pm: Army Chief General Manoj Mukund Narawane: Army has proposed that the veterans of 1965 and 1971 war be given the freedom fighters' pension.
12:33 pm: Daryaganj violence case: A Delhi Court says, Bhim Army Chief Chandrashekhar Azad is a budding politician. What is wrong with protests. I have seen many people, and many cases where protests happened even outside the Parliament
12:30 pm: Defence Minister, at 4th Armed Forces Veterans' Day, in Jaipur: Discussions had been going on since 20-21 yrs, that there should be a Chief of Defence Staff. But as soon as I became the Defence Minister I discussed this with the PM. He didn't wait for even a moment&said OK to it.
12:25 pm: Government of India: The annual rate of inflation, based on monthly WPI, stood at 2.59% (provisional) for the month of December, 2019 (over December,2018) as compared to 0.58% (provisional) for the previous month.
12:20 pm: Daryaganj violence case: Court to Delhi Police, "Which law mentions that there is prohibition on protest in front of any religious place".
12:15 pm: Daryaganj violence case: Court slams Delhi Police, says, people can carry out peaceful protests anywhere. Jama Masjid is not in Pakistan where we are not allowed to protest. Peaceful protests take place in Pakistan as well.
12:10 pm: Defence Minister Rajnath Singh, at fourth Armed Forces Veterans' Day, in Jaipur (Rajasthan): If India is safe today, if not only the borders but also the unity of the country is safe, the credit goes to brave people like you, the jawans of the armed forces.
12:05 pm: The Apex Court, after hearing from one of the juniors of the Additional Solocitor General, asked the Centre to file the fresh updated detailed status report again, clarifying its position on the issue, and adjourned the matter without giving any date in it.
12:03 pm: The Apex Court two-judge bench, headed by Justice L Nageshwar Rao and also comprising Justice Hemant Gupta, expressed their dissatisfaction over the status report and asked the centre, to represent immediately through its Additional Solocitor General, before it to argue on this.
12:02 pm: Rajiv Gandhi assassination case: Centre today filed the status report before the Supreme Court regarding the belt bomb's investigation in the case. The investigation involves one of the convicts AG Perarivalan.
12:00 pm: UP Min S Sharma:Gazette notification for #CitizenshipAmendmentAct has been issued. CM has directed all DMs to prepare a list soon. We're distributing pamphlets in Hindi & Urdu languages urging people to register. So far,names of 32000 people have appeared based on a recent survey
11:57 am: Delhi High Court also directs JNU to provide CCTV footage, sought by police, as soon as possible.
11:55 am: Navy Chief, Admiral Karambir Singh at 4th Armed Forces Veterans' Day: This is the information age and while a lot of good information is shared, a lot of myths and incorrect perceptions about the services are sometimes put out on the social media. My request to all of you is to please use the respect that you have in society, & if there is some misconception or myth being spread please make sure that you give positive image of the services on the media.
11:52 am: Delhi High Court asks Delhi Police to summon the witness and seize mobile phones of the members of the two WhatsApp groups - 'Friends of RSS' and 'Unity against Left'
11:50 am: Delhi HC asks Google&WhatsApp to preserve the data based on basic subscriber information incl the email ids, as per their policy, while hearing petition of 3 JNU professors seeking to preserve CCTV footage, WhatsApp conversations and and other evidence related to Jan 5 violence.
11:45 am: Viral photo of Nawaz in restaurant raises question over his 'critical' health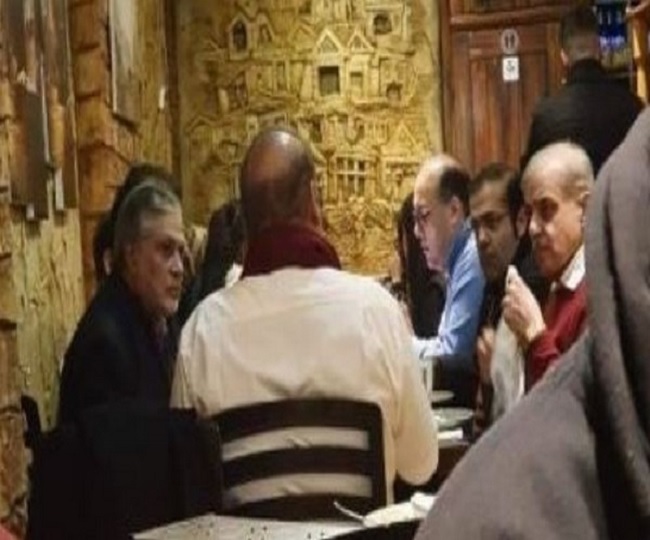 11:41 am: Delhi: A four-member delegation of National Human Rights Commission (NHRC), led by a DSP level officer, arrives at #JamiaMilliaIslamia, to interact with students.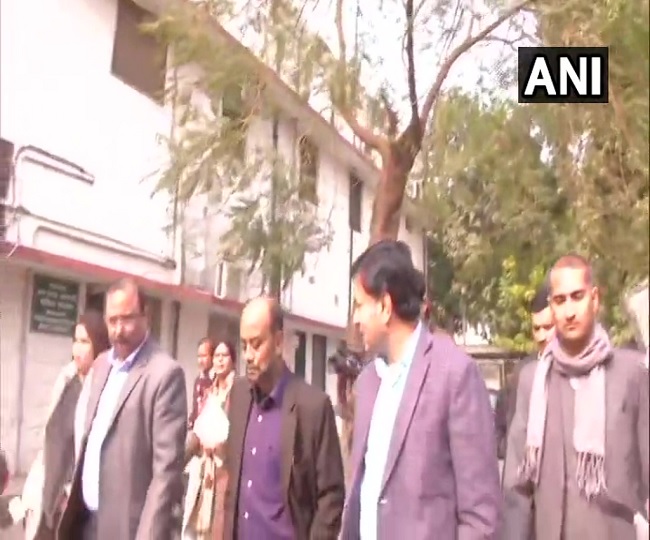 11:38 am: Daryaganj violence case: Delhi's Tis Hazari Court adjourns hearing in Bhim Army Chief, Chandrasekhar's bail plea till tomorrow, so that the state can produce all FIRs registered against him in Saharanpur.
11:35 am: Delhi: A four-member delegation of National Human Rights Commission (NHRC), led by a DSP level officer, will interact with students of Jamia Millia Islamia starting today, and the interaction will continue for four days.
11:33 am: Depositor: My husband has a fixed deposit here - around Rs 15-20 Lakh. He is retired. We're dependent on it. When we got the message we were disturbed. But when we came here, the advisor in the bank told us that deposit is safe. But we need to wait for 6 months. We're not happy.
11:30 am: Karnataka: Depositors queue up outside Sri Guru Raghavendra Co-operative Bank, in Bengaluru. The Reserve Bank of India (RBI) has restricted the bank from doing business with immediate effect and capped withdrawal limit at Rs 35,000. The RBI has said that the licence of the bank has not been cancelled, it can continue to "undertake banking business with restrictions till its financial position improves".
11:27 am: Army Chief MM Naravane at 4th Armed Forces Veterans' Day: After retiring, veterans are still busy in nation building through various fields. Welfare of veterans is always our priority. Last year, we helped 240 officers and 11,500 JCOs to get a job after retirement. We are getting women into corps military police. Total 1700 will be inducted in corps military police. Training of 101 women has already been started from 6 January this year.
11:25 am: Delhi: Security deployed outside Jawaharlal Nehru University (JNU). Violence had erupted at the university on January 5.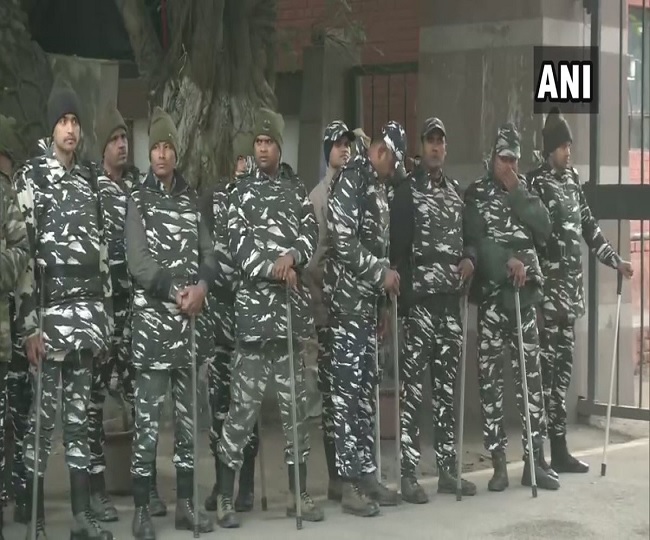 11:20 am: Delhi Police Sources: Notices have been issued to Priya Ranjan Kumar, Sucheta Talukdar (who were named as suspects by Delhi Police) in connection with #JNUViolence, for questioning. Forensic team is also coming to the University today.
11:15 am: Army Sources: Due to heavy snowfall in the last 48 hours, there have been multiple avalanches in the North Kashmir areas after which a number of soldiers have been rescued. 3 soldiers have lost their lives while one is still missing.
11:10 am: Sanjay Raut, Shiv Sena on withdrawal of book "Aaj ke Shivaji: Narendra Modi": This was a matter of honour and pride of Chhatrapati Shivaji Maharaj and Maharashtra. BJP has withdrawn the book and apologised for it, so I think the matter should be put to rest.
11:00 am: Delhi: Kalindi Kunj-Shaheen Bagh road stretch closed due to ongoing protests against Citizenship Amendment Act, since Dec 15, 2019.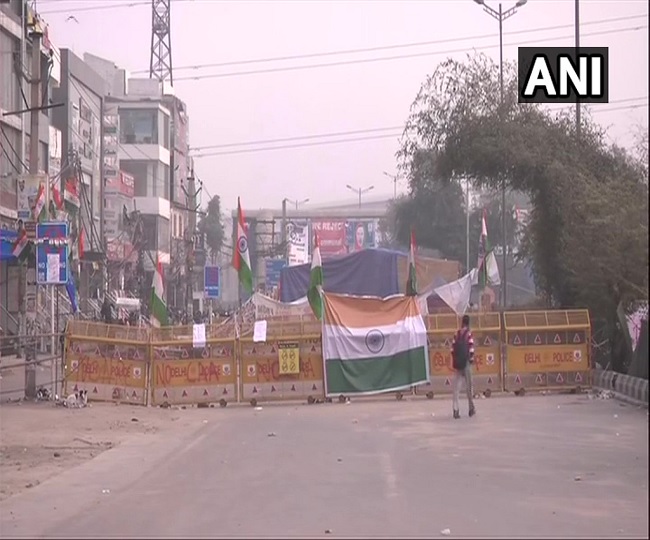 10:56 am: Maharashtra: Two infants - a girl and a boy, found abandoned near Pashan Lake in Pashan area of Pune this morning. Upon receiving information, Police took the infants to hospital. They have been identified to be one-day old. More details awaited.
10:52 am: Fire breaks out at a footwear manufacturing unit at Lawrence Road, 26 fire tenders rushed to the site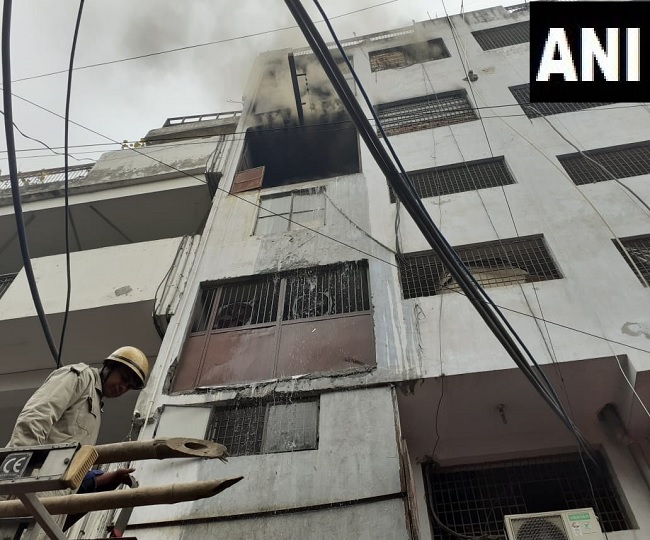 10:48 am: Delhi HC asks concerned authority to look into the matter in larger public interest&deal with issue of maintaining law &order,on petition seeking to withdraw closure of Delhi's Kalindi Kunj-Shaheen Bagh stretch which was closed on Dec 15, 2019 for ongoing protests against #CAA
10:43 am: Tamil Nadu: Vice President M Venkaiah Naidu and his family celebrated #Bhogi in Chennai, this morning. It marks the beginning of the four-day #Pongal festival.
10:40 am: Delhi High Court dismisses Enforcement Directorate plea seeking cancellation of bail granted to businessman Ratul Puri, in AgustaWestland money laundering case.
10:35 am: Tamil Nadu: Roosters being trained in Sayalgudi area of Ramanathapuram district for the cock fights which will be held on January 16, during Pongal festival.
10:30 am: Minister of State for Defence Shripad Naik on Army Chief's statement that army will take action if receive orders to reclaim PoK: Inka toh jazba yahi hai, inka yeh bolna galat nahi hai par sarkar iss baat par nishchit taur se gaur karegi
10:25 am: Defence Minister Rajnath Singh and Chief of Defence Staff (CDS) General Bipin Rawat leave for Jaipur, Rajasthan to attend a programme organised on the occasion of Fourth Armed Forces Veterans Day.
10:20 am: Muzaffarpur (Bihar) shelter home abuse case: Delhi's Saket Court sets January 20 for delivering its judgement in alleged sexual and physical assault of girls at the shelter home.
10:15 am: Army sources: Army personnel hit by avalanches at different locations in the North Kashmir area; Further details being ascertained.
10:10 am: Maharashtra's Minorities Development Minister Nawab Malik talks to Special IGP Abdur Rahman (pic 2), requesting him to take his resignation back. Rahman had resigned from his post in December 2019 in protest against passage of Citizenship Amendment Bill by Parliament.
10:00 am: Asha Devi, mother of 2012 Delhi gang-rape victim: They (convicts) have filed a petition (curative plea) before the Supreme Court just to stall the process. I'm very hopeful that their petition will be rejected today. They'll be hanged on 22nd January & Nirbhaya will get justice.
9:50 am: BSF sources: An unknown flying object was noticed by BSF in Ferozepur yesterday. Border Security Force jawans fired at it to shoot it down last night; more details awaited
9:40 am: Kerala government moves Supreme Court against #CitizenshipAmendmentAct, says, Act is violative of Articles 14, 21 and 25 of the Constitution of India as well as against the basic principle of secularism.
9:30 am: Mumbai: Union Railway Minister Piyush Goyal flags off Madhupur (Jharkhand)- Anand Vihar (Delhi) Humsafar Express via video conferencing.
9:20 am: Kerala government moves Supreme Court against #CitizenshipAmendmentAct
9:15 am: Uttar Pradesh government declares Ajay Devgan starrer film 'Tanhaji: The Unsung Warrior' as State GST (SGST) free in the state.
9:10 am: Tamil Nadu: Jallikattu competitions to be held from January 15 - January 31 in Madurai district. 730 bulls in Avaniyapuram, 700 bulls in Alanganallur and 650 bulls in Palamedu are participating in Jallikattu competitions this year. Visuals from Avaniyapuram.
9:00 am: Yog Guru Ramdev in Indore, yesterday: Deepika Padukone needs to study about political, social&cultural issues. She should understand more about our country. Only after gaining knowledge,she should take decisions.I feel she should have persons like Swami Ramdev for correct advice
8:55 am: Asaduddin Owaisi, on violence in Telangana's Bhainsa: Yesterday's incident is condemnable. I demand the CM to take action against all culprits. I also demand him to provide compensation to everyone who suffered losses. I appeal to the people of Bhainsa to maintain peace.
8:50 am: Himachal Pradesh: Movement of vehicular traffic restored on National Highway-3 at Aut in Mandi district, after it was suspended yesterday due to continuous landslides.
8:45 am: Asaduddin Owaisi, AIMIM: People in Congress have a lot of money, take it from them. You'll be getting it due to me. Just vote for me. If they are giving you (money) then take it. I say to Congress to raise the rate, my price is not Rs 2000 only. I am worth more than that.
8:40 am: The road has been closed for almost a month due to the ongoing anti Citizenship Amendment Act/National Register of Citizens, demonstration in Shaheen Bagh.
8:30 am: Delhi Traffic Police: Road No. 13A between Mathura Road and Kalindi Kunj is closed for traffic movement. People coming from Noida are advised to take DND or Akshardham to reach Delhi.
8:20 am: Punjab: Devotees took holy dip in 'Sarovar' at Golden Temple in Amritsar and offered prayers, earlier this morning, on the occasion of #Maghi today.
8:10 am: Tamil Nadu: Chennai sees haze and smog in Virugambakkam and Vadapalani areas after Bhogi festival celebration early morning today.
8:00 am: Vijayawada: Former Andhra Pradesh CM and TDP leader N Chandrababu Naidu today morning took part in Bhogi festival, held by Amaravati Parirakshana Samithi. The leaders burnt GN Rao Committee report, which first recommended 3 capitals for Andhra Pradesh.
7:50 am: IMD: Rain/thundershowers accompanied with lightning are very likely to occur today during next 3 hours at few places over Bareilly, Pilibhit, Lakhimpur Kheri, Sitapur, Hardoi, Kannauj, Barabanki, Bahraich, Gonda, Raebareli, Unnao, Lucknow districts and adjoining areas.
7:45 am: Hope every single immigrant in India may equally benefit society and economy: Microsoft CEO on CAA
7:40 am: IL&FS issues invitation for Expression of Interest for acquisition of IL&FS Environmental Infrastructure & Services Ltd (IEISL).
7:30 am: UP Minister Raghuraj Singh at a rally supporting #CitizenshipAmendmentAct in Aligarh: The handful number of people, 1% criminal&corrupt people who come to University (Aligarh Muslim University). They use our money & then raise slogans against PM &CM. I will bury you alive.
7:23 am: Tamil Nadu: People staged a protest against Citizenship Amendment Act, National Register of Citizens and National Population Register in Coimbatore, yesterday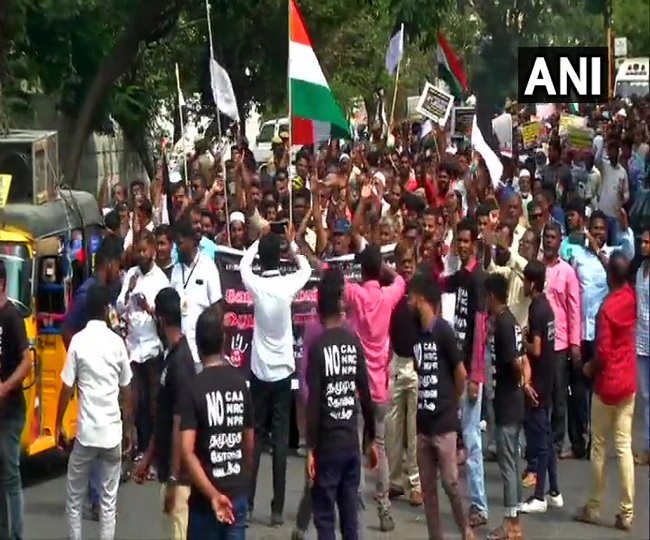 7:15 am: US President Donald Trump: We killed Soleimani (Iranian military commander Qasem Soleimani),number one terrorist in the world by every account. That person killed a lot of Americans&lot of people, we killed him. When the Democrats try & defend him, it's a disgrace to our country.
7:10 am: Delhi: Major pollutants PM 2.5 at 244 & PM 10 at 239, both in 'poor category' in Lodhi Road area, according to the Air Quality Index (AQI) data.
7:00 am: 15 trains are running late due to low visibility in the Northern Railway region.
Posted By: Talib Khan