Breaking News Latest Updates, Highlights of Jan 12
Stay tuned to catch all the live updates here
Updated: Tue, 12 Jan 2021 06:48 PM IST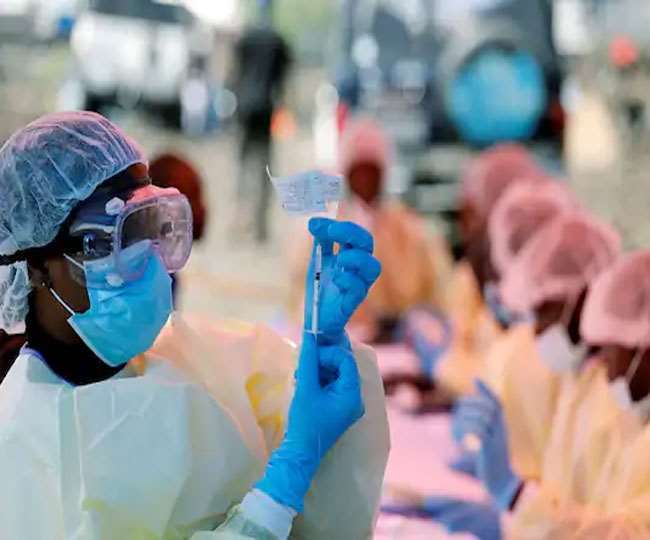 New Delhi | Jagran News Desk: Each and everything that happens around us impacts in some way and that's why it becomes important for us to know what's happening around the world. Thus at English Jagran, we provide our readers with 360-degree coverage in all genres to give them a brief insight about what's happening around the world.
Prime Minister Narendra Modi on Monday announced that the Centre, and not the state governments, will bear the cost of vaccinating around 3 crore healthcare and frontline workers in the first phase of the COVID-19 vaccine programme, which is set to kick off from January 16.
Here are the Highlights of January 12:
12:10 pm: Dynasty politics is a challenge for the country which needs to be rooted out. The days of those who used to fight elections on the basis of their surname are numbered. But the disease of the dynasty in politics is not completely destroyed yet: PM Narendra Modi
12:00 pm: A broad roadmap has been prepared to bring in all the new technologies to develop a technology-enabled army to meet challenges of future: Army Chief General Manoj Mukund Naravane
11:50 am: An FIR registered against seven people in connection with the death of 10 people in Morena. One accused has been arrested. A police personnel suspended, says SP Morena
11:45 am: The new National Education Policy is a step towards nation-building. We are building an eco-system which will give better opportunities to our youth here: PM Modi
11:35 am: TMC MP Sisir Adhikari, father of Suvendhu Adhikari, removed from the post of Chairman of Digha Sankrpur Development Authority Board (DSDA), Akhil Giri to replace him.
11:25 am: Today is an important day as the National Youth Parliament Festival is being held at the Central Hall of the Parliament which witnessed the framing of our Constitution: Prime Minister Narendra Modi during the valedictory function of 2nd National Youth Parliament Festival
11:15 am: We have decided to run 'Know Your Constitution' campaign through the state governments in the entire country: Lok Sabha Speaker Om Birla during the valedictory function of 2nd National Youth Parliament Festival
11:05 am: Temperature-controlled facility, ranging from -20 degrees Celsius to +25 degrees Celsius, at our two Cargo terminals can efficiently & safely handle Covid-19 vaccines. Both terminals can handle around 5.7 mn vials in a day: DIAL CEO on arrival of Covid vaccine consignment
10:50 am: Samples from Kotdwar and Dehradun have tested positive for #BirdFlu. Concerning departments directed to be on high alert: Uttarakhand Animal Husbandry Secretary
10:35 am: Once it arrives at state vaccine centre, we'll be reinsuring that everything is in place. It'll be distributed further to 10 regional centres & 51 walk-in coolers at district level by today evening. Later, it will go to actual vaccination site in cold boxes: TN Health Secretary
10:20 am: The first consignment of COVID19 vaccine 'Covishield' arrives at Delhi's Indira Gandhi International Airport from
10:10 am: 5.56 lakh vaccine doses have been dispatched from Pune. We'll be receiving the vaccines at around 10.30 today. The dispatch details of remaining 20,000 doses of COVAXIN are yet to be received: Tamil Nadu Health Secretary J Radhakrishnan on COVID19 vaccine distribution process
10:00 am: First consignment of COVID19 vaccine to arrive in Ahmedabad today. 2.76 lakh doses arriving here today will be given to Ahmedabad, Gandhinagar & Bhavnagar zones. Vaccination will begin at 287 session sites from Jan 16: Dr. Patel, Additional Director, Family Welfare, Gujarat Govt
9:45 am: India reports 12,584 new COVID-19 cases, 18,385 discharges, and 167 deaths in last 24 hours, as per Union Health Ministry Total cases: 1,04,79,179 Active cases: 2,16,558 Total discharges: 1,01,11,294 Death toll: 1,51,327
9:35 am: Uttar Pradesh has been declared a 'controlled area' in view of outbreak of Bird Flu in Rajasthan, Haryana, Himachal Pradesh and Madhya Pradesh. Complete ban imposed on the import of live birds into the state: State Government
9:25 am: Today, Air India, SpiceJet and IndiGo Airlines will operate 9 flights from Pune with 56.5 lakh doses to Delhi, Chennai, Kolkata, Guwahati, Shillong, Ahmedabad, Hyderabad, Vijayawada, Bhubaneswar, Patna, Bengaluru, Lucknow & Chandigarh, says Union Civil Aviation Min Hardeep S Puri
9:10 am: Madhya Pradesh: A minor girl found dead on the roof of a shop in Khandwa yesterday "Prima facie it appears to be a rape incident. The cause of death will be clear after post-mortem. We are investigating the matter," say police.
9:00 am: Total number of samples tested up to 11th January is 18,26,52,887 including 8,97,056 samples tested yesterday: ICMR
8:40 am: Madhya Pradesh | 10 people dead, 5 ill after consuming poisonous liquor in Morena, says Anurag Sujania, SP Morena District
8:35 am: The first flight carrying COVID19 vaccine 'Covishield' has departed from Pune International Airport to Delhi
8:30 am: Serum Institute of India's COVID19 vaccine 'Covishield' will be shipped to different locations in the country from Pune airport, ahead of January 16 vaccine rollout
8:20 am: Heavy to very heavy rainfall expected to occur in Tamil Nadu today. No heavy rainfall warning for the state from 14th January onwards: IMD
8:15 am: Very heavy rainfall has been reported at Atiramapattinam (13.5cm) of Tamil Nadu. Heavy rainfall reported over Ariyalur, Nagapattinam and Karaikal during 0830 hrs of 11th Jan to 0530 hrs today: India Meteorological Department
8:00 am: Maharashtra: A 21-year-old woman was allegedly raped in a moving bus going to Pune from Nagpur, in Ranjangaon area on January 6. A zero FIR has been registered based on the statement of the victim, a senior police officer of Ranjangaon Police Station said yesterday.
7:50 am: Three trucks carrying Covishield vaccine reached Pune airport from Serum Institute of India's facility in the city, earlier this morning. From the airport, the vaccine doses will be shipped to different locations in the country. The vaccination will start on January 16.
#WATCH | Three trucks carrying Covishield vaccine reached Pune airport from Serum Institute of India's facility in the city, earlier this morning.

From the airport, the vaccine doses will be shipped to different locations in the country. The vaccination will start on January 16. pic.twitter.com/v3jk4WUyyq

— ANI (@ANI) January 12, 2021
7:40 am: 87,588 healthcare workers have been identified for vaccination in first phase in Uttarakhand. 309 sites are ready for vaccination. We have made 317 cold chain points & 547 deep freezers to keep Covid-19 vaccine safe: Uttarakhand Director General (Health) Dr Amita Upreti
7:25 am: A total of 8 flights will transport Covishield vaccine from Pune International Airport to 13 different locations today. The first flight will leave for Delhi airport: Sandip Bhosale, MD of SB Logistics, the company handling air transportation of the vaccine from Pune airport
7:15 am: Farmers who are protesting at borders of Delhi have been paid & brought to the agitation sites. They are middlemen & fake farmers. They are eating pizza, burger & KFC products, & have set up gym there. This drama should stop: S Muniswamy, BJP MP from Kolar, Karnataka
7:00 am: The first consignment of the vaccine has been dispatched from the facility of Serum Institute of India here. We have made elaborate security arrangements: Namrata Patil, DCP (Zone 5), Pune
Posted By: Talibuddin Khan