Breaking News Latest Updates, Highlights of Feb 23
Breaking News Latest Updates, Highlights of Feb 23
Updated: Tue, 23 Feb 2021 05:21 PM IST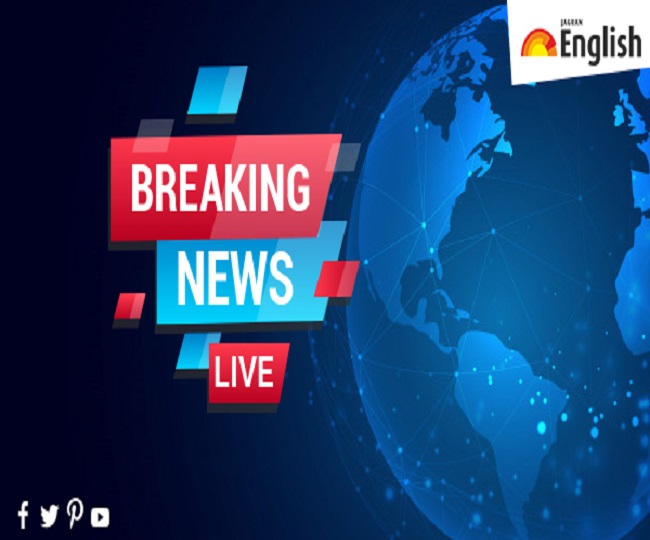 New Delhi | Jagran News Desk: Each and everything that happens around us impacts in some way and that's why it becomes important for us to know what's happening around the world. Thus at English Jagran, we provide our readers with 360-degree coverage in all genres to give them a brief insight into what's happening around the world.
Prime Minister Narendra Modi inaugurated Dr Syama Prasad Mookerjee Institute of Medical Sciences and Research at Indian Institute of Technology (IIT), Kharagpur on Tuesday. The event took place at 12:30 pm today via video conferencing. The Prime Minister also addressed the 66th convocation of IIT Kharagpur. West Bengal Governor Jagdeep Dhankar, Union Education Minister Ramesh Pokhriyal Nishank and Union Minister of State for Education Sanjay Dhotre were also present on the occasion.
Here are the Highlights of Feb 23:
2:45 pm: Jammu and Kashmir: Gunner Sayan Ghosh of Artillery Regiment suffered fatal injury due to a firing accident while carrying out live firing training at Field Firing Ranges in Akhnoor Sector today morning, according to Defence PRO, Jammu
2:30 pm: LDF&UDF are fighting in Kerala. 'Kushti' in Kerala, 'dosti' in Delhi& other places. See the hypocrisy of these parties. Mamata Banerjee supporting Congress in Delhi but not doing the same in WB as Cong has become a liability on various regional parties: Union Min Pralhad Joshi
2:20 pm: Rahul Gandhi is trying to become 'actor on tractor'. If you are in favour of APMC, then, why is there no APMC in Kerala. Rahul Gandhi, your govt in Punjab has brought a law under which a farmer who breaks the agreement he could be sent to jail: P. Joshi, Union Min & BJP leader
2:10 pm: Total body count appears to be above 90 including 70 bodies and 29 body parts. Out of 29, some are of bodies found while the rest will be identified by DNA match. Rescue and search operation continues in Tapovan tunnel and nearby villages: Ashok Kumar, DGP Uttarakhand
2:00 pm: Due to an increase in prices of crude oil in international markets, consumer price (for petrol & diesel) has risen. This will soften gradually. Global supply was reduced due to COVID in turn affecting production as well: Union Petroleum Minister Dharmendra Pradhan
1:40 pm: We are consistently requesting the GST council to include petroleum products under its purview as it will benefit people. But it is their call to take: Union Petroleum Minister Dharmendra Pradhan
1:25 pm: Sonia ji must know Rajasthan & Maharashtra have maximum tax. Earnings of Centre & State were negligible during lockdown. We've allocated large chunks to various sectors in Budget to increase jobs: Union Minister D. Pradhan on Sonia Gandhi's letter to PM over rising fuel prices
1:15 pm: Out of 14 missing persons of Jharkhand missing in Chamoli glacial burst, 4 have been identified. 3 from Lohardaga & 1 from Bokaro. Bodies brought back to their respective villages. The compensation process will be initiated soon: A Muthukumar, Labour Commissioner, Jharkhand
1:00 pm: We don't have an intention to form the government now as only in 10 days election dates will be announced. We will face the elections and form a government democratically: AIADMK leader A. Anbalagan in Puducherry
12:45 pm: With deregulation of Map and Geospatial Data by Centre, India's 'Aatmanirbhar Bharat' campaign will be strengthened. The move will encourage country's young innovators & boost tech startup ecosystem: PM at IIT-Kharagpur Convocation
12:30 pm: India of the 21st century has changed. Now IIT is not only the Indian Institute of Technology, but Institute of indigenous technology. Students should have - self confidence, self-awareness & selflessness: PM during 66th Convocation of the IIT-Kharagpur via video conferencing
11:40 am: Toolkit case: Disha Ravi brought to Delhi Police Cyber Cell office in Delhi; Shatanu also joins probe today
11:35 am: The budget allocated for the health sector now is extraordinary. It shows our commitment towards this sector. COVID19 pandemic has taught us a lesson to be prepared to fight similar challenges in future: PM Modi during a webinar on budget implementation relating to Health Sector
11:30 am: We aim to eliminate Tuberculosis (TB) from the country by 2025. Wearing masks, early diagnosis and treatment are also important in its prevention: PM Narendra Modi
11:20 am: Centre is not only investing in healthcare but making sure that such facilities are made available in remote areas too. Investment in healthcare also focuses on bringing in employment opportunities: PM Modi on budget announcements for health sector
11:10 am: BSF foiled a Maoist attack bid during a routine combing op & recovered explosives dumped in Kadalibandha forest under Jodamba PS in Malkangiri dist. 5kg tiffin bombs, 2 pressure IEDS, 1 Maoist uniform, wires & batteries seized. BSF defused tiffin bombs & IEDs later: BSF
10:50 am: Punjab CM Captain Amarinder Singh to review the #COVID19 situation in the state with health experts and senior officers today
10:35 am: Due to rise in COVID19 cases in Maharashtra, Gujarat, Kerala, MP & Chhattisgarh, travellers from these states, to undergo testing on arrival in Uttarakhand "Travellers from these 5 States to undergo testing at State borders, railway station & Dehradun airport," says Dehradun DM
10:20 am: India reports 10,584 new #COVID19 cases, 13,255 discharges, and 78 deaths in the last 24 hours, as per Union Health Ministry Total cases: 1,10,16,434 Total discharges: 1,07,12,665 Death toll: 1,56,463 Active cases: 1,47,306 Total Vaccination: 1,17,45,552
10:00 am: "Pained by the loss of lives due to a mishap at Chikkaballapur in Karnataka. Condolences to the bereaved families. Praying that the injured recover quickly," tweets PM Modi on the loss of 6 lives in quarry blast in Chikkaballapur
9:55 am: Streets in Amravati wore a deserted look as night curfew has been imposed in the district till 6 am on March 1, to curb the spread of #COVID19. During this curfew, only essentials shops will be open from 8 am to 3 pm
9:45 am: The death of 6 people near Hirenagavalli village, Chikkaballapur, due to a gelatin blast is shocking. District incharge minister and senior officials instructed to conduct a thorough probe and take stern action against the culprits: Karnataka CM BS Yediyurappa
9:35 am: Maharashtra CM Uddhav Thackeray to hold a meeting today with BMC Commissioner and officials, to review the COVID19 situation
9:26 am: Sensex up 143 points, currently at 49,887; Nifty at 14,720
9:17 am: Punjab | The number of cases here has increased in the last 4-5 days. I appeal to people to wear masks, sanitise hands and maintain social distance: Dr Mohinder Singh, Deputy Medical Commissioner of Ludhiana
9:12 am: Saddened by the death of 5 people in the blast at Hirenagavalli in Chikkaballapur. Unfortunate that such an incident took place after Shivamogga blast. The government will conduct an investigation & take action against those involved: Karnataka Mines & Geology Min Murugesh Nirani
9:05 am: Mumbai Mayor Kishori Pednekar distributes masks in Dadar vegetable market as #COVID19 cases rise "Mumbai Police has joined hands with us. People are more scared of Police than marshals. Request all to wear masks, sanitize and maintain social distancing," she says
8:55 am: An FIR has been registered after a video of a girl being molested went viral. All accused will be identified and action will be taken against them: Aditya Kumar, SSP, Gaya
8:45 am: Bihar: Six people dead, three injured in a collision between a truck and an SUV car on National Highway 31 in Katihar's Kursela
8:30 am: India has allowed Pakistan PM Imran Khan's aircraft to use Indian airspace, he is travelling to Sri Lanka: Sources
8:10 am: Nagaland: Rate of tax on petrol & other motor spirits reduced from 29.80% to 25% per litre or from Rs 18.26 to Rs 16.04 per litre (whichever is higher). Tax rate for diesel reduced from Rs 11.08 to Rs 10.51 per litre or 17.50% to 16.50& per litre (whichever is higher).
8:00 am: Petrol and diesel prices in Delhi stand at Rs 90.83 per litre (increase by 25 paise) and Rs 81.32 per litre (increase by 35 paise), respectively
7:45 am: US stands with people of Burma who demand restoration of democratically elected government. Today's designations are another step to promote accountability for military leaders who perpetrate violence&attempt to suppress the will of people: US State Secretary Blinken
7:30 am: United States has designated two additional officials connected to the coup in Burma: US State Department
7:15 am: PM Narendra Modi will today inaugurate Dr Syama Prasad Mookerjee Institute of Medical Sciences and Research at IIT Kharagpur & will address the 66th Convocation of the IIT, via video conferencing
7:00 am: Karnataka: Checks conducted at Thalapady border for people of Kerala entering Dakshina Kannada; only those with negative RT-PCR test certificate are being allowed. "Is it that only students of Kerala have COVID? Students from Karnataka don't have it?" said a student
Posted By: Talibuddin Khan