Breaking News, Latest Updates, Highlights of February 21
Updated: Fri, 21 Feb 2020 05:28 PM IST
New Delhi | Jagran News Desk: At Jagran English, we try to focus on all the top news to provide our readers a brief insight of what's happening around the world and provide them with a 360-degree coverage on all genres including politics, business, India, world, sports and entertainment.
Here are the Highlights of February 21:
5:15 pm: US Secretary of State Mike Pompeo tweets,"After decades of conflict, we have come to an understanding with Taliban on a significant reduction in violence across #Afghanistan. This is an important step on a long road to peace,& I call on all Afghans to seize this opportunity."
5:05 pm: Delhi: Maharashtra Chief Minister & Shiv Sena leader Uddhav Thackeray arrives at the residence of Prime Minister Narendra Modi at 7, Lok Kalyan Marg.
5:00 pm: Women's T20 World Cup: India beat Australia by 17 runs, in Sydney.
4:50 pm: Delhi: Home Minister of Maldives Sheikh Imran Abdulla meets Union Home Minister Amit Shah at Ministry of Home Affairs.
4:40 pm: Madras High Court dismisses a writ petition filed by Puducherry Chief Minister V Narayanasamy against a decision taken by Puducherry Lt Governor Kiran Bedi & the Centre to disburse cash instead of free rice to ration card holders.
4:35 pm: V Muraleedharan, MoS (MEA) on 'Pakistan zindabad' slogan raised at anti-CAA rally in Bengaluru y'day:It's an alarming situation that protest against #CAA is turning to be occasion for pro-Pakistan slogans. Govt will take suitable action to see such things are nipped in bud itself
4:25 pm: J&K Police: Budgam Police arrested a terrorist associate linked to proscribed terror outfit Jaish-e-Mohammed (JeM), today. Incriminating material was recovered from his possession. Further investigation is underway.
4:15 pm: Iran says two more deaths among 13 new cases of #coronavirus: AFP news agency
4:10 pm: Maharashtra Chief Minister & Shiv Sena leader Uddhav Thackeray arrives at Delhi airport, to meet Prime Minister Narendra Modi and Congress Interim President Sonia Gandhi today.
4:00 pm: Tamil Nadu: Police arrests the crane operator, in connection with the accident that occurred during the shooting of Kamal Haasan's film 'Indian 2' in Chennai
3:30 pm: National Commission for Women: The Commission has written to Anil Mukim, Chief Secretary (IAS), and Dr. Jayanti S. Ravi, Principle Secretary (IAS) to look into the matter thoroughly, and send the Commission the action-taken report details at the earliest.
3:25 pm: National Commission for Women: The Commission has taken cognizance of a media report that female trainee clerks of Surat Municipal Corp,Guj were allegedly made to stand n*ked in a state-run hospital for a long time while lady doctors subject them to a gynaecological finger test.
3:20 pm: Madhya Pradesh: IAS Chhavi Bhardwaj has been posted as Officer on Special Duty (OSD) at state secretariat.
3:15 pm: Directorate General of Civil Aviation proposes to introduce regulation for examination of aviation personnel for the consumption of psychoactive substance like Cannabis, Opioid and their various variants. In the first phase,flight crew members & ATCs to be examined at 6 airports
3:10 pm: Madhya Pradesh Health Minister Tulsi Silawat: The State government has withdrawn the order
3:00 pm: Madhya Pradesh govt removes National Health Mission state Director Chhavi Bharadwaj who issued the order informing male multi-purpose health workers that they would be compulsorily retired if they fail to convince even one man for sterilisation in 2019-20.
2:50 pm: Agra: Walls on the route from Kheria airport to the Taj Mahal are being painted with images of US President Donald Trump and slogans welcoming him, ahead of his visit on 24th February.
2:40 pm: Nepal: Devotees in large numbers visit Kathmandu's Pashupatinath Temple to offer prayers to Lord Shiva on the occasion of #Mahashivratri.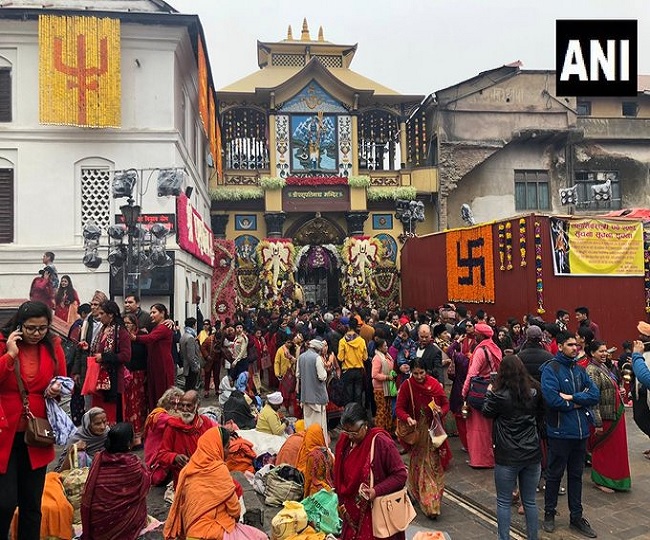 2:35 pm: ITBP: SS Deswal, DG Indo-Tibetan Border Police (ITBP) has initiated a 100 km speed march with senior officers and many other ranks officials in Rajasthan's Bikaner, earlier today, as part of Fit India Movement.
2:30 pm: The indigenous Anti-Drone System being deployed in Ahmedabad, Gujarat for providing aerial security cover to US President Donald Trump. Developed by the DRDO, the system neutralised an incoming drone during trials.
2:25 pm: Prime Minister Narendra Modi to address the opening ceremony of the first-ever Khelo India Games, at Bhubaneswar, tomorrow. The Khelo India University Games will be held from 22 February to 1st March at Bhubaneswar, Odisha.
2:20 pm: Jayanta Sarkar, Ahmedabad Met Director: There is no chance of rainfall in the next five days over Gujarat. No fishermen warnings. Minimum temp in the coming days will drop. On 24th February minimum temp may touch 17 degree Celsius&maximum temp will rise to 36 degree Celsius.
2:15 pm: Madhya Pradesh Health Minister Tulsi Silawat: The State government has withdrawn the order
2:10 pm: Bengaluru Police: The name of the woman, who has been taken into custody for holding a banner reading 'Dalit Mukti, Kashmir Mukti & Muslim Mukti', is Arudra.
2:00 pm: Sources: Ivanka Trump to also be a part of the high-level delegation which will accompany US President Donald Trump to India.
1:50 pm: Chief Minister of Uttarakhand and BJP leader Trivendra Singh Rawat met Bharatiya Janata Party President JP Nadda in Delhi today.
1:45 pm: Delhi Police Commissioner Amulya Patnaik inaugurates Delhi Police Subordinate Officers Mess at Kingsway Camp
1:40 pm: Bhaskar Rao, Bengaluru Police Commissioner: During Hindu Jagaran Vedike's protest against yesterday's incident, a girl sat among them with placard in Kannada reading Dalit Mukti, Kashmir Mukti&Muslim Mukti. We had to rescue girl as crowd gathered. She has been taken into custody.
1:30 pm: Karnataka Home Minister Basavaraj Bommai: Amulya (who raised 'Pakistan zindabad' slogan at anti-CAA rally yesterday) comes from a place where Naxals have been very active for a long time. She has shared a lot of posts on Facebook. We will investigate these angle as well.
1:20 pm: Bhaskar Rao, Bengaluru Commissioner of Police: Case has been registered against the girl(Amulya)&others. She has been remanded to judicial custody. We are looking at role of organisers. Role of honourable MP(Asaduddin Owaisi) does not figure anywhere as he was also an invitee
1:15 pm: MP Minister PC Sharma on multi-purpose health workers warned to meet sterilization target:This is routine order. Such orders were issued during BJP rule too.There is growing awareness these days among people that small family is happy family. No worker will be put under pressure
1:10 pm: PC Sharma, Madhya Pradesh Minister: Earlier there was a saying 'Indira Gandhi ke do haath, Sanjay Gandhi aur Kamal Nath'. So our CM is the most visionary leader in the country. He is taking Madhya Pradesh on a new path of development and welfare.
1:00 pm: Madhya Pradesh Chief Minister Kamal Nath on his earlier statement 'Kehte hain humne surgical strike ki.Kaun si surgical strike ki?':.Na koi aakdein hain, na photo hain keval media mein iska shor hai..Hamari Army, Air force koi fake kaam nahi karti, lekin jaankaari to de
12:50 pm: Despite India 'hitting US with tariffs for many many years,' Trump says 'really like' PM Modi so businesses 'will be discussed'
12:40 pm: Delhi Finance Minister Manish Sisodia meets Union Finance Minister Nirmala Sitharaman. He says, "There was a positive dialogue over issues related to the development of Delhi. I demanded that Delhi be given its share of central taxes. She has assured me that she will look into it".
12:30 pm: Indian Army sources: 1 Pak Army soldier killed, many others injured in Indian Army retaliation to ceasefire violation by Pak opposite Kupwara sector y'day. Pakistan has been trying to push terrorists into India from Neelam valley in Pakistan-occupied-Kashmir in the last few days.
12:20 pm: Maharashtra: Four people dead, 10 other injured in a collision between a jeep and a state transport bus in Vairag area of Solapur district, earlier today
12:10 pm: Chikmagalur: Residence of Amulya(who raised 'Pakistan zindabad' slogan at anti-CAA rally in Bengaluru yesterday) was vandalised by miscreants late last night.Police have begun investigation
12:05 pm: The Nagpur bench of Bombay High Court allows Chandrashekhar Azad's Bhim Army to hold their workers meet at Reshim bagh grounds in Nagpur on February 22.
12:00 pm: Dhanraj Nathwani, Vice President of Gujarat Cricket Association: Prominent Gujarati singers like Parthiv Gohil, Purushottam Upadhyay, Kirtidan Gadhvi, Kinjal Dave, Sairam Dave & Bollywood singer Kailash Kher will perform at 'Namaste Trump' at Motera Stadium event on February 24.
11:50 am: Bengaluru: Sri Ram Sene and Hindu Janajagruti Samiti members protest against Amulya (who raised 'Pakistan zindabad' slogan at anti-CAA rally yesterday)
11:40 am: Noida-Faridabad road has been reopened. It was shut for the last 69 days due to ongoing anti-CAA/NRC protest in Shaheen Bagh in Delhi
11:30 am: Karnataka CM BS Yediyurappa: Bail should not be given to Amulya (who raised 'Pakistan zindabad' slogan at anti-CAA rally in Bengaluru, yesterday), her father has also said he won't protect her. Its proved now that she had contacts with Naxals. Proper punishment should be given
11:20 am: Left-arm Spinner Pragyan Ojha announces retirement from all forms of cricket with immediate effect
11:15 am: Defence Minister Rajnath Singh and Army Chief MM Naravane at the foundation stone laying ceremony of the Thal Sena Bhawan in Delhi.
11:10 am: Madhya Pradesh government has issued order informing male multi-purpose health workers (MPHWs), who failed to convince even one man for sterilisation in 2019-20, that their salaries would not be given and they would be compulsorily retired.
11:05 am: Army Officials:Total of 6014 offices will be constructed which will house offices for 1684 officers both military & civilian and 4330 sub staff.Will generate minimum 2 lakh hours of skilled and unskilled work&generate jobs for youth. It is proposed it will be constructed in 5 yrs
11:00 am: A multi-faith prayer held at the foundation stone laying ceremony of the Thal Sena Bhawan in Delhi.
10:55 am: Army Officials: The proposed structure of new Thal Sena Bhawan in Delhi, 'bhoomipoojan' of which is being done today by the Defence Minister. Approximately 7.5 lakh square meter of the area will be constructed to house the office complex and parking.
10:40 am: Karnataka: City Crime Branch of Bengaluru City Police raided a spa on suspicion of its involvement in prostitution racket at Hoodi village in Mahadevapura area of Bengaluru, yesterday. Six women were rescued. Three people arrested while another is absconding. Case registered.
10:30 pm: Former Karnataka Minister and JD(S) leader C Channigappa has passed away at a hospital in Bengaluru after a prolonged illness
10:20 am: Gujarat: Preparations underway ahead of 'Namaste Trump' event at Motera Stadium in Ahmedabad. US President Donald Trump and Prime Minister Narendra Modi will speak at the event on February 24.
9:55 am: U Win Myint, President of Myanmar will pay a state visit to India between February 26 to 29. The President will be accompanied by First Lady, Daw Cho Cho.
9:45 am: J&K: Devotees line up to offer prayers at Sri Shankaracharya Ji Temple in Srinagar, on the occasion of MahaShivRatri.
9:30 am: Karnataka: Amulya (who raised 'Pakistan zindabad' slogan at an anti-CAA rally in Bengaluru, yesterday) & was charged with sedition, sent to 14-day judicial custody
9:15 am: Madhya Pradesh: Three people drowned after a car they were travelling in lost control and plunged into Gauri Lake in Bhind, last night. Their bodies have been recovered.
9:00 am: High-level delegation likely to accompany Pres Trump to India incl Senior Advisor Jared Kushner,US Trade Representative Robert Lighthizer,NSA Robert O'Brien,Secy of Treasury Steve Mnuchin,Secy of Commerce Wilbur Ross&Director,Office of Management&Budget,Mick Mulvaney
8:40 am: India vs New Zealand first test: India at 122/5 at tea in their first innings in Wellington.
8:25 am: Tejashwi Yadav,RJD on AIMIM's Waris Pathan: The statement is condemnable, he should be arrested. AIMIM is working like B-team of BJP. Similarly, leaders like Anurag Thakur & Parvesh Varma should also be arrested. Action must be taken against anyone who makes provocative remarks
8:00 am: FATF (Financial Action Task Force) plenary session to be held today in Paris. Pakistan to be on agenda
7:25 am: Inducted into service in March last year, Indian Air Force's American-origin Chinook helicopters have started getting operationalised in the high-altitude locations including the Siachen glacier area in the Ladakh sector and are ferrying military equipment to higher reaches.
7:20 am: Maharashtra: Fire breaks out at a clothing shop in Dadar area of Mumbai. Six fire tenders present at the spot. More details awaited.
7:15 am: South Korea confirms 52 more #coronavirus cases, bringing total to 156 in the country: AFP news agency
7:10 am: Gold deposits found in Sonbhadra district by Geological Survey of India and Uttar Pradesh Directorate of Geology & Mining. K K Rai, District Mining Officer says, "Government is thinking of putting these deposits on lease for mining, for which survey is being done".
7:05 am: New Zealand XI against India for 1st test in Wellington: T Latham, T Blundell, K Williamson, R Taylor, H Nicholls, BJ Watling, C de Grandhomme, K Jamieson, T Southee, A Patel, T Boult.
7:00 am: India XI against New Zealand for 1st test in Wellington: M Agarwal, P Shaw, C Pujara, V Kohli, A Rahane, H Vihari, R Pant, R Ashwin, M Shami, I Sharma, J Bumrah.
Posted By: Talib Khan