Breaking News Latest Updates, Highlights of Feb 20
Breaking News Latest Updates, Highlights of Feb 20
Updated: Sat, 20 Feb 2021 05:07 PM IST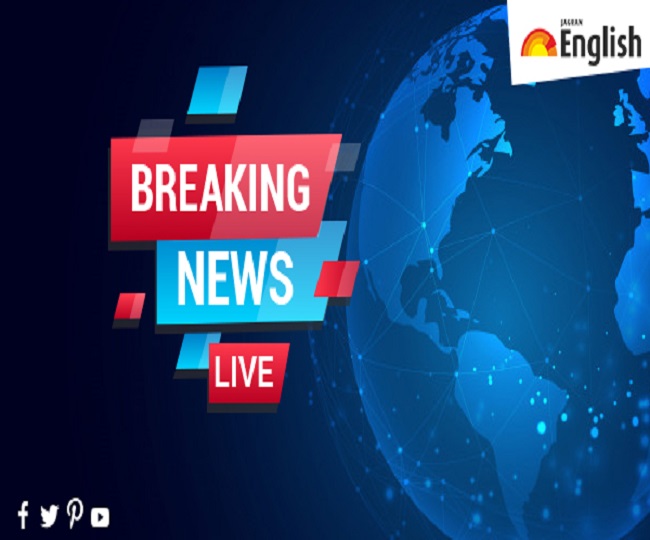 New Delhi | Jagran News Desk: Each and everything that happens around us impacts in some way and that's why it becomes important for us to know what's happening around the world. Thus at English Jagran, we provide our readers with 360-degree coverage in all genres to give them a brief insight into what's happening around the world.
Here are the live updates of Feb 20:
3;30 pm; Slogan 'Bangla Nijer Meyekei Chaye' is for people to interpret. Work-related to infrastructure, education, health or industry happened in the last 10 yrs & now with upcoming polls, we've put it into 4 words: Derek O'Brien after launch of TMC's new slogan for State Assembly polls
3;00 pm; A total of 1305 buildings sealed in Mumbai after 2749 #COVID19 cases reported. 71,838 households residing in these sealed buildings: Brihanmumbai Municipal Corporation (BMC)
2;50 pm; The kind of language he (Yogi Adityanath) uses, be it on stages or the House, a Chief Minister cannot speak like this. Kehte hai inke DNA mein vibhajan hai, agar DNA ka full form bata de, toh hum jaan jayenge ki vo CM hai.. He should at least clear what DNA is: Akhilesh Yadav, SP
2;40 pm; We're also constructing a Ram Mandir in our village. Even we have faith in God. Our beliefs are our personal issues & should not be used as a political tool. It is unfortunate that BJP leaders are using Ram Mandir construction for their political benefits: Siddaramaiah, Congress
2;30 pm; Toolkit Case: Delhi Police added that somehow this toolkit got leaked on social media and was available in the public domain, the deletion of the same was planned and performed.
2;25 pm; Toolkit Case: Delhi Police says before the court that these organisation operated from Canada & wanted someone to hoist a flag at India Gate, Red Fort. They wanted to carry out such activities in the garb of farmers protest and that is why Poetic Justice Foundation is involved.
2;15 pm; A total of 62 bodies found so far in Uttarakhand. Out of these, 34 have been identified & 28 are yet to be identified. 142 more missing: #Uttarakhand Disaster Management Authority
2;00 pm; PM Modi will visit Assam & West Bengal on 22nd February. He'll dedicate to the nation important projects of the oil & gas sector in an event organized in Dhemaji, Assam. Later, he will dedicate to the nation and inaugurate several railway projects in Hooghly, West Bengal: PMO
1;10 pm; One Siddaramaiah is enough to destroy Congress party. Similarly, HD Kumaraswamy is destroying his party. Even the poor are giving Rs 10 each (for Ram temple) out of devotion. Siddaramaiah says that it's disputed land, so he won't contribute: Karnataka Minister KS Eshwarappa
1:00 pm: Our Govt has decided to form a committee, led by a retired HC judge. It'll collect info of all communities, give it to state cabinet & we'll make decision based on report. We'll give our support to those communities that are eligible (for reservation): Karnataka Min KS Eshwarappa
11:10 am: Puducherry Legislative Assembly will reassemble for a Special Session on 22nd February: R Mounissamy, Secretary, Legislative Assembly Puducherry Lt Gov Tamilisai Soundararajan has ordered floor test in the legislative assembly on 22nd February by 5pm.
11:00 am: The positive response received for this year's Budget has expressed the mood of the nation. The country has made up its mind that it wants to progress rapidly and doesn't want to lose time. The youth is playing a major role in setting the mood of the nation: PM Narendra Modi
10:55 am: In past few yrs, we saw that opening of bank accounts, increase in vaccination & health facilities, free electricity connection, free gas connection to empower the poor has reflected a phenomenal change in their lives: PM Modi chairs 6th meeting of Governing Council of NITI Aayog
10:45 am: Foundation of India's development is that Centre & States work together and head towards a certain direction & make cooperative federalism even more meaningful. Not only this, we have to try to bring competitive, cooperative federalism not only among states but also districts: PM
10:35 am: Govt reiterates that age relaxation of upto 30 days may be granted at the level of heads of schools in maximum as well as minimum age limit for Nursery & KG/Class I. Parents seeking age relaxation in respect of their ward may approach the concerned school principal: Delhi Govt
10:25 am: Delhi: BJP National General Secretary (Organisation), BL Santhosh is holding a meeting with BJP General Secretaries (Organisation) of all states at the party headquarters today. Party chief JP Nadda will also attend the meet that will begin shortly.
10:15 am: Abnormal increase in crime rate has been the major problem in the world. I'm glad that CDFD is providing state-of-the-art DNA fingerprinting service to courts, NIA, CBI for correct judgement in criminal cases & providing relief to disaster victims' families: VP Venkaiah Naidu
10:00 am: Delhi shrouded in a layer of dense fog this morning. Visuals around Rashtrapati Bhavan and South block.
9:50 am: Rajasthan: Customs officials intercepted a passenger coming from Sharjah, at Jaipur International Airport today and seized 1.5 kgs of foreign marked gold in the form of 2 pieces, weighing approx 750 grams each. The gold, valued at Rs 70 Lakhs approx, was concealed in his shoes.
9:40 am: India reports 13,993 new #COVID19 cases, 10,307 discharges, and 101 deaths in the last 24 hours, as per Union Health Ministry Total cases: 1,09,77,387 Total discharges: 1,06,78,048 Death toll: 1,56,212 Active cases: 1,43,127 Total Vaccination: 1,07,15,204
9:30 am: India and China to hold 10th round of Corps Commander level talks at Moldo on the Chinese side of LAC at 10 am today to discuss disengagement from other friction points, including Gogra, Hot Springs and Depsang plains: Indian Army Sources
9:15 am: A total of 21,02,61,480 samples tested for #COVID19 up to 19th February. Of these, 7,86,618 samples were tested yesterday: Indian Council of Medical Research (ICMR)
9:00 am: MP: Congress MLA Sukhdev Panse says, "Kangana jaisi nachne gane wali mahila kisanon ke swabhiman ko thes pahuchaye...Police baton charges Congress, who's standing for farmers..." while submitting memorandum to Dist Collector over lathi-charge on party workers in Sarni
8:30 am: Congress workers were baton-charged by Police when they were opposing shooting of an upcoming film of Kangana Ranaut in Sarni, Betul. Cases were registered against them. The MLA and others were submitting the memorandum to the District Collector in connection with this incident.
8:15 am: The sixth meeting will witness the entry of Ladakh for the first time, in addition to the participation of Jammu and Kashmir as Union Territory. This time, other UTs headed by administrators have also been invited to join.
7:55 am: PM Narendra Modi will chair the 6th meeting of Governing Council of NITI Aayog today via video conferencing. Deliberations on agriculture, infrastructure, manufacturing, human resource development, service delivery at grassroots level and health & nutrition to be taken up in meet
7:45 am: Punjab Chief Minister Captain Amarinder Singh will not attend the NITI Aayog meeting today. He is indisposed, Punjab Finance Minister will attend the meeting instead: Sources
7:25 am: Vice President M Venkaiah Naidu writes to MPs saying,"I request you to be active facilitator in promoting native languages in large area you represent in Parliament. Given your standing among people you represent,your efforts could give a fillip to promotion of Indian languages.
7:10 am: Petrol and diesel prices in Delhi stand at Rs 90.58 per litre (increase by 39 paise) and Rs 80.97 per litre (increase by 37 paise), respectively
Posted By: Talibuddin Khan