Breaking News Latest Updates, Highlights of February 16
Breaking News Latest Updates, Highlights of February 16
Updated: Tue, 16 Feb 2021 05:39 PM IST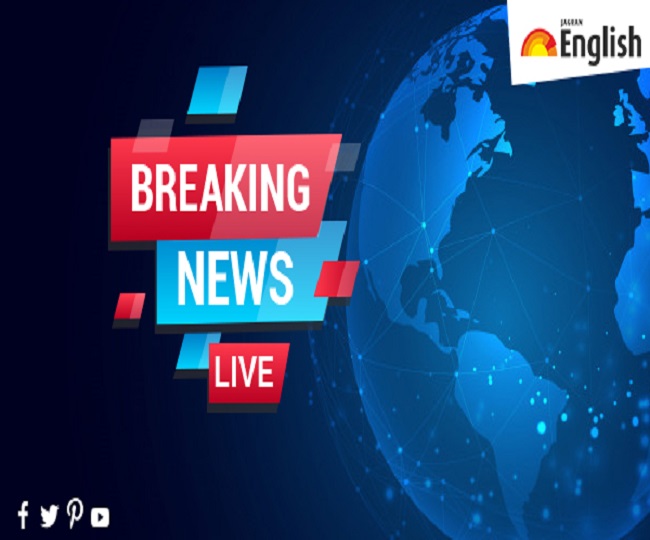 New Delhi | Jagran News Desk: Each and everything that happens around us impacts in some way and that's why it becomes important for us to know what's happening around the world. Thus at English Jagran, we provide our readers with 360-degree coverage in all genres to give them a brief insight into what's happening around the world.
Prime Minister Narendra Modi will address a webinar for consultation on the roadmap for effective implementation of Union Budget 2021-22 in the infrastructure sector today at 4 pm. A PMO release said the webinar will witness the participation of more than 200 panellists including representatives of major financial institutions and funds, concessionaires and contractors, consultants and subject matter experts.
Here are the Highlights of Feb 16:
12;10 pm; Supreme Court agrees to consider a plea seeking prioritisation in giving #COVID19 vaccination to judges, lawyers and judicial staff across the country. "We will consider this, matter after two weeks," says CJI SA Bobde.
12;00 pm; To make property locations easily accessible, Chandigarh Smart City Limited to implement Digital Door Number system for residential & commercial properties "What Aadhaar card is for Indians, CSIL will be for properties with QR code, GIS & unique ID", says CSIL manager NP Sharma
11;55 am; Today when India is entering the 75th year of independence, there can be no bigger an occasion to remember & take inspiration from the contribution of such great men (Maharaja Suheldev), their sacrifice, struggle, valour & martyrdom: PM Narendra Modi
11;50 am; It's a misfortune that those who dedicated their lives to protect India were not given their due position - the position they deserved. The injustice & manipulation done to those who created history, by those who wrote history is being corrected by today's India: PM Narendra Modi
11;40 am; History of India is not just what was written by those who enslaved this country and those with a slave mentality. India's history is that too which the common people of India have kept in the folk stories of India, that which has been carried forward by generations: PM Modi
11;35 am; This #Basant has come with new hopes and new enthusiasm for India that is moving forward, leaving behind the despair of the pandemic: Prime Minister Narendra Modi at the foundation stone laying ceremony of Maharaja Suheldev Memorial and development work of Chittaura Lake in UP
11;30 am; Prime Minister Narendra Modi lays the foundation stone of Maharaja Suheldev Memorial and development work of Chittaura Lake in Uttar Pradesh, via video conferencing. CM Yogi Adityanath is also present at the event.
11;25 am; Delhi Police writes to Zoom, seeking details of Zoom meeting over toolkit matter in connection with 26th January violence.
11;20 am; Supreme Court directs AIIMS Gorakhpur to conduct the examinations for 11 first-year students whose attendance was low due to #COVID19
11;10 am; Mumbai: Enforcement Directorate (ED) has summoned Armaan Jain in an alleged money laundering case, asking him to appear before them tomorrow. ED had asked him to appear before them on earlier occasions too but he didn't come.
11;00 am; A Delhi Court remands Deep Sidhu, an accused in 26th January violence, to 7-day Police custody: Delhi Police Sources
10;50 am; Maharashtra: A 26-year-old doctor allegedly died by suicide at Nayar Hospital in Mumbai. His body was found in his room & has been sent for postmortem. Reason behind the suicide yet to be ascertained. Police registered an Accidental Death Report. Further investigation is underway
10;40 am; Search and rescue operation underway at Tapovan tunnel in Joshimath of Chamoli district. A total of 11 bodies recovered from the tunnel so far, 58 bodies in total till now. The region was hit by a flash flood on February 7th after a glacial burst.
10:30 am; More than 325 personnel comprising engineers, officers, geologists, scientists, security personnel from NTPC, THDC CISF, UPNL and others are taking part in the rescue operation. Slurry Pump installed in GOC/Transfer Structure area of de-silting basin dewatering.
10:20 am; We conducted an impartial investigation in North-East Delhi violence using technology & evidence. 1 constable lost his life while many personnel got injured. Didn't discriminate on the basis of religion & registered 755 cases. Nearly 1,800 were arrested: Delhi Police Commissioner
10:10 am: MP: A bus, carrying around 54 passengers, fell into a canal in Sidhi after the driver lost control over it. 7 people rescued, search underway for rest of the passengers. A team is present at spot, operation is underway. Bus was going from Sidhi to Satna when the incident occurred
10:00 am: Shubman Gill sustained a blow on his left forearm while fielding on Day 3 of the 2nd Test. He has been taken for a precautionary scan. The BCCI medical team is assessing him. He won't be fielding today: BCCI
9:50 am: Moradabad: FASTag becomes mandatory for all vehicles from today; visuals from a toll plaza on Delhi-Lucknow national highway.
9:40 am: India reports 9,121 new #COVID19 cases, 11,805 discharges, and 81 deaths in the last 24 hours, as per Union Health Ministry Total cases: 1,09,25,710 Total discharges: 1,06,33,025 Death toll: 1,55,813 Active cases: 1,36,872 Total Vaccination: 87,20,822
9:30 am: West Bengal: House of TMC MLA Nihar Ranjan Ghosh & party's office, in Malda, was vandalised last night by unidentified people. The MLA says, "I was at party office with workers when around 150 people suddenly came & started vandalising everything. I've filed a Police complaint."
9:20 am: Delhi: 6 people injured in a fight between neighbours over the falling of a motorcycle in Jahangirpuri area last night. A police investigation is underway.
9:10 am: Afghan President Ashraf Ghani sends through Afghan embassy in India, a Chadar towards Ajmer Sharif Dargah on 809th Urs of Khwaja Moinuddin Chishty. His letter to the Dargah Chairman reads, "singular honour to be offering the Chadar...Chishty Order still thriving in Afghanistan"
8:40 am: I'm fortunate to prepare clothes for Ramlalla. I handed it over to CM. It'll be presented to Ramlalla on #BasantPanchami. It's made out of Khadi, we've prepared wardrobe for an entire week. We wanted to create awareness about Khadi among people: Manish Tripathi, fashion designer
8:30 am: Lucknow: Clothes of Khadi fabric made for Ramlalla by a fashion deisgner, in collaboration with Khadi and Village Industries Board of the state. The clothes were handed over to CM Yogi Adityanath yesterday.
8:15 am: Uttarakhand: A total of 11 bodies recovered from Tapovan tunnel in Joshimath of Chamoli district so far; 58 bodies in total. 146 more bodies yet to be found.
8:00 am: Delhi's air quality in 'very poor' category, with overall air quality index standing at 323, according to System of Air Quality & Weather Forecasting & Research (SAFAR)
7:45 am: Maharashtra: Five killed and at least five injured in a collision between multiple vehicles on Mumbai - Pune Expressway near Khopoli last night. The injured were taken to a hospital.
7:30 am: Varanasi: People take holy dip in river Ganga on #BasantPanchami today.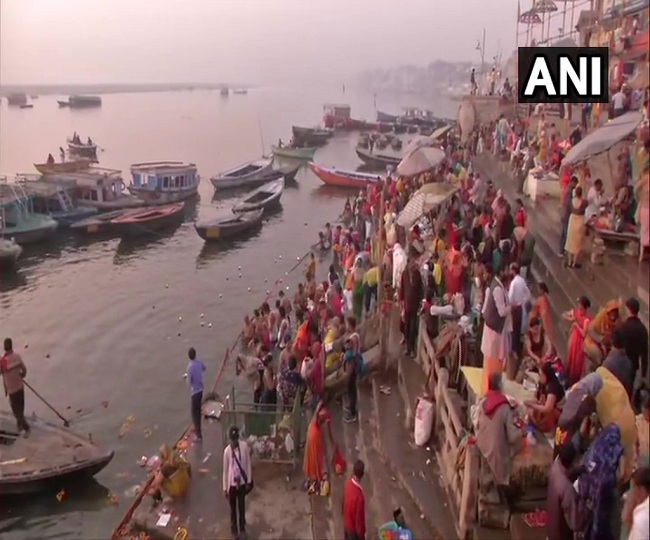 7:15 am: Volunteers collecting money for Ram Temple construction write down the name of households that don't donate. I don't know why they are marking the houses... RSS is doing what the Nazis did in Germany: Former Karnataka Chief Minister HD Kumaraswamy
7:00 am: Petrol and diesel prices in Delhi stand at Rs 89.29/litre (increase by 30 paise) and Rs 79.70/litre (increase by 35 paise), respectively
Posted By: Talibuddin Khan