Breaking News, Latest Updates of Dec 4: SC to hear Bindu Ammini's plea seeking safety for women entering Sabarimala next week
Catch all the LIVE updates of December 4 here
Updated: Wed, 04 Dec 2019 03:07 PM IST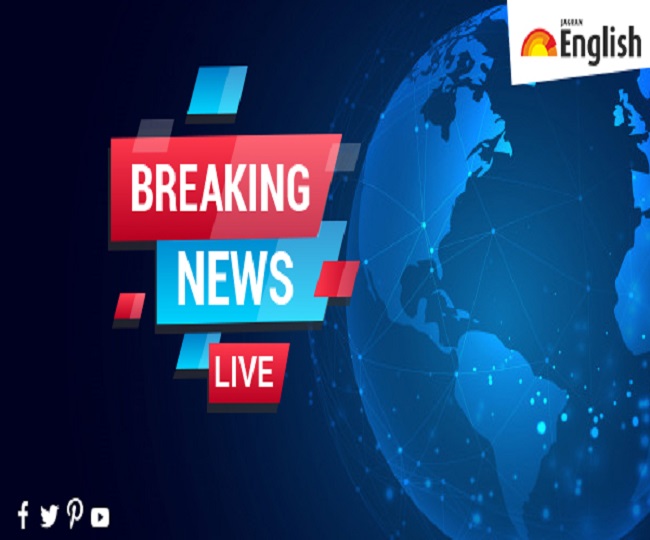 New Delhi | Jagran News Desk: Jagran English focuses on all the top news of the day to give our readers a brief insight about what's happening in the world and how it might impact them.
Here we focus on all the top-rated news items of the day to help our readers stay updated and well informed and provide them a 360-degree coverage of all genres including India, world, business, sports, and entertainment. So stay tuned to catch all the live updates of December 3 here.
Here are the Latest Updates of December 4:
3:05 pm: Army Chief General Bipin Rawat was accorded a ceremonial welcome and presented with a Guard of Honour on arrival at the Ministry of Defence, Japan. General Rawat had an interaction with General Goro Yuasa, Chief of Staff of Japan Ground Self Defence Force
2:53 pm: Ludhiana: Scuffle broke out between Police & Youth Congress workers during organisational elections of Youth Congress. Ludhiana DCP Ashwani Kapoor says, "Supporters of 2 candidates fought and allegedly fired shots, after which Police reached the spot.
2:45 pm: Tamil Nadu: A student of class 10th committed suicide allegedly over continuous harassment by his school teacher after the student started taking tution classes from a different teacher, in Usilampatti. Police have registered a case and the accused teacher is absconding.
2:40 pm: Thiruvananthapuram: Police used water canons&tear gas shells against Kerala Student Union(KSU) members who were marching towards University College.They were demanding arrest of Students' Federation of India(SFI) members who had allegedly attacked KSU workers in November.
2:35 pm: Tejashwi Yadav, RJD: Crime rate in Bihar has gone up since JD(U) & BJP formed govt. Instead of going on Jal-Jivan-Hariyali Yatra, CM Nitish Kumar should go on 'Apradh Mitao Yatra, Berozgaari Mitao Yatra'. There is no point going to this Yatra when criminals are roaming freely.
2:30 pm: BJP MP from Gorakhpur (UP) Ravi Kishan: Population of Hindus is 100 crores, so obviously India is a Hindu Rashtra. There are so many Muslim & Christian countries, so it is amazing that we have a country called 'Bharat' to keep alive our culture.
2:25 pm: HM Amit Shah in Rajya Sabha on mob lynching cases: To tackle these issue & to invite suggestions, govt had created a committee of ministers, they have held a meeting&govt is aware of the matter. Action in such cases is taken under section 300 and 302 of Indian Penal Code.
2:20 pm: Rakesh Rathi, DIG, Shahabad: We have cordoned-off the area, requesting everyone to stay away from the site of crime so that we can collect evidences. Forensic team worked overnight to establish woman's identity. Rape hasn't been confirmed yet.
2:16 PM: Delhi | Finance Ministers of Kerala, Rajasthan, Punjab, Madhya Pradesh, Chhattisgarh and Delhi called on Union Finance Minister Nirmala Sitharaman, today
2:12 pm: Bihar | Forensic Science Laboratory team visits the spot where half-burnt body of a woman was found in Kukurha village of Itarhi, Buxar, yesterday.
2:08 pm: Amid growing military ties between two countries, Indian Army extended help to Japanese Army to hone its skills in counter-terrorist operations to tackle such possible situations during the Tokyo Olympics scheduled to be held next year.
2:05 pm: Delhi University Teachers' Association (DUTA) protests outside DU Vice-Chancellor's office demanding rollback of Aug 28 circular which stops the appointment of ad-hoc teachers.
2:00 pm: Gautam Gambhir, BJP MP on Delhi CM Arvind Kejriwal announcing free wifi hotspots: Delhi CM has again lied to public. He is a big liar. He said the same 4.5 years ago & saying it again just 2 months before elections. He is doing vote-bank politics because elections are approaching
1:55 pm: IG Bastar P Sundarraj: Prime facie it appears that one jawaan, due to some mental condition, opened fire at his colleagues. Investigation is underway.
1:50 pm: Indian Captain #ViratKohli regains number 1 spot in International Cricket Council (ICC) men's Test rankings.
1:38 pm: Delhi's Rouse Avenue Court issues bail bonds of Rs 2 lakhs and surety of the like amount, as directed by the Supreme Court. P Chidambaram's release order to be sent to Tihar Jail directly.
1:30 pm: Karti Chidambaram (son of P Chidambaram) on Supreme Court grants bail to his father in #INXMediaCase: I am very happy that he is going to be back home, I am relieved. He will also be attending Parliament session tomorrow.
1:17 pm: West Bengal Governor Jagdeep Dhankhar to ANI: Finding that today & tomorrow the state assembly is not in session, I have written to the Speaker this morning that I will be visiting the assembly tomorrow. The purpose is to know the building, facilities, & a visit to the library.
1:10 pm: Union Minister Nitin Gadkari: We have never been vindictive, on the other hand when Chidambaram ji was Home Minister during Congress rule, he filed false cases against me, he also filed false cases against Modi ji & Amit Shah ji. Later, we all were proved innocent.
1:05 pm: BJP Rajya Sabha MP Sambhajiraje Chhatrapati writes a letter to Chief Minister Uddhav Thackeray seeking withdrawal of cases registered against protesters during Maratha reservation protests.
12:58 pm: Union Minister Nitin Gadkari on Jharkhand elections: For further development of Jharkhand, people will vote CM Raghubar Das back to power. There is no anti-incumbency wave, Congress has vanished from the state. JMM-Congress contesting together means, BJP is powerful.
12:55 pm: Tamil Nadu: Congress workers celebrate in Chennai after party leader P Chidambaram got bail in INX Media money laundering case (ED case).
12:50 pm: Union Minister Nitin Gadkari on SC grants bail to P Chidambaram in #INXMediaCase: There is evidence for the cases against him, there have been inquiries, now the matter is sub-judice and court will take the decision.
12:47 pm: Government of India: Union Cabinet approves land monetisation at Pragati Maidan (Delhi) to build a 5-star hotel. India Trade Promotion Organisation (ITPO) to undertake project to redevelop Pragati Maidan into a world class International Exhibition & Convention Centre. India Trade Promotion Organisation (ITPO) to transfer 3.7 acres at Pragati Maidan on a 99 year fixed lease.
12:43 pm: Finance Minister Nirmala Sitharaman: Cabinet has given approval for the launch of Bharat Bond Exchange Traded Fund
12:41 pm: Union Cabinet approves the withdrawal of #JammuAndKashmir Reservation (Second Amendment) Bill, 2019. Cabinet also approves Personal Data Protection Bill, 2019; Bill to be introduced in the current session of Parliament.
12:38 pm: Union Minister Prakash Javadekar: Citizenship Amendment Bill (CAB) has been cleared by the Cabinet. Conversion of three Sanskrit deemed to be Universities into Central Universities; Union Cabinet approves the Central Sanskrit Universities Bill to be introduced in Parliament.
12:35 pm: Exercise 'Sindhu Sudarshan' was conducted by Sudarshan Chakra Corps in Rajasthan from 28 November to 4 December 2019. The integrated exercise involved the use of mechanised forces, infantry, artillery and other force multipliers such as drones and electronic warfare systems.
12:33 pm: Defence Minister Rajnath Singh in Lok Sabha: India is developing infrastructures like roads, tunnels, railway lines, and air fields on the China border to ensure the unity, security, & sovereignty of the country.
12:29 pm: Defence Minister in Lok Sabha: There is no mutually agreed Line of Actual Control (LAC) between India & China. Due to different perceptions of the LAC, sometimes incidents of incursion occur, I accept it. Sometimes the Chinese Army enters here & sometimes our people go over there
12:25 pm: Defence Minister Rajnath Singh in Lok Sabha: I would like to assure the House that our forces are vigilant and protecting our borders. Our forces are fully capable of facing any challenge, nobody should have a doubt about it.
12:20 pm: Delhi Chief Minister Arvind Kejriwal: 11,000 wifi-hotspots will be set up, 4000 at bus stops, 7000 in markets etc. The first 100 hotspots will be inaugurated on December 16. It will cost around Rs 100 crores. Subsequently, every week 500 wifi-hotspots will be added, and within 6 months these 11,000 hotspots will be set up.
12:15 pm: Adhir Ranjan Chowdhury, Congress in Lok Sabha: Pakistan shelters terrorists and China shelters Pakistan. China has started sending ships till Andaman & Nicobar. We keep aggression in our voice when it comes to Pakistan, then why are we balanced soft towards China?
12:10 pm: Another Army person lost his life after an Army patrol was hit by a blizzard in Gurez Sector of Jammu and Kashmir, yesterday.
12:05 pm: Neeraj Shekhar (BJP MP & son of former PM Chandra Shekhar) on his reported statement, 'Under SPG cover, you feel like PM': It is my own experience, you feel you are someone when all the paraphernalia goes with you. I was nothing back then but even I started feeling that.
12:00 pm: Neeraj Shekhar, BJP MP & son of former PM Chandra Shekhar: Home Minister said yesterday that the Gandhi family is getting the security that is given to the President & other eminent people. Gandhi family & Congress should understand that their security is the most secure.
11:54 am: Mumbai: Swedish King Carl XVI Gustaf Folke Hubertus and Queen Silvia Renate Sommerlath at Versova Beach during a cleanliness drive.
11:50 am: Jammu Police: Recovered more than 700 kg of poppy straw in two separate places at Udhampur, yesterday, two interstate drug smugglers arrested, vehicles seized.
11:46 am: Department of Information and Public Relations, Govt of Jammu & Kashmir: Complaint box will be placed in every Panchayat to enable citizens to register their complaints and grievances with the Government.
11:42 am: Telangana | Trupti Desai of Bhumata Brigade and other activists have been detained by the police in Hyderabad from near Chief Minister K. Chandrashekar Rao's residence
11:39 am: DMK (Dravida Munnetra Kazhagam) today filed a fresh petition in the Supreme Court seeking its direction to stay the Tamil Nadu local body elections notification.
11:37 am: Army Sources: Three soldiers have lost their lives in an avalanche which had hit an army camp in the Tangdhar sector of Kupwara district, yesterday.
11:35 am: Prime Minister's Office (PMO): One of the projects includes the lighting up of Male using LED lights. The other is the launch of RuPay card in Maldives. Three fish processing plants will also be inaugurated. A Fast Interceptor Craft will be gifted to the Maldives.
11:32 am: Prime Minister's Office (PMO): Furthering India-Maldives friendship, at 4 PM this evening, Prime Minister Narendra Modi and President Ibrahim Mohamed Solih will jointly inaugurate key development projects covering a wide range of sectors.
11:28 am: Trupti Desai, Bhumata Brigade, in Hyderabad: CM of the state has time to attend weddings but he doesn't have time to visit the victim's (woman veterinarian who was raped& murdered) family. We will be going to CM's office shortly, and will demand answers from him.
11:24 am: Delhi High Court dismisses plea challenging Union Minister Harsh Vardhan's Lok Sabha election affidavit. The plea had alleged that the Bharatiya Janata Party (BJP) leader indulged in corruption by not disclosing real cost of an apartment bought by his wife.
11:20 am: Sandeep Goel, DG Tihar Prison on SC grants bail to P Chidambaram in INX media case: They will take the SC order to lower court & submit the sureties & bail bonds there, then the order to release him from jail will be issued. He will be released once we get the release order.
11:10 am: Superintendent of Police Narayanpur, Mohit Garg: 6 dead and two injured in a clash amongst Indo-Tibetan Border Police (ITBP) personnel in Narayanpur, Chhattisgarh.
11:02 am: Supreme Court agrees to hear in January 2020 an application filed by Association of Democratic Reforms seeking stay on the implementation of the Electoral Bond Scheme notified by the Central Government on January 2, 2018.
11:00 am: Sources | Union Cabinet today approved the proposal to extend the SC/ST reservation for Lok Sabha and State Assemblies which was to expire on January 25, it has been extended for the next 10 years.
10:54 am: Delhi High Court disposed of the PIL seeking Court's direction to Delhi Govt for immediate grant of sanction to proceed with the trial against former JNU Students Union leader Kanhaiya Kumar and others in a sedition case.
10:50 am: Supreme Court today said it will hear next week Bindu Ammini's (one of the two women who entered #Sabarimala temple in January this year) petition, seeking Court's directions to Kerala government to ensure the safe passage of (entry) any women to the Sabarimala temple.
10:45 am: Supreme Court directs P Chidambaram to furnish a bail bond of Rs 2 lakhs along with 2 sureties of the same amount. SC also says Chidambaram can not travel abroad without the Court's permission.
10:42 am: Supreme Court says P Chidambaram should not temper with the evidence and not influence the witnesses. He should also not give press interviews or make public statements in connection with this case.
10:40 am: Supreme Court grants bail to former Finance Minister & Congress leader P Chidambaram in INX Media money laundering case, registered by the Enforcement Directorate (ED).
10:35 am: Andhra Pradesh | A 60-year-old woman was allegedly raped and murdered by a man in G.Vemavaram village of I. Polavaram Mandal, East Godavari District, yesterday. Police say, 'A case has been registered & accused has been arrested. He also stole Rs 80,000 from the woman's house.'
10:30 am: DCP Rohini, SD Mishra | Body of a man and a woman found in a car in Rohini, this morning. Prima facie it appears that the man shot the woman with his licensed revolver and later shot himself. Investigation underway.
10:24 am: Aam Aadmi Party (AAP) MP Sanjay Singh has given Suspension of Business Notice in Rajya Sabha over 'rising price of onions.'
10:20 am: Congress MP Adhir Ranjan Chowdhury gives Adjournment Motion Notice over the issue of 'Chinese encroachment in Arunachal Pradesh'.
10:17 am: Congress Chief Whip in Lok Sabha Kodikunnil Suresh gives Adjournment Motion Notice in Lok Sabha over the issue of 'Chinese intrusion reported in Andaman & Nicobar islands'.
10:12 am: Sanjay Raut, Shiv Sena | Conspiracies were being hatched to remove Shiv Sena from Maharashtra, there was an attempt to make Sharad Pawar sahab a part of the conspiracy but he did not fall for it.
10:07 am: Union Minister of Steel Dharmendra Pradhan, has written to Union Minister of Commerce & Industry Piyush Goyal, requesting the latter's intervention in 're-starting the project for up-gradation of infrastructure at Angul Aluminium Park, Odisha.'
10:01 am: Nationalist Congress Party MP Vandana Chavan has given Zero Hour Notice in Rajya Sabha over 'concern on rising sea levels.'
9:59 am: Delhi | Karti Chidambaram (son of P Chidambaram) and Kapil Sibal leave for Supreme Court from the latter's residence. Supreme Court will pronounce the order on P Chidambaram's petition seeking bail in the INX Media money laundering case, today.
9:57 am: TMC MP Shanta Chhetri has given Zero Hour Notice in Rajya Sabha over 'need to release central funds for West Bengal due to devastation caused by
9:55 am: Samajwadi Party MP Jaya Bachchan has given Zero Hour Notice in Rajya Sabha over 'concern over the safety of girl students in Allahabad University Hostel.'
9:50 am: Marumalarchi Dravida Munnetra Kazhagam (MDMK) MP Vaiko gives Zero Hour Notice in Rajya Sabha over 'Madras High Court to be renamed as High Court of Tamil Nadu.'
9:45 am: Delhi | Karti Chidambaram, son of P Chidambaram arrives at the residence of Kapil Sibal (one of the lawyers representing P Chidambaram in INX Media money laundering case). Supreme Court will pronounce the order on P Chidambaram's petition seeking bail in the case, today.
9:40 am: Delhi | Union Cabinet meeting begins at Parliament House Annexe building.
9:30 am: India Meteorological Department | Depression over East-Central Arabian Sea & adjoining areas of South-East Arabian Sea & Lakshadweep area intensified into a deep depression&lay centered about 440km West-South Westwards of Panjim. To intensify into a Cyclonic Storm in the next 12 hours.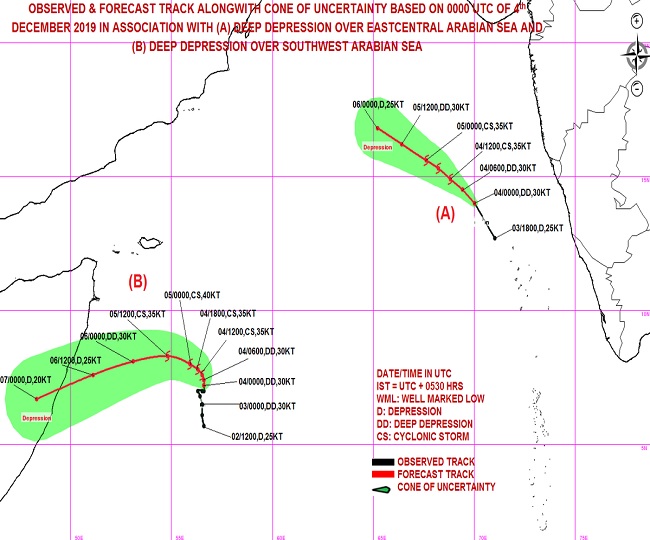 9:26 am: West Bengal | A group of 3 miscreants looted more than Rs 4 lakhs from a Bank in Kanksa area of Durgapur, last night. Police say, "The miscreants also vandalised the CCTV cameras, they entered the bank between 1-2 am. Bank didn't have any security guard during the night. Probe on."
9:17 am: Prime Minister Narendra Modi | On Navy Day, we salute our courageous Navy personnel. Their valuable service and sacrifice have made our nation stronger and safer.
9:10 am: Maharashtra | A 6-year-old girl was allegedly raped by a man in Kurla area of Mumbai. Police have registered a case and the accused has been arrested.
9:00 am: Bengaluru City Crime Branch | Karnataka State Cricket Association (KSCA) Management Committee member Sudhendra Shinde arrested in Karnataka Premier League (KPL) match-fixing case.
8:46 am: Balasore | India last night carried out a successful night test-firing of the Prithvi ballistic missile off the coast of Balasore, Odisha. The test was conducted by the Strategic Forces Command.
8:42 am: Bihar | Half-burnt body of a woman was found in the Warisnagar area of Samastipur, early morning today. Police are investigating the case.
8:38 am: Pakistan Occupied Kashmir (PoK) | Students of Karakoram University in Gilgit-Baltistan protest against Pakistan for systematically depriving them of higher education.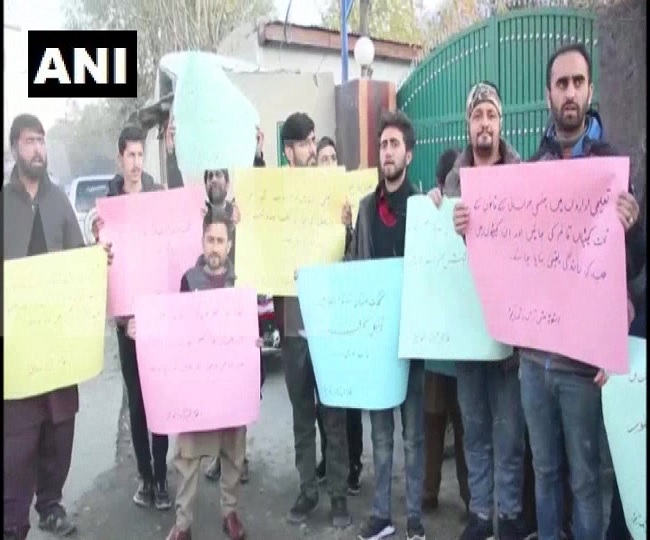 8:34 am: Delhi | Navy Chief Admiral Karambir Singh (in the center) lays wreath at the National War Memorial on Navy Day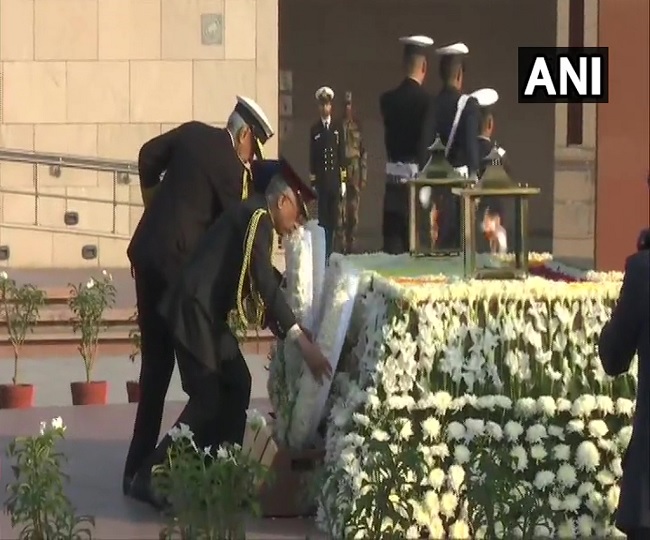 8:30 am: Premier League | Manchester City defeats Burnley, moves to the second spot
8:25 am: Delhi | Major pollutants PM 2.5 & PM 10 at 206 & 202 respectively, both in 'Poor' category, in Lodhi Road area, according to the Air Quality Index (AQI) data
8:15 am: Swati Maliwal, Delhi Commission for Women (DCW) Chairperson continues her hunger strike at Raj Ghat, demanding death penalty for convicts in rape cases within 6 months.
8:05 am: Indian Space Research Organisation (ISRO) Chief K Sivan on NASA finding Vikram Lander: Our own orbiter had located Vikram Lander, we had already declared that on our website, you can go back and see.
7:50 am: MoS Ministry of Housing and Urban Affairs, Hardeep Singh Puri to move The National Capital Territory of Delhi (Recognition of Property Rights of Residents in Unauthorised Colonies) Bill, 2019, in Rajya Sabha today.
7:20 am: INX Media case | SC to pronounce verdict on Chidambaram's bail plea today
7:15 am: Chhattisgarh | Kondagaon police seized 10 kg cannabis, concealed in the seat of two motorcycles and the blankets being carried on them, yesterday. The motorcycles had the number plates of Uttar Pradesh.
7:05 am: Andhra Pradesh | Bodies of a 23-year-old woman and an infant were found by the roadside in Maddipadu Mandal of Prakasam District yesterday. Police are investigating the case.
7:00 am: Dinesh Gundu Rao, Congress | BJP is afraid that they are going to lose. So they are thinking of doing another operation. But I am warning BJP that people will not tolerate this. If they try to do this again, then I think there will be a huge reaction.
Posted By: Talib Khan