Updated: Thu, 30 Dec 2021 03:55 PM IST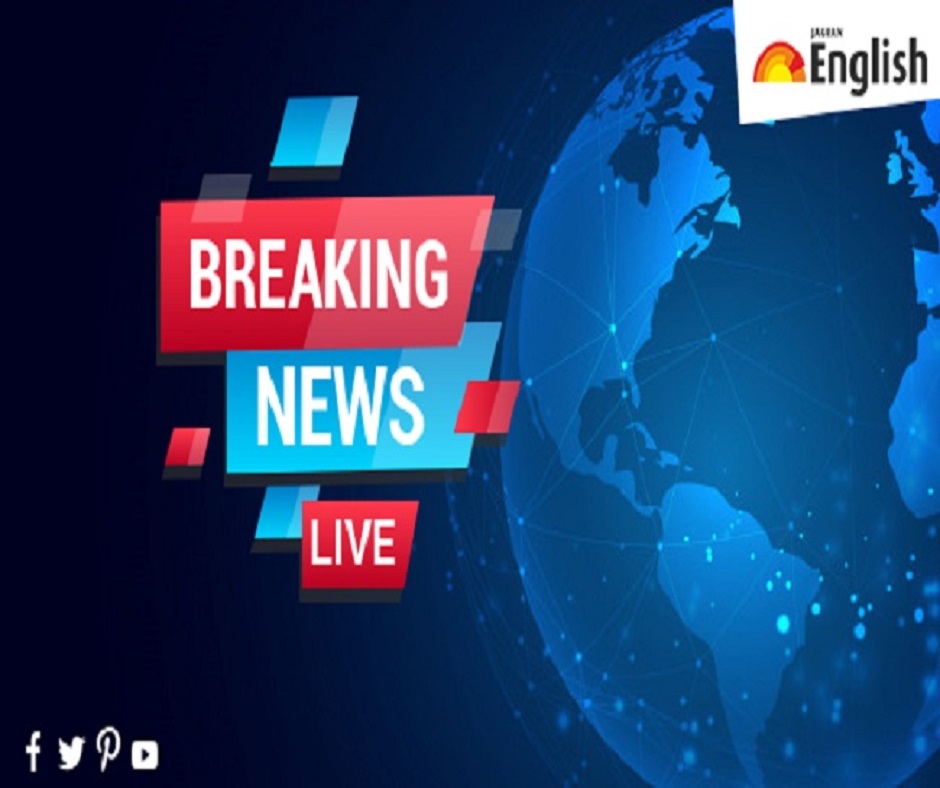 New Delhi | Jagran News Desk: In today's 'Breaking News, Latest Updates' blog, we at English Jagran will continue our focus on the COVID-19 pandemic and the rising Omicron cases across the globe. In India, the Omicron tally has crossed the 900-mark that has forced several states and union territories (UTs) to reimpose restrictions and curbing New Year celebrations to avoid a third possible wave of the pandemic.
Here are the highlights of the day:
15:40 hours: Also Read - Jagran Explainer: Pakistan acquires J-10C jets to 'counter' India's Rafales | How the two fighters stack up against each other
14:55 hours: Uttarakhand has completed 20 years of its formation. In these years, you have also seen such people running the government who used to say -'you may loot Uttarakhand, but save my government'. These people looted Uttarakhand with both hands, says PM Modi.
14:46 hours: Now that the public knows their (Opposition) truth, these people have started a new business of rumours, by manufacturing, spreading and then screaming about it. These Uttarakhand rebels are spreading rumours about the Tanakpur-Bageshwar rail line as well, says PM Modi.
14:41 hours: The capability of the people of the State will make sure that this decade belongs to Uttarakhand. Modern infrastructure projects like Char Dham project, new rail routes will make help achieve this, says PM Modi.
14:38 hours: These inaugurated development projects will give better connectivity and better health to the people of Haldwani. We're also bringing a Rs 2,000 crore scheme for the development of the overall infrastructure of Haldwani, for water, sewage, road, parking, street lights, says PM Modi.
14:30 hours: PM Modi inaugurates and lays the foundation of 23 developmental projects worth Rs 17,500 crore in Uttarakhand's Haldwani.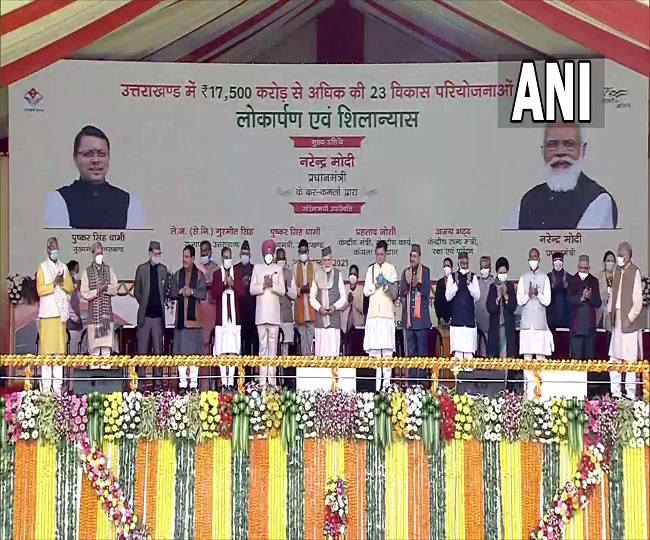 14:10 hours: Also Read - Jagran Explainer: Why resident doctors are protesting and what are their demands
13:49 hours: PM Modi arrives in Uttarakhand's Haldwani, to inaugurate and lay the foundation of various developmental projects shortly.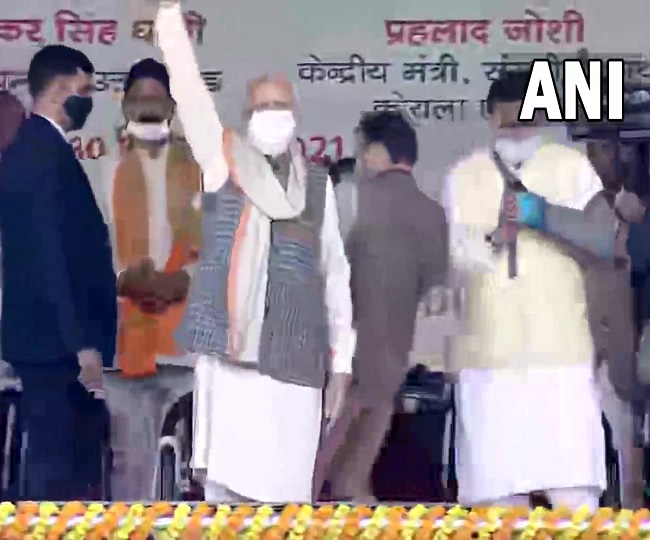 13:14 hours: BJP president JP Nadda arrives in Imphal; CM N Biren Singh receives him.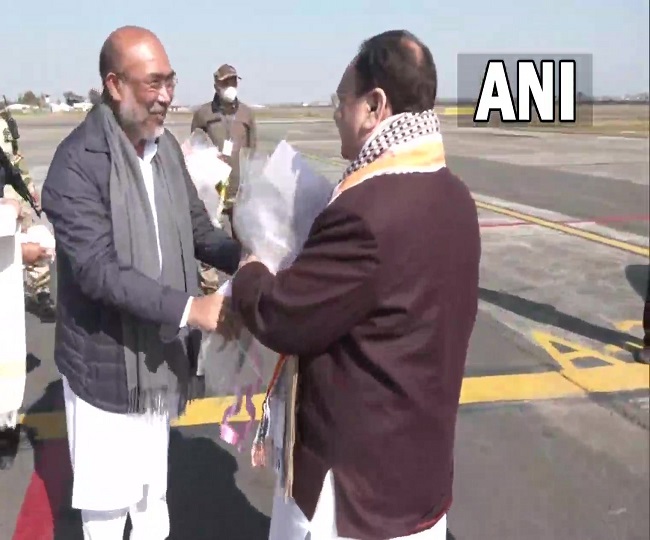 12:57 hours: Election Commission's press conference has ended.
12:54 hours: We have discussed this issue with the health secretary here. When elections are announced, we will issue directions specifically on this issue looking at the situation then, says Chief Election Commissioner Sushil Chandra.
12:42 hours: The staff deployed at voting booths across the state will be fully vaccinated, says Chief Election Commissioner Sushil Chandra.
12:34 hours: Voting during Assembly elections will be held from 8 am to 6 pm on the date of polling, says Chief Election Commissioner Sushil Chandra.
12:32 hours: Polling time for Uttar Pradesh to be increased by one hour, says Chief Election Commissioner Sushil Chandra.
12:32 hours: 61 per cent voter turnout was recorded in 2017 UP assembly elections. In 2019 Lok Sabha elections, voter turnout in UP was 59 per cent. It a matter of worry why voting percentage is less in the state where there is high political awareness among people, says Chief Election Commissioner Sushil Chandra.
12:28 hours: VVPATs to be installed at all voting booths. Live webcasting facilities will be available at around 1 lakh voting booths to ensure transparency in election process, says Chief Election Commissioner Sushil Chandra.
12:23 hours: People above 80 years of age, persons with disabilities, and COVID affected people who are unable to come to the polling booth, the Election Commission will reach their doorsteps for vote, says Chief Election Commissioner Sushil Chandra.
12:21 hours: The final voters list will be released on January 5, 2022, says Chief Election Commissioner Sushil Chandra.
12:15 hours: Representatives of all political parties met us and told us that elections should be conducted on time following all COVID19 protocols, says Chief Election Commissioner Sushil Chandra.
12:10 hours: Election Commission's press conference begins.
12:05 hours: Maharashtra Chief Minister Uddhav Thackeray to chair a meeting of the COVID-19 Task Force today, reports ANI.
11:42 hours: Union Finance Minister Nirmala Sitharaman chairs a Pre-Budget Meeting with the Finance Ministers of all the States, UTs.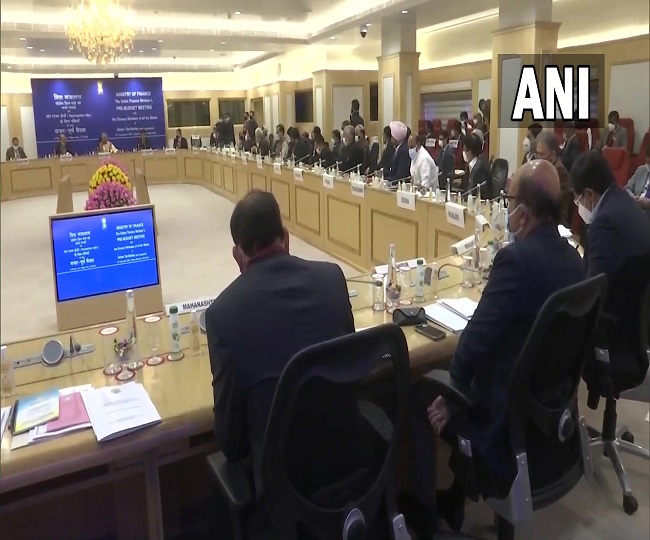 11:07 hours: 46 per cent of total COVID-19 cases are of Omicron variant as per the latest genome sequencing report, says Delhi Health Minister Satyendar Jain.
10:45 hours: Delhi temples closed for devotees as 'Yellow' alert sounded in the national capital due to rising COVID-19 cases.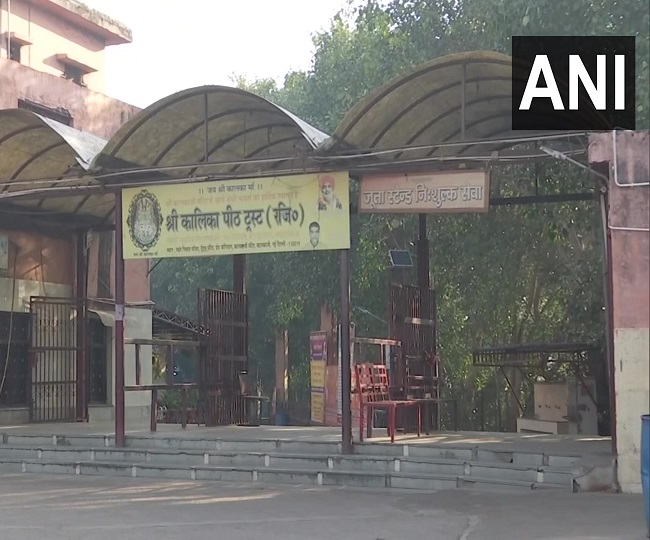 10:25 hours: UP has 3 Omicron patients till now, 2 in Ghaziabad, 1 in Raebareli. Out of 115 genome sequencing samples, 112 were of Delta variant. But, we need to be careful and alert. Delhi NCR areas have already started witnessing an increase in COVID-19 cases, says Uttar Pradesh ACS (Health) Amit Mohan Prasad.
10:10 hours: Epidemic Diseases Act, 1897, has been underway in UP since the beginning of the pandemic, we keep extending it for a 3 months duration. With the surge in COVID-19 cases, the Epidemic Diseases Act, 1897, will now be implemented till March 31, 2022, says Uttar Pradesh ACS (Health) Amit Mohan Prasad.
9:59 hours: A woman of around 30 years of age, who has already been vaccinated 4 times in different countries, tested COVID-19 positive at the airport and was admitted to a hospital. She was asymptomatic and tested negative a day before, says Indore CMHO Dr Bhure Singh Setia.
9:28 hours: Just In: India reports 13,154 new COVID-19 cases in the last 24 hours. Omicron case tally rises to 961 with 263 cases in Delhi and 252 in Maharashtra, says Union Home Ministry.
9:05 hours: The highlight of our presence in the UN Security Council so far has been our presidency in August. Prime Minister of India first time chaired a high-level meeting of UNSC. Visit of PM to the UN and address at UNGA was the high point, says TS Tirumurti, Ambassador of India to United Nations.
Resolution 2593 on Afghanistan was adopted under our presidency. It demands assurances that Afghanistan soil won't be used for terrorism against other countries and that authorities in Kabul will act against all terrorists, he added.
8:45 hours: Chattisgarh's Raipur Police arrests Kalicharan Maharaj from Madhya Pradesh's Khajuraho for alleged inflammatory speech derogating Mahatma Gandhi at 'Dharam Sansad'. A case is registered against him in Tikrapara Police Station of Raipur, reports ANI.
8:11 hours: 126 tiger deaths recorded in the country in the year 2021, says the National Tiger Conservation Authority.
8:01 hours: PM Modi will visit Haldwani in Uttarakhand today to inaugurate and lay the foundation stone of 23 projects worth over Rs 17,500 crore.
7:49 hours: We had promised to launch Ram Mandir work in Ayodhya... and now Kashi Vishwanath Dham is also being constructed. How can Mathura-Vrindavan be left? Work has started there as well, Uttar Pradesh Chief Minister Yogi Adityanath said on Wednesday.
7:35 hours: Active COVID-19 cases in Mizoram stand at 1,369, says state health department.
7:29 hours: Dehradun administration mandates negative COVID certificate not older than 72 hours for entry into the district, reports ANI.
7:14 hours: Five more cases of Omicron variant of coronavirus detected in Karnataka, tally now 43, says state Health Minister Dr K Sudhakar.
Posted By: Aalok Sensharma