Breaking News Latest Updates, Highlights December 29
Breaking News Latest Updates, Highlights December 29
Updated: Tue, 29 Dec 2020 05:14 PM IST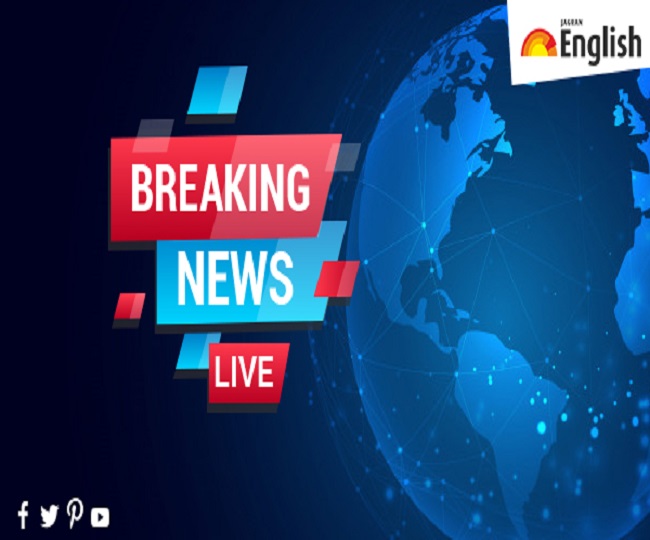 New Delhi | Jagran News Desk: Each and everything that happens around us impacts in some way and that's why it becomes important for us to know what's happening around the world. Thus at English Jagran, we provide our readers with 360-degree coverage in all genres to give them a brief insight about what's happening around the world.
Here are the Highlights of December 29:
2:30 pm: Dry ration kits will be given to school students under the Mid-Day Meal Scheme for the next 6 months. Around 8 lakh families will benefit from this scheme: Delhi CM Arvind Kejriwal
2:15 pm: BJP doesn't like smaller parties & wants to destroy their entity. BJP wants JD(U) to quit NDA. We appeal to Nitish Kumar to leave NDA, join Mahagathbandhan, & make Tejashwi Yadav the CM. He should enter national politics & lead the opposition: RJD's Uday Narayan Choudhary
2:00 pm: Dense to very dense fog in some pockets very likely over Punjab, Haryana, Chandigarh & Delhi and Uttarakhand during next 3-4 days. Dense fog in isolated pockets very likely over Uttar Pradesh during next 3 days and over Rajasthan during next 2 days: India Meteorological Dept
1:30 pm: Indian Commercial Pilots' Association writes to Air India Director (Operations), demanding that 'the company procure info from labs & promptly inform all pilots who have tested COVID positive & pilots who may test positive in future if they're infected with this deadlier variant'
1:15 pm: Cold wave conditions in Delhi to persist for the next two days. From January 1, the temperature will rise in the national capital: Kuldeep Srivastava, Regional Head, IMD Delhi
1:00 pm: Assam: Expelled Congress MLAs Rajdeep Gowala and Ajanta Neog (from right) join BJP in presence of State Minister Himanta Biswa Sarma in Guwahati.
12:30 pm: 187 live cartridges and two pistols recovered from two persons in Moti Nagar on the intervening night of 26th & 27th December; Case registered under Arms Act and both accused arrested: Delhi Police
12:00 pm: West Bengal: Chief Minister Mamata Banerjee arrives at Bolpur, Birbhum District
11:15 am: Karnataka: Vice President M Venkaiah Naidu arrives in Bengaluru on a three-day visit to the state, received by Governor Vajubhai Vala & State Home Minister Basavaraj Bommai.
11:05 am: Less than 16,500 daily new cases (16,432) were added to the national tally in the last 24 hours after 187 days. The daily new cases were 16,922 on 25th June 2020: Union Ministry of Health and Family Welfare
10:55 am: Air India Express has completed the disbursement of interim compensation to all the passengers & family members of passengers died in Kozhikode plane crash. Total compensation to the tune of Rs 4.25 crores already paid: Civil Aviation Minister Hardeep Singh Puri
10:45 am: Punjab: Dry run of COVID vaccination is underway at 5 centres in Shaheed Bhagat Singh Nagar for 2nd day "At each site, we've called 25 pre-registered frontline workers. When actual vaccination starts, we'll call 100 beneficiaries," says Dr Rajendra Prasad Bhatia, Civil Surgeon
10:30 am: Four bogies of a goods train derailed near Jarti station in Koraput district in Odisha early morning today. The train was going to Visakhapatnam from Jagdalpur when the mishap happened. Restoration work is underway: East Coast Railway PRO Nirakar Das
10:15 am: Maharashtra: Shiv Sena MP Sanjay Raut's wife Varsha will not appear before Enforcement Directorate (ED) today in PMC Bank scam case. She has sought time from the agency till January 5.
10:00 am: Samples of 3 UK returnees have been tested & found positive for new UK strain in NIMHANS, Bengaluru, two in Centre for Cellular and Molecular Biology, Hyderabad & one in National Institute of Virology, Pune. All 6 people have been kept in single room isolation: Health Ministry
9:45 am: India reports 16,432 new COVID-19 cases, 24,900 recoveries, and 252 deaths in last 24 hours, as per Union Health Ministry Total cases: 1,02,24,303 Active cases: 2,68,581 Total recoveries: 98,07,569 Death toll: 1,48,153
9:15 am: Delhi: Safdarjung recorded 3.6℃ temperature at 8:30 am today, which is likely to fall by 2℃ during next 24 hours, says India Meteorological Department (IMD)
9:00 am: India win 2nd Test match against Australia by 8 wickets.
8:45 am: Maharashtra: Mumbai Police file 'C Summary' report in the case registered against Mahek Mirza Prabhu for allegedly showing 'Free Kashmir' poster during an anti-CAA protest at Gateway of India earlier this year.
8:30 am: A total of 16,98,01,749 samples tested for #COVID19 up to December 28. Of these, 9,83,695 samples were tested yesterday: Indian Council of Medical Research (ICMR)
8:00 am: Delhi's air quality improves to 'poor' from 'very poor' category, with overall Air Quality Index (AQI) standing at 280: System of Air Quality & Weather Forecasting & Research (SAFAR)
7:50 am: India vs Australia 2nd Test match, Day 4: Australia bowled out, India need 70 runs to win
7:40 am: Karnataka: Body of SL Dharmegowda, Deputy Speaker of State Legislative Council was found on a railway track near Kadur in Chikkamagaluru. A suicide note has been recovered.
7:25 am: AIADMK and BJP are still together and our alliance is strong: Tamil Nadu BJP chief L Murugan
7:15 am: Valsad: More than 100 people gathered at a wedding function of BJP Dharampur Taluka chief's nephew. "COVID-19 guidelines were flouted at the sangeet ceremony. Case has been registered against 11 people & 8 were arrested," says Police.
7:00 am: South Africa bans alcohol sales, tightens curfew in new COVID-19 restrictions: Reuters
Posted By: Talib Khan