Breaking News Latest Updates Highlights of December 22
Prime Minister Narendra Modi is addressesing a rally at Delhi's Ramlila Maidan today.
Updated: Sun, 22 Dec 2019 05:42 PM IST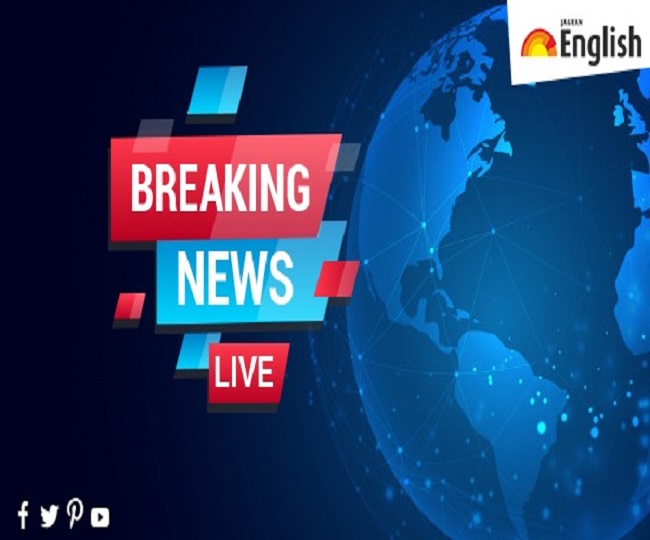 New Delhi | Jagran News Desk: At Jagran English we try to cover all the relevant news in our latest news updates to ensure that our readers don't miss any news relevant to them. Here we provide a 360-degree coverage on all genres including politics, business, India, world, sports and entertainment.
Amid the protests over the contentious Citizenship Act, Prime Minister Narendra Modi will address a rally at Delhi's iconic Ramlila Maidan today. The prime minister is scheduled to address the mega rally around 11.30 am. It is expected that PM Modi will talk about the Citizenship (Amendment) Act and the violent protests that have spread across the country.
Here are all the LIVE updates of December 22:
15:17 pm: Congress and its supporters are also disturbed by the fact that why PM Modi is respected in the world and especially, in Muslim countries: PM Modi
15:15 pm: I'm certain that people who hold the tri-color will raise their voices against the violent protesters and call to bring peace. I want to call upon the people who hold the tri-color to raise their voices against Pakistan-sponsored cross-border terrorism: PM Modi
15:14 pm: 'CAA has nothing to do with Indian citizens, Congress and Urban Naxals spreading lies': PM Modi
15:13 pm: I am very confident that those who are standing with the tricolour in their hands will also raise voice against Pakistan sponsored terrorism. They will inspire people to do that: PM Modi
15:11 pm: These people have always done vote-bank politics. Everything ever said by them was a lie. They're agitating people for their votes, spreading violence, and are spreading false rumors: PM Modi
15:05 pm: The entire Left front, that is left in just small pockets in the country, is opposing this as well. Prakash Karat, their senior leader, had also asked for support for religiously persecuted people coming from Bangladesh: PM Modi
15:04 pm: Today, she is questioning the Citizenship Amendment Bill. We understand why. The entire country is watching and understands who you're supporting: PM Modi
15:04 pm: I want to ask Mamata didi, what changed? Why're you spreading false rumors? Why're you so afraid? You must believe in the people of WB. Why're you not trusting the people of your State?: PM Modi
15:04 pm: West Bengal CM Mamata Banerjee reached out to the UN on the issue. A few years ago, she had stood up in the Parliament and asked to stop infiltration from Bangladesh and wanted help for the refugees coming in from Bangladesh: PM Modi
14:59 pm: They turned overnight. All the love and sensibility blew out of thin air. The votes were in danger and thus, these political leaders had to change their tune: PM Modi
14:59 pm: The former & incumbent CM of Rajasthan, Ashok Gehlot, too had supported citizenship for these refugees. He had even asked the Central Govt for providing better facilities to the Hindus and Sikhs that have come from Pakistan: PM Modi
14:58 pm: Assam's former CM and senior Congress leader Tarun Gogoi had written letters to the PM to provide help for religiously persecuted minorities from Bangladesh: PM Modi
14:58 pm: Former PM Manmohan Singh said in the Parliament that we should provide citizenship to the refugees coming from Bangladesh who have been religiously persecuted: PM Modi
14:58 pm: Mahatma Gandhi had said that the Sikhs & Hindus living in Pakistan will always be welcome in India. This Act is in line with promise the Govt of India made in 1947. Now that we're fulfilling the decades-old promise, why are they protesting against it?: PM Modi
14:53 pm: Who understands the pain of refugees better than people of Delhi? CAA is not taking away anyone's citizenship. It, in fact, provides citizenship to the religiously persecuted minorities from Pakistan, Afghanistan and Bangladesh: PM Modi
14:51 pm: Infiltrators never come in light. They never ask for help from the police, never give interviews and just hide. They live via corrupt means through agents. Refugees never hide their identities and infiltrators never reveal themselves: PM Modi
14:51 pm: There is a very simple difference, an infiltrator never reveals his identity and a refugee never hides his identity. Many of these infiltrators are coming out and speaking. Why don't they speak the truth? They are scared that their reality will come out: PM Modi
14:50 pm: Dalits, who came here from Pakistan, among beneficiaries of citizenship law; why you can't see their pain: Modi to critics
14:45 pm: Girls are religiously converted and forced to marry in Pakistan. It is well-documented. It only happens because they follow a different religion. These people have come to India only due to such religious persecution: PM Modi
14:45 pm: Some dalit leaders, too, have entered the muddle without even understanding. They need to understand that the refugees who have come from Pakistan are mostly dalits. These dalit people were employed as bonded labor in Pakistan: PM Modi
14:45 pm: NRC came at the time of Congress. Were they sleeping then? We neither brought NRC in cabinet nor in Parliament. If we're passing a legislation to give you ownership rights, in the same session will we bring a legislation to send you out?: PM Modi
14:44 pm: The Act will only apply to the people who've been living in India for several years now. No new refugee will benefit from the Citizenship Amendment Act: PM Modi
14:43 pm: We had a chance to expose Pakistan's discrimination against minorities but it was lost due to our rivals' politics: PM Modi
14:41 pm: It is shocking to see the kind of lies that are being spread. Some people are even saying that the CAB is against the poor people of the country: PM Modi
14:41 pm: The Muslims of India don't need to worry at all. The CAB and the NRC will not apply to the Muslims of the country. It's a white lie: PM Modi
14:37 pm: I request the youth of the country to read the Act in detail and not to fall prey to the rumors of detention-centers being spread by Urban Naxals and Congress. It's a lie and is dividing the nation: PM Modi
14:35 pm: The 130 crore Indians have no connection to the CAB. A lot of lies are being spread about NRC as well. It was made during the Congress regime. Where were the protesters then? We did not make it, nor did we bring it to the Parliament or announce it: PM Modi
14:32 pm: Now that the people of the country have dismissed them, they have gone back to their old measures of divide and rule. The Citizenship Amendment Act is not applicable to any citizen of India irrespective of his religion: PM Modi
14:31 pm: Politicians belonging to 100-year old political parties are not voicing for peace. They are mum on the violence being meted out on policemen and other people. It clearly shows you agree with this: PM Modi
14:30 pm: 33,000 police personnel sacrificed their lives for peace and security in country, since independence. Today, you are brutally thrashing them. When any problem arises, police don't ask your religion or caste, whatever the weather or time they are there to help you: PM Modi
14:27 pm: 'Gave 2,000 bungalows in posh locations to VIPs': PM Modi's scathing attack at AAP
14:24 pm: My rivals should burn my effigy if they hate me but they should not target the poor: Modi
14:19 pm: In the last five years, our Govt has built over 1.5 crore houses for the poor. We didn't ask for their religion. We just helped the poor and needy: PM Modi
14:18 pm: Muslims being misled, I have always ensured that documents will never come in way of development schemes and their beneficiaries: PM Modi
14:17 pm: The country won't accept the false claims that I'm taking away peoples' rights. I challenge these false rumors spreading people to find partiality in any decision of mine: PM Modi
14:17 pm: I dare rivals to find anything discriminatory in my work, says Modi, citing his govt's various development programmes
14:12 pm: PM Modi: Hindus, Muslims, Sikhs, Christians all were befitted, everyone who lives here was benefitted. Why did we do this? Because we live for the love of the country. We are dedicated to the mantra of 'Sabka saath, sabka vikas'
14:11 pm: Some political parties are spreading rumours, they're misleading people & inciting them. I want to ask them, when we authroised the unauthrosied colonies, did we ask anyone their religion? Did we ask which political party they support? Did we ask for documents from 1970, 1980?: PM Modi
14:10 pm: People were incited, those in high positions shared fake videos: PM Modi on protests against citizenship law
14:09 pm: The maximum number of water purifiers are bought in Delhi every day in the country. People who can't install purifiers, but bottles worth Rs 40-50 every day, or makes do with unclean water: PM Modi
14:07 pm: Our Govt took up the task of completing them. After its completion, every day about 30-40,000 trucks don't enter Delhi, but go around it and that lightens Delhi's traffic: PM Modi
14:07 pm: We've continuously tried to make the commute in Delhi comfortable. We've concentrated on the streets in Delhi and have developed peripheral expressways all around the region. These expressways were stalled for a long time: PM Modi
14:03 pm: Had the Delhi govt not politicised the phase 4 project of Delhi metro, its work would have started much earlier. That is why I say that those who do politics in your name, never understood your pain, they never intended to do that: PM Modi
13:58 pm: 25 km of new metro route added annually in last five years, it was 14 km earlier, AAP govt hindering work: PM Modi
13:56 pm: You must ask what people who you entrusted to authorize your colonies were doing. These people gave over 2000 mansions to their people in several posh areas of Delhi: PM Modi
13:56 pm: Allowing the problems to persist is neither our tradition nor our political style of functioning: PM Modi
13:52 pm: The problem stood as it was for decades. The past Govts never showed the honesty or desire to solve these problems of the people of the Capital: PM Modi
13:52 pm: Millions of people in Delhi have had to bear frauds, cheats, and fake political promises over several decades in the post-independence era: PM Modi
13:50 pm: Even after several decades of Independence, a large section of population in Delhi had to face fear, uncertainty, deceit and false electoral promises. Illegal, sealing, bulldozer and a cut-off date - life of a large population in Delhi' was confined around these words: PM Modi
13:48 pm: I, BJP got chance to usher in a new dawn for over 40 lakh people by giving them ownership rights to their houses: PM Modi
13:42 pm: PM Modi raises slogan of 'vividhta me ekta, Bharat ki visheshta' (Unity in diversity is India's speciality)
13:40 pm: PM Modi addresses 'Aabhar Rally' at Delhi's Ramlila Maidan
13:20 pm: PM Modi arrives at Delhi's Ramlila Maidan for BJP's 'Aabhar Rally'.
13:13 pm: The Delhi Police is in close touch with SPG and Bharatiya Janata Party for security arrangements for the rally. The Delhi BJP has also deployed volunteers to assist the visitors.
12:42 pm: Thousands have gathered at Ramlila Maidan for PM Modi's 'Aabhar Rally'.
12:33 pm: Apart from Modi and top BJP ministers, all seven members of Parliament from Delhi and the entire Delhi BJP leadership are likely to be in attendance.
12:25 pm: A multi-level security arrangement will be in place, with CCTV surveillance of all the routes leading to the venue and snipers being positioned atop buildings, PTI quoted sources as saying.
12:18 pm: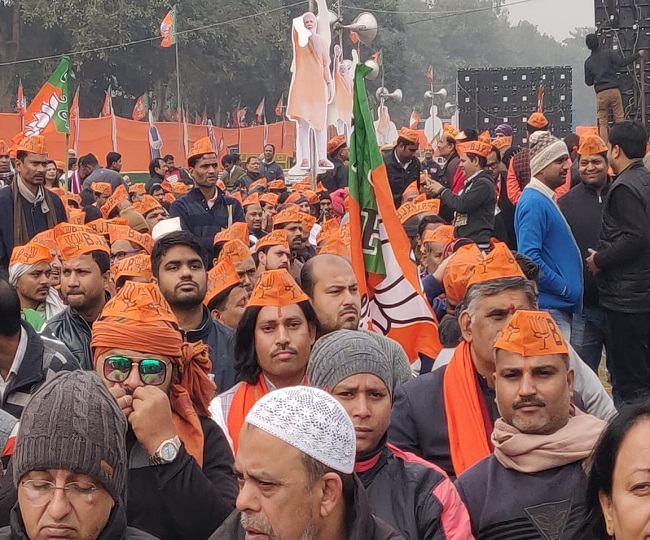 12:13 pm: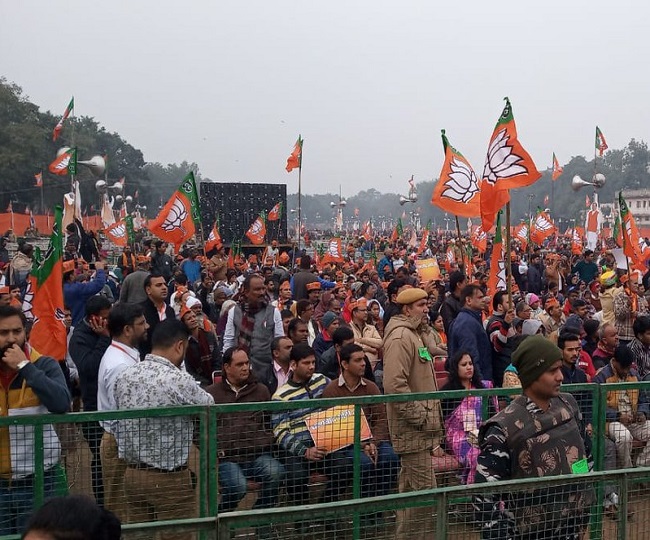 11:53 am: "No commercial vehicle will be allowed from Raj Ghat to Delhi Gate crossing (near Daryaganj). There will be traffic restrictions on DDU Marg towards Kamla Market Chowk via Vivekanand Marg," Traffic Police said in an advisory.
11:51 am: A police official said 20 companies of outside force have been deployed, each company comprising 70-80 personnel. "Twenty DCP-rank officials will be there. As many as 1,000 personnel from local police, anti-drone teams and NSG commandos will be there," the official said.
11:50 am: Security has also been tightened and a special traffic arrangement made for Prime Minister Narendra Modi's mega rally.
11:50 am: During his today's address, the Prime Minister is likely to speak on the party's promise of giving ownership rights to close to 40 lakh residents of unauthorised colonies in the national capital, which has been fulfilled through a recent decision.
11:39 am: Prime Minister Narendra Modi will launch BJP's Delhi poll campaign today at Ramlila Maidan.
11:12 am: Thiruvananthapuram court issues arrest warrant against Shashi Tharoor for 'defaming' Hindu women in his book
10:46 am: J&K: Pakistan Army violated ceasefire in Mendhar, Krishna Ghati and Poonch sectors along the Line of Control in the intervening night of 21 -22 December. Indian Army retaliated
10:46 am: Traffic advisory: No commercial vehicle will be allowed from Raj Ghat to Delhi Gate ahead of PM Modi's rally at Ramlila Maidan. Restrictions on DDU Marg towards Kamla Market Chowk via Vivekanand Marg.
10:20 am: Indian Coast Guard: In a swift sea-air coordinated operation on 20 Dec, India Coast Guard ship Aruna Asaf Ali detained a Myanmarese boat with 6 crew,operating suspiciously near Little Andaman Islands.Vessel is being escorted to Port Blair for further investigations on 22 Dec
9:59 am: Karnataka: Another FIR has been filed against Congress leader UT Khader, at Pandeshwar police station in Mangaluru. Complaint was filed by Bharatiya Janata Yuva Morcha leader Sandesh Kumar who alleged that Khader delivered an inciting speech on December 18, reports ANI.
9:58 am: BJP MP Pragya Thakur has filed complaint with Bhopal Airport Director alleging she was not allotted the seat she booked in a Spicejet flight.Anil Vikram, Airport Director, Bhopal says 'We received complaint of MP.Will seek info from SpiceJet and their crew about it'
9:18 am: Delhi: Prime Minister Narendra Modi to address a rally at Ram Leela Maidan later today, security tightened in the area.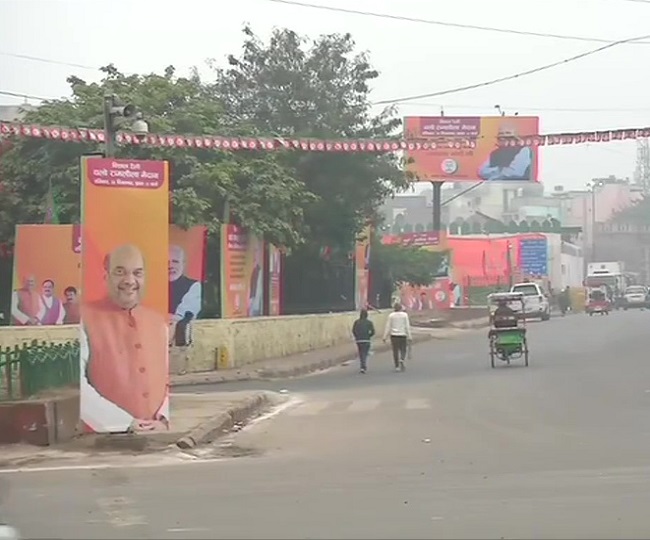 8:40 am: Jammu and Kashmir DGP Dilbagh Singh flagged off 'run for unity' marathon in Jammu earlier today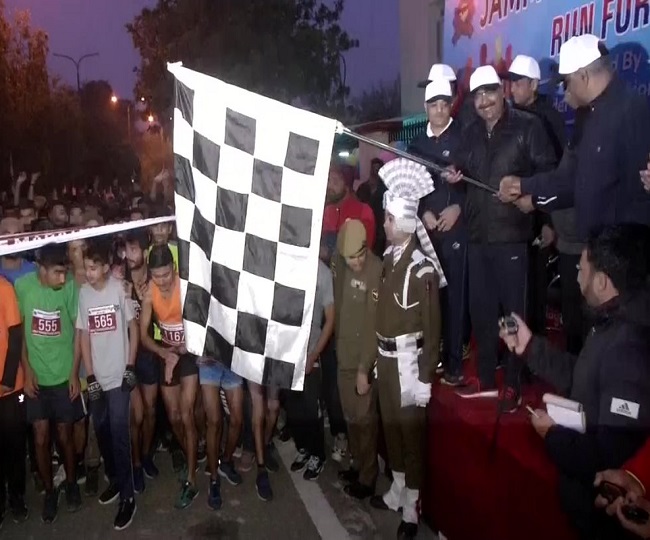 8.30 am: Prime Minister Narendra Modi will address a rally at Delhi's Ramlila Maidan today.
Posted By: Aalok Sensharma