Breaking News Today, Latest Updates Highlights of December 14
Stay tuned to catch all the LIVE updates of December 14.
Updated: Sat, 14 Dec 2019 05:08 PM IST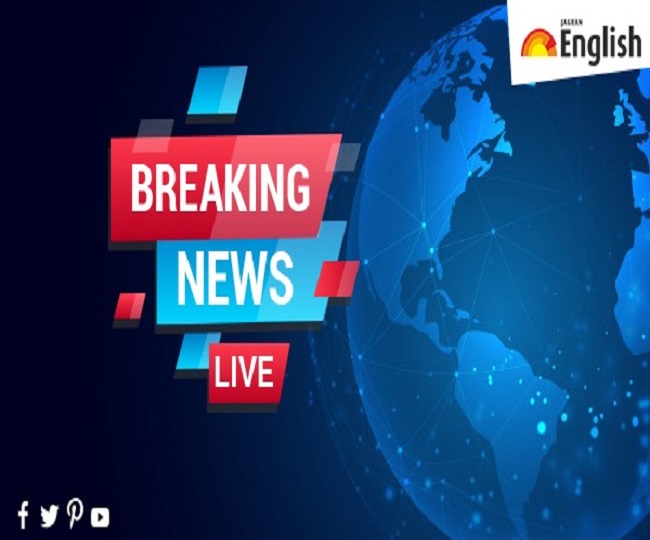 New Delhi | Jagran News Desk: At Jagran English we try to cover all the relevant news in our latest news updates to ensure that our readers don't miss any news relevant to them. Here we provide a 360-degree coverage on all genres including politics, business, India, world, sports and entertainment.
Today we will focus on the ongoing protests in northeast over the Citizenship (Amendment) Act which was enacted into a law after President Ram Nath Kovind gave his assent. So far the protests in northeast have led to the death of three people while several have been injured.
Here are all the highlights of December 14:
16:11 pm: We'll call him 'Rahul thoda sharam kar' from now: BJP's jibe at Rahul Gandhi over 'Savarkar' remark
15:37 pm: Even if Rahul Gandhi takes 100 births he can't be Rahul Savarkar. Savarkar was 'Veer', patriot&had sacrificed. The language Rahul Gandhi uses for Article 370, air strike, surgical strike, CAB is Pakistan's language. He can't be 'Veer' or be at par with Savarkar
15:09 pm: Sukhbir Singh Badal has been unanimously re-elected as the president of Shiromani Akali Dal (SAD).
15:08 pm:
Kanpur: Prime Minister Narendra Modi takes a boat ride in river Ganga at Atal ghat, along with CM Yogi Adityanath, Bihar Deputy CM Sushil Modi and Uttarakhand CM Trivendra Singh Rawat. https://t.co/T3a8wb8rZs pic.twitter.com/617K5tc1LP

December 14, 2019
14:10 pm: 'This act will shred India's soul': Sonia Gandhi's scathing attack at BJP over Citizenship Act
13:53 pm:
Delhi: Congress Interim President Sonia Gandhi, former PM Dr Manmohan Singh, Rahul Gandhi and other leaders of the party at 'Bharat Bachao' rally, at Ramlila Maidan. pic.twitter.com/aqzs2dyQe0

— ANI (@ANI) December 14, 2019
13:42 pm: Modi-Shah are not bothered at all that Citizenship (Amendment) Act will shred the soul of India, just like it is happening in Assam and other states of the northeast: Sonia Gandhi
13:40 pm: They violate the Constitution everyday and then also celebrate Constitution Day: Sonia Gandhi
13:39 pm: Should there not be a probe into why blackmoney could not be brought back as promised: Sonia Gandhi
13:39 pm: Small businesses have been destroyed due to wrong policies of Modi govt, such shopkeepers forced to commit suicide: Sonia Gandhi
13:39 pm: Today the atmosphere is such that whenever they feel like they impose an Article, revoke an Article, change the status of a state. Whenever they feel like, they revoke President's Rule and pass Bills without debate: Sonia Gandhi
13:37 pm: The only agenda of the BJP is make people fight and hide the real issues: Sonia Gandhi
13:37 pm: Citizenship Amendment Bill will destroy the nations: Sonia Gandhi
13:35 pm: 'My name is not Rahul Savarkar, will never apologise for truth': Rahul Gandhi at Bharat Bachao rally
13:34 pm: Time has come to save the country and we have to struggle hard for it: Sonia Gandhi
13:33 pm: Where is the 'Sabka Saath, Sabka Vikas' promised by the PM: Sonia Gandhi
13:31 pm: Sonia Gandhi begins her address
13:26 pm: The country knows the situation today. They work to create divides - between religions - in J&K, in northeast. Go to Assam, Mizoram, Manipur, Nagaland, Arunachal Pradesh. Go and see what Narendra Modi did there, he has set ablaze those regions: Rahul Gandhi
13:25 pm: The media holds responsiblity, but today they have forgotten their duty: Rahul Gandhi
13:21 pm: It is Prime Minister Modi himself and not India's enemies who has destroyed our economy, and he still calls himself a patriot: Rahul Gandhi
13:17 pm: Today, GDP (Gross Domestic Product) growth is at 4 per cent, that too even after they (BJP) changed the way to measure GDP. If GDP is measured following the previous method, it will be just 2.5 per cent: Rahul Gandhi
13:15 pm: No one from Congress will apologise. It is Narendra Modi who should apologise. He should apologise to the nation. His assistant Amit Shah should apologise to the nation. I will tell you why they should that: Rahul Gandhi
13:14 pm: All enemies of the Congress want India's economy be destroyed and this was done by our own PM: Rahul Gandhi
13:11 pm: PM Narendra Modi has destroyed the economy of the country single handedly. Demonetisation destroyed our financial system: Rahul Gandhi
13:09 pm: I was told in Parliament by BJP y'day 'Rahul ji, you gave a speech. Apologise for that.' I was told to apologise for something which is right. My name is not Rahul Savarkar. My name is Rahul Gandhi. I will never apologise for truth: Rahul Gandhi
13:08 pm: Our Congress workers are not afraid of anybody and are ready to sacrifice their lives for the country: Rahul Gandhi
13:07 pm: Rahul Gandhi begins his address
13:04 pm: Former PM Manmohan Singh speaks at the rally
13:03 pm: The youth and farmers of the country are helpless today. We need change now: Jyotiraditya Scindia
13:02 pm: 'Modi hai mumkin hai': Priyanka Gandhi's taunt at BJP over economy, farmers' distress
12:36 pm: We will be as much responsible for this as much as the arrogant and lying leaders of BJP-RSS: Priyanka Gandhi
12:35 pm: I'd like to tell every citizen of this country - raise your voice. You love this country, become its voice. If we don't raise our voice, stay back in the darkness of fear & lies even in these circumstances, & stay quiet then our Constitution will be destroyed: Priyanka Gandhi
12:31 pm: What is this country? This is a country born of a movement that used the power of nonviolence & love to defeat the greatest conquerors of the time. This is a country of love, nonviolence and brotherhood: Priyanka Gandhi
12:27 pm: Our country is surrounded by injustice today. The person who does not fight injusice, history will judge him/her as a coward: Priyanka Gandhi
12:27 pm: I recalled my father whose dead body I brought home at the age of 19, when I met the family of the Unnao rape survivor and was told about her father's death: Priyanka Gandhi
12:23 pm: BJP says that 'Modi hai to mumkin hai' but the reality is that if BJP is there then cost of onion is Rs 100 a kg: Priyanka Gandhi
12:21 pm: Till a few years back our economy was growing at a pace that all other countries looked up to us: Priyanka Gandhi
12:20 pm: Our country is all about brotherhood, a farmers pride, a soldiers dream of sacrificing his life for the country: Priyanka Gandhi
12:15 pm: Pour country grew after an independence struggle: Priyanka Gandhi
12:12 pm: Priyanka Gandhi Vadra takes stage at the Ramlila Maidan rally
12:06 pm: P Chidambaram, at Congress' 'Bharat Bachao' rally: In 6 months Modi govt has wrecked India's economy. Yet ministers are completely clueless. Y'day Finance Minister said everything's alright, we're on top of the world. The only thing she didn't say was 'achhe din aane wale hain.'
11:56 am: Today's assembly session at the Himachal Pradesh Legislative Assembly began at 11:30 am instead of 11:00 am, as some MLAs could not reach on time due to rainfall and snowfall in the state.
11:45 am: Telangana Police bust red sandalwood smuggling racket, arrest two and seize 137 kg logs.
11:23 am: PM Narendra Modi chairs the first meeting of National Rejuvenation, Protection and Management of River Ganga Council (National Ganga Council) at Chandra Shekhar Azad University of Agriculture and Technology. Union Jal Shakti Minister Gajendra Singh Shekhawat also present.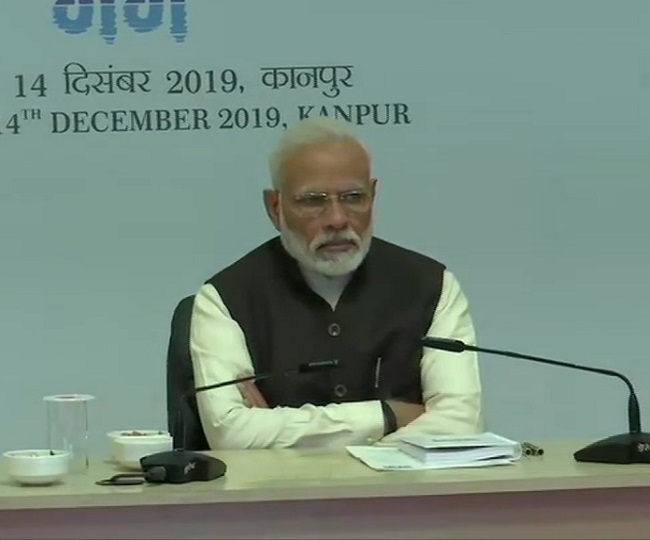 11:10 am: After Mamata, Arvind Kejriwal ropes in Prashant Kishor's I-PAC for Delhi Assembly elections
10:46 am: Prime Minister Narendra Modi arrives in Kanpur. He will chair the first meeting of National Rejuvenation, Protection and Management of River Ganga Council (National Ganga Council) here today. He will also review progress of work done & deliberate on aspects of cleaning the Ganga.
10:36 am: After Shikhar Dhawan, Bhuvneshwar Kumar gets ruled out from West Indies ODIs, Shardul Thakur named replacement
10:28 am: Every family in Jharkhand should contribute one brick and Rs 11 for the construction of Ram Temple in Ayodhya (UP): Yogi Aditynath in Jharkhand's Giridih
9:55 am: 'It's not fair, have done nothing wrong': Donald Trump as US House panel approves impeachment charges
9:25 am: Janata Dal-United (JDU) Vice President Prashant Kishor will be meeting Bihar Chief Minister Nitish Kumar today.
9:10 am: Delhi: Preparations underway at Ramlila Maidan where Congress is organising 'Bharat Bachao' rally today.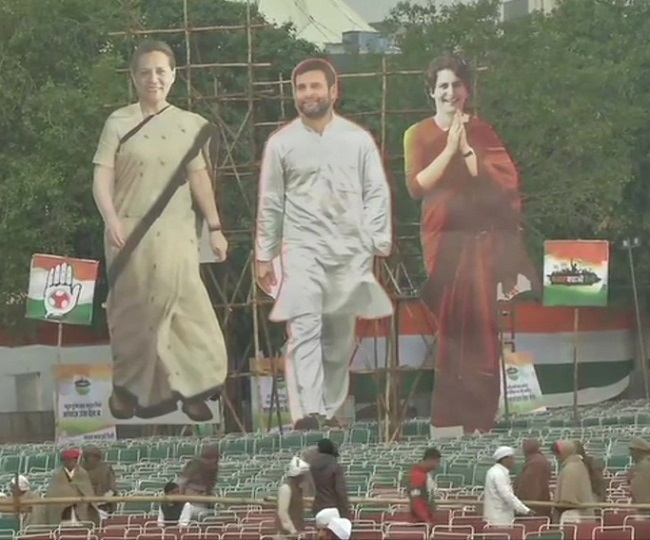 9:05 am: Indian Army issues advisory to people to be cautious against fake news and disinformation being spread by some suspicious people on social media regarding its action in the northeast.
8:51 am: Maneka Gandhi and Varun Gandhi - BJP leaders and wife & son of Sanjay Gandhi, pay tribute to him on his birth anniversary today.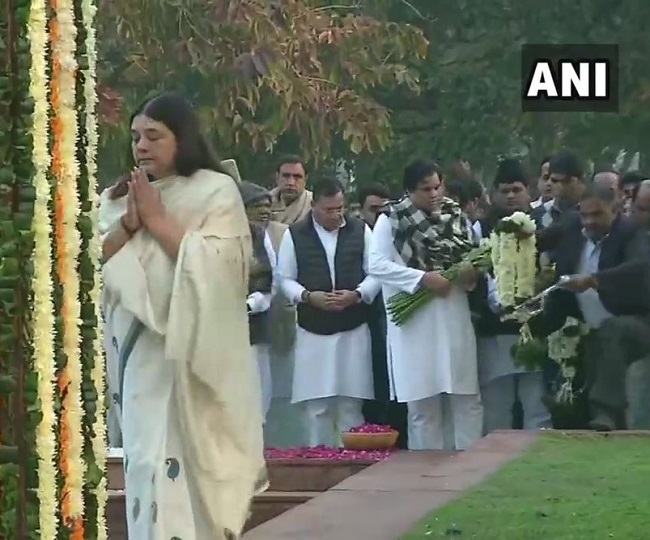 8:43 am: India's squad for 3 ODIs: Virat Kohli (C), Rohit Sharma (VC), Mayank Agarwal, KL Rahul, Shreyas Iyer, Manish Pandey, Rishabh Pant (WK), Shivam Dube, Kedar Jadhav, Ravindra Jadeja, Yuzvendra Chahal, Kuldeep Yadav, Deepak Chahar, Mohammed Shami, Shardul Thakur
8:35 am: Amitabh Kant,CEO NITI Aayog, in Washington DC: India came out with a new policy on intellectual property rights (IPR) & our IPR regime has radically improved. It's probably one of the best IPR regimes, we have benchmarked it against USA & Japan now.
8:30 am: Amitabh Kant, CEO NITI Aayog, in Washington DC: Another big thing that has happened in India is amalgamating 54 labour laws into just 4 laws & making major structural reforms there. This will be really path-breaking & it will enable you to do large-scale manufacturing in India.
8:20 am: Amitabh Kant,CEO NITI Aayog, in Washington DC: This Corporate Tax coupled with the size of domestic market and the fact that you've pushed through a lot of digitisation in India and the structural reforms that have been carried out makes India a very attractive destination for investment
8:10 am: Amitabh Kant, CEO NITI Aayog, in Washington DC, USA: India has put out probably the best corporate tax regime in the world now. At 15 per cent with an effective rate of 17.1 per cent, makes it the best country as far as corporate tax is concerned.
8:05 am: Assam: Curfew relaxed from 9 am to 4 pm in Guwahati today.
8:00 am: India Meteorological Department: An earthquake of magnitude 4.8 on the Richter scale hit Palghar, at 5:22 am, today.
Posted By: Aalok Sensharma