Breaking News, Latest Updates, Highlights of December 10
Updated: Tue, 10 Dec 2019 05:19 PM IST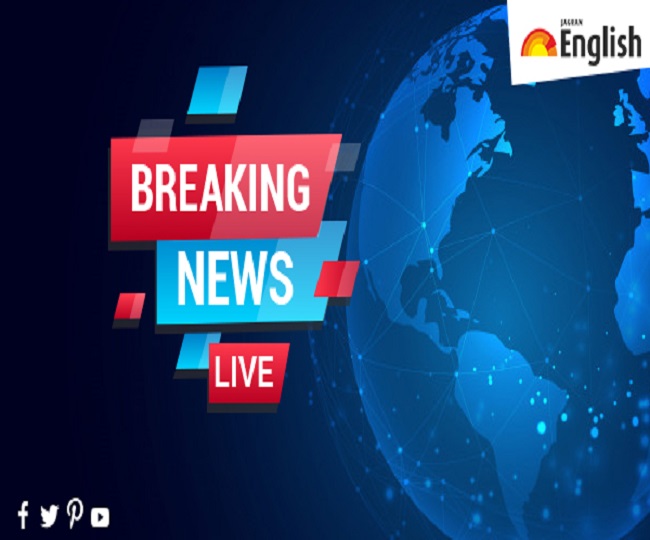 New Delhi | Jagran News Desk: Jagran English focuses on all the top news of the day to keep our readers stay updated with all the real-time trends on breaking news from India and across the world.
As the Winter Session of the Parliament is about to end on December 13, Union Home Minister Amit Shah on Monday introduced the Citizenship (Amendment) Bill in Lok Sabha, which witnessed a massive uproar from the opposition terming it unconstitutional or in violation of the existing claws of the Indian Constitution. AIMIM Chief Asaduddin Owaisi even tore a copy of the Bill inside the Lok Sabha and compared Home Minister Amit Shah with Hitler. The Bill was however presented in Lok sabha with 293 'Ayes' in favour of the introduction of Citizenship Amendment Bill and 82 'Noes' against Bill's introduction, in Lok Sabha.
Now, after passing the first test, the Citizenship (Amendment) Bill, 2019, will be tabled in the Rajya Sabha on Wednesday. Meanwhile, Home Minister Amit Shah will today table the Arms (Amendment) Bill for passage in Rajya Sabha.
Here are the Highlights of December 10:
5:20 pm: Asaduddin Owaisi on Shiv Sena supported #CitizenshipAmendmentBill2019 in Lok Sabha: This is 'Bhangra politics'. They write 'secular', in common minimum programme, this bill is against secularism and Article 14. It is politics of opportunism.
5:15 pm: Karnataka: Social Democratic Party of India-Karnataka holds protest against #CitizenshipAmendmentBill2019, in Bengaluru.
5:07 pm: Telangana: Hyderabad Cricket Association President Mohammad Azharuddin&Tennis player Sania Mirza met CM K Chandrashekar Rao today at Pragati Bhavan in Hyderabad to invite CM for the marriage & reception of Azharuddin's son Mohammed Asaduddin with Sania's sister Anam Mirza.
4:57 pm: Former Haryana Chief Minister, Bhupinder Singh Hooda on the movie 'Panipat': I have not seen the movie yet. But what I have heard is that Maharaja Surajmal has been wrongly portrayed in the movie. The scene that shows Maharaja Surajmal was a greedy person must be deleted.
4:51 pm: SH Sarda, Deputy SP, Ahmedabad on Nithyananda case: Court has directed to present the two women before the court on December 20. The court has asked police to give security to the two women from the time of their arrival in the country till they appear in the court.
4:45 pm: Students of Banaras Hindu University (BHU) end their month-long protest, today following the resignation of Dr Feroz Khan as assistant professor in Faculty of Sanskrit Vidya Dharma Vigyan, yesterday. He has joined Sanskrit department of Arts faculty in the University.
4:40 pm: Haryana: Chief Minister Manohar Lal Khattar today inaugurated 'TRAKEA,' a bar-coding system of Forensic Science Laboratory (FSL), Haryana Police in Maduban.
4:37 pm: West Bengal Excise Department and Police has conducted a raid at a fake liquor manufacturing unit at Paragachi under Siliguri sub-division and seized 810 litre liquor and arrested two persons.
4:30 pm: Maharashtra CM Uddhav Thackeray has also directed the police and administrative officials to prepare a plan for utilisation of Nirbhaya Fund.
4:25 pm: A Delhi Court reserves judgment in the Unnao rape case in which former BJP MLA Kuldeep Singh Sengar is the main accused. The court will pronounce its verdict in the case on December 16.
4:20 pm: Delhi Police Crime Branch team brings the main accused Rehan, to the spot of #DelhiFireAccident at Anaj Mandi, for investigation. 43 people lost their lives after fire broke out at a factory on December 8.
4:15 pm: Tejashwi Yadav, RJD on #CitizenshipAmendmentBill: We will strongly oppose the bill. It is a bill that will divide the country. We will fight against it. Nitish Kumar has again betrayed the people of Bihar by supporting the bill. Nitish Kumar is afraid of BJP&RSS.
4:10 pm: Maharashtra CM Uddhav Thackeray held a meeting with senior police officers in Mumbai today. The CM instructed the police to take quick action in cases related to women's harassment and other related issues.
4:05 pm: Union Minister of Commerce and Industry, Piyush Goyal& Minister of Economy, Trade&Industry, Govt of Japan, Hiroshi Kajiyama met today.The Commerce&Industry Minister raised the issue of trade deficit b/w India&Japan&review of Comprehensive Economic Partnership Agreement b/w India & Japan
4:00 pm: JNU International Students' Assoc write Course Professors at JNU requesting to'find alternative measures of academic evaluation at earliest for intnl scholars'.The letter states, "Situation of deadlock exists across campus, it has led to the cessation of academic evaluations&assessments".
3:50 pm: Assam: Protest continues on the streets of Guwahati against #CitizenshipAmendmentBill.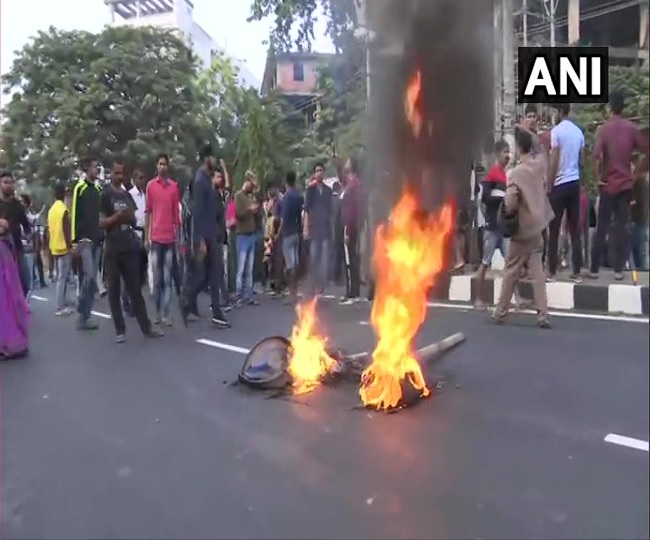 3:39 pm: Assam: Students continue to protest on the streets of Guwahati against #CitizenshipAmendmentBill. The Bill was passed in Lok Sabha last night.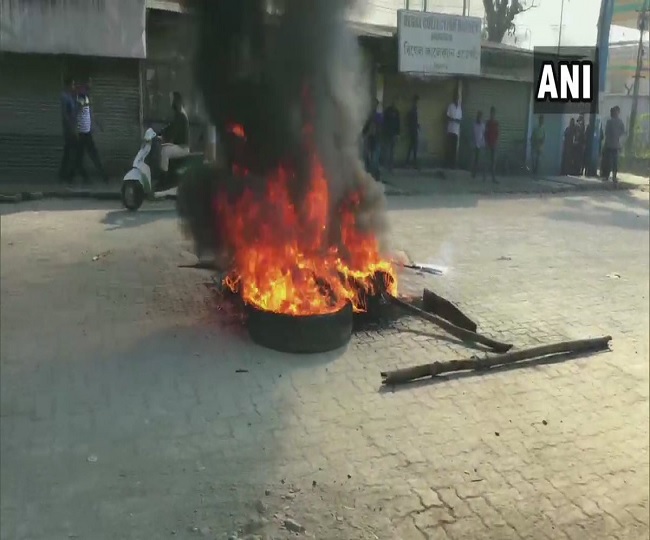 3:33 pm: Delhi Traffic Police: Traffic movement is closed on Ashoka Road from G.P.O.side and both carriageway of Jai Singh Road due to demonstration at new PHQ.
3:28 pm: MoS for Home Affairs, G Kishan Reddy in Lok Sabha: During attempts of infiltration from across Line of Control from 2005 till 31st Oct, 2019, 1011 militants have been killed, 42 militants apprehended & 2253 militants pushed back/returned due to efficient vigil of security forces. Since 1990, 22,557 militants have been neutralized in incidents of terrorist violence by security forces till 1st December 2019.
3:21 pm: Supreme Court posts for hearing on January 28, 2020, the pleas relating to grant of quota for promotions in the government jobs to SCs and STs.
3:18 pm: Bihar: A minor girl allegedly set ablaze by a man in Betia today. Betia SP Nitasha Gudiya says,"The two had a love affair. The girl claims to be one-month pregnant. Team has been constituted to arrest the accused. Investigation underway.'
3:13 pm: MoS for Home Affairs, G Kishan Reddy, in a written reply to a question in Lok Sabha: Govt of Jammu & Kashmir has reported that in order to prevent commission of offences involving breach of peace,activities prejudicial to the security of State & maintenance of public order. Certain persons including stone pelters, over ground workers ,separatists etc. were taken into preventive custody under statutory provisions by concerned Magistrates&such preventive detentions are being regularly reviewed by relevant statutory authorities
3:08 pm: European Union Ambassador to India, Ugo Astuto on Free Trade Agreement (FTA): Talks are stalled since 2013. EU hopes that while talks on FTA continues at technical level, the dialogue on investment treaties should be concluded beforehand.
3:05 pm: Pawan Varma,JDU National General Secretary on JDU supported #CitizenshipAmendmentBill in Lok Sabha: I've urged our National President Nitish Kumar to reconsider party's stand. Bill is unconstitutional, discriminatory &against spirit of secularism,unity&harmony of our country.
3:00 pm: European Union Ambassador to India, Ugo Astuto: We are concerned over the situation in Kashmir. It is important to restore freedom of movement and normalcy in Kashmir.
2:55 pm: Maharashtra Chief Minister Uddhav Thackeray: If any citizen is afraid of this Bill than one must clear their doubts. They are our citizens so one must answer their questions too. Anyone who disagrees is a 'deshdrohi' is their illusion. We have suggested changes in #CitizenshipAmendmentBill we want in Rajya Sabha. It is an illusion that only BJP cares for the country.
2:50 pm: Nirbhaya case: One of the convicts in the case, Akshay Kumar Singh, has filed review petition before the Supreme court. Akshay was sentenced to death by a trial court in the case. His sentence was upheld by Delhi High Court and the Supreme Court.
2:45 pm: MoS for Home Affairs,G Kishan Reddy,in a written reply to a question in Lok Sabha: Directions of SC in its judgment on Ram Janma Bhoomi-Babri Masjid matter include formulation of a scheme by Centre with necessary provisions for setting up of a Trust with a Board of Trustees, or any other appropriate body, the functioning of the Trust, the powers of the Trustees, transfer of land to the Trust and all necessary, incidental and supplemental matters. Central Government is duty bound to act as per the directions and orders of the Court, within the stipulated time frame.
2:40 pm: Maharashtra CM Uddhav Thackeray: We will not give support to the Bill (Citizenship Amendment Bill) unless things are clear.
2:35 pm: European Union Ambassador to India, Ugo Astuto: Our position on Kashmir hasn't changed since August. We have stressed on dialogue between India and Pakistan through diplomatic channels; means of communication should be restored in Kashmir. Our position has been consistent. Pakistan must take action against militants and terrorists operating from its soil.
2:30 pm: Ministry of Social Justice&Empowerment in Lok Sabha on whether govt has taken steps for providing reservation in private sector:As per information provided by Dept for Promotion of Industrial&Internal Trade,no such proposal for reservation in private sector is under consideration
2:25 pm: MEA in response to queries regarding comments made by US Commission on International Religious Freedom (USCIRF) on Citizenship (Amendment) Bill (CAB): The statement made by USCIRF on Citizenship (Amendment) Bill is neither accurate nor warranted. The Citizenship (Amendment) Bill (CAB) provides expedited consideration for Indian citizenship to persecuted religious minorities already in India from certain contiguous countries. It seeks to address their current difficulties and meet their basic human rights. Neither #CitizenshipAmendmentBill nor National Register of Citizens process seeks to strip citizenship from any Indian citizen of any faith. Every nation, including the US, has right to enumerate&validate its citizenry&to exercise this prerogative through various policies
2:20 pm: GoAir Spokesperson: GoAir Singapore-Bengaluru flight G828 had an air turn back on priority shortly after take-off following a technical issue (on 9th December). There were 158 passengers onboard. The aircraft is currently being attended to by GoAir engineering team.
2:16 pm: BJP MP Sanjay Jaiswal in Lok Sabha has moved a privileged motion against Shaishav Yadav, Additional Superintendent of Police (ASP) of Motihari (Bihar), 'for defaming him without proper evidence.'
2:14 pm: Delhi: Hindu refugees from Pakistan living in Majnu-ka-Tila area celebrate passage of #CitizenshipAmendmentBill2019 in Lok Sabha.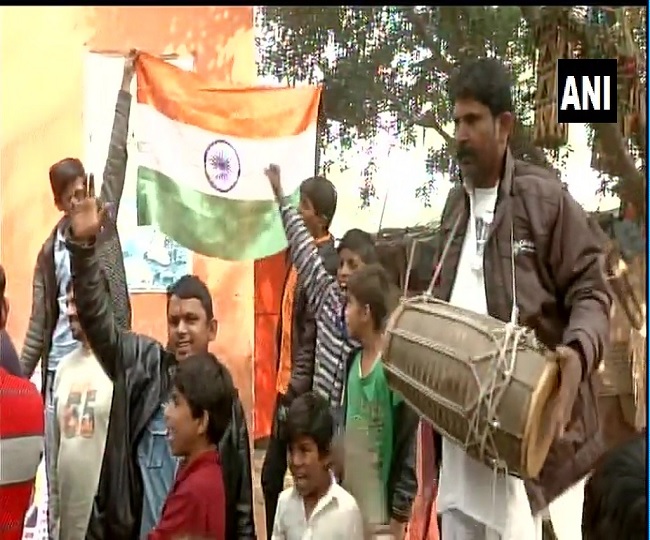 2:10 pm: GK Reddy in reply to question on crime against women, in LS:Criminal Law(Amendment) Act,2018 was enacted to prescribe even more stringent penal provisions including death penalty for rape of girl below 12 yrs of age. Act also mandates probe completion&trials within 2 months each
2:00 pm: Karnataka: South Zone, Enforcement Wing of Commercial Taxes Dept, in past 2 weeks conducted 'Test Purchase Drive' & collected tax&penalty of Rs.1.42 crores from dealers who failed to issue tax invoices&unearthed suppressed turnover of Rs.20.79 crores involving tax of Rs. 3 crores
1:54 pm: MoS for Home Affairs, G Kishan Reddy in a written reply to a question asked by Rahul Gandhi on farmers' suicides: As informed by National Crime Records Bureau (NCRB), many states/union territories reported "Nil" data on suicides by farmers/cultivators and agricultural labourers.
1:45 pm: Delhi: National Security Advisor (NSA) Ajit Doval arrives in Parliament.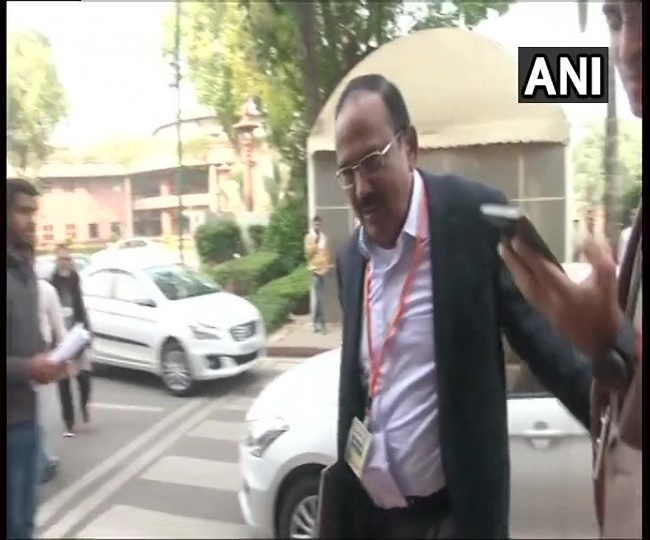 1:40 pm: MoS for Home Affairs, G Kishan Reddy, in a written reply to a question on development of new Union Territories of J&K and Ladakh, in Lok Sabha: 7th Central Pay Commission allowances worth around Rs 4800 crores approved for Government employees of UTs of Jammu & Kashmir and Ladakh
1:25 pm: JDU leader Pavan Varma echoes Prashant Kishor's concern on CAB, urges Nitish to reconsider support to Bill
1:00 pm: Congress has issued three line whip to its Rajya Sabha MPs to be present in the House tomorrow.
12:50 pm: Assam: Various organisations continue to protest in Guwahati against #CitizenshipAmendmentBill. Assamese actors Barsha Rani Bishaya and Utpal Das also present.
12:38 pm: Arvind Sawant, Shiv Sena on if the party will support CAB (Citizenship Amendment Bill) in Rajya Sabha after supporting it in Lok Sabha: Alag alag bhumika hoti kya humari? Rashtra ki hith ki bhumika lekar Shiv Sena khadi rehti hain, yeh kisi ki monopoly nahi hai.
12:30 pm: The Chief of People's Democratic Party (PDP), Mehbooba Mufti, issues whip to its lone MP to vote against the "unconstitutional" Citizenship (Amendment) Bill, 2019, in Rajya Sabha. The controversial Bill was passed by the Lok Sabha with a majority of 311 votes yesterday.
Ms Mufti has termed CAB bill as unconstitutional & discriminatory. It will trigger degeneration of India's cherished pluralistic values & ethos. Therefore as PDP President she has issued whip to PDP RS MP @MirMohdFayaz to vote against CAB in Rajya Sabha.

— Mehbooba Mufti (@MehboobaMufti) December 10, 2019
12:18 pm: Adhir Ranjan Chaudhary,Congress in Lok Sabha: Unfortunate that Prime Minister who speaks on everything, is silent on this issue(crimes against women).From 'make in India', India is slowly heading towards 'rape in India'.
12:05 pm: Amit Shah: We don't want to keep them even a day extra in jail, when administration thinks its right time, political leaders will be released. Farooq Abdullah's father was kept in jail for 11 years by Congress, we don't want to follow them, as soon as admin decides, they will be released.
12:00 pm: Amit Shah: 99.5% students sat for exams there,but for Adhir Ranjan ji this is not normalcy,7 lakh ppl availed OPD services in Srinagar,curfew,sec 144 removed from everywhere. But for Adhir ji only parameter for normalcy is political activity. What about local body polls which were held?
11:50 am: HM Amit Shah in Lok Sabha: Situation in Kashmir valley is completely normal. I can't make Congress's condition normal, because they had predicted bloodshed after abrogation of article 370. Nothing of that sort happened, not one bullet was fired
11:30 am: Home Minister Amit Shah likely to make a statement on the ghastly Delhi Anaj Mandi fire in Lok Sabha, which left 43 dead, around 12 noon today.
11:05 am: Delhi: Home Minister Amit Shah arrives in Parliament. #WinterSession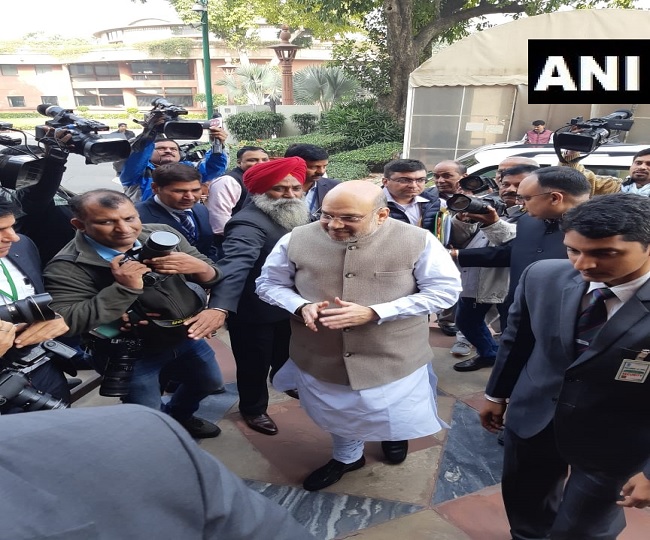 11:00 am: Delhi High Court refused to entertain petition seeking judicial inquiry and transferring the case to CBI into the Azad Mandi fire incident, at this stage. Court said the authorities should be given adequate time to handle the situation.
10:55 am: Congress MP Kodikunnil Suresh has given Adjournment Motion Notice in Lok Sabha over 'violence on women, children, SC/STs in the country'
10:48 am: TMC MP Saugata Roy has given adjournment motion notice in Lok Sabha over, "brutal lathicharge on Jawaharlal Nehru University (JNU) students by Delhi Police."
10:43 am: Actor Suniel Shetty has been appointed as brand ambassador of National Anti-Doping Agency(NADA)
10:35 am: Delhi: Left Parties protest against #CitizenshipAmendmentBill2019 in Parliament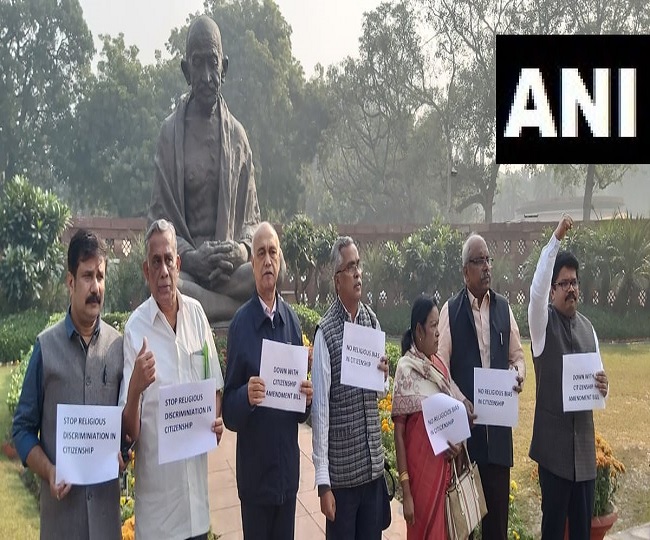 10:31 am: Sources: Citizenship Amendment Bill 2019 to be tabled in Rajya Sabha tomorrow
10:27 am: Delhi: Fire breaks out in furniture market in Kirari, eight fire tenders rushed to the spot
10:22 am: BJP MP RK Sinha has given Zero Hour Notice in Rajya Sabha over 'demand of a Padma Award and renaming of Patna University to honour late Mathematician Vashishtha Narayan Singh.'
10:15 am: Tripura: Protest being held in Agartala against #CitizenshipAmendmentBill2019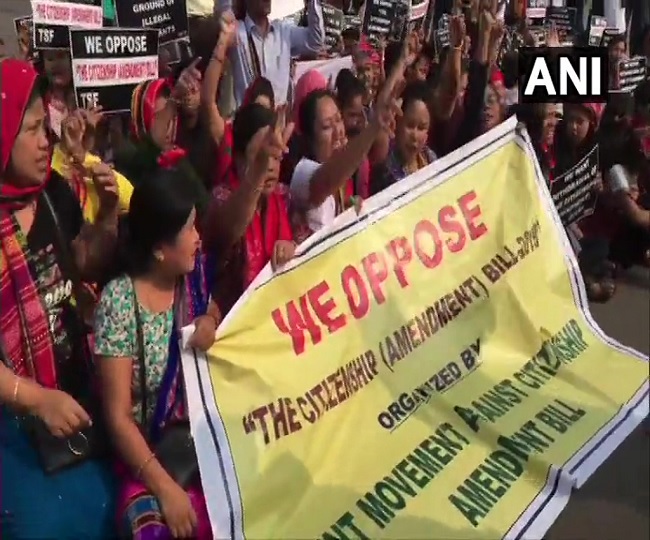 10:05 am: Biju Janata Dal MP Prasanna Acharya has given Zero Hour Notice in Rajya Sabha over 'alarming position of India in 2019 Global Hunger Index.'
10:00 am: Congress MP Chhaya Verma has given Zero Hour Notice in Rajya Sabha over 'unprecedented rise in price of onions in the country.'
9:45 am: Bodies of the four accused who were killed in #TelanganaEncounter by police, have been brought to Gandhi Hospital in Hyderabad from Mahabubnagar Government medical college after the High Court ordered to preserve the bodies till December 13.
9:30 am: Haryana: School girl's face blackened by teacher, family stages protest and demands action
9:24 am: Delhi Police: Four people have been injured after a man opened fire on them in Prem Nagar area, late last night. The assailant is known to the victims and is absconding. Investigation is underway, arrests will be made soon.
9:17 am: Assam: Locals stage a protest in Dibrugarh against #CitizenshipAmendmentBill. The Bill was passed in Lok Sabha yesterday.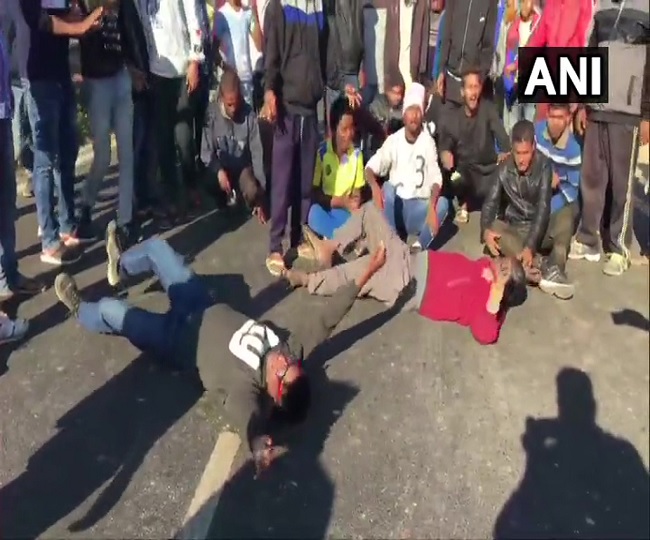 9:10 am: Central Reserve Police Force (CRPF): Yesterday night a CRPF constable identified as Deepender Yadav deployed for elections duty in Bokaro (Jharkhand) shot dead an Assistant Commandant Sahul Harshan, an ASI and injured another staff. A sentry fired at Yadav & overpowered him.
9:00 am: Assam: People stage protest in Jorabat against #CitizenshipAmendmentBill which was passed in Lok Sabha, yesterday.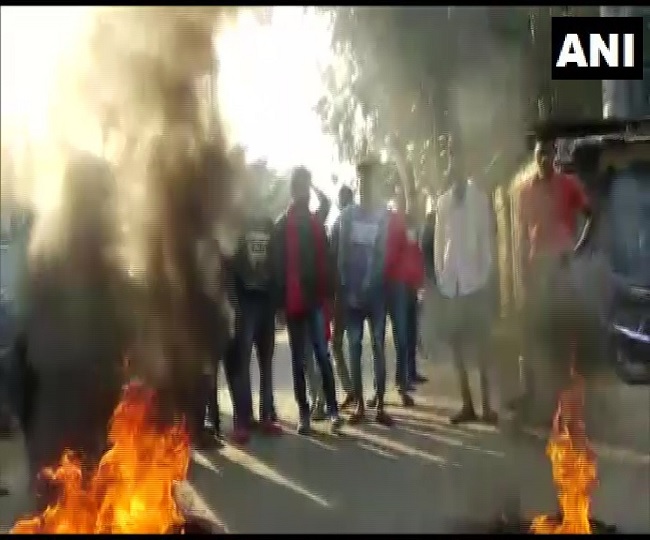 8:30 am: Union Minister of Railways and Commerce & Industry Piyush Goyal, to make a statement in Rajya Sabha today, regarding 'India's position in Regional Comprehensive Economic Partnership (RCEP).'
8:10 am: Assam: All Assam Students' Union (AASU) holds a protest in Dibrugarh against #CitizenshipAmendmentBill which was passed in Lok Sabha, yesterday.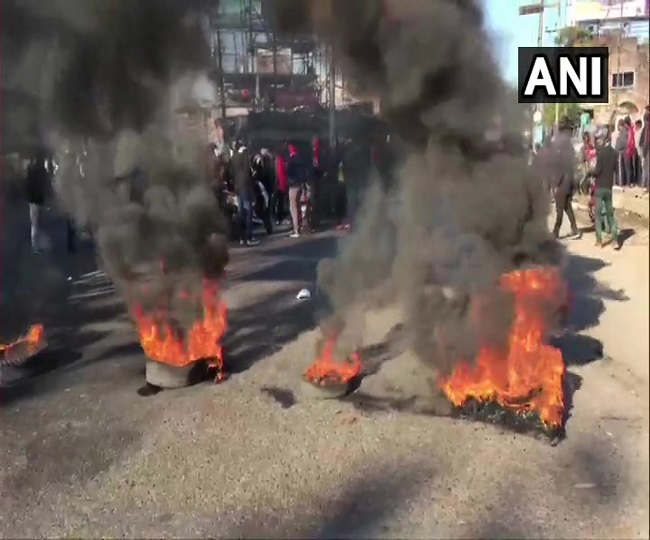 7:55 am: Assam: Shops closed in Guwahati following a 12-hour 'bandh' call by North East Students' Organisation (NESO) and All Assam Students' Union (AASU) against #CitizenshipAmendmentBill which was passed in Lok Sabha, yesterday.
7:39 am: Union Home Minister Amit Shah to move the Arms Amendment Bill for passage in Rajya Sabha, today.
7:35 am: Ghaziabad: Air Quality Index (AQI) at 419 in 'severe' category, in Vasundhara.
7:30 am: Boris Johnson under fire for snatching reporter's phone when shown photo of sick boy
7:20 am: Hisar: 4th standard student made to roam around school with a blackened face on 5th December, allegedly due to poor score in a test. Police say, "We received information that a female student's face was blackened at a school. Investigation is underway"
7:15 am: PIL in Delhi HC seeks judicial inquiry, CBI probe into Delhi Anaj Mandi fire
7:10 am: After Unnao case, UP cabinet orders setup up of 218 fast-track courts for women, children
7:00 am: Madhya Pradesh: Chief Minister Kamal Nath inaugurated the musical water floating fountain at Upper Lake, Bhopal, yesterday.
Posted By: Talib Khan