Breaking News Latest Updates Highlights of August 23
This is done to ensure that our readers don't miss any important update which might impact them
Updated: Fri, 23 Aug 2019 07:07 PM IST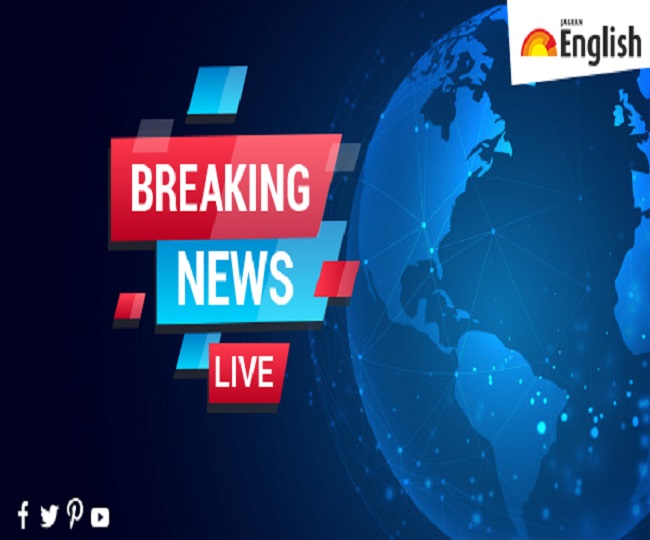 New Delhi | Jagran News Desk: Jagran English is back with its Latest News updates in which we provide all the relevant news for our readers in 'One Page' and 'One Click'.
Today we will have a special focus on the ongoing probe by the ED and CBI against former finanace minister P Chidambaram and his arrest late night after he appears at the Congress headquarters and former finance minister Arun Jaitley's health, who is admitted in AIIMS since August 9.
Here, we have a 360-degree focus on major developments that take place across all genres -- politics, crime, international news, business, sports, entertainment, and lifestyle.
Here are the Highlights of August 23:
6:20 pm: Finance Minister Nirmala Sitharaman: The revision of one-time registration fee deferred till June 2020. Additional 15% depreciation on all vehicles acquired from now till 31st March 2020.
6:13 pm: Finance Minister Nirmala Sitharaman: BS4 vehicles purchased up to March 2020 will all remain operational for their entire period of registration
5:55 pm: Finance Minister Nirmala Sitharaman: All pending GST refunds due to MSMEs till now shall be paid within 30 days from today. In future, the GST refunds to MSMEs will be paid within 60 days
5:53 pm: Finance Minister Nirmala Sitharaman: The growth rate, still in comparison to many countries is high and if anything even in comparison to the US and China, our growth rate is higher than everybody else.
5:52 pm: Finance Minister: Banks have now decided to pass on any rate cut through MCLR reduction to benefit all borrowers. This will result in reduced EMIs for housing loans, vehicles & other retail loans, by directly linking repo rates to the interest rates
5:46 pm: Finance Minister Nirmala Sitharaman: CSR violations will not be treated as a criminal offence and instead be as civil liabilities. On or after 1st October 2019 all the Income-tax orders, notices, summons, letters, etc shall be issued through a centralised computer system
5:41 pm: Finance Min: In order to encourage investment in capital market, it is decided to withdraw enhance surcharge levied by the Finance No. 2 Act 2019. In simple words, the enhance surcharge on FPI goes, surcharge on domestic investors in equity goes. Pre-budget position is restored
5:38 pm: Rajnath Singh in Lucknow: You party workers added a new chapter in political history of India. BJP won 303 seats alone & you know how powerful is '3 Nought 3', it means God has given an indication. "Raksha Mantri hu isliye hathiyaron ki yaad jyada aane lagi hai"
5:36 pm: Finance Minister Nirmala Sitharaman: There will be faceless scrutiny from 'Vijay Dashmi' this year, which will mean that there shall not be even, that one odd over-enthusiastic officer who might go and sit & talk about things, which may be construed as harassment. That will not happen because the whole process is going to be faceless & randomised
5:30 pm: Union Minister for Finance and Corporate Affairs Nirmala Sitharaman during a press conference in Delhi: Just to give you briefly a picture of what is happening globally. The current projected global GDP growth is of about 3.2 % and probably is going to be even revised downwards.
5:20 pm: Finance Minister Nirmala Sitharaman addresses media in Delhi
4:58 pm: All India Muslim Personal Law Board moves an application in Delhi HC seeking it to be impleaded as party in a PIL seeking implementation of uniform civil code. Delhi HC had earlier asked Centre&Law commission to file affidavit on PIL regarding implementation of Uniform Civil Code. Matter is now listed for hearing on 27th August
4:54 pm: NITI Aayog Vice-Chairman Rajiv Kumar: I would request the media to stop misinterpreting my statement. The government has been taking bold steps to accelerate our economy & will continue to do so. There is no need to panic or spread panic.
4:50 pm: West Bengal: 2 lakh Yaba tablets (narcotics), weighing 23.300 kg, recovered from a vehicle in Maidan Police Station area in Kolkata. 4 detained
4:45 pm: Shiv Sena chief Uddhav Thackeray: People who don't believe in Veer Savarkar must be beaten in public, because they won't realise the struggle and importance of Veer Sarvarkar in India's independence. Even Rahul Gandhi has insulted Veer Savarkar in the past
4:30 pm: After reports of a group of terrorists reaching Tamil Nadu, Kerala DGP Loknath Behera has ordered all districts to be on alert & strengthen security at bus stands, Railway stations, airports, worship places. Checking to be strengthened in districts adjoining Tamil Nadu
4:10 pm: Sources: Financial Action Task Force (FATF)'s Asia/Pacific Group on Money Laundering has put Pakistan in the lowest category called Enhanced (Expedited) Follow Up. "Enhanced (Expedited) Follow Up" of FATF's Asia/Pacific Group on Money Laundering is a category for countries having major deficiencies in their Anti Money Laundering and counter financing of terrorism framework and implementation.
3:50 pm: BJP-Akali MLAs protested outside Delhi CM A Kejriwal's office. Leader of Opposition V Gupta says,'We wanted to introduce congratulatory resolution on revocation of Article 370,we weren't allowed to do so. I have been suspended for entire session&MS Sirsa was marshalled out'
3:45 pm: Prime Minister Narendra Modi leaves for United Arab Emirates (UAE) from Charles de Gaulle Airport in Paris. He will return to Paris for G7 Summit
3:33 pm: Delhi's Saket court has directed Delhi Police to collect all information & case detail against Bihar MLA Anant Singh. Police has been given 30 minutes time. Delhi Police is now questioning Anant Singh. The MLA has today moved a surrender application in the Saket Court. The Court asks Delhi Police as to why they are delaying in presenting the details. Court asks is it because Anant Singh is an influential person. Delhi Police replies they've forwarded his photograph to #BiharPolice&sought details from there. Police also demands for his custody
3:23 pm: Himachal Pradesh: One Army personnel lost his life and three others were injured after the vehicle they were travelling in skidded off the road between Galu and Lambhidaar in Theog, Shimla. Injured have been admitted to hospital.
3:20 pm: Sources: Enforcement Directorate is carrying out searches at locations of Jet Airways founder Naresh Goyal, in Foreign Exchange Management Act(FEMA) case. Searches underway at 12 locations in Mumbai and Delhi
3:15 pm: Uttarakhand: A relief helicopter crashed in Tikochi area near cloud burst hit Arakot, today. People on board including Pilot and Co-pilot have sustained minor injuries.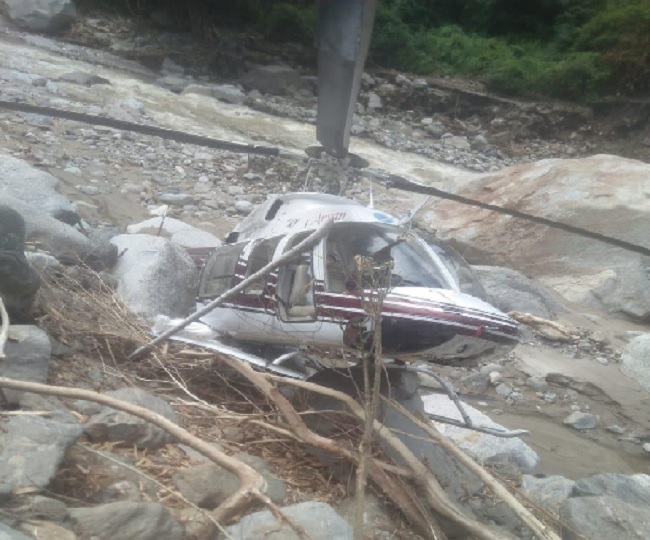 3:14 pm: RJD's Tejashwi Yadav on P Chidambaram: For a long time we have been saying that CBI and ED are working like BJP's party cell. Opposition leaders are being targeted. This is all political vendetta. We trust our judiciary and I am sure justice will be done
3:00 pm: PM Narendra Modi in Paris: I was told that Ganesh Mahotsav has become an important part of Paris's cultural calendar. On this day Paris looks like a mini India, which means in some days we will hear 'Ganpati Bappa Morya' chants here as well
2:55 pm: PM Narendra Modi in Paris: Today in the 21st century we talk of INFRA. I would like to say that for me it is IN+FRA, which means the alliance between India and France.
2:47 pm: We did away with practice of triple talaq; injustice cannot be done to Muslim women in new India: Modi
2:46 pm: Aircel Maxis case: Special Court reserved the order on anticipatory bail plea of P Chidambaram and Karti Chidambaram till September 3, also extended their interim protection till then
2:46 pm: PM Narendra Modi in Paris: In new India, the way in which action is being taken against corruption, nepotism, loot of people's money, terrorism, this has never happened before. Within 75 days of the new Govt coming to power we took many strong decisions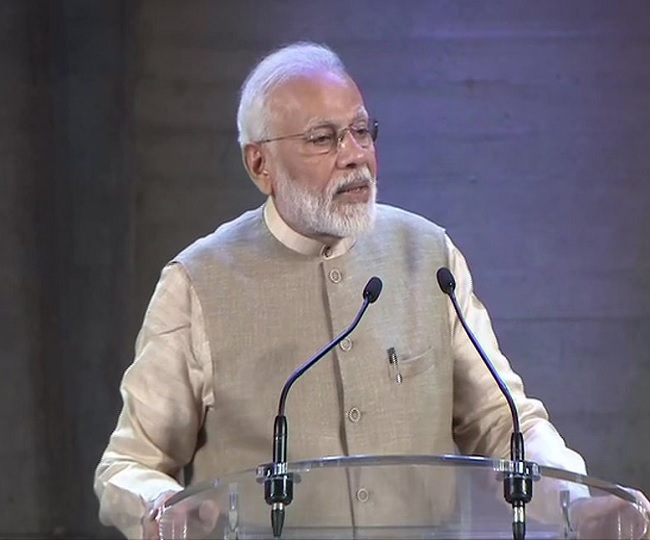 2:42 pm: PM Narendra Modi addresses Indian community in Paris, France: In dino Paris Ram main rum gaya hai, pujya Bapu (Mahatma Gandhi) ki nishra (shadow) mein sab log Ram ki bhakti main doobe hain...
2:38 pm: PM Narendra Modi in Paris,France: I have come to a nation of football lovers, you very well know the importance of a goal, that is the ultimate achievement. In last 5 years we set goals which were earlier considered impossible to fulfill
2:35 pm: PM Narendra Modi addressing Indian community in Paris: I want to tell you that India is now surging ahead,mandate we got is not merely for running a govt but for building a new India
2:30 pm: PM Narendra Modi addressing Indian community at UNESCO HQ in Paris: I salute all those including the great Indian nuclear physicist Homi Bhaba, who lost their lives in the two crashes (Air India plane crashes, in 1950 and 1966 in France's Saint Gervais)
2:25 pm: PM Narendra Modi addresses the Indian community at UNESCO HQ in Paris,France
2:20 pm: Uttarkashi District Magistrate Ashish Chauhan: A helicopter has crashed in Tikochi area near cloud burst hit Arakot. More details awaited.
2:07 pm: Pakistan Finance Ministry: News reports published about Pakistan being black listed by APG(Asia/Pacific Group on Money Laundering) are incorrect and baseless
2:04 pm: Paris: Prime Minister Narendra Modi arrives at UNESCO office, meets Director-General of UNESCO,Audrey Azoulay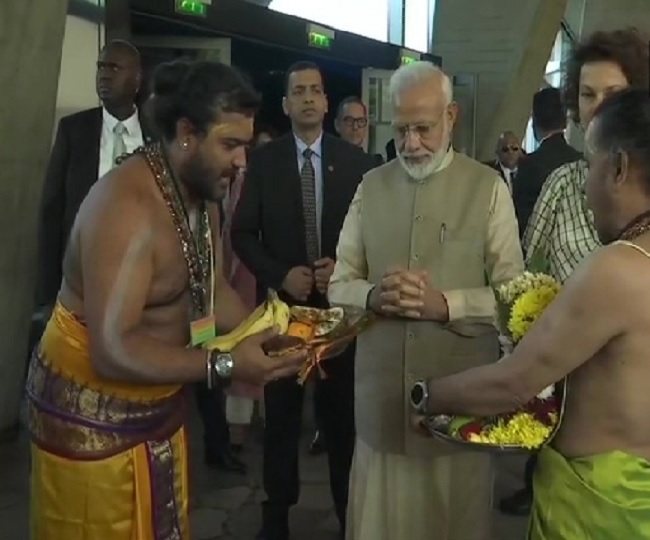 1:50 pm: Independent MLA from Bihar Anant Singh has today moved a surrender application in Delhi's Saket Court. Singh was absconding for last few days after an FIR was lodged against him under UAPA Act, following a raid at his residence in which an an AK-47 was recovered
1:40 pm: Siddaramaiah: Me and Deve Gowda campaigned in many constituencies. He blamed me for his and his grandson's loss in elections, then he should tell me why our candidates lost. What are the reasons behind it? Did they take any action against those who voted against us? Deve Gowda never allowed someone else to grow. They don't even let people from their own caste grow. I have friends in all castes and in all parties.
1:30 pm: Sumeet Saran, Commissioner of Police, Coimbatore City: We got information that 6 terrorists have come to Tamil Nadu and they are moving towards Coimbatore. Keeping that in view, we have put a general alert. There is no alarming situation. There is no need to worry about anything
1:12 pm: After the order was passed, SG Tushar Mehta wanted to give some documents to Court to read that were collected by Enforcement Directorate but Sibal and Singhvi objected saying this had previously happened in the High Court. SC denied saying everything will be taken up on Monday.
12:59 pm: Both CBI and Enforcement Directorate matters to be heard again on Monday August 26 in Supreme Court. Chidambaram is in CBI custody till August 26.
12:56 pm: Supreme Court grants interim protection from arrest to former Union Minister P Chidambaram, till August 26 in connection with INX media case probed by Enforcement Directorate
12:55 pm: Jammu & Kashmir: Ceasefire violation by Pakistan along the line of control (LoC) in the Naushera sector. In the firing, an Indian soldier from Gorkha Rifles has lost his life. Indian Army is retaliating.
12:54 pm: Solicitor General Tushar Mehta in Supreme Court: There are evidences in the form of digital documents, email exchanges. Corruption money has traveled through money laundering. He had at least 10 properties and 17 bank accounts abroad, what we have found so far
12:53 pm: Jammu & Kashmir: Army established a Communication Centre for locals living around the headquarters of counter-insurgency force (Kilo Force) based at Sharifabad in Budgam district.
12:49 pm: Prime Minister Narendra Modi meets France Prime Minister Édouard Charles Philippe
12:47 pm: We (ED) cannot arrest him till Monday. There is no need for protection from arrest till Monday, Tushar Mehta
12:41 pm: We have found a money trail and found 10 properties abroad and 17 overseas bak accounts and can confront P Chidambaram with these details that these are your men. There are people like him with his mental faculties who would not divulge any details if they remain under protection: Tushar Mehta
12:39 pm: We have evidence in electronic form to show that there was an exchange of money and money was transferred through money laundering. There were shell companies created overseas by people close to P Chidambaram. We have evidence that wills have been written by the persons on whose name shell companies are created and these wills are in favour of P Chidambaram's granddaughter. But the wills are now destroyed: Tushar Mehta
12:36 pm: CBI had statements from Indrani Mukherjea stating that Peter Mukherjea and Indrani Mukherjea went to meet P Chidambaram and were told that FIPB approvals will be given: SG Tushar Mehta
12:35 pm: Kapil Sibal in Supreme Court: Delhi HC judgment is verbatim of what is in the note. Comma for comma, full stop for full stop. Everything is a copy, so the note becomes the basis of denying bail to Chidambaram.
12:34 pm: The ld Judge has also referred to Aircel Maxis case while denying anticipatory bail in INX Media case. I already have interim protection in Aircel Maxis case and the learner Judge is referring to an unconnected matter in this judgment. It shows how the mind is working: Singhvi
12:33 pm: Dr. Abhishek Manu Singhvi says that the Delhi HC judge who was deciding an anticipatory bail matter has suggested that the provision of anticipatory bail should be done away with for serious economic offences.
12:32 pm: Air India Spokesperson Dhananjay Kumar: Oil marketing companies (OMCs) led by Indian Oil have stopped jet fuel supply at six airports including - Ranchi, Mohali, Patna, Vizag, Pune and Cochin. In absence of equity support,Air India cant handle huge debt service liabilities. Our financial performance however this fiscal is very good&we are moving towards healthy operating profit.Airline despite legacy issues is performing very well
12:30 pm: Kapil Sibal in SC: After arguments were over, Solicitor General gave a note to Justice Gaur, the HC judge. We were not given chance to reply on that. SG Tushar Mehta: Don't make false statements, I didn't give it after the arguments were over. Kapil Sibal: Have stated on oath.
12:30 pm: HC issues notice to BJP leader Vijender Gupta on Delhi CM Arvind Kejriwal's plea to quash summons in defamation case.
12:28 pm: Kapil Sibal in Supreme Court: Chidambaram's fundamental right to access to justice has been frustrated by the way in which the plea against Delhi HC verdict was not heard despite moving the SC on time.
12:20 pm: Meerut Police has arrested history-sheeter Haji Saeed from Shimla. Akhilesh Singh, SP Meerut City says 'We found his location in Shimla after someone uploaded a picture of him on Facebook.We traced his location and arrested him.'
12:17 pm: Appeal filed by P Chidambaram in Supreme Court against the Delhi High Court order in CBI case to be heard on August 26.
12:10 pm: Hearing begins in Supreme Court on petitions filed by former Union Minister P Chidambaram against the Delhi High Court's order rejecting his anticipatory bail plea in connection with INX media case probed by CBI and ED.
12:00 pm: Former Prime Minister & Congress leader Dr. Manmohan Singh takes oath as Rajya Sabha member from Rajasthan
11:45 am: Army soldier killed in Pakistan Army firing along LoC in Rajouri district of Jammu and Kashmir: officials.
11:33 am: SC asks UP govt to issue orders within 2 weeks on extension of tenure of special judge hearing Babri Masjid demolition case. SC takes on record letter written by judge hearing Babri Masjid case, asks UP govt to consider his request including providing security.
11:30 am: FATF's Asia Pacific Group puts Pakistan in 'enhanced blacklist' for failure to meet global standards, FATF finds Pakistan non-compliant on 32 of 40 compliance parameters on money laundering and terror financing:Indian officials
11:24 am: West Bengal: 4 dead after a wall of a temple, where people were gathering to celebrate Janmashtami, collapsed in Kachua, North 24 Pargana. West Bengal CM Mamata Banerjee has announced a compensation of Rs. 5 lakhs for the family of the deceased, Rs.1 lakh for those who got critically injured and Rs. 50,000 for others with minor injuries.
11:18 am: Finance Minister Nirmala Sitharaman at a function to celebrate 10 yrs of Competition Law Enforcement in Delhi: After first 10 yrs under the globalised India context, you're looking at new economy&therefore, from today I would think Competition Commissioners getting it to CCI 2.0
11:04 am: Supreme Court issues notice to Central government after hearing three petitions which had challenged the constitutional validity of 'The Muslim Women (Protection of Rights on Marriage) Act, 2019 (Triple Talaq law)
11:00 am: Five-judge Constitution bench, headed by Chief Justice of India (CJI) Ranjan Gogoi begins today's hearing in the Ayodhya Ram Temple-Babri Masjid land case in Supreme Court.
10:28 am: India & the United States held a round of bilateral 2+2 inter-sessional meeting on 22 Aug in Monterey, California. They discussed regional developments and agreed to pursue their quest for a free, open, inclusive, peaceful and prosperous Indo-Pacific. India & the United States reviewed progress & development of bilateral relations in cross-cutting defence, security&foreign policy areas since the inaugural 2+2 Ministerial Meeting of Sep 2018 & explored further possibilities of cooperation in these fields based on common interest
9:40 am: Infosys co-founder NR Narayana Murthy in Gorakhpur: Our economy is growing at 6 to 7 per cent this year. India has become the software development centre of the world. Our foreign exchange reserve has crossed 400 billion dollar. Investor confidence is at a historic high. Our govts have to become more citizen friendly&remove obstacles to entrepreneurs to create larger and larger number of jobs. Our economic policies have to be less populist and more based on expertise. We have to shun jingoism.
9:25 am: Gujarat University authorities ask students to plant saplings as punishment.Professor M Patel says,"Due to some reason or the other,students do get punished. So,we thought instead of a punishment,students must be asked to plant sapling. It'll be good for environment
9:20 am: Andhra Pradesh: Greater Visakhapatnam Municipal Corporation (GVMC) has served notice to guest house owned by Former Minister&TDP MLA Ganta Srinivasa Rao's daughter in Bheemunipatnam. Notice says building will be demolished in 24 hours if proper legal documents not presented
8:58 pm: Avanish Sharan, Collector, Kawardha Dist: Village is based in such a terrain that villagers have no access to health services, so health camp was set up there by officials of Health Dept to lend medical aid to villagers. We'll try to construct roads to the village.
8:56 am: Chhattisgarh: Health Department officials set up health camp for Baiga tribals living on mountains situated in a jungle of Kawardha District. 33 patients have been treated at the camp till now.
8:30 am: United States, United Kingdom & Canada, at UN meet on Safety of Religious Minorities, in New York, slam Pakistan & China for discrimination against religious minorities
8:18 am: Rajiv Kumar, VC, Niti Aayog says,"If Govt recognizes problem is in the financial sector... this is unprecedented situation for Govt from last 70 yrs have not faced this sort of liquidity situation where entire financial sector is in churn &nobody is trusting anybody else."
8:15 am: Chhattisgarh HC advocate Hanuman Prasad Aggarwal filed an affidavit in Supreme Court claiming himself to be a descendant of Lord Ram,says,"recently SC asked if there are any descendants of Lord Ram?Knowing about it,I filed an affidavit by collecting evidence from internet. And it is also written in Agar Bhagwat that Maharaja Agrasen, the ancestral man of the Agrawal community, is 34th generation of Kush, son of Lord Ram. All Agarwals who are sons and grandsons of Maharaj Agrasen are Lord Ram's descendants
8:10 am: Senior US administration official during a media briefing on the G7: President Donald Trump is likely to hear from PM Narendra Modi on how he plans to reduce regional tensions and uphold respect for human rights in Kashmir. President Trump is also calling for Pakistan to prevent cross-border infiltration across the LoC & stop groups' bases on its soil that have attacked India in the past
8:05 am: Independent MLA from Mokama, Anant Singh who has been absconding after police seized an AK-47 rifle from his residence on August 16: I will not surrender before the police, I will surrender before the Court. I trust the judiciary.
8:05 am: Sam Brownback, US Ambassador-at-Large for International Religious Freedom,at UN meet on Safety of Religious Minorities in New York: In Pakistan, religious minorities continue to suffer from prosecution either at hands of non-state elements or through discriminatory laws&practices. We remain deeply concerned about the Chinese government escalating widespread and undue restrictions on religious freedom in China. We urge the Chinese government to respect the human rights & fundamental freedoms of everyone in that nation.
8:03 am: Lord Ahmad, PM's Special Envoy on Freedom of Religion or Belief, UK, at UN meet on Safety of Religious Minorities in New York:UK has spoken up for rights of religious communities&minorities across world. From Uyghurs in China, Christians & Ahmadis in Pak.
8:00 am: Naveed Walter: President of Human Rights Focus Pakistan, at UN meet on Safety of Religious Minorities in New York: Today, the large number of people are marginalized in their own societies. The biased behavior dwells in other areas also, like the minorities. On basis of religious affiliation as like in Pak, Ahmadis having a situation; like China,growing no. of countries using national security as pretext for restricted religious expression at role of religion in public domain
Posted By: Talib Khan